This site uses affiliate links and we may earn a small commission when you use our links and make a purchase without incurring additional fee yourself. Many thanks for supporting this website. Please see our disclosure page for more details.
I'm finally back!! The past 2 months had been gleefully wild and frenetic for Kev and I. After months of hectic wedding planning, we spent 10 days at the Philippines to unwind. O.M.G. the beauty of El Nido is truly indescribable, almost surreal. It is a paradise within paradise with crystal-clear waters, pristine beaches, and a wealth of flora and fauna. No words could describe how much I love the islands. You have to see the place with your own eyes!! If you wonder how stunning the islands could be, stay tuned to my blog. Blogposts on our honeymoon will be posted up soon ?
Before 2015 ends, I am going to share with you some of the great restaurants Kev and I discovered in Calgary. Perhaps, it will give you some ideas on where to go during the holidays ?
If you have been in Calgary long enough, you have probably heard of NOtaBLE, a Montgomery restaurant owned by the iron chef Michael Noble and known for its gourmet comfort food. For me, whenever someone mentions NOtaBLE, an image of a burger immediately pops into my mind! I think it has to do with its classic mouthwatering burger ad that I had repeatedly seen as I flipped through Avenue or City Palate.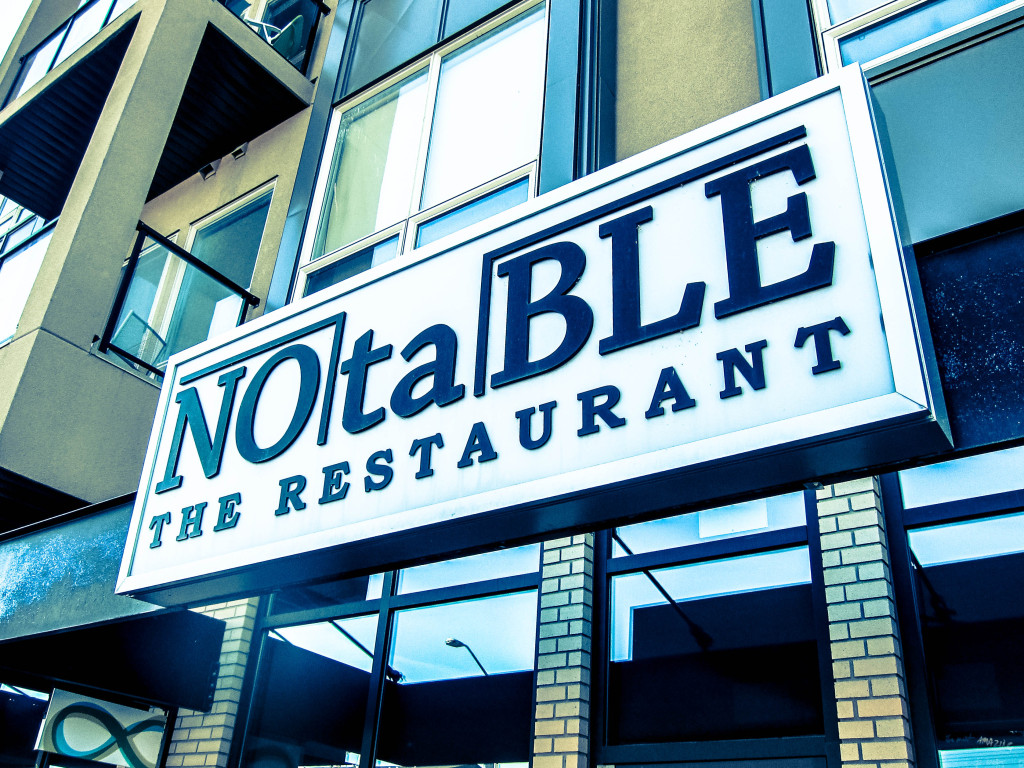 With a strong presence of the color black, the restaurant combined sleek, contemporary design with cool elegance. Yet, it provided a cozy, inviting atmosphere to its diner by integrating a warm color scheme.
[easy-image-collage id=3467]
We started off the lovely lunch with a steaming bowl of soup ($8 for taster size). Most of us would not consider it cheap paying $8 for a 10-ounce-size soup; nonetheless, the dish came in rich portion and large enough for 2 people. The bite-sized prime rib pieces, chunky vegetables and tiny beans gave the soup wonderful flavor, on top of the comforting sweetness from the tomatoes and subtle spicy undertones. Light yet distinctive, as a starting dish, it really worked up our appetite.
Having seen the juicy burger in the ads so many times, how could we pass on the burger? ?
Introducing a new burger every month, the novelty and variety sure attracts people like me who easily get bored of the routine and regularity. The burger of the month ($18) comprised of Wagyu beef, chilli jack cheese and sweet pepper relish, stacking in between the sesame buns.
What is Wagyu beef?

Wagyu is a Japanese beef cattle breed that has a high intensity of fat marbling, which serves as a symbol of high quality and delivers a uniquely buttery texture and tender flavor.

What is the difference between Wagyu vs Kobe beef?

Wagyu beef consists of 4 different breeds: Japanese Black, Japanese Brown, Japanese Poll, and Japanese Shorthorn cattles. Kobe beef refers to meat that derives from the Tajima strain of Japanese Black cattle.

Source: Buedel Meet Up Website
Stacked sky-high in thick layers, it was a challenge to eat the burger without having to lick our arms after ? (If you have any tips on how to eat the burger gracefully, please let me know!). True to its name, the Wagyu beef patty stayed deliciously moist. Every bite resulted in the juice dripping off our arms. What made it even more exceptional was versatile, tasty sweet pepper relish, offering sweet-heat sensation on the tongue.
if sandwiches and burgers are not your cup of tea, I would recommend trying their appies. I ordered a dish of the teriyaki glazed salmon bellies ($19 for main size) and I loved it! Even more than the burger. This innovative creation reminded me of the lettuce wraps commonly found in Korean cooking. Instead of grilled beef or pork, pieces of sweet, gingerly teriyaki-glazed salmon were assembled onto each lettuce leaf, along with a spoonful of refreshing, pickled daikon salad. Of course, you also had the option of eating the salmon bellies and salad on its own.
[easy-image-collage id=3483]
I was glad we finally made our way to the popular NOtaBLE restaurant. It did not disappoint all the hype behind it and for sure is a staple of Calgary's dining scene. Impressed with its innovative dishes, I would definitely come back again to check out its dinner menu and try the rotisserie. Despite its tasty beef burger, I would not specifically return for its monthly burger inspiration. There are specialty burger restaurants in the city offering better options. For that, check out ReGrub! Happy holidays ?