This site uses affiliate links and we may earn a small commission when you use our links and make a purchase without incurring additional fee yourself. Many thanks for supporting this website. Please see our disclosure page for more details.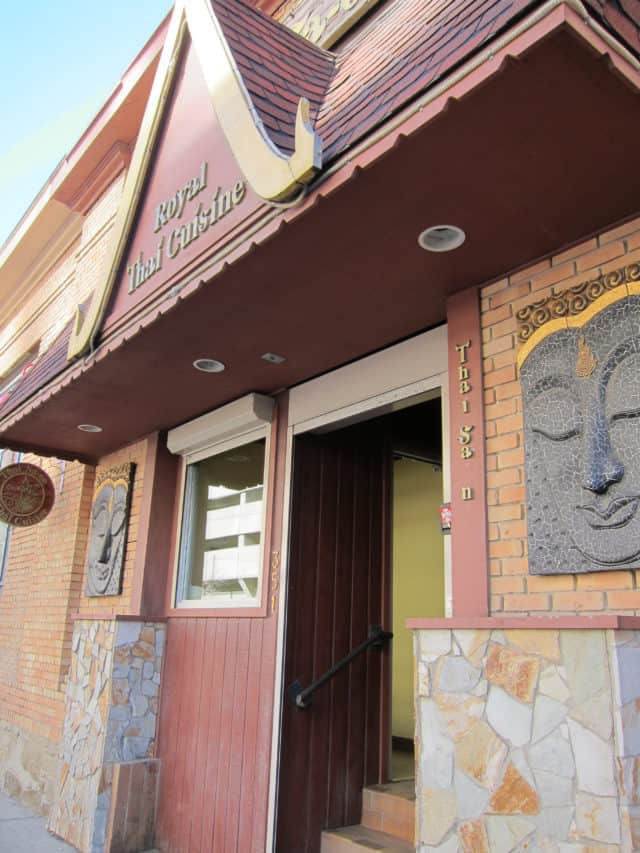 Last Friday, I was craving for spicy food so Kev and I decided to try out some Thai food at the Thai Sa-on Restaurant located on 10th Ave S.W in downtown Calgary.
The restaurant is fully decorated with Thai Buddha statues and portraits, which give it an elegant, traditional atmosphere. The fact that there is no window inside the restaurant makes the place secluded. With the dim lighting, you really feel that you can forget everything and enjoy the meal.
It was quite busy at noon. On that day, there were at least 6 tables of customers. Usually I have no faith in trying authentic Asian food outside Asia, but the busi-ness of this place is a good sign.
The menu is mainly in English, with the name and description of each dish. For each dish, it also has a chili denotation that marks how spicy the dish is. It is quite helpful for people who don't know Thai or haven't tried much Thai food before. However, I was really overwhelmed by the amount of different dishes it serves, from soups, salads, beef, chicken, curry, noodles to rice. For someone who is not familiar with Thai cuisine, you really don't know where to start and what you might like to try.
After giving it some thoughts, we decided to order Som Tam (green papaya salad), Larb Nua (Jackie Chan's favorite beef dish), and Pra Ram Long Song Kai (Swimming Rama).
Despite the busi-ness at lunch time, the food was served quite fast. Green papaya salad is my favorite Thai dish which I always order whenever I visit a Thai restaurant. The green papaya salad that is served at Thai Sa-on isn't the best I have tried in my life. The green papaya is crisp and firm. Also, it is very spicy (watch out if you can't handle spiciness!). However, besides the spicy taste and the lime, it is lacking other ingredients that will bring out the savory flavor of this dish. For example, there is no peanuts, dried shrimps, and yardlong shrimps that are usually found in green papaya salad. I was quite disappointed and moved on to the next dish we ordered.
Swimming Rama is a milder dish for people who have low tolerance for spiciness. The chicken is tender which goes quite well with the mixed vegetables in the sweet peanut sauce.
Larb Nua is spicy Thai ground beef, served at room temperature. The beef is a bit dry, with the texture similar to beef jerky. It has a peppery taste to it, but nothing else stood out that made it unforgettable.
My review: To me, Thai Sa-on is like a pot of gold assorted chocolate. It is an elegant place with good service where you can bring friends and family to. It offers a variety of choices which can fulfill different people's preferences.