This site uses affiliate links and we may earn a small commission when you use our links and make a purchase without incurring additional fee yourself. Many thanks for supporting this website. Please see our disclosure page for more details.
Have you always dreamed of visiting Bali? It is hard not to fantasize about escaping to this exotic island when you see tons of gorgeous pictures shared online everyday. But frankly, Bali wasn't even at the top of my travel list before our visit last month. Bali in my mind had always been a hotspot for party-goers, with bars and night clubs scattered along the beach. There was probably not much cultural experience you could have at this place, I thought. But man, I was wrong. Our Bali trip turned out to be one of our most memorable travel experiences to date and has enlightened the travel bug in me. If you're planning a vacation in Bali, here is a list of unforgettable experiences that you must pen down on your checklist!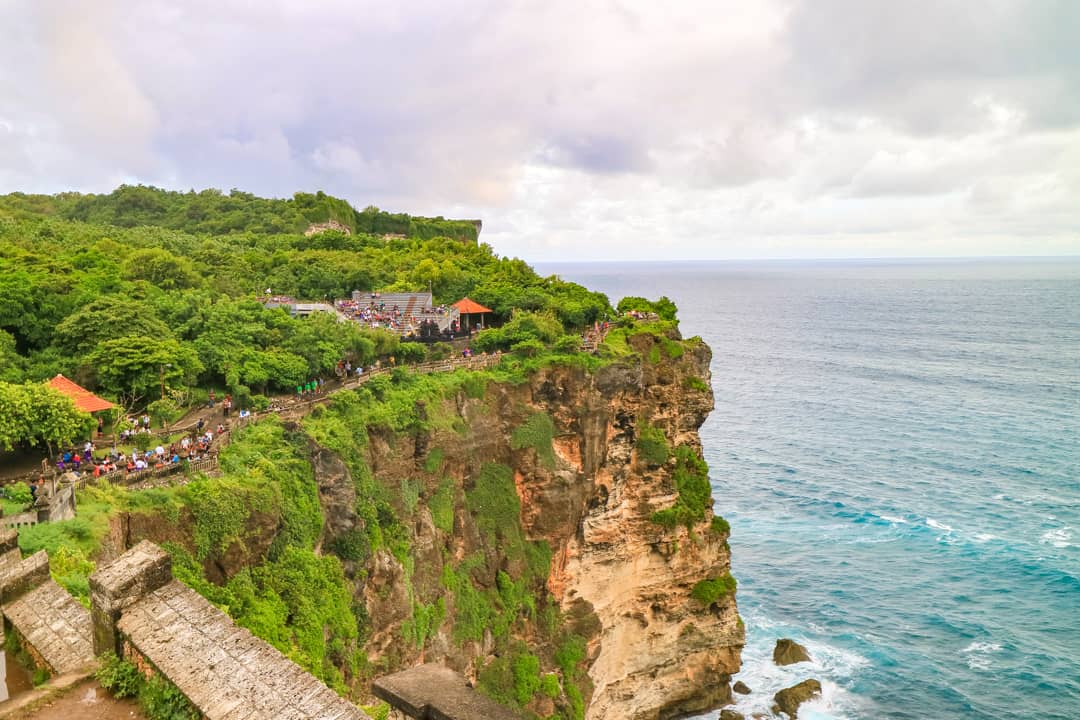 1| Do a Temple Tour
With the majority of Balinese practicing Hinduism, it is not a rare sight to see Hindu temples on every corner. In fact, Bali is commonly known as the "Island of a Thousand Temples" or "Island of the Gods." The best way to experience the devotion and culture of Bali is to spend a day touring the famous Hindu temples. Some of the most iconic landmarks are:
Taman Ayun: A beautiful moated temple with a royal past. This 17th century water temple is recognized as a UNESCO World Heritage site in 2012 as part of Bali's rice-field irrigation system.
Tanah Lot: With its unique offshore setting and sunset backdrops, Tanah Lot is the most popular and photographed temple on the island. Built in the 16th century, Tanah Lot's rituals include paying homage to the guardian spirits of the sea. Poisonous sea snakes are found in the little caves at the base of the rocky island and believed to guard the temple from evil spirits and intruders. An important thing to note is that this temple is only accessible at low tide.
Ulun Danu: Perched on the shores of Lake Bratan, Ulun Danu is an iconic image of Bali, as depicted on the 50,000 Rp note. It is constructed in honour of the Balinese water, lake and river goddess Dewi Danu, for the importance of Lake Bratan as a main source of irrigation in Central Bali.
Uluwatu: Sits on a 70-meter-high cliff at the southern tip of Bali, Uluwatu overlooks the sea as if on guard protecting the island from evil spirits. It offers a wonderful vantage point to view a spectacular sunset while watching the sacred Kecak Fire Dance. Beware of the monkeys that are notorious for snatching food and personal items from visitors!
2| Visit a Luwak Coffee Plantation
How does drinking coffee plucked from cat poop sounds to you? This may sound disgusting and unsanitary, but civet cat coffee (a.k.a. Kopi Luwak) is actually the most expensive coffee in the world due to its processing method and limited supply. Curious about how it tastes? Why not visit a coffee plantation where you can learn about the coffee-making process of Kopi Luwak as well as sampling other local blends.
3| Trek Through a Rice Terrace
Along with majestic Hindu temples, Bali's rice terraces are one of the island's icons. Walk through the picturesque terraced rice fields, see the daily life of resident farmers, and learn about the traditional and ecologically sustainable irrigation system (subak) will bring you closer to the authentic Balinese way of life. Tegalalang Rice Terrace in Ubud is one of the most recognizable rice fields, but also the most visited. Jatiluwih is the perfect choice for those who want to get away from the crowd. Located in the height of 700 meters above sea level, these UNESCO-protected fields offer a dramatic and truly exotic landscape!
[bctt tweet="7 unforgettable experiences you must have for a perfect #bali getaway! #travel #WonderfulIndonesia " username="fortwoplz"]
4| Watch Sunrise over Mt. Batur from Pinggan Village
Climbing Mount Batur Bali to enjoy sunrise from the top of an active volcano certainly makes up an unforgettable memory; however, not all of us are an early riser or physically fit for this kind of outdoor experience. To see volcano scenery and the natural lake view, hiring a driver to take you to Pinggan Village in Kintamani is a good alternative. Located in the mountain, at an altitude of 1300 meters above sea level, Pinggan Village offers a beautiful misty view of the village at the valley of Mount Batur, with the astounding volcano and Lake Batur in the background.
Pro tip: Travel time from the southern part of Bali, e.g., Nusa Dua or Kuta, will take about 2.5 hours drive. To see the sunrise at 6 am, it will require you to wake up at around 3 am. The temperature at Pinggan Village is quite chilly in the morning (at around 16-18 degree Celsius). Make sure you bring a light jacket with you. Try to avoid during the rainy season.
Free Bali Insider Tips
Sign up below & we'll send you a list of 16 things you must know before your trip to Bali PLUS a map!
5| Have a Swim At Tegenungan Waterfall
The majestic Tegenungan Waterfall is one of the few waterfalls that aren't situated in the mountains. Hidden in Ubud Village, this 30-m tall fall gives you a glimpse of natural beauty against a lush valley landscape. During the wet season, the fall would be pumping and the water at the bottom would be at its deepest, perfect for swimming and enjoying the fresh water!
Pro tip: Best time to visit is early in the morning before the crowd sets in.
Staying overnight at Ubud? Check out Lauren and Ben's review on Jungle Fish Bali, the best jungle infinity pool in Ubud, Indonesia!
6| Watch Kecak Fire Dance
Your visit to Bali won't be complete without seeing a Kecak Fire Dance, one of Bali's most unique art performances that is accompanied by of 70 men who create music with their vocals. Hear the men chant Cak ke-cak ke-cak ke-cak ke-cak ke-cak, in rhythm, over and over again while the dance takes you through the famous epic Hindu story of Prince Rama and his rescue of Princess Sita, who is kidnapped by a demon. The best place to watch the performance is at Uluwatu Temple with its beautiful panorama of the Indian ocean and mesmerizing sunset!
Pro tip: The performance starts at 6 pm every evening. It is very popular and always oversold. Make sure you're there on time to get a seat.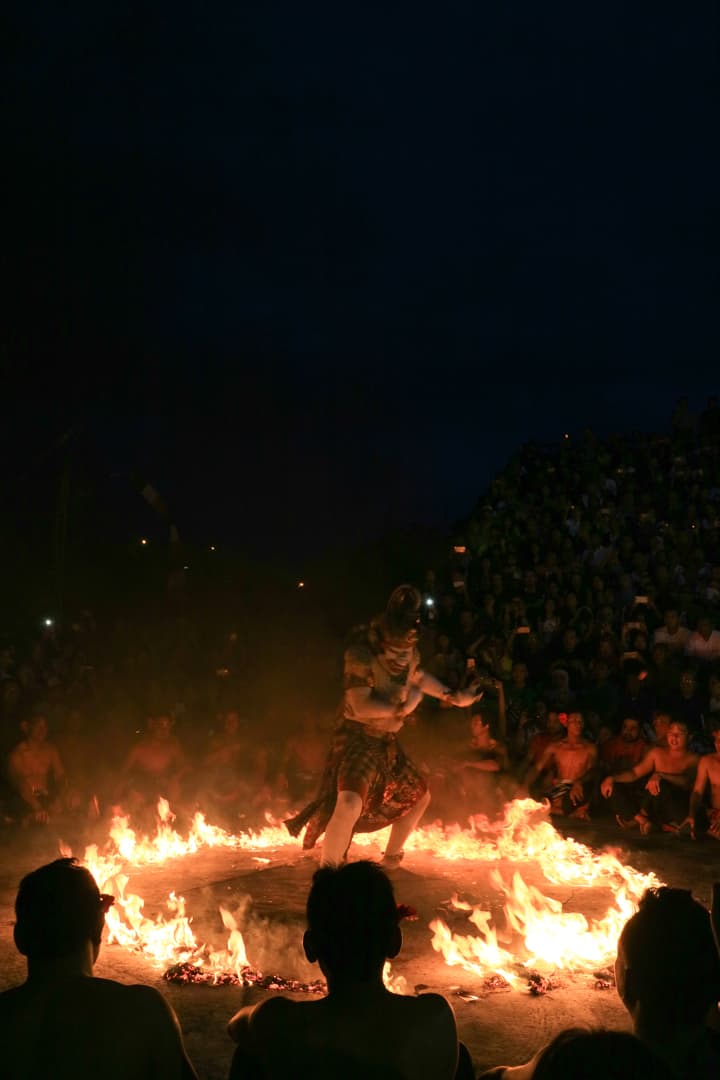 7| Do Water Sport Activities in Nusa Dua
Nusa Dua, in the southern Bali, is known for its world-class luxury resorts (we love The St. Regis Bali!), with that comes the resort benefits…cue the private beach and various water sport activities to choose from! It is a great location to try paddle-boarding, kayaking, snorkeling, and glass-bottom boat rides. For adrenaline junkies, there is jet-skiing, banana and donut boat rides, water-skiing, wakeboarding, flying fish and parasailing.
If you're not staying a resort, head north of Nusa Dua to the Tanjung Benoa area. This fishing village also offers a range of water sports facilities.
---
Bali has so much to offer, including the pristine beaches, magnificent Hindu temples, iconic rice paddy fields, rich cultural heritage, and stunning natural sceneries. I hope this list helps you plan your next Bali vacation and create a truly unique experience!
If you're staying longer in Bali, this 2-week itinerary will help you plan the trip! Or check out some of the nearby islands in Indonesia!