This site uses affiliate links and we may earn a small commission when you use our links and make a purchase without incurring additional fee yourself. Many thanks for supporting this website. Please see our disclosure page for more details.
Do you know that there is such a place in Toronto that serves up artisanal sausage, fries and craft beers in a beer hall setting? Welcome to Wvrst, one of the most popular eateries in Toronto's Entertainment District. Pronounced "verst," the Bavarian-inspired beer hall has been voted Best Fries and Beer Selection in the city in 2015! It is one place that you should definitely not miss in Toronto!
Wvrst is situated on the second floor, with a 4,000-square-foot open space that generates a refreshingly unpretentious and convivial atmosphere. Strings of Edison bulbs hanging from the ceilings, long plywood communal tables and benches, and red subway-tiled walls help create the casual, inviting ambiance.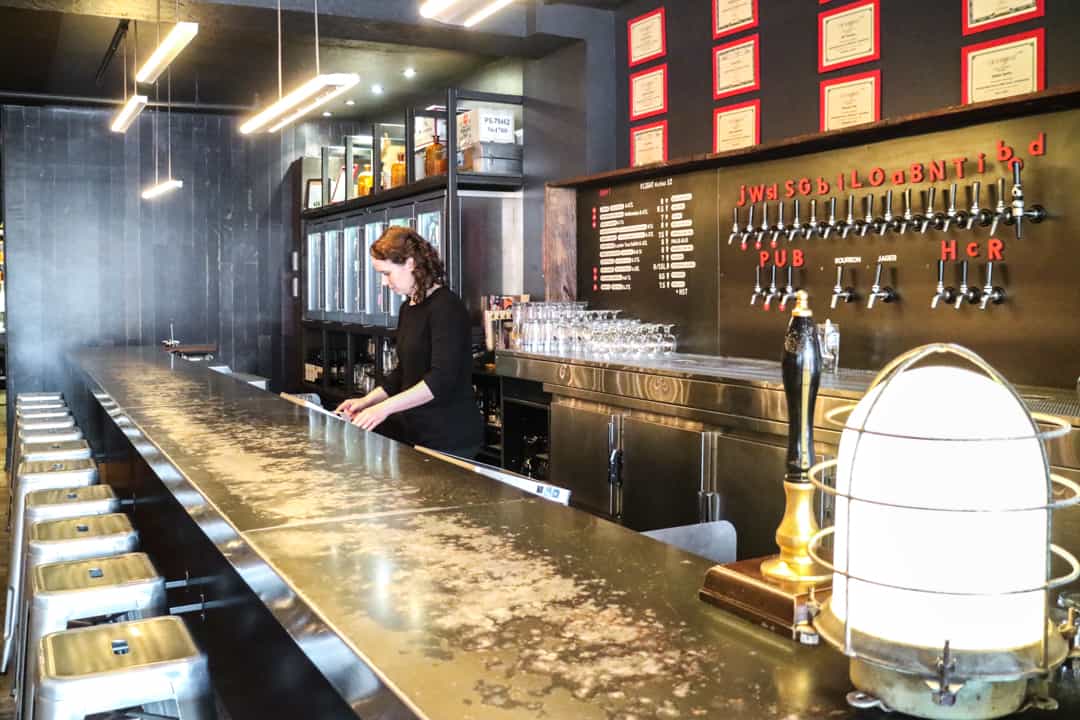 It is no joke when I say Wvrst is a heaven for beer connoisseur and sausage lovers. The extensive menu offers 25 gluten-free sausages, along with various vegetarian/vegan options (yes, this place is herbivore-friendly!), which you can pair with Belgian-style fries and made-in-house dips. Moreover, Wvrst is serious when it comes to beer selection. Its wide-ranging list covers 600+ different kinds of bottled beers and ciders, and 24 rotating taps!! That delicious food and drink selection will certainly get you addicted and keep you coming back for more.
[bctt tweet="Cheap eats in #Toronto: @Wvrstbeerhall, a heaven for beer &sausage lovers! #toeats #torontofood" username="fortwoplz"]
Wvrst's Speciality Sausages
Here's how you order your sausage at Wvrst: 1) pick a sausage and 2) choose the style (either on a toasted bun with 2 toppings, or in currywvrst style). Easy-peasy.
The sausages range from traditional (Italian, chorizo, boerewors) to game (venison, bison, kangaroo) to vegetarian (tofu-based with black bean or chickpea). If you choose to have it on a bun, you have the option to top it up with melted swiss raclette cheese for extra dollars ($4 for single, $8 for double). Otherwise, currywvrst is an excellent choice to have your sausage sliced and swimming in a curry-tomato sauce.
On our visit, we sampled bratwvrst sausage ($8) on a toasted bun, topped with sautéed onion, sauerkraut and melted Swiss raclette cheese ($4). The bold and juicy sausage was incredibly tasty with unique flavors of pork, veal and wine. The raclette cheese added extra creamy richness to it.
We also tried the currywvrst-style bison sausage ($9), which was praised for its smooth texture. It was wonderfully complemented with fruity sweetness to bring the sausage profile into balance. Each bite delivered sweet blueberry and maple flavours that lingered on the palate. Dipping it into the comforting and exotic curry-tomato sauce brought a new dimension to the humble sausage.
Last but not least, a pile of dirty duck fat fries ($6) smothered in spicy curry Wvrst sauce was to die for. Surprisingly, they were not overly greasy and was perfectly complemented by peppers, jalapeños and onions. Not advisable for your arteries, but they were finger-licking amazing!
Conclusion
Wvrst is one of my favourite restaurants in Toronto. Delicious cheap eats, friendly staff and extensive selection, it is no doubt a place we will return to enjoy. It is highly recommended for anyone who is a beer and sausage lover!