This site uses affiliate links and we may earn a small commission when you use our links and make a purchase without incurring additional fee yourself. Many thanks for supporting this website. Please see our disclosure page for more details.
I'd been told that my trip to Toronto wouldn't be complete without a meal at Byblos. Knowing that Byblos focuses on ingredients and dishes of East Mediterranean countries, I was a little reluctant to add it to my to-eat list at first. When it comes to Mediterranean food, yogurt, olives, feta cheese and lamb are usually involved – and I am just not a big fan of them. Nevertheless, I combatted my initial resistance and stepped out of my comfort zone, hoping that this time my experience with mediterranean food would be different. Was it better? Let's find out how it turned out!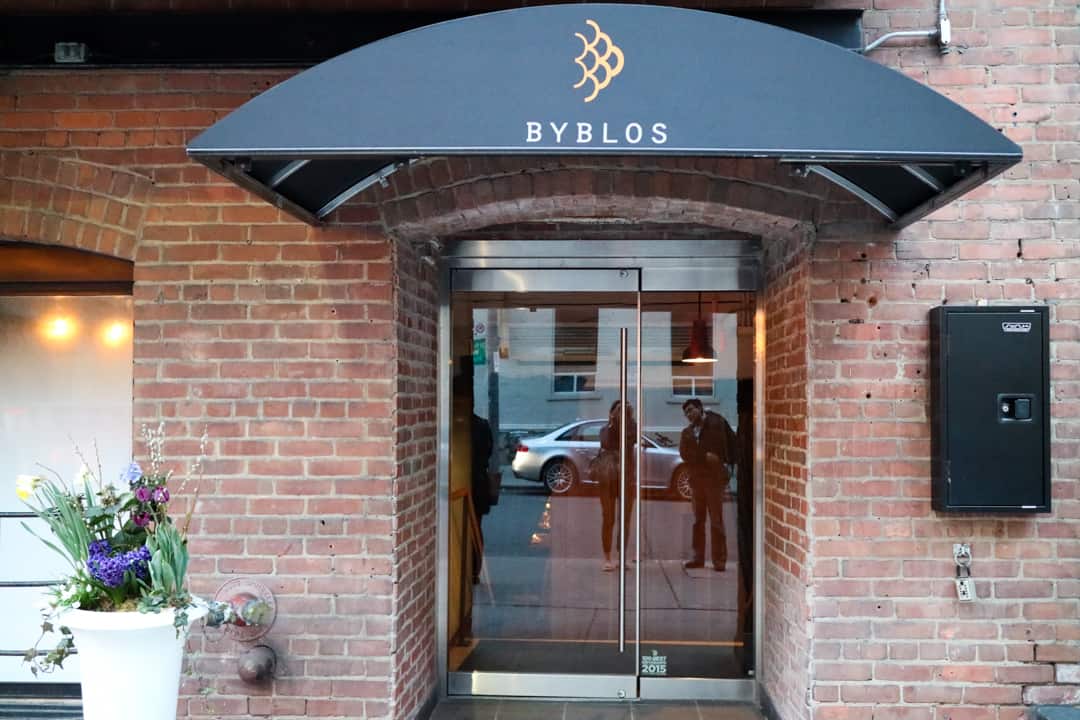 Byblos, rated as one of the most upscale and polished Mediterranean eatery in Toronto, is a creation from the same owners as Patria and Weslodge, Charles Khabouth and Harif Harji. The pair partnered with Chef Stuart Cameron to bring family-style dishes with influences from various Eastern Mediterranean countries, including Morocco, Israel, Lebanon and Turkey, to the Entertainment District.
The restaurant occupies the first 2 floors of the Storys Building, transforming it into a progressively designed space. The lower floor was bright and airy, decorated with white-bricked walls, geometric tiles and gold-colored chandeliers. Spanning the walls were glass lined shelves with accent pieces like Turkish coffee pots and decorative ceramics to add the necessary pops of colour. The upper floor, served as a lounge, was furnished with luxe upholstered booths. Dim lights lent it an intimate feel.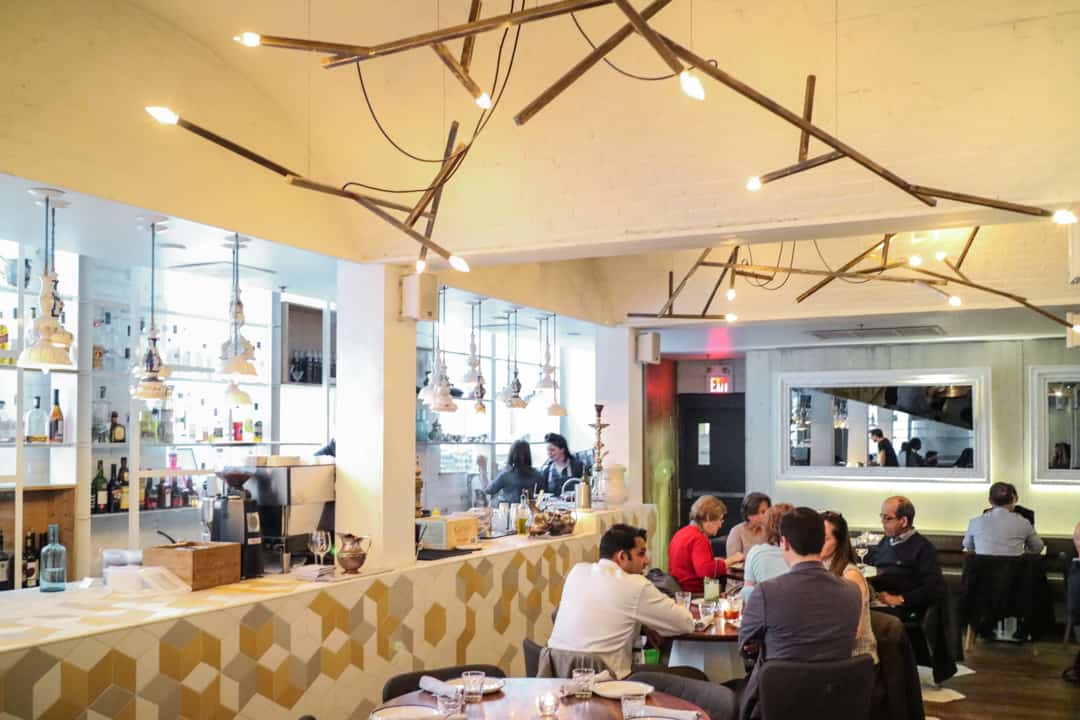 Dinner Menu
Food at Byblos was meant to be shared and enjoyed family-style. Kev and I started our evening with cheese acharuli ($7). This popular Georgian cheese and egg bread was baked into a brioche pocket filled with cheese, soft quail eggs and a sprinkle of za'atar (Middle Eastern spice mixture). It was fantastically flaky, buttery, and downright AH-MAZING, oozing with cheesy goodness. The egg yolk created a delectable sauce for the bread. Somehow I didn't mind the strong goat cheese taste in this dish – it must have been the touch of luscious, exotic flavours added by za'atar.
[bctt tweet="Savour the taste of Eastern Mediterranean cuisine @ByblosToronto! #toeats #toronto #torontoeats " username="fortwoplz"]
Due to Kev's obsession with steak tartare, we decided to order one to try. Byblos' take on steak tartare ($19) was supplied with pungent exotic spices, roasted red chili and mint. The resulting dish was part minty, part spicy, and delivered a mild tangy flavour with the dollop of thick, creamy labneh cheese on top. Served alongside was barbari bread that was covered fully with black and white sesame. While all that sounded interesting, we found that the steak itself wasn't all that special or outstanding. Plus, the labneh cheese was quite overwhelming.
For the main, we shared the slow braised Ontario lamb shoulder (MP). Slow cooked for 14 hours, the lamb was falling off the bone tasty while retaining the moisture within. The meat still had that gamey taste but complemented extremely well with the array of pickles (chili, turnip and cucumber) and sauces (toum garlic and green chili sauces). Together with soft, freshly made lavash bread, we had a fun time building our own shawarmas. Not only did it look and smell incredible, it also tasted fabulous!
Conclusion
Byblos mixed the traditional with the modern and focused on evoking flavours from the Eastern Mediterranean region. Although it was a bit on a pricier side, we had a wonderful experience savouring the taste of foreign cuisines in a convivial atmosphere. Next time, we would certainly come back with a group of friends who don't mind sharing!