This site uses affiliate links and we may earn a small commission when you use our links and make a purchase without incurring additional fee yourself. Many thanks for supporting this website. Please see our disclosure page for more details.
Restaurants in Toronto can be pricey, but there are many more that you can enjoy for well under $20. I have scouted a few wallet-friendly restaurants in Toronto that will keep you full and on a budget!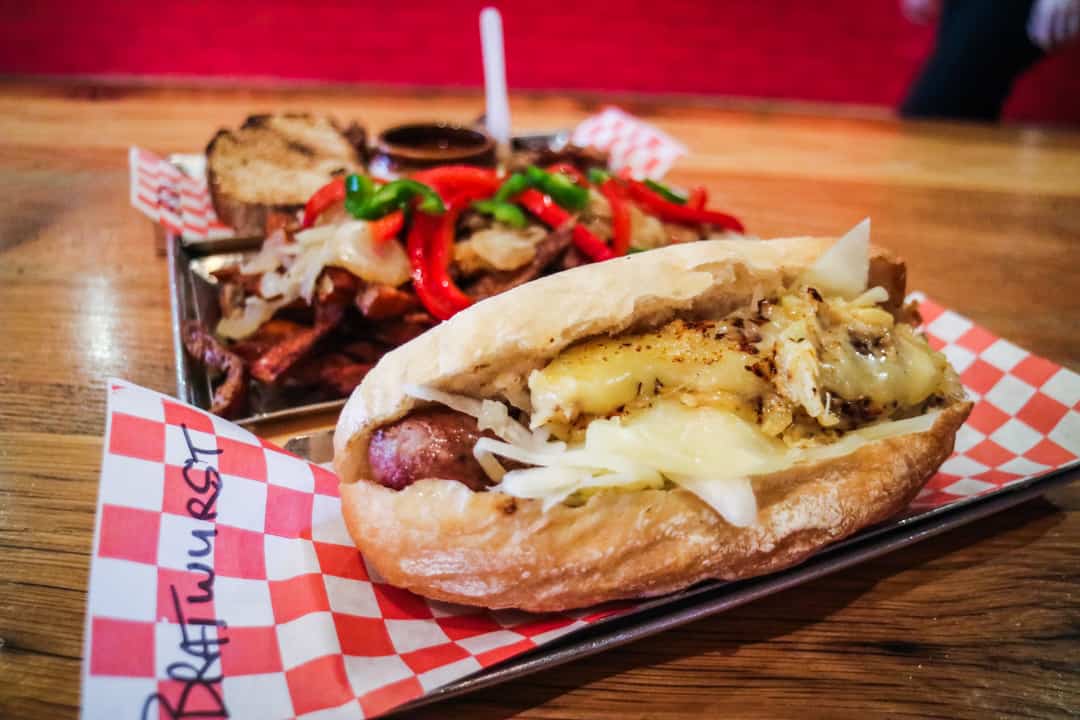 01| Banh Mi Boys
Offering a variety of modern Vietnamese subs and Asian baos, Banh Mi Boys does not disappoint in the cheap, delicious eats department. At peak hours, the restaurant is often jam-packed with hungry diners waiting for fun fusion food that are sure to tantalize taste buds. Their fried chicken steamed bao ($4) and kimchi fries ($6.50) will have you rave about for days afterwards.
Pro tip: still hungry? Order a club bao ($6) off the secret menu to enjoy the double pleasure of fried chicken AND pork belly.
02| Nana
Craving authentic Thai street eats? Then, look no further than Nana. Mimicking Thai street stalls, Nana certainly delivers when it comes to affordable meals. All the main dishes are under $20, like a $15 pad mama with hot dog. Top it up with a glass of thai iced tea ($4.5) to make it even more divine! Coming with a group of friends? Why not order a few starters to share? Their tom yum kung ($6) and papaya salad ($10) are highly recommended.
Pro tip: To get that authentic tongue-tingling spicy sensation, ask for "Thai-spicy." It will get you sweating madly but completely satisfying!
[bctt tweet="Visiting #Toronto? Find out where to dine for under $20! #toeats #torontofood " username="fortwoplz"]
03| Wvrst
Amidst the bustle of Fashion District, there is a beer-and-sausage hall that you don't want to miss. Wvrst serves up artisan sausages ($6.5-$9), with many different combinations that will make your mouth water. From traditional, game, to vegetarian, Wvrst has got you covered. My favourite is the bison sausage ($9) in currywvrst style, which blends the delicate sweet flavours of blueberry and maple with tangy curry-tomato sauce.
Pro tip: For extra creaminess, add "melted swiss raclette cheese" for only $4!
04| PAI
Don't expect a quiet, serene atmosphere at PAI because this eatery is almost always buzzing with activity. What you can look forward to, however, is a high-energy ambiance and a meal that's both delicious and wallet-friendly. PAI serves up Northern Thai food with wildly unique flavors, with nothing priced above $15. One of the most unique dishes there is the Khao Soi ($13) crispy fried egg noodles dipped in a golden curry!
05| Wilbur Mexicana
What's better than a taco? Nothing. Located right in the heart of Fashion District, Wilbur Mexicana has a full menu of Mexican street food, including tacos, burritos, quesadillas and fajitas. Though it might seem outrageous to pay $3.75~$4.25 for one taco, two of them are a meal in itself. My favourites are pork and bulgogi.
Pro Tip: For extra flavours, head towards the salsa bar and grab a hot sauce that fits your taste!
---
These 5 restaurants are just a few places where you can enjoy food without breaking the bank. No doubt, there are plenty more affordable options throughout the city that offer delicious eats. Do you know any other amazing and affordable dining options in Toronto? Tell me! I'd like to hear from you.