This site uses affiliate links and we may earn a small commission when you use our links and make a purchase without incurring additional fee yourself. Many thanks for supporting this website. Please see our disclosure page for more details.
After an eventful start to our honeymoon, Kev and I were ready for an idyllic retreat in paradise. A tranquil setting in unspoiled landscapes sounded just about right! That took us to Apulit Island – privately set within a pristine cove with a wide expanse of white-sand beach.
Owned by El Nido Resorts, Apulit Island set in Taytay Bay in North-eastern Palawan. From Puerto Princesa Underground River, the car ride takes around 3-4 hours. Along the way, we traveled through windy mountain roads. It is highly recommended to take a motion sickness medication beforehand for those who get nauseas easily.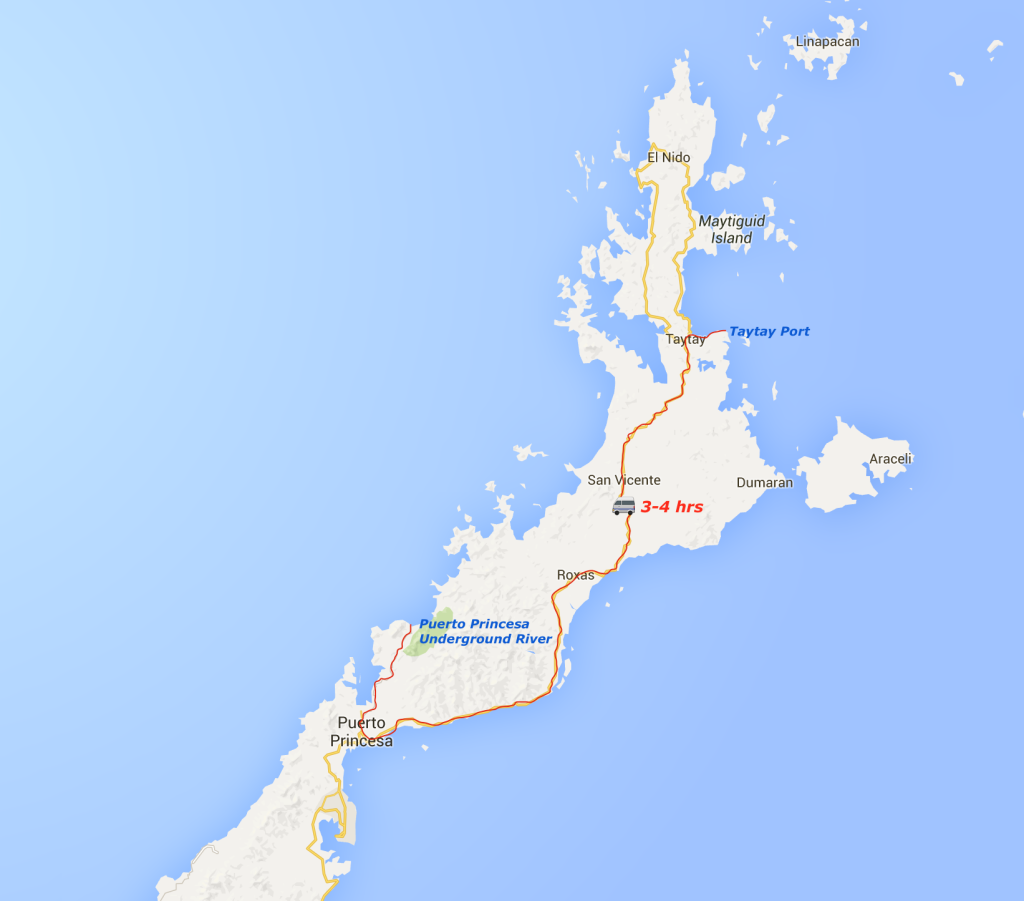 We said goodbye to Daluyon Resort early in the morning, hoping to catch the boat leaving Taytay Port at around 2:30 P.M. On the way, we stopped briefly at Roxas to recharge our energy at a local restaurant as well as stocking up some snacks.
Lunch at Tabing Dagat Restaurant in Roxas
Surprisingly, Filipino food is highly similar to Chinese cuisine, especially those noodle and soup dishes. We had no problem adapting at all! What we loved the most was lechon kawali (Filipino crispy fried pork belly), where the pork fat was fried to a crips while the lean meat remaining moist ?
Apulit Island Resort Waiting Area at Taytay Pier
After nearly 4 hours of long tedious car ride, we finally arrived at Taytay Pier at around 2 P.M. Upon our arrival, the El Nido resort staff greeted us in front of the resort waiting area and helped us carry our luggage in.
The waiting area provided shade to hide away from the glaring sun, as well as refreshing drinks and snacks to keep us cool in the hot summer day. The piles of magazines and free wifi connection kept us entertained while we waited for other guests to arrive.
Quick Tour Around Taytay Town
With an adventurous spirit, I was tempted to explore the quaint and friendly town of Taytay. For security reasons, the kind resort staff appointed a security staff to accompany me and show me around the area.
We passed by the historic Taytay Fort (also known as Fuerza de Santa Isabel) just around the corner. Built in 1667 under the Augustinian Recollect Fathers, the fort was used as a military station to protect the inhabitants from the attacks of the Moro pirates from Sulu during Spanish Colonization. Now the fort is under the supervision of the National Museum and open to tourists for an entrance fee.
The unpaved, muddy roads with a series of old run-down houses alongside contrasted with the metropolitan cities many of us live in. But somehow, I appreciated the rustic small-town charm and the picturesque landscape. It reminded of my childhood years growing up in Penang, Malaysia.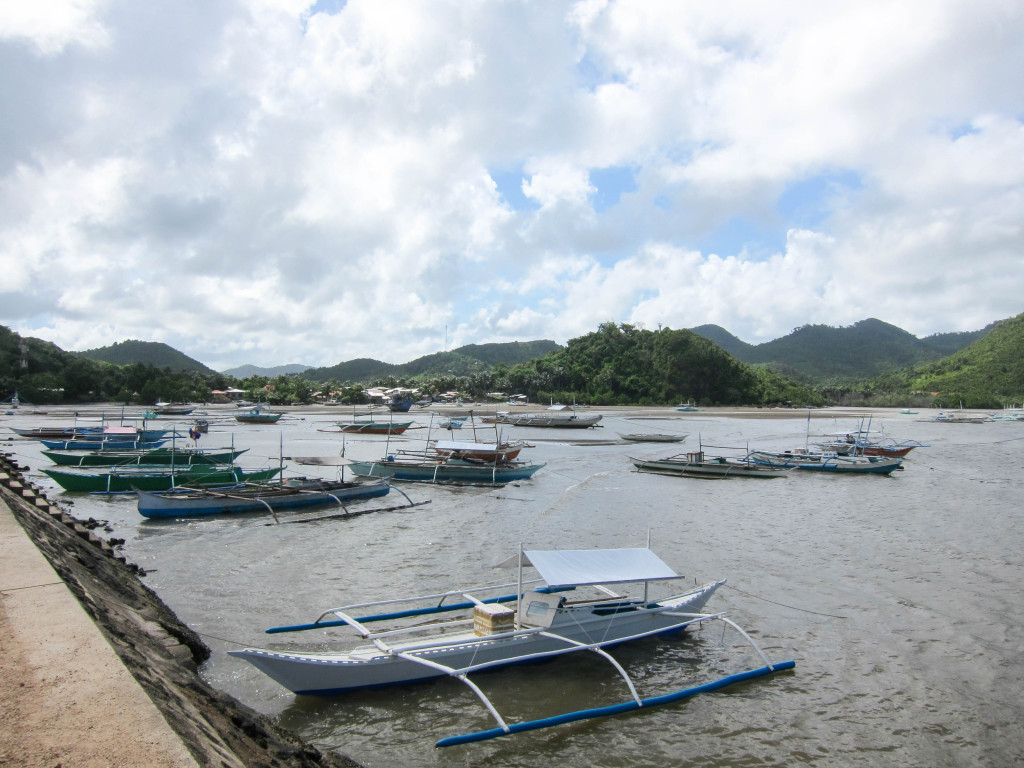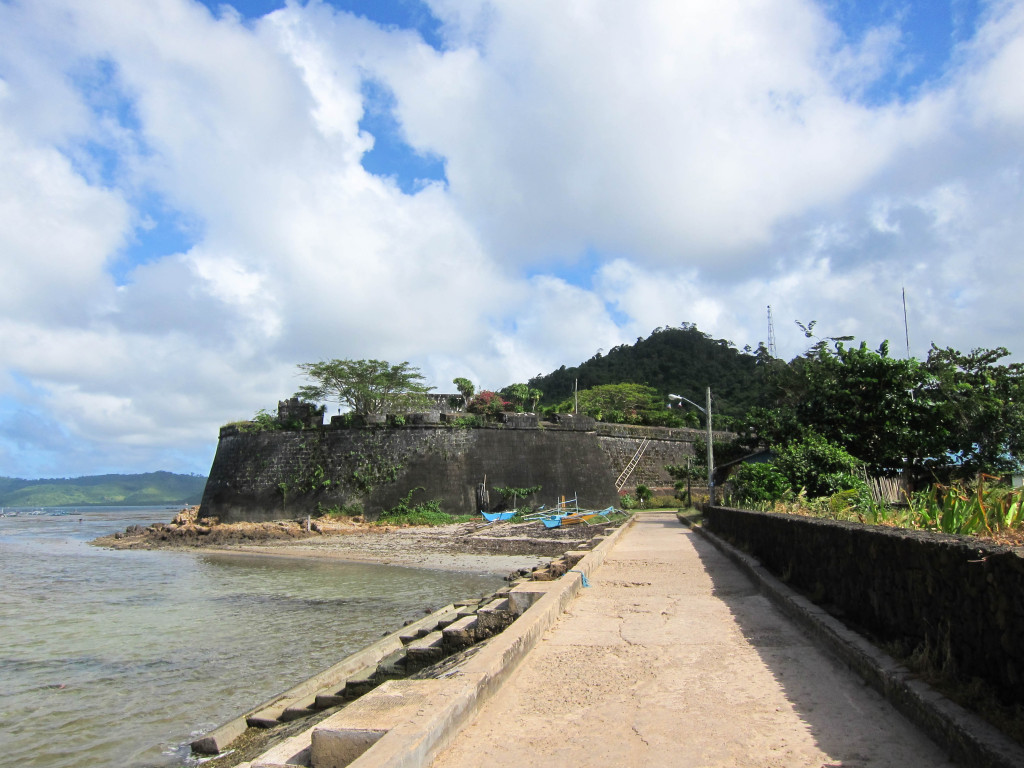 Accidentally, we walked up on a group of people who were arranging a cockfight. As fearless as I am, this type of cruel blood sport is one thing that I couldn't stand watching. I quickly walked away to avoid the scene after taking a picture. ?
Apulit Island Resort
Soon we boarded on a boat that took us to the magnificent Apulit Island. But first on a motorboat, then transferred to a bangka (Filipino fishing boat).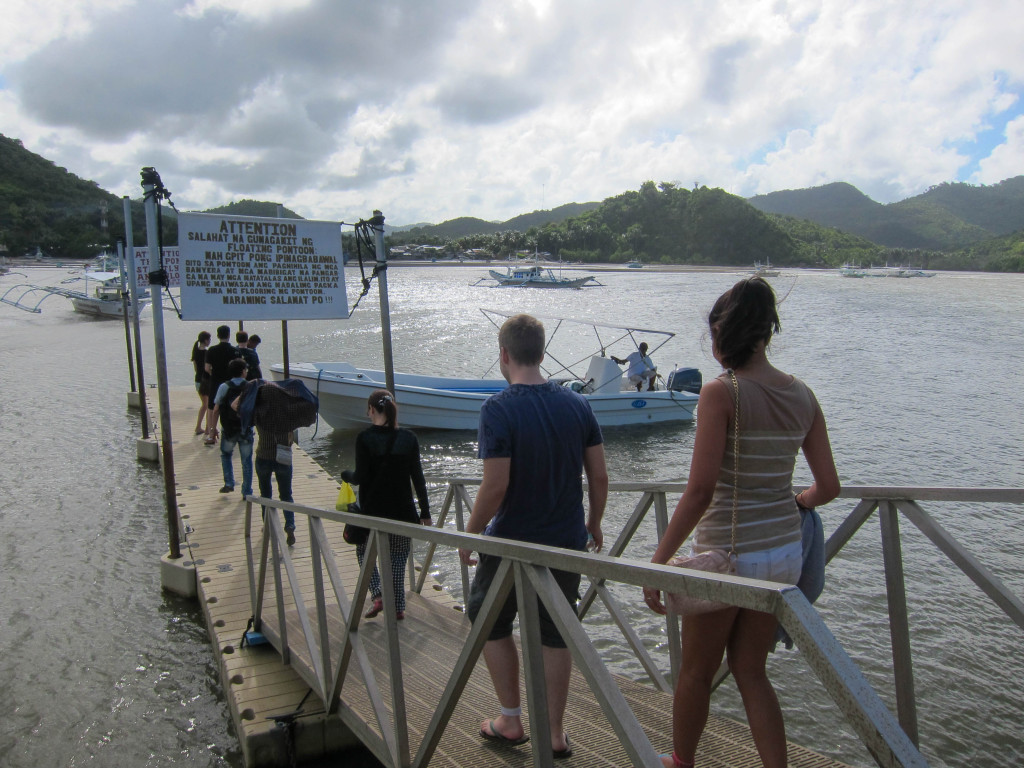 Typically the boat ride takes 40 mins, but the rough sea condition during the monsoon season prolonged the journey and took us almost 60 mins to get Apulit Island!
No kidding… it was a looooong ride bouncing up and down from trough to trough. But when the stunning view of the Apulit Island emerged, it was all worth it!
As soon as we alighted from the boat, the resort staff welcomed us at the docking area with refreshment drinks, cool towels, and bamboo crafts.
To make us feel even more special, the staff gathered and sang a traditional welcome song before we stepped onto the sand of the enchanting island resort ?
Then, a resort staff approached us for the check-in process and led us to our water cottage. The island has 50 water cottages that combine traditional Filipino architectural style with contemporary design.  Our cottage was located all the way on the other end of the cove near the limestone cliffs. For adrenaline-seeking individuals, you can sign-up for rock-climbing – that cliff is where the sport takes place!
The cottages are small but very comfortable, clean and well equipped! Each with its own air-conditioner, mini-fridge, wifi and washroom. Most importantly of all, you can enjoy warm sea breeze on your very own balcony with coral reefs and fish right beneath you!
From time to time, we spotted baby sharks roaming around the shallow water near the cliffs.
The resort especially caters to sporty, adventurous guests with a wide range of marine and land-based activities. You can dive or snorkel right in front of the resort's vibrant coral reefs, swim with stingrays, baby sharks and sea turtles, go kayaking, sailing, rappelling or wander through Apulit's 5 amazing caves. For truly daring people, brave your fear and jump from the 8-meter high cliff all the way into the ocean!
Island Hopping – Isla Blanca & Nabat Island
With crystal-clear waters and a wealth of marine life, you cannot give up on the opportunity to snorkel or dive in the Taytay Bay. We signed up with the Guest Activity Coordinator the day prior for an island hopping tour, which brought us to visit the 2 amazing islands nearby Apulit – Isla Blanca & Nabat Island.
Located 20 mins away from Apulit, Isla Blanca (Imbaladan) is a long coral white sandbar dotted by coconut trees. Its abundant amount of colorful coral reefs makes it a fantastic spot for snorkeling especially at the drop-off with a depth of about 40 meters.
Nabat Island is home to the swiftlets (balinsasayaw), which is best known for using their saliva to build edible nests. Because the island's white-sand beach is only accessible during the low tide, we could only jump into the surrounding and explore its majestic coral reefs.
If you're interested in the underwater world at those islands, check out this website for all the breathtaking photos!
Private Romantic Dinner at Apulit
One thing I love about all-inclusive resorts is that you don't have to worry about what and where to eat. Breakfast, lunch, dinner are all included in the fee. However, if you want to have an unforgettable dining experience under the stars with your loved one, book a private dinner!
Kev and I enjoyed our last dinner at Apulit on the beach where we could make the most of the magical ocean view in our personal beach tent. We watched the gorgeous sunset, as we savoured an exquisite five-course menu brought to us by our personal waiter.
Prices vary with the type of set menu and location of the dinner. Among the 4 different menu, we chose the Filipino menu to experience the exotic Filipino cuisine! The dinner was about P$1200 pp (excluding beverages).
[easy-image-collage id=3920]
By the time, we headed back to our cottage and called it a night, we found a sweet message from the housekeeping staff, along with our next day's departure itinerary. The itinerary detailed the time for luggage pick-up, room check-out, boat departure and estimated arrival time to our next destination. Very thoughtful and well-planned!
We truly enjoyed our 2-night stay at Apulit Island with El Nido Resorts. Undeniably, the view was awe-inspiring and we had the blissful beach escape of a lifetime. What made it special was its warm-hearted staff who took the extra mile to make us fall in love with this scenic island. Even though our stay was short, we couldn't wait to go back again in the near future ?
**Tipping is a little different at El Nido Resorts: to ensure consistent quality service, individual tipping is not encouraged. However, you may leave tips at the front desk as a common fund for all the employees. 
If you'd like to visit this part of the Philippines, check out this post on top things to know before visiting El Nido.
About El Nido Resorts – Apulit Island
Website: http://www.elnidoresorts.com/apulit-island/
Social Media: Facebook / Twitter / Instagram