This site uses affiliate links and we may earn a small commission when you use our links and make a purchase without incurring additional fee yourself. Many thanks for supporting this website. Please see our disclosure page for more details.
Tuk Tuk. If you've visited Thailand before, you definitely have seen those three-wheeled taxis running amok on the local streets. Just like how it operates as an affordable transport taking visitors to discover the country's hot spots, Tuk Tuk Thai promises to bring the diners a truly enjoyable, authentic Thai experience.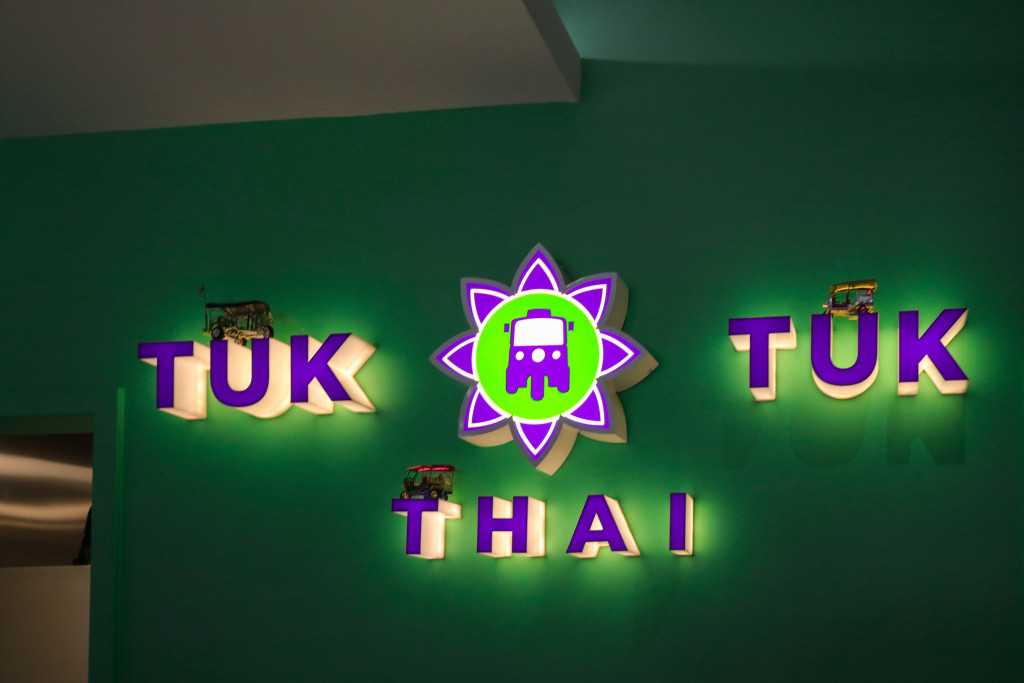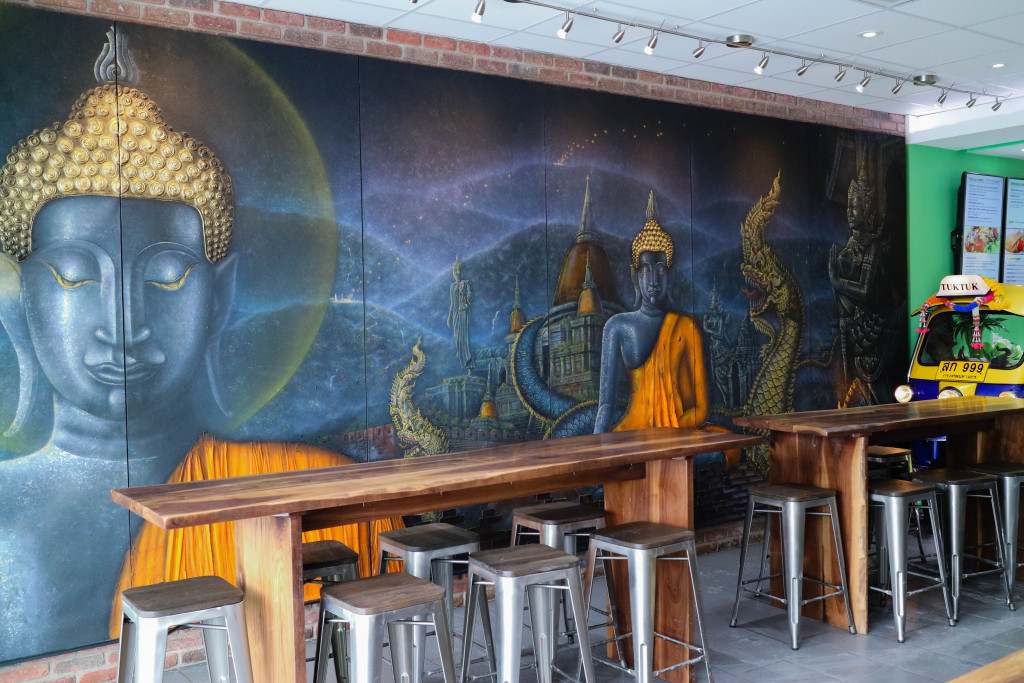 With Buddha artwork covering one side of the room and photos of Thailand occupying another, Tuk Tuk Thai really has put in great efforts to showcase the true images of Thailand to the Calgarians. It really wouldn't take much for one to notice the importance of the Buddhism in Thailand, along with the stunning natural beauty, tropical beaches, and friendly people that make it a wonderful paradise.
To further illustrate what a 'tuk tuk' really is, the owner even brought in a real tuk tuk to the restaurant as a part of the display. But instead of carrying passengers, the taxi was transformed into a cooler of grab-and-go items like snacks and drinks.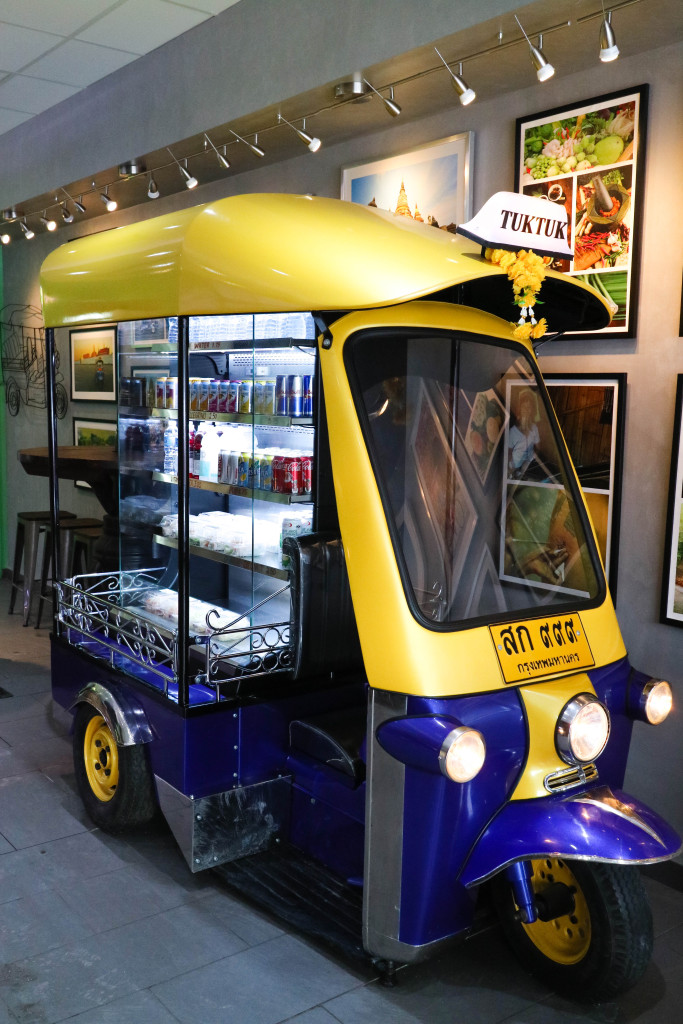 Ordering is simple here: place your order with the cashier and pick it up when the food is ready! It's 100% self-serve.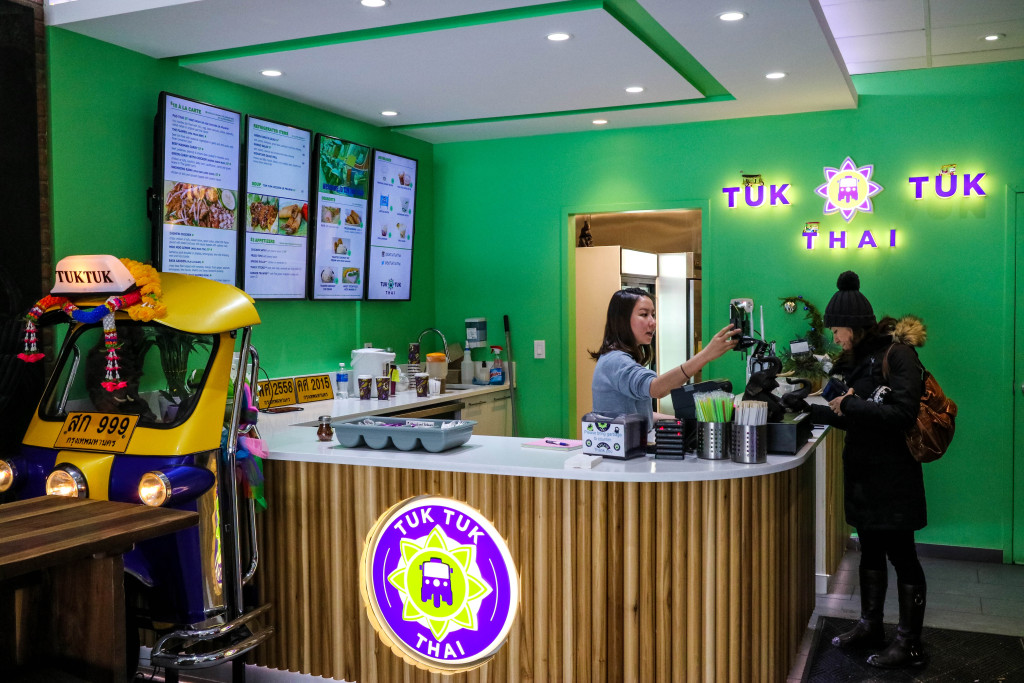 3 communal tables stretched across the room, promoting conviviality if not privacy. This again echoed with the ride-sharing arrangements sometimes taken up by solo travellers to split the fare.
As we took our seat, food was already waiting to be picked up at the counter. Let us dig in!
$10 A La Carte
Packaged compactly inside to-go boxes, the à la carte items opened up like a lotus blooming. Beautiful, isn't it? ?
Frequent trips to Thailand during my childhood years in Malaysia introduced me to authentic flavors of Thai food, if nothing else. Moo Nam Tok translates to 'waterfall pork' in Thai, meaning the meat should still contain blood/juices running out from it, as a waterfall, when sliced. Usually, the pork is grilled first until pink and then sliced and mixed in with the spicy sauce and herbs.
At Tuk Tuk Thai, the use of lean pork shoulder gave the barbecue meat a firm, chewy texture. Fresh minty aroma with a great intensity of sourness attacked the palate – it must be from the mixture of shallots, lemongrass, mint, and lime chili dressing. Few things I found missing here: 1) I didn't really taste the roasted rice crumb in the dish, which was supposed to give it a pleasant toasted fragrance and lively texture, 2) where's the chili? Without the tingling sensation of chili, each bite just got more and more unbearably sour, 3) I asked for coconut rice, but where's that delicious coconut flavor??
Same for the beef masman curry (also called massaman curry), which was supposed to be mildly spicy, nutty, rich and flavorful given its strong Indian influence, turned out to be mainly sweet and coconut-y instead. The beef was stewed wonderfully though.
$4 Appetizers
The chicken spring rolls, came in a package of 2, were light and crispy, deep-fried to golden perfection! The sweet chili sauce completed these rolls and brought a flood of sweet memories for me ?
Refrigerated Items
On my second visit there, I grabbed a small container of green papaya salad ($6) to go (sorry I forgot to take a photo ?). If you've been following my blog, you know that I'm a green papaya salad fanatic – always looking for the perfectly authentic som tam ('green papaya salad' in Thai). I was a little disappointed at Tuk Tuk Thai's green papaya salad. A LOT were missing – there's no dried shrimp, no plum sugar, and most importantly, the ingredients were not pounded at all to bring out all the flavors (instead all ingredients were packaged separately). All I could taste was the lime juice.
All in all, I found the thai dishes at Tuk Tuk Thai have been toned down considerably and modified to suit the western palates. I understand that the owner's desire to introduce inexpensive, classic Thai food to the people in Calgary – and I gave him credit for that. But that doesn't mean authentic flavours should be sacrificed.