This site uses affiliate links and we may earn a small commission when you use our links and make a purchase without incurring additional fee yourself. Many thanks for supporting this website. Please see our disclosure page for more details.
Inspired by the flavours of Southern France, this charming bistro is my new discovery on 17th Ave. The restaurant is attached to Market 17, from where it selects local, seasonal produce everyday to create great French cuisine. If it wasn't for Mike & Jenna, we would have never come across Cassis – it is so well hidden that we drove past so many times without noticing it even exists!
What I loved about Cassis is its timeless appeal and contemporary vibe. The interior is classy-but-casual, bright and cheerful. Black-and-white photos up on the wall, warm lighting, and decor of the space gave it the touch and feel of Southern France.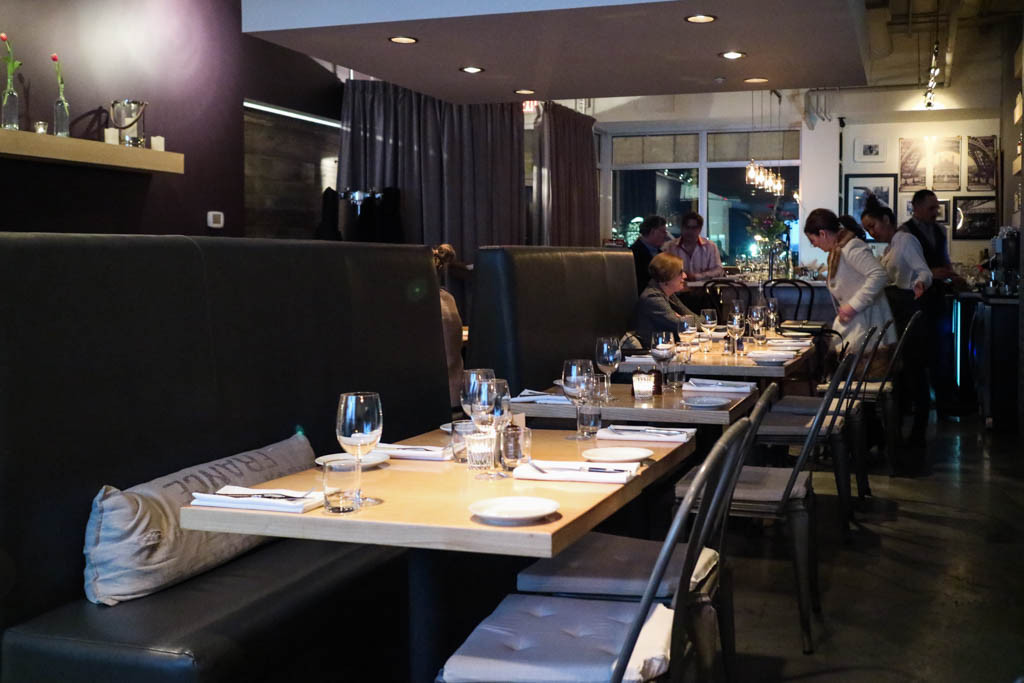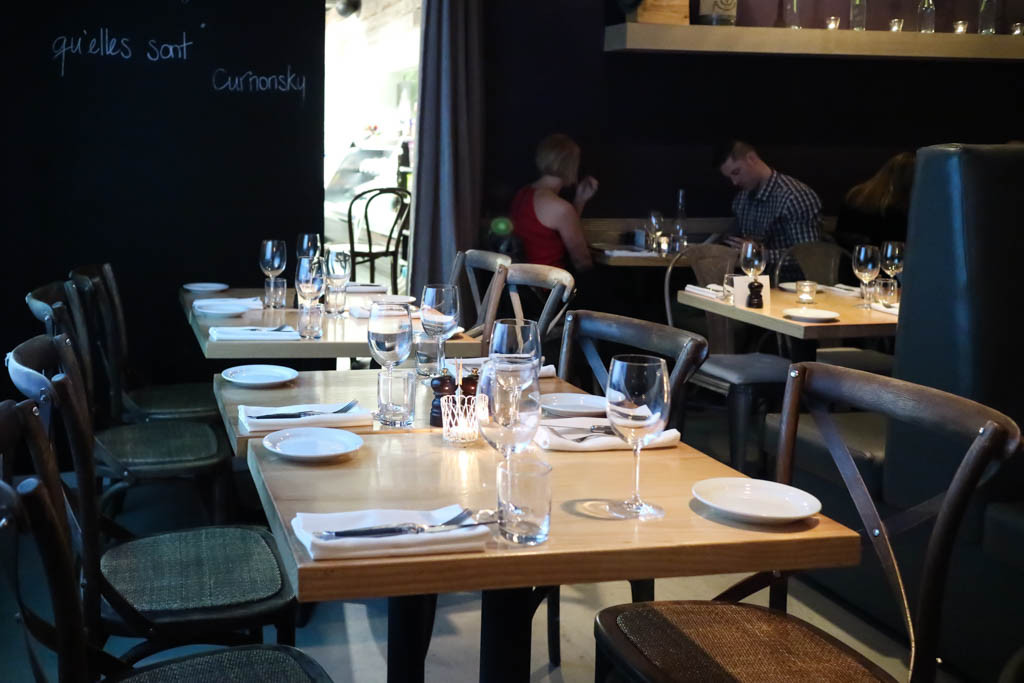 The heart-warming hospitality demonstrated by the owner, Gilles Brassart, and the servers made our visit exceptional. Since none of us was familiar with Southern French cooking, we asked for recommendations, which turned out to be extraordinary.
Drinks
If you're a wine connoisseur, Cassis is the place to be. They carefully choose French and Canadian wines to pair with their delicious food dishes. Even if you're not a wine drinker, there's something on the menu for you to try. How about beer cocktails? Try the panaché ($6, pronounced pan-nah-SHAY), which is a popular French drink that combines 2 great things: beer and lemonade. It was aromatic citrusy with a slightly bitter finish. If you add in grenadine, tah-dah – you now have monaco ($6)! The grenadine added a royal red color and a sweet, bright pomegranate flavor to the drink.
Appetizers
To start off, the four of us ordered 3 small plates to nibble on. The pork rillettes ($12) was a sensational starter, made with shredded, slow-cooked pork preserved with pork fat, which was then mixed and spread on fresh baguette. A dab of grainy mustard and bites of cornichons (small pickled gherkins, pronounced KOR-nee-shons) added slight acidity to pierce the richness. However, I found the rillettes tasted somewhat greasy after a few bites.
We've fallen in love with beef tartare since our visit to Rouge. Cassis' beef tartar au couteau ($17) was equally irresistibly delicious. Finely chopped Alberta prime beef serving up with capers, a runny egg yolk, seasonings and duck fat potato chips, hmmmm….the end product was wonderfully moist and flavorful!
As much as Kev and I loved the beef tartar, it was incomparable to the heavenly ravioli au fromage de chèvre ($18). Anyone who knows me well knows I hate goat cheese (for that strong "muttony" taste). BUT unlike anything I had tasted before, the ravioli completely blew our minds with its deliciously smooth spicy tomato coulis, which exploded with rich, naturally sweet, complex flavors. It tasted sooooooo good that it covered up the unpleasant taste of goat cheese and accentuated how creamy and buttery the filling was. Too bad they change their ravioli recipe every 2 months ?
Mains
For the entrée, Gilles, the owner, strongly recommended the daube provençale ($29), in which the beef was braised to absolute softness in red wine then served together with pillowy-soft gnocchi. While the beef took up a rather deep, strong flavor, carrots, celery root and mushrooms added fresh flavors to the slow-cooked dish.
The steak frites ($34) came in a hearty portion with thin slices of medium-rare beef, topped with beurre Maitre d'hotel (parsley garlic butter) to enhance the flavor of the meat. Thumbs up for the steak, which developed a dark crisp crust while remained tender and juicy in the center! Double thumbs up for the incredibly crispy matchstick french fries on the side!!
Mike's broek farm pork chop ($30) called for roasted apple, brussels sprouts, calvados sauce and potato dauphinoise (aka gratin). The calvados sauce had a light syrup consistency that gave the pork chop a drop of sweetness and depth of flavor while the apples and potatoes made a perfect accompaniment. Personally, I preferred the beef dishes because the pork chop was a little tough and chewy.
Desserts
To round up the meal, we ordered 2 desserts to try: the paris-brest ($9) and trio à l'ananas ($9). Cushiony smooth hazelnut pralinen cream sandwiched between light, airy, crispy choux pastry, the paris-brest is to die for. It was so delicious that leaving us wanting more!!
It's rare to find pineapple desserts, when I do see them around, I always take up the chance to try them out. No matter how they are done, they ALWAYS taste delicious. For trio à l'ananas, Cassis presented pineapple sorbet, sponge cake with fresh pineapple, and roasted pineapple crumble. The combination made a refreshingly fruity summer treat! It's hard to imagine if anyone will dislike it.
Conclusion
Kev and I had a fantastic night out at Cassis Bistro. Amazing food. Lively, romantic ambiance. Impeccable service. Price-wise, it was a little expensive, but a great treat for a special occasion. I'm definitely putting it down on my list of date-night restaurants ?