This site uses affiliate links and we may earn a small commission when you use our links and make a purchase without incurring additional fee yourself. Many thanks for supporting this website. Please see our disclosure page for more details.
?H A P P Y N E W Y E A R ! !?
Hope everyone had a fabulous end to 2015 and may the year ahead of you be full of contentment and joy ?
2015 has been an eventful year for me, packed with a couple of overseas trips and started a new phase in my life. Although I am reluctant to add one year to my age (thanks to Asian tradition…), I am looking forward to new challenges in the new year ?
First thing in this fresh new year, let's check out something new to expand our horizons. Serving interactive Mexican food with a contemporary flair, Añejo is a fantastic place to start.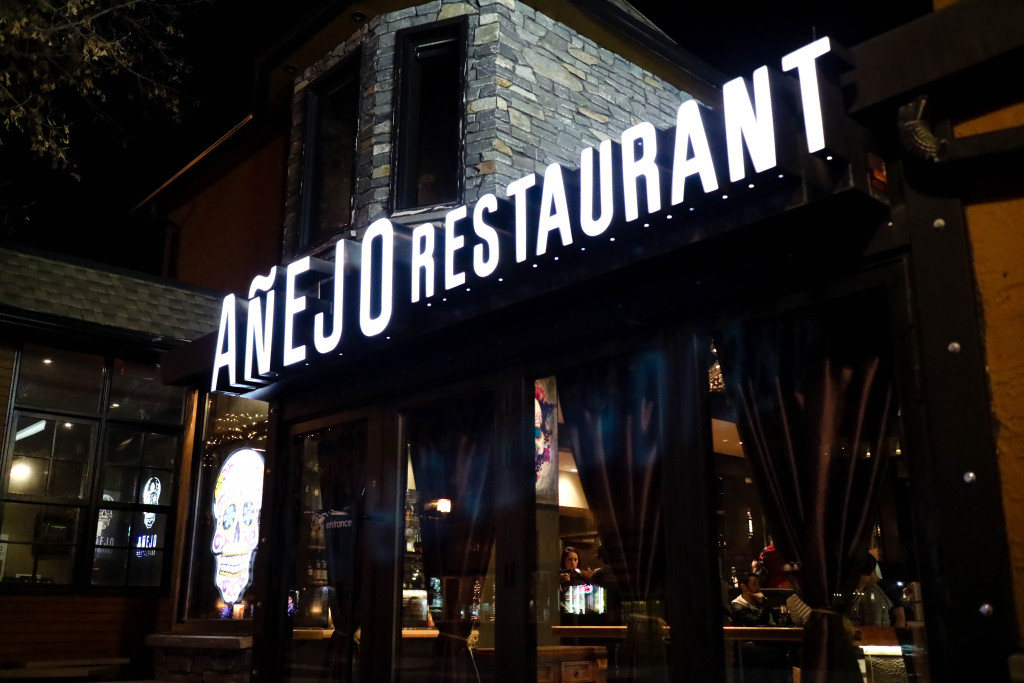 Situated on the south end of 4th Street, the Latin-inspired restaurant welcomed its patrons with an open, airy space furnished with high wooden tables and stools. The collection of crosses and painted skulls throughout the restaurant presented an ultra-lounge feel, yet a dark gothic theme.
[easy-image-collage id=3507]
It's hard to miss the image of brightly painted sugar skull as the iconic symbol for the restaurant. Also known as the 'calavera', the decorative skull is widely used in the cultural celebration of the Day of the Dead in Mexico. This got me excited to check out the menu, hoping to find that the vibrant, bold colours in the artistic symbol translate into tastes!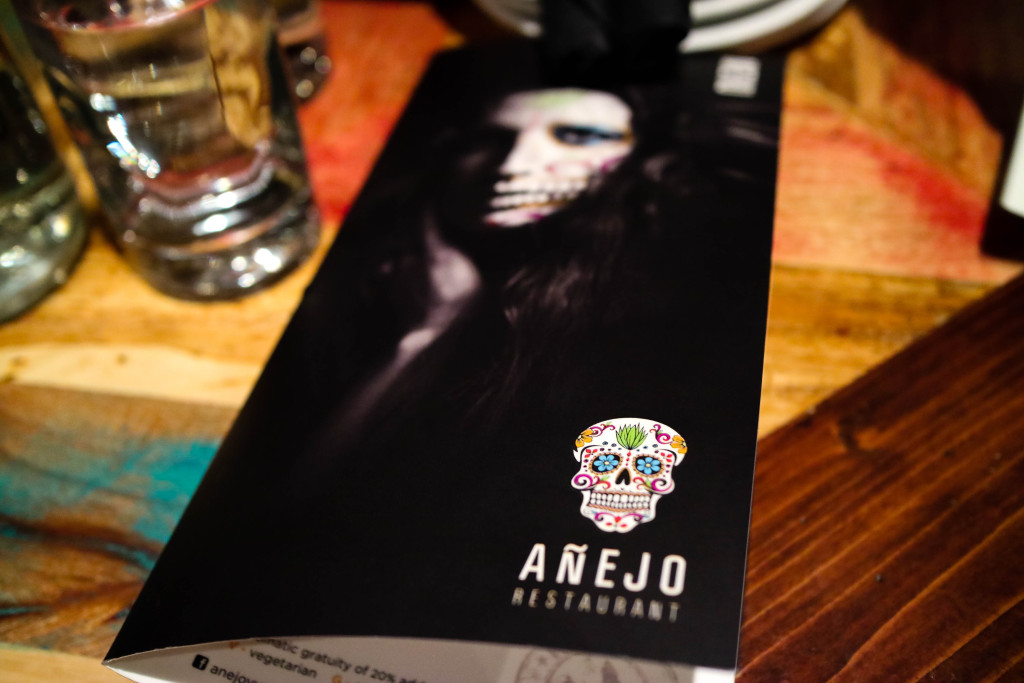 I highly recommended starting with the para la mesa dishes. The portion is made ideal to share among 2. The four of us ordered guacamole ($14) and fundido flameado ($20). I had never seen guacamole made so fresh, right in front of our eyes. The server prepared fresh ingredients- avocado, cilantro, jalapeño, onion, tomato, in a lava-rock mortar, drizzled a thin layer of lime juice across, then mashed them all with a fork until it reached the creamy consistency. Voilà! Definitely one of the best guacamole I've had. The spicy jalapeño and zesty lime juice really brought out the mixture of flavors. The thin, crispy tortilla chips were perfect to dip into the guac ?
[easy-image-collage id=3513]
If you love cheese, you MUST try the fundido flameado. It was not only appetizing, but also visually stimulating. The bubbling dish of melted white cheese, with a layer of bourbon poured on top, was lit on fire when served. After the flame had died down, the server mixed together the cheese and wild boar. Wrapping the savory gooey warm cheese and fork tender slow-cooked wild boar inside the corn tortilla was heavenly!
[easy-image-collage id=3517]
I loved the idea of keeping the tortilla warm in an insulated pouch. Though the tortilla only came in a few sheets at a time, you could ask for more when you finish!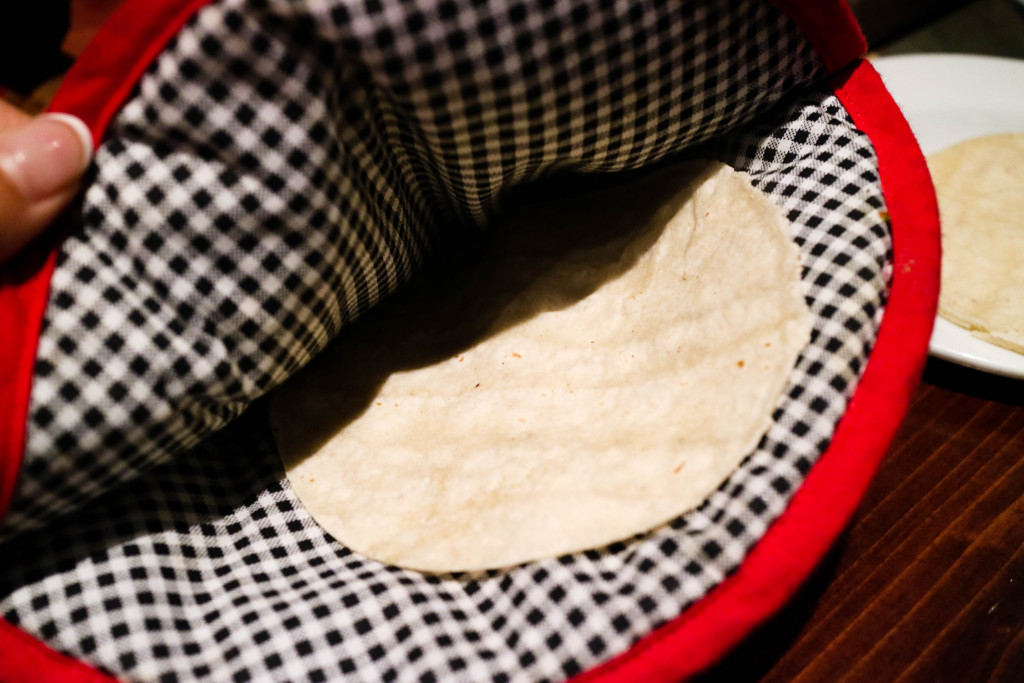 How could you dine at a Mexican restaurant without ordering tacos?! Since it was our first time at Añejo, Kev and I shared a rack of 6 tacos classico ($26), sampling all the flavours on the menu (including beef short rib, adobo pork, crispy snapper, chicken, wild boar, and mushroom). Each wrapped up in a huge soft tortilla and crammed with a delicious blend of pickled cabbage, cilantro, onion, avocado mouse and chili. All fresh and delicious, with crispy snapper, wild boar, and mushroom being the best. (I just can't resist the honey sweet taste of the wild boar and meaty rich mushroom flavors!!). For extra flavors, you could add any of the 3 sauces on the side – tomatillo vaquero cholula, white hot mayo, or tabasco.
Nothing beats a fresh, warm churros ($9) as dessert. The sweet and savory deep-fried goodness brought a good ending to the meal. Deep fried in peanut oil, the outer shell was a little too thick and crunchy. Thankfully, the interior remained soft and chewy. Coated with cinnamon & sugar and dipped in dulce de leche… trust me… you would want to lick your fingers!
Añejo is definitely a restaurant you can't miss out on in Calgary. From appetizers, tacos to desserts, it didn't disappoint. Next time, I will come back for the tequila!