This site uses affiliate links and we may earn a small commission when you use our links and make a purchase without incurring additional fee yourself. Many thanks for supporting this website. Please see our disclosure page for more details.
Ever since Kev and I moved into the Beltline community, we have been looking forward for the area to develop a flourishing restaurant scene. After ReGrub and Chefbar, we were pleased to see Native Tongues Taqueria open in our neighbourhood, offering a new option to satisfy our Mexican-food cravings.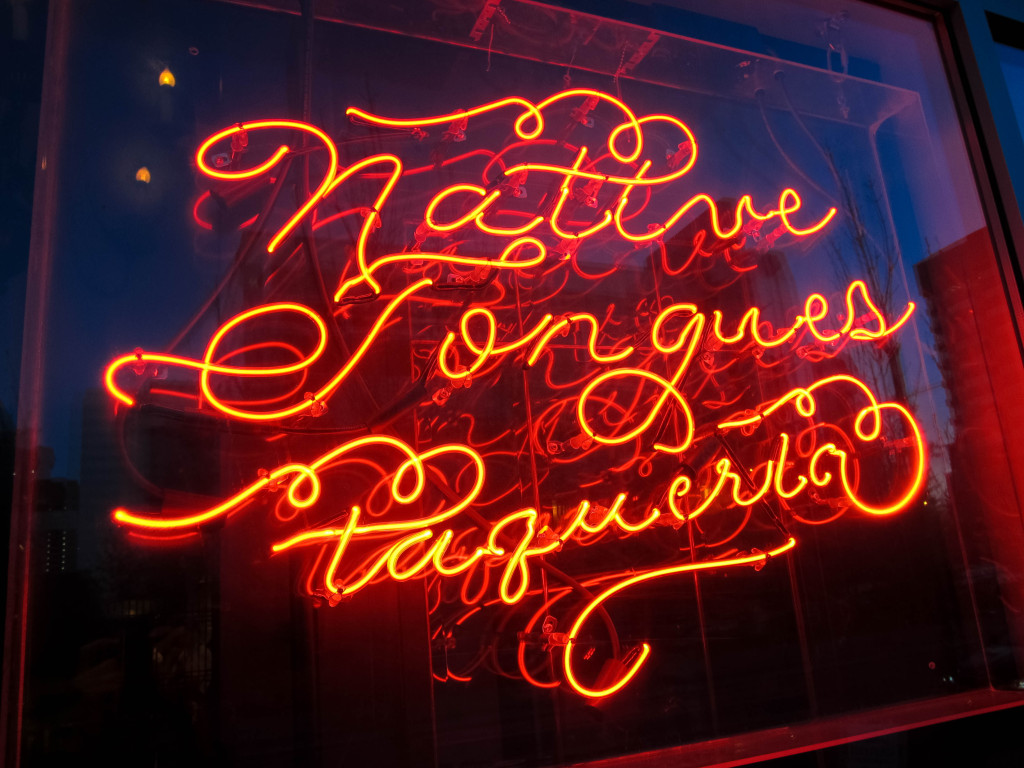 As a part of the BMEX Restaurant Group (that also runs Una Pizza and Ox & Angela), this new kid on the block has no problem getting the words out, having a full house almost every night. With a no-reservation policy, there is no doubt that stepping in there last minute will guarantee a wait.
As we finally made our way through the dimly-lit restaurant, it was 25 mins after. The place replicated the traditional Mexican taqueria with Mexican Otomi-patterned tiles, old framed photos, and wooden tables and benches. Making the atmosphere even more authentic, the restaurant incorporated an old-time spotted wall, attached hanging string lights, and had vintage painted bar tables around.
[easy-image-collage id=3537]
The menu is short and simple, featuring food in 3 categories – antojitos ("street food"), tacos de guisados ("braised & stewed tacos"), and tacos al carbon ("charcoal grilled tacos"). Portions is generous here, so sharing is recommended.
After the long wait, we desired something quick and easy to whet our appetite. The three of us started our meal with chilaquiles ($10). Bursting with Mexican-inspired flavors, the hearty dish brought together lightly fried tortilla chips, hot red salsa, cream, cheese and cilantro. A hint of lime and a sprinkling of chili powder filled the palate with a tingly finish.
One thing worth noting is that Native Tongues Taqueria practices nixtamalization and makes its masa ('dough flour') in-house from scratch. Masa is the key ingredient for making any Mexican favorites, including burritos, tacos, tortillas, tamales, enchiladas…etc. To make masa, the ground corn must be nixtamalized by first be dried, then soaked and cooked in an alkaline solution. By engaging in such a elaborated process, it shows how Native Tongues is dedicated in bringing top-quality traditional Mexican food to Calgarians.
Unlike tacos de guisados which come in individual pieces, tacos al carbon is served in family style and takes 30 mins in preparation. Since neither of us had ever tried family-style charcoal grilled tacos, we decided to experiment and share a barbacoa de cordero ($36). I was impressed how succulent and fall-apart tender the slow roasted lamb neck was. That wonderful aroma of spices gave dishes an unforgettable exotic flavour.
BUT everything else went downhill. The corn tortilla tasted unpalatably stale and grainy. The condiments (salsa verde & roja) were disappointedly mild and bland. I had to top up with Valentina hot sauce to spice things up.
To my surprise, the tacos didn't live up to the hype. At the moment, I would avoid any dishes that is served with soft corn tortilla and stick with the street foods and drinks until they improve their recipe.
Though we didn't order any alcoholic drinks at our last visit, I knew that their creamy, cinnamon-y horchata ($4) was pleasantly sweet and refreshing – great to sip on to beat he summer heat ?