This site uses affiliate links and we may earn a small commission when you use our links and make a purchase without incurring additional fee yourself. Many thanks for supporting this website. Please see our disclosure page for more details.
In Calgary, we have never run into problems finding Italian food. The real challenge lies in finding one that will drive food lovers crazy. Cilantro and La Piccola Napoli are by far my favorite Italian eateries in the city, but it never hurts to explore other options!
Our most frequent visit to Bonterra Trattoria made me feel secluded in the bustling. Squirrelled away behind a wooden door on 8 St SW, the restaurant is an urban oasis, bringing contemporary Italian cuisine to life.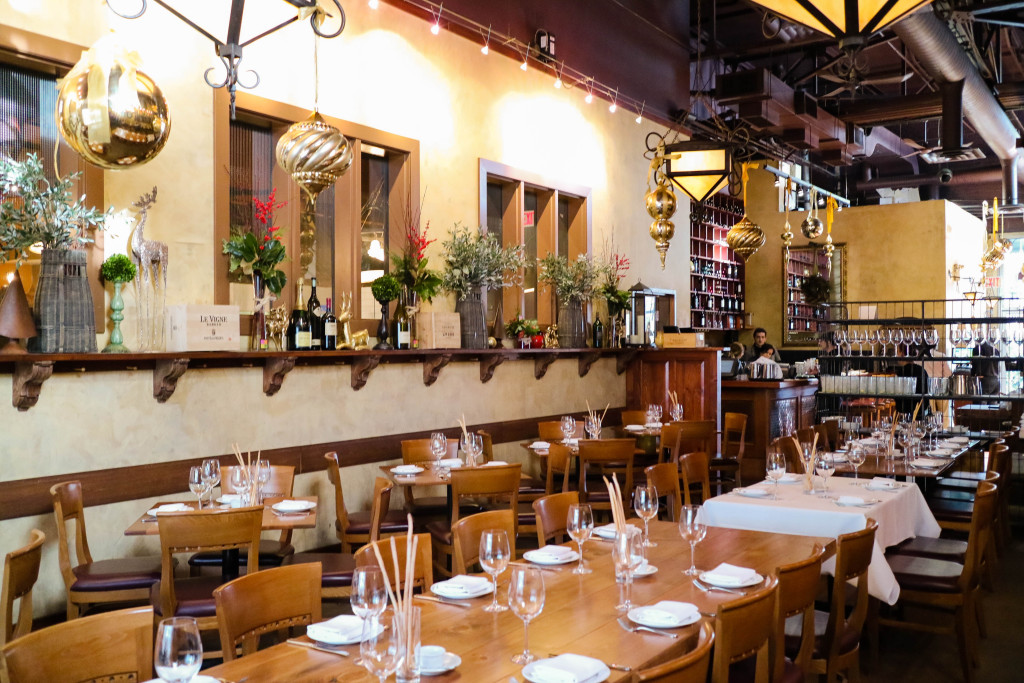 Stepping through the door, we found ourselves being transported to Tuscany, Italy. Walls in shades of pale yellow, reclaimed wood furniture, and vibrant gold ornaments created a relaxed, intimate atmosphere. Wood twig vases, rustic glass lanterns and wine cabinetry featured the scenic Tuscan farmhouse.
[easy-image-collage id=3571]
It has become my habit to order arancini whenever we hit an Italian place. These stuffed, deep-fried risotto balls at Bonterra ($16) oozed with pecorino cheese and bursted with a fresh dairy fragrance. Inside was filled with chunks of jumbo shrimps. Dipping into the piquant shellfish tomato ragu, it brought out a combination of sweet and acidic taste to balance out the saltiness from the cheese.
For pasta and risotto, you could choose between half or full portion size. Their ravioli di zucca ($15 for half order) was a unique item with a hint of nutty sweetness, featuring smooth, buttery pumpkin filling. Brown butter is the very key to the delicious pumpkin ravioli, taking on marvelous depth of flavor and a mouthwatering nuttiness. Only 4 pieces, yet satisfyingly filling!
On the other hand, the linguine carbonara ($17 for full portion) was quite ordinary, pairing with strong-scented wild boar bacon bits, fresh egg, chili flakes, and grated grana padano. We were disappointed to find the pasta slightly overcooked.
Grano Padano vs Pecorino

Grano Padano is a semi-aged hard cheese, derived from cow's milk in the Northern Italy's Po River Valley. It has a fine granular texture with sweet, nutty bite. Whereas, Pecorino is a hard cheese made from sheep's milk. Sweet, soft and rubbery when young, the cheese takes on a harder, grainier texture and sharper, saltier flavour over time.

Source: Cheese.com
Presenting contemporary Italian cuisine with simple, fresh ingredients, Bonterra Trattoria is a charming spot to savor classic Italian dishes. Lively atmosphere, excellent service, decent food – you won't go wrong picking here. (Just pick anything other than the linguine ?)
---
This post is part of the Fiesta Friday link-up! Click here for more cooking inspirations. Buon appetito!