This site uses affiliate links and we may earn a small commission when you use our links and make a purchase without incurring additional fee yourself. Many thanks for supporting this website. Please see our disclosure page for more details.
Tickets sold out fast when MARKET announced to collaborate with Chef Duncan Ly, one of Calgary's most sought-after chefs, for a private dinner. Ever since the news broke about Chef Ly's highly anticipated new restaurant, Foreign Concept, taking shape in the Beltline, food lovers are curious to find out how exactly Pan-Asian cuisine will match their appetite. This collaboration dinner with Chef Sean MacDonald and Chef Duncan Ly satisfied our curiosity and gave us a preview of the spectacular dishes that will be serving at Foreign Concept!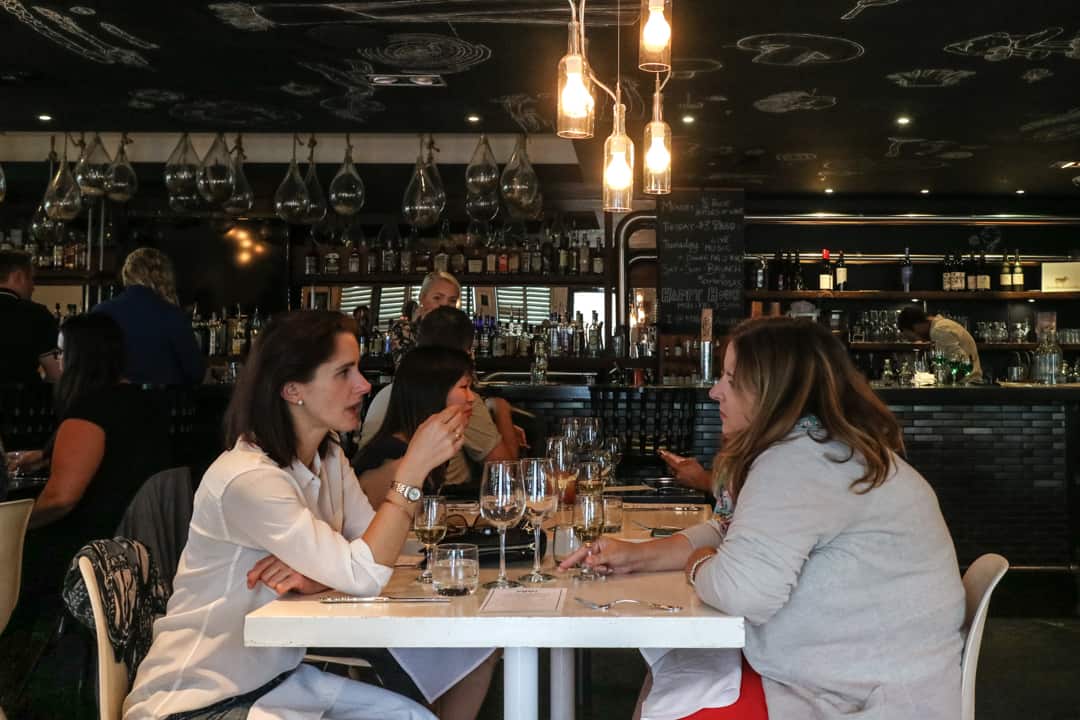 The evening went like this: Chef MacDonald and Chef Ly each created 3 dishes to reflect their culinary philosophy and restaurant concept. The 6-course meal was an attempt to bring the fusion flavours of contemporary cuisine to life and was promised to be the utmost memorable dining experience. The food was like nothing we'd ever tasted before, and it got us hooked pretty quickly!
1st Course
Chef Ly started the much anticipated evening with his creation: lemongrass glazed frog legs. I had to confess that I was a little frightened when I first spotted "frog legs" on the menu. While it is true that we Asians eat some odd foods that others find unbelievably gross (e.g., chicken feet and pig's blood), I had never once in my life tasted frog legs before. My ghoulish imagination of frog legs spreading over the plate got me twitching and squirming. But then I questioned myself about my adventurous spirit and asked what's the worst that could happen. Rumor has it that it tastes like chicken. That shouldn't be too bad, right?
I was glad I conquered my fear. The sweet and sticky glaze gave a glossy caramelized finish to the meat and a tangy aftertaste. The frog legs weren't as horrifying looking as I thought it would be, which had definitely calmed my nerves. The meat had the texture of chicken wings and was moist and tender throughout. Alongside were pickled mushroom royal, scrumptious buttery croutons and a sprinkling of borage, which teamed perfectly with a layer of mousse-like watercress puree underneath.
[bctt tweet="How fun it was to see @chefseanymacd & @chefdly unleash creativity + brought impressive culinary skills to table #yyc" username="fortwoplz"]
2nd Course
Now, let's turn over to Chef MacDonald who presented corn mole, a Mexican-inspired dish, as the second course. The combination of corn puree and sour cream couldn't have been more fantastic. It was sweet and complex, with a creamy mouthfeel and subtle hint of chocolate. I especially loved the spicy note at the end that left me feeling splendidly exotic! Crumbles of sweet corn bread and sun-kissed yellow, crunchy baby corn made the dish a little bit more substantial.
3rd Course
Chef MacDonald continued to surprise us with his smoked halibut. Smoked at 65ºC, the white fish delighted our senses with its light, sweet flavour profile and snow white flaky texture. It paired particularly well with the sour onion puree, which brought out the meat's freshness and clean taste. The smoky charred leek, rich beef fat, and aromatic chanterelle mushroom gave an extra boost of flavour to elevate this special dish.
4th Course
Back to Chef Ly, the 2nd main course featured charred angus beef strip loin. To bring out strip loin's rich flavour, Chef Ly marinated it in soy sauce and sugar, which also added a little smoky-sweetness. Bright, colourful veggies, including broccoli puree, yellow zucchini, summer squash and tomatoes, on the side gave this dish some fresh garden flavours. The crispy, golden tater tot  made a really nice touch with a satisfying creamy filling that just melt in our mouth.
5th Course
It's dessert time! Chef Ly's pandan poached peach was impeccable! Pandan and coconut create a simple tropical delight. In fact, the two are quite often used together in Southeast Asian desserts. The pandan syrup infused a subtle nutty-floral flavor to fresh peaches and provided a fragrant aroma that worked brilliantly with the coconut sorbet. While the tiny tapioca pearls have no flavour, they added a chewy texture to the dessert!
6th Course
The meal ended with Chef MacDonald's blackberry & mousse. This beautifully plated dessert called for blackberry, purple basil, pistachio and goats cheese, each of which presented in either gel- or mousse-like texture. It was quite a bold attempt at fusing multiple different flavour layers, but surprisingly, everything blended smoothly and sort of reminded me of cheesecake (in deconstructed form).
Conclusion
What an exciting night at MARKET! Working as a team, both chefs brought impressive culinary skills to the table. It was a wonderful opportunity to see how the chefs unleash their creativity and construct a variety of dishes to entice the taste buds and warm the heart. Thank you all the chefs on both teams for this unforgettable experience! Till next time!