This site uses affiliate links and we may earn a small commission when you use our links and make a purchase without incurring additional fee yourself. Many thanks for supporting this website. Please see our disclosure page for more details.
Nothing quite compares to barbecue in Memphis, Tennessee. The smell of those dry rub ribs is enough to make anyone's mouth water. But in downtown Memphis, the food scene is much more diverse than you think. From soul food to Mexican dishes, the city offers plenty of delicious options to satisfy your hunger. Here's how to eat your way through downtown Memphis!
Part 1: Best BBQ Restaurants in Memphis, Tennessee
1| Central BBQ
You know why you're in Memphis: barbecue. With so many amazing barbecue joints in downtown Memphis, it is hard to pick the best one.
After trying a handful of BBQ restaurants, our vote goes to Central BBQ. Their pork ribs hit the spot. Kev and I loved them so much that we went there EVERY SINGLE DAY while we were in Memphis!
Slowly smoked over hickory and pecan woods, Central BBQ's dry-rubbed ribs will make your salivary glands go into overdrive. These wonderfully juicy pork ribs are so tender that they practically fall off the bone. Their sweet-savory spice blend further enhances the flavour of the meat and leaves you wanting more. It's no surprise that Central BBQ has been repeatedly voted as the best BBQ restaurant in Memphis, TN!
Other equally delicious dishes include BBQ pulled pork nachos, pulled chicken (served on a bun), and smoked hot wings!
2| The Bar-B-Q Shop
The Bar-B-Q Shop is one of the popular places to eat in the city. Best known for its BBQ spaghetti, another staple in Memphis.
A hybrid of Italian and Southern cuisine, the legendary BBQ Spaghetti will sure make your tummy happy. Mixing noodles together with shredded pork shoulder and secret BBQ sauce, the dish is a simple yet addicting treat.
Complement it with an order of the finger-licking glazed ribs, you won't regret these calories!
[bctt tweet="Looking for the best barbeque, fried chicken and bbq spaghetti in Memphis? Then you cannot miss these spots!" username="fortwoplz"]
Part 2: Beyond Barbecue
3| Loflin Yard
Looking for a cool place to go for food and drinks? Then, Loflin Yard in the South end of Downtown Memphis is a fantastic venue to hang out!
Formerly a barn, this casual outdoor restaurant/bar features a variety of mouthwatering American plates, served family style. Among all their offerings, my favourite was the Brisket Tacos.
Smoked for 12 hours, the brisket has an irresistible flavor profile. Topped it with cotija cheese, lime crema, avocado, pickled watermelon radish, and fire-roasted tomato salsa, every bite will make you want to dance with joy!
4| Gus's World Famous Fried Chicken
When it comes to fried chicken, Gus's World Famous Fried Chicken doesn't mess around. It's THE PLACE to get the best fried chicken in Memphis.
Their crispy layer of fried goodness is the reason why it has so many raving fans. With just the right amount of spice, Gus's chicken will have you begging for seconds. White or dark, breasts or thighs, you can't go wrong either way.
Although I can't say this is the best fried chicken we've ever had (the fried chicken we tried in Japan has set a new bar), Gus's chicken is definitely worth a try.
5| The Vault
Stationed in an old bank vault, this gastropub is a culinary gem not to be missed in downtown Memphis.
Specializing in soul food, The Vault's menu features a variety of Cajun/Creole-style comfort food such as crawfish mac & cheese and jambalaya topped with crawfish etouffee. No matter what you order, you'll get instantly hooked.
While you're there, don't skip out on the starters. Their bite-sized crab cake balls with remoulade sauce, sweet and spicy chicken tenders, and shrimp toast are dangerously addicting.
6| Evergreen Grill
If you have a craving for Italian food, check out Evergreen Grill.
Tucked away in the corner around South Main Street and East Pontotoc Avenue, this cozy restaurant is easy to miss if you're not keeping an eye for it. Once you find it, you'll be rewarded with a delicious Italian meal with a Southern twist!
We highly recommended the palate-pleasing cajun pasta, packed with healthy ingredients, including lobster, shrimp, crab, and broccoli. Need more spice? Consider their seafood gumbo. It's a comforting and spicy bowl full of lobster, crawfish and shrimp, served over chewy rice.
In addition to Italian fare, the restaurant is also a music venue. Live jazz every Saturday and Sunday from 12 pm to 3 pm.
7| Brass Door
What would you order at an Irish pub besides a pint of Guinness? You'll be surprised what you'll find at Brass Door.
It comes without much surprise to see traditional Irish dishes on the menu, such as fish and chips and shepherd's pie. But the star dish that keeps locals coming back for more is the Reuben eggrolls.
Deep fried until golden brown, these eggrolls make a delicious treat for any time of the day. After biting through the crispy exterior, you'll taste a perfectly seasoned combination of corned beef, swiss cheese, and sauerkraut. It will blow your taste buds away. Make sure you don't forget the thousand island sauce for dipping!
8| Cupcake Cutie
Craving for something sweet? Head over to Cupcake Cutie in Court Square for a creative and fun experience.
This build-your-own cupcake bar is where happiness is found! With 7 cake flavours, 8 different icing and 30+ different toppings to choose from, Cupcake Cutie is basically every dessert lover's dream come true.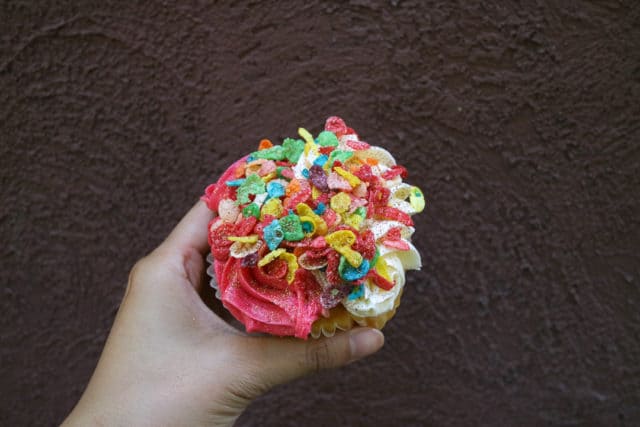 To make a cupcake, you start out by picking out the cake flavor. Whether it's the basic butter or seasonal pineapple flavour, the cake has an unsurpassable moist texture.
Next, the icing. Your options comes in every flavour imaginable – buttercream, chocolate, caramel, cream cheese, peanut butter, strawberry, lemon, and whipped!
Finally, top off your cupcake with your favourite toppings. Go crazy and add gummy bears, skittles, or even jelly beans. Don't worry, we won't judge!
Part 3: Bars in Downtown Memphis
9| The Corner Bar at The Peabody Hotel
Our favourite place to wind down in Memphis is The Corner Bar.
This elegant bar, located inside The Peabody Hotel in downtown Memphis, has an extensive food and drink menu inspired by Jack Daniel's. And with piano playing in the background, it is the perfect date night spot to impress that special someone!
The Blueberry Mojito and Lucille (blackberry margarita) are crowd favourites. But if you want something more iconic, we recommend the Rubber Ducky Cocktail. This sweet cocktail calls for Malibu rum, creme de banana, pineapple juice and orange juice. On top of that, there's a floating mini rubber ducky for a memorable keepsake!
[irp posts="8631″ name="Memphis For Photographers: 12 Most Iconic Places To Visit"]
10| Old Dominick Distillery
Do you know that there's a distillery right in the heart of downtown Memphis? That's right, at Old Dominick Distillery, you can get a taste of Memphis' finest spirits.
The newly renovated distillery has a 150-year history of crafting distinctive whiskeys and vodkas. Open on Thursdays to Sundays, their bar and lounge welcome guests to drop in for expertly prepared cocktails featuring their house spirits.
My personal favourite is the summer smash – made with a blend of toddy, lemon, honey, mint, and peach. This delightful cocktail will make you feel like summer is never going to end.
If time allows, join the guided tour ($12) to learn about Old Dominick's traditions and history and how it compares to other Tennessee distilleries. The 45-min tour includes a sampling of Old Dominick's whiskeys, vodkas, and the award-winning Memphis Toddy.
---
This sums up the best places to eat and drink in downtown Memphis. Have you tried any of these? Which one stands out to you?
[one_half]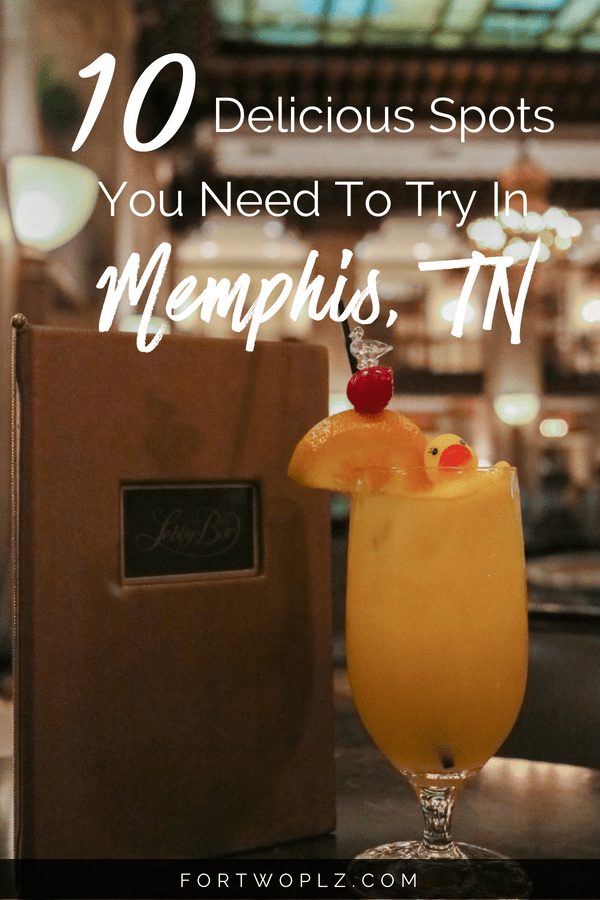 [/one_half]
[one_half]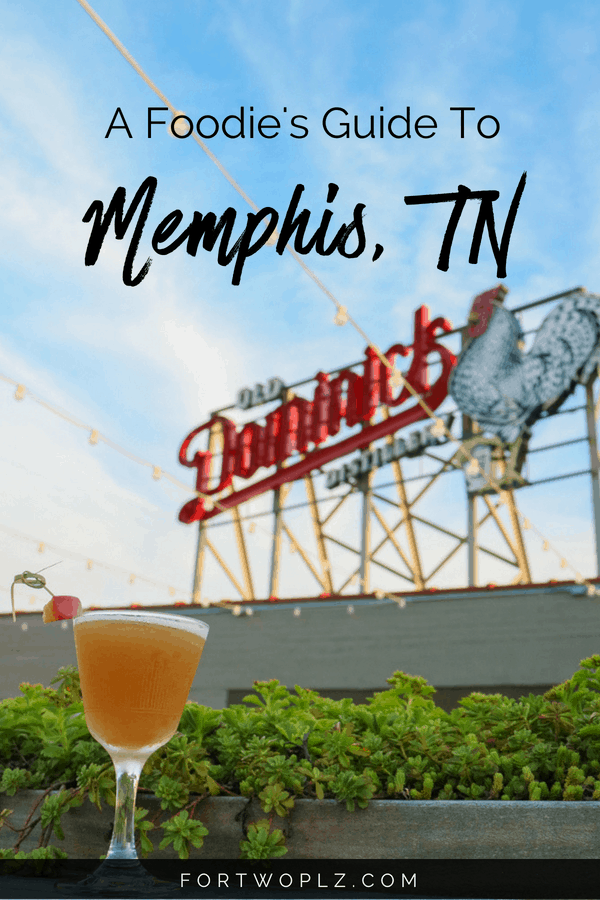 [/one_half]
Disclaimer: This post is written in partnership with Memphis Tourism, Mediavine, and The Peabody Memphis. Special thanks to Cristina from City Tasting Tours for taking us around Memphis to discover the city's best eats. As always, all opinions on For Two, Please are our own and we only recommend brands that we 100% stand behind.