This site uses affiliate links and we may earn a small commission when you use our links and make a purchase without incurring additional fee yourself. Many thanks for supporting this website. Please see our disclosure page for more details.
It's summer! That means it's time to get out and have some fun! To spice up our summer romance, Kev and I flew from Calgary to Saskatoon for a quick weekend getaway. In just 2 days, we did so much and had a ton of fun! Who knew this prairie city could be so romantic? If you're looking for things to do in Saskatoon for couples, try out these unique date ideas!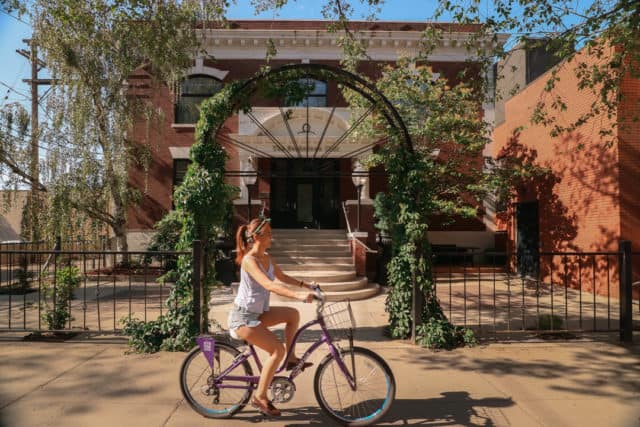 1| Get Outside and Bike Along the Riverbank
Take advantage of the warm weather and go biking together!
Saskatoon has plenty of bike trails worth exploring, but one of the most popular and scenic ones is the Meewasin Trail. Running along both sides of the South Saskatchewan River, the Meewasin Trail promises a spectacular sightseeing opportunity.
The 60 km-bike-path will lead you through numerous parks and attractions along the way, including the iconic Delta Bessborough Hotel, the exotic-looking Zhongshan Ting, and the brand new Remai Modern Art Gallery. As you're pumping up your vitamin D level, you will also get a boost to your happy hormones!
Accessing the trail is easy. There are multiple access points throughout the city. Click here for the trail map and further details on all the attractions you'll encounter.
Need help with bike rental? There are several bike shops in Saskatoon. Check out Bike Doctor, Bike Universe, or Bruce's Cycle Works. Sometimes your hotel might even provide free bikes!
[irp posts="8681″ name="2 Action-Packed Days In Saskatoon: Fun Things to Do, See & Eat!"]
2| Soak Up Some Culture at Remai Modern
A museum date is always a great idea. You get to explore and see interesting things that naturally spark conversation. Plus, it's weather-proof!
Wondering which museum to pick? We've got the perfect place for you!
Remai Modern – the newest museum in Saskatoon, is all about present-day creativity. From conceptual paintings to mixed-media installations, there is an expansive collection of modern and contemporary art waiting to stimulate your mind.
Don't worry, you don't need to be an avid art fan to appreciate what's inside. The artworks reflect on funny and frustrating things that happened in our daily lives so it is engaging and relatable.
3| Feed Your Soul at The Hollows
If you and your date both love food, then what better way than to try out delicious places together!
Impress your food-loving valentine with a delicious meal at The Hollows. Hidden inside the historic Golden Dragon building, The Hollows serves contemporary dishes made with unique ingredients that grow in the area, such as crabapples, pineapple weeds, rose hips, and sea buckthorn berries.
When you step into the restaurant, you will likely be taken aback. The lantern lighting and vintage Chinese decor will make you wonder if you're at the wrong place. Fret not. The venue used to be a Chinese restaurant, but it no longer serves Chinese food. The aesthetics of the old restaurant decor somehow gives it a charming old world atmosphere.
The Hollows is one of the best Saskatoon restaurants so you can't go wrong with what you order. Their menu changes daily based on what is in season. But if you get a chance, try its chicken waffle with sriracha honey – it's so delicious, there's no room for words.
[bctt tweet="Love is in the air! Try out these romantic date ideas in Saskatoon to spice up your love life <3″ username="fortwoplz"]
4| Stroll Through Riversdale and Shop for Each Other
Have some fun and go shopping together! It is a great way to learn more about your date's styles and preferences.
Riversdale is a fantastic place to do so. This revitalized neighborhood is the new hub for hip local businesses and trendy boutiques. Why not spoil your date with a sweet gift?
Some of the stores we adore include: Last Shoes, Green Ark Collected Home, Soul Paper, Hardpressed, and Hazlewood.
---
We're not done yet! This is a 2-part series in collaboration with Tourism Saskatoon. Check out the last 3 date ideas on the Saskatooning blog! Enjoy <3