This site uses affiliate links and we may earn a small commission when you use our links and make a purchase without incurring additional fee yourself. Many thanks for supporting this website. Please see our disclosure page for more details.
Have I ever mentioned that it is my goal to visit every province in Canada? Yes, I'm serious! Last month, we managed to cross Saskatchewan off our Canadian bucket list by taking a weekend getaway to Saskatoon from Calgary! Ranked one of the 52 places to visit in 2018 by the New York Times, Saskatoon surprised us with its wealth of offerings, from outdoor activities, bustling art scene, to extensive dining options. Today, we want to share with you an action-packed 2-day itinerary, filled with top things to do and best places to eat in Saskatoon!
Day 1 in Saskatoon
Breakfast: Saskatoon is nowhere near the beach, but there's one place you can go to get the surf vibe: Drift Sidewalk Cafe.
Drift is the coolest spot to grab breakfast in Saskatoon. Filled with hammocks and hip coastal decor, this Saskatoon cafe exudes a warm sense of California living and invites you to just relax. The rainbow of colours you see upon entry will instantly put you in a happy vacation mood. It's no surprise Buzzfeed listed it as one of the 31 coolest coffee shops in Canada to visit before you die!
Drift's menu offers a wide variety of options, from sandwiches to salads. But what you really want to order there are the crepes. Their creative recipes – savory and sweet – are out of this world and are sure to fuel you up for an activity-filled day!
Morning: Spend an hour or two exploring Riversdale – Saskatoon's hippest neighborhood!
This district used to be a sketchy part of the city that everyone avoided, but it has undergone a revival in the past few years. Now, it has transformed into a lively area, infused with creative energy and vibrancy! You can find independent shops, cozy cafes, local restaurants, and also a farmers' market there!
If you want to buy some unique souvenirs, this is the best place to go shopping in Saskatoon. Many stores sell products that are handmade by local artists, designers, and makers. Stop by Last Shoes for a pair of handmade leather shoes, Hardpressed for Saskatchewan inspired t-shirts, or Soul Paper for unique cards and stationery.
Lunch: Enjoy a delicious brunch at one of the best Saskatoon restaurants, The Hollows.
Tucked away inside the historic Golden Dragon building, The Hollows keeps the decor of the Chinese restaurant that previously occupied the space. But they don't serve Chinese food here. Instead, they surprise guests with drool-worthy contemporary dishes made with locally sourced and seasonal ingredients that they forage, butcher, brine, cure and smoke themselves.
We recommend their chicken waffle. Combining crunchy fried chicken with fluffy waffle and a drizzle of spicy sriracha honey, it will make you lick your plate clean!
For those eager to sample delicious creative Asian food, try Odd Couple. This charming restaurant in Riversdale, Saskatoon features Chinese food with Southeast Asian influences. You'll find interesting dishes like Pad Thai with five-spiced tofu and Thai pork two ways on the menu to keep your taste buds excited!
Afternoon: Pay a visit to the Remai Modern – the brand new modern and contemporary art museum in Saskatoon!
This creative space hosts an eclectic mix of contemporary artworks by Canadian and International artists. From paintings to murals to multi-media installations, you'll find a variety of thought-provoking and innovative pieces that stimulate your imagination.
If you're a fan of Pablo Picasso, you're in luck! Because at Remai Modern, you can indulge yourself in the world's most comprehensive collection of Picasso linocuts!
Later in the afternoon, take a stroll along the riverbank. Or grab a bike, if the weather is too hot.
Follow the Meewasin Trail. This scenic bike trail in Saskatoon runs along the South Saskatchewan River and gives you easy access to many local landmarks and attractions.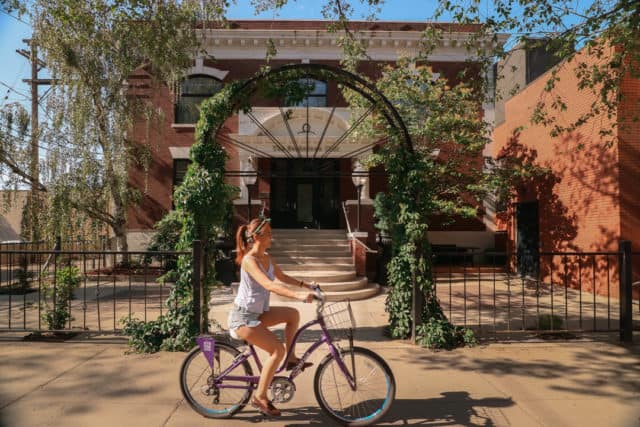 Dinner: Cap off a day of sightseeing with a dinner at Ayden Kitchen and Bar. Run by Top Chef Canada Winner Chef Dale Mackay, the restaurant focuses on internationally inspired comfort food made with local ingredients. Highlights of the menu include popcorn prawns with lime and spicy aioli, and smoked oyster mushroom with nori fried egg and hollandaise.
Don't forget to check out their handcrafted cocktails. Unlike other bars in Saskatoon, they use local ingredients to create syrups, cordials, and shrubs!
Day 2 in Saskatoon
Breakfast: Get your caffeine fix at Venn Coffee – one of the best independent cafes in Saskatoon.
Hidden in the back alley between Amigos Cantina and the Bike Doctor, this coffee gem is unlike any other in the city. Not only are they committed to ethically sourcing coffee beans, they also roast them themselves in-house to better control the quality.
Jumpstart your morning with a glass of espresso tonic. Add a piece of raspberry tart (freshly made by The Night Oven Bakery) for a worthwhile extra indulgence!
Morning: After your morning treat, tour around the Broadway neighborhood.
This trendy district spans over 5 blocks and is a cultural and shopping hotspot. Besides the iconic Broadway Theatre, you can also find a variety of specialty shops, locally owned restaurants, galleries, and music venues.
One of our favourite things to do there is tracking down the most unique and instaworthy murals around!
Lunch: In search of good food to fill your hungry stomach? Make your way to Una Pizza + Wine.
Originally from Calgary, this pizzeria serves up awesomely thin California-style pizzas that really hit the spot. Their pizzas are hand-tossed and made fresh daily in-house. Each has its own unique flavor, but the 4-maggi and the carnivore are all-time favourites.
[bctt tweet="Planning a long weekend getaway—without leaving the country? Saskatoon is the perfect Canadian spot to spend your summer vacation." username="fortwoplz"]
Afternoon: Ready for a field trip? Take a trip to Black Fox Farm & Distillery, a short 15-min drive away from the city centre.
Black Fox is Saskatchewan's premier on-farm "Field to Flask" distillery. Unlike others in the industry, they grow their own grains, flowers and fruits, then distill them into spirits. Not a lot of distilleries have the knowledge and resources to do that!
Currently, Black fox 9 different spirits in their product line, including gins, vodkas, and liqueurs. You can sample them at their on-site tasting room. For $5, you receive 3 spirit samples plus a $5 gift certificate! Not sure what to pick? We suggest starting with their Oaked Gin, which was crowned World's Best in the "cask gin" category at the World Gin Awards in 2017!
After the distillery visit, take a refueling break at Homestead Ice Cream. This famous Saskatoon ice cream parlour is loved by people of all ages. They are especially known for producing novelty ice cream flavours, such as dill pickle, curry, and Guinness. Of course, they also have standard ones like vanilla and lemon. With more than 40 flavours to choose from, you're sure to find one suit your taste.
Dinner: It's your last meal in Saskatoon. Treat your taste buds to Bar Gusto.
Next door to Una Pizza, Bar Gusto brings authentic Italian food to the table, with each dish showcasing the seasonal ingredients sourced locally from Saskatchewan.
Their menu is designed for sharing so the portion size is not too big. Don't be shy. Order a few plates to share. We recommend starting with an egg yolk raviolo and the house-made confit chicken pappardelle. For the main, the lamb shank with buttermilk polenta is a must-try!
How to Get Around Saskatoon
Although there are buses that travel through the city, the easiest (and quickest) way to get around the city is by car. You can easily rent a car right at Saskatoon International Airport. Car rental companies operating at the airport include Avis, Alamo, Budget, Enterprise, National, and Hertz.
Another option is by bike. Saskatoon is a small city so why not hop on a bike and explore the city's best sights? Some downtown hotels provide complimentary bikes for guests staying in the summer. Otherwise, you can rent one at one of the bike shops in downtown Saskatoon. The Bike Doctor and Bike Universe offer rental services.
Best Hotels in Saskatoon
Have you ever dreamed of living in a castle? Then, you can have your dream comes true by staying at Delta Hotels by Marriott Bessborough.
Housed within a historic castle, Delta Bessborough is not only an iconic landmark, but also the best hotel in Saskatoon. The ten-story property was the only one in the city received the prestigious AAA Four Diamond designation. Located right in the heart of downtown, Delta Bessborough offers a fantastic location and overlooks the stunning South Saskatchewan River.
In comparison, The James Hotel is a much newer and modern property. This contemporary boutique hotel has a wide array of amenities, including a 24-hour fitness centre and complimentary Wi-Fi, that guaranteed a comfortable stay. Plus, each room has its own private balcony!
Pin it for later!