This site uses affiliate links and we may earn a small commission when you use our links and make a purchase without incurring additional fee yourself. Many thanks for supporting this website. Please see our disclosure page for more details.
No kidding, Arizona is a wonderful place to go for a romantic winter getaway. The sunny sky and warm temperature can do wonders at fighting off the winter blues, especially for us Canadians!
This winter, Kev and I celebrated the holiday season in Scottsdale and ticked off a few "firsts" from our list! Never did we think Scottsdale would be so fun for couples!
If you're considering a romantic getaway in Arizona, we have compiled a list of fun things to do in Scottsdale to add to your Arizona bucket list!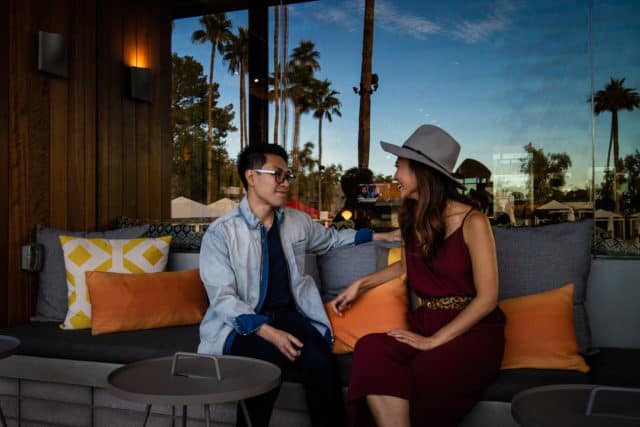 1| Go on a Hot Air Balloon Ride
We've always dreamed of a hot air balloon flight, and our dream finally came true in Scottsdale!
Riding in a hot air balloon and soaring over the dramatic desert landscape was simply magical, and for the duration of the flight, we were at a loss for words.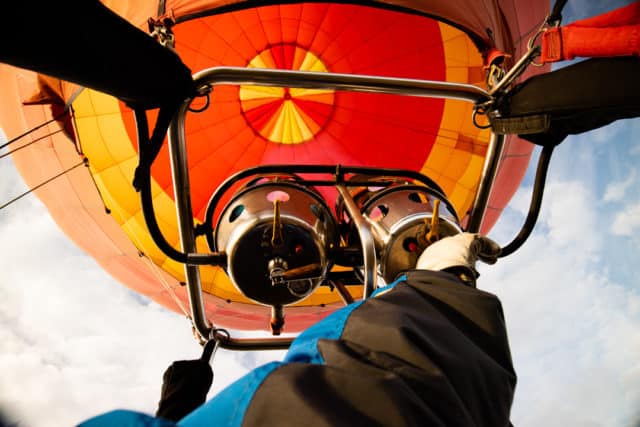 Our hot air balloon experience with Hot Air Expeditions began early in the morning. During the 1-hour sunrise flight, we glided over the Sonoran Desert.
From high in the sky, not only were we able to capture some amazing shots of the surrounding mountains, but we also got acquainted with the plants and animals that live in the Sonoran Desert.
After landing, we celebrated with a Champagne toast and post-flight snacks. We even received a flight certificate for our Scottsdale hot air balloon flight! It's a definite must-do on your Arizona road trip!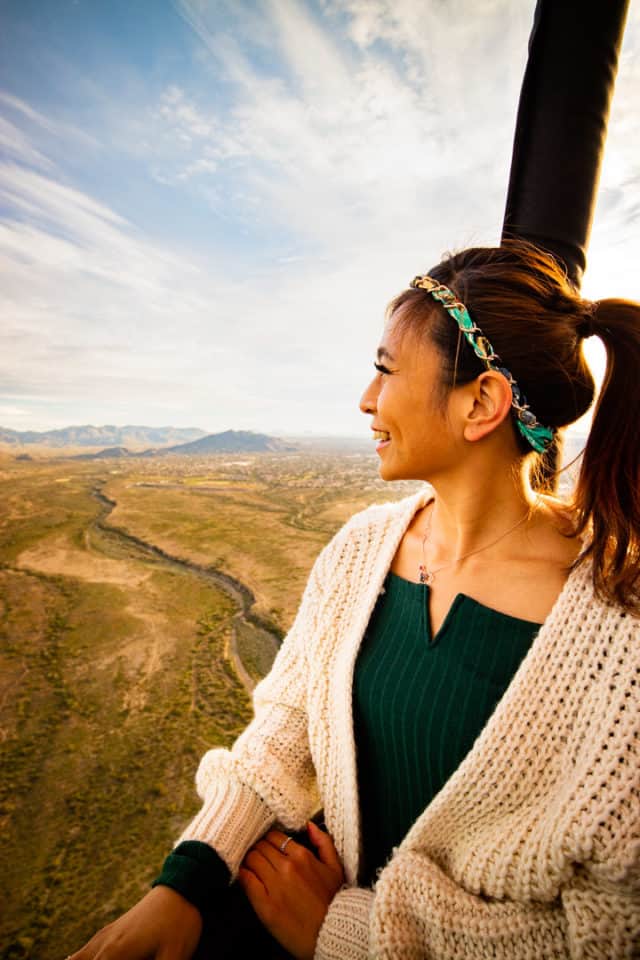 [click_to_tweet tweet="Considering a romantic getaway in Arizona? Here is a list of fun things to do in Scottsdale to add to your Arizona bucket list!" quote="Hot air balloon rides in Scottsdale, AZ is perfect for romance and wonder – a terrific gift for your loved one!" theme="style3″]
2| Get to the Heart of Scottsdale's Culinary Scene
Any romantic getaway wouldn't be complete without a tasty meal. As food lovers, we were happy to find so many delicious food spots in Scottsdale!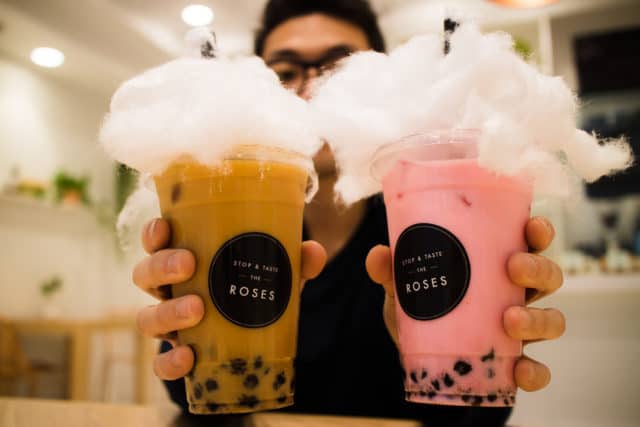 From casual eats to fine dining, the options are overwhelming! Downtown Scottsdale, in particular, hosts numerous trendy restaurants worth a try, including New Wave Market (for the hand-rolled sourdough bagels) and Farm and Craft (famous for their healthy bowls!).
[irp posts=9454]
To find the most mouthwatering desserts in Scottsdale, a visit to the Ruze Cake House or Sweet Dee's will not disappoint.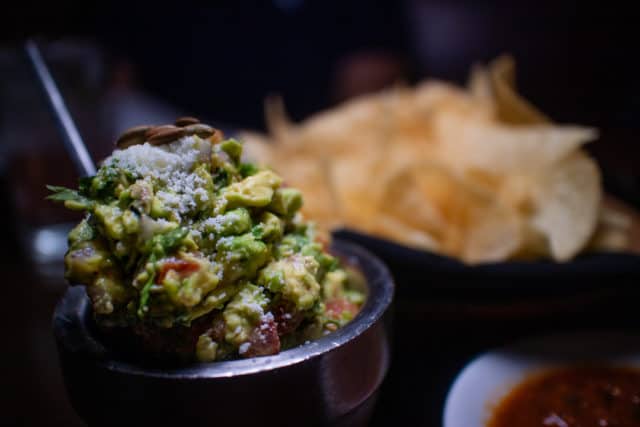 If you are after a special and intimate dinner, we highly recommend The Mission. This downtown Scottsdale restaurant serves up a delicious variety of Latin-inspired cuisine. With dim lighting and classy atmosphere, this romantic restaurant in Scottsdale will help set the mood for a perfect evening!
The restaurants we mentioned above are fairly close to each other so you can easily organize a Scottsdale food tour of your own.
Pro tip: Before your trip, check out Scottsdale Culinary Festival's website. There are events running throughout the year, such as Burger Battle and The Cocktail Society.
3| Go Hiking
Scottsdale is blessed with such beautiful desert landscape, why not go hiking in Scottsdale?
An abundance of hiking trails in and around the city is available for all fitness levels:
For an easy hike, Gateway Loop Trail in Scottdale's McDowell Sonoran Preserve is an excellent choice. It takes you through an enchanting desert landscape. (7 km; 218 m elevation gain)
Pinnacle Peak Summit Trail offers a moderate workout. As you make your way up, you will find yourself spending much time soaking up the views of the Valley. (5.6 km; 310 m elevation gain)
Camelback Moutain hike is a must-do for avid hikers. It is going to be strenuous, but surely worth it if you're up for the challenge. There are two Camelback Moutain hiking trails that will take you to the summit. Echo Canyon is 1.9 km out and back, but steeper. Cholla is a bit longer (2.4 km) but involves a steadier incline.
Try to hit up at least one of these on your Scottsdale trip. The beauty of the wilderness will have you in awe!
If you're exploring outside Scottsdale, this post on things to do in Sedona and Antelope Canyon are worth checking out!
4| Cafe Hopping
Forget Starbucks, try local cafes instead!
Here are a few independent coffee shops in Old Town Scottsdale brew exceptional coffees that will keep you caffeinated: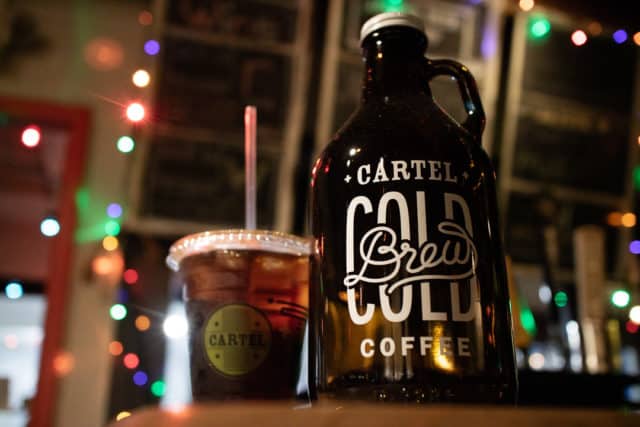 5| Visit the Desert Botanical Garden
Want to learn more about cacti and succulents? Then Desert Botanical Garden in Phoenix is the place to be!
Believe it or not, Desert Botanical Garden hosts one of the world's largest collections of desert flora, featuring 50,000+ plants from 4,379 different species from around the world. For this reason, it is classified as a museum by American Alliance of Museums.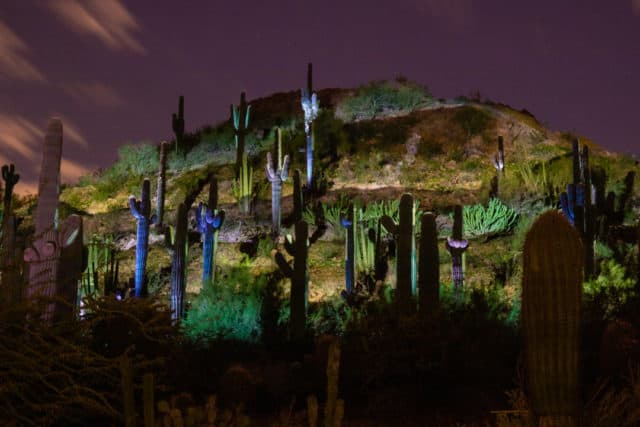 The world-class botanical garden is Arizona's must-see attraction during the daytime, but it is just as equally stunning at night!
From now till May 12, 2019, you will see the garden comes alive at nightfall. Kilp Collective's Electric Desert combines light, sound and technology, turning the already majestic desert will into a dreamscape. The multi-sensory experience will take you on an immersive journey through the garden and bring some fun to your night!
[click_to_tweet tweet="Days are for culture, nights are for fun. Enjoy Scottsdale all the day along with these fun and unique activities!" quote="Days are for culture, nights are for fun. Here's how to enjoy Scottsdale all the day long! " theme="style3″]
6| Give Golf a Try
If you go to Scottsdale and don't golf, you're missing out!
With rugged mountains and unspoiled desert as a backdrop, Scottsdale provides a beautiful location for a picture-perfect golf round.
There are 51 golf courses in Scottsdale alone. If you're just starting out like us, we suggest Mountain Shadows in Paradise Valley. Their golf course is a classic 18-hole par-three course, suitable for both beginner and experienced golfers. Most importantly, it sits at the base of Camelback Mountain and offers gorgeous desert vistas.
More experienced golfers might want to zero in on Troon North, We-Ko-Pa, The Boulders, and Grayhawk Golf Club, which are repeatedly ranked as the best golf courses in Scottsdale.
7| Tour the World's Largest Musical Instrument Museum
Have you ever seen the world's largest playable sousaphone before? Would you like to make your own ganza (Brazilian shaker)? Or strum a Burmese harp? Then, you will enjoy a trip to Musical Instrument Museum, the largest instrument museum in the world!
Home to over 13,000 musical instruments from nearly 200 countries, Musical Instrument Museum has the most complete collection of instruments you can possibly imagine! It makes it possible for us to explore music through a global lens.
Whether you're into exotic music treasures or modern music (like Maroon 5 and Black Eyed Peas), you will have an enjoyable time touring the galleries. A new appreciation for music and for the world's diverse cultures will be found after your visit!
8| Immerse Yourself in Art
Scottsdale is a paradise for aspiring artists and art lovers alike. The artistic experiences Scottsdale offers are countless and diverse.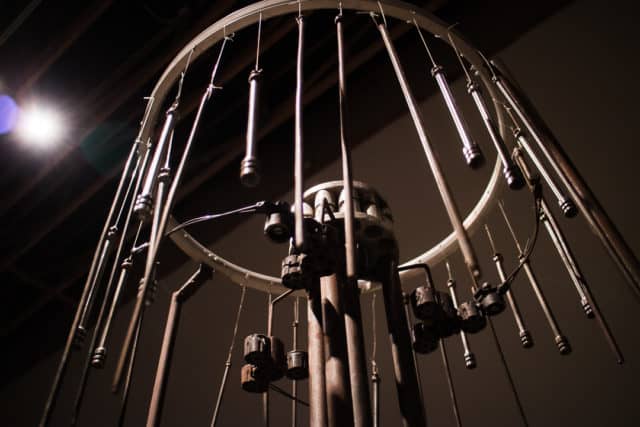 Take a walk around the city and you'll know what we mean. Nearly 100 permanent and temporary public artworks can be seen all over the city!
In downtown Scottsdale's Arts District, you can discover numerous galleries and museums. Scottsdale Museum of Contemporary Art (SMoCA) and Western Spirit: Scottsdale's Museum of the West are frequent stops for travellers. Exhibits change frequently and are often eye-opening.
Scottsdale's Gold Palette Artwalk should not be missed! The popular the event takes place eight times per year. Participating galleries invite art enthusiasts to explore local art that correlates with that month's chosen theme while hosting activities, live music, entertainment, and refreshments.
In November, Scottsdale Waterfront presents Canal Convergence, a free 10-day outdoor celebration that dazzles guests with innovative light installations, live music, and dance performances.
9|Wine Your Way Through Scottsdale
Would you fancy a glass of wine? You can discover the vibrant tastes of Arizona wines without leaving Scottsdale!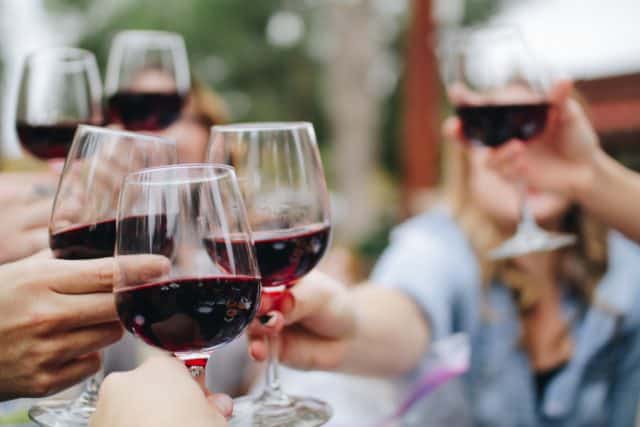 5 tasting rooms are available in downtown Scottsdale for you to sample Arizona's best wines:
In addition, there are a few wine-centric restaurants worth trying! Sorso Wine Room, Orange Sky at Talking Stick Resort, FnB Restaurant, and Postino all have an extensive wine list to please your palate.
10| Treat Yourself to a Couples Massage
It is no secret that Scottsdale is a mecca for those who favor spa treatments. With more than 50 resort-spas in Scottsdale, AZ, you're spoilt for choice!
Most resorts have spa facilities onsite, making it easy to pamper yourself with a couple's massage in Scottsdale.
Andaz Scottsdale Resort and Spa, for example, has a full-service spa, Palo Verde Spa & Apothecary on the property. Its extensive menu features personalized treatments and utilizes ingredients native to the state of Arizona. Each treatment room looks out to the nearby Camelback Mountain – it is a true oasis of peace and relaxation for your body and mind!
By the way, Andaz Scottsdale is beautiful luxury resort, winning multiple awards from Conde Nast Traveler including the 2017 Hot List, 2017 and 2018 Readers' Choice Awards!! It is an excellent choice if you're looking for the best places to stay in Scottsdale.
It is difficult to claim which spa offers the best massage in Scottsdale because they are all so different. Why not try a few?
The Spa at Sanctuary Resort on Camelback Mountain will take you on an exotic escape with its traditional Thai massage with medicinal herbs, Luk Pra Kope. The VH Spa at Hotel Valley Ho will rejuvenate you in the Hawaiian Way with its Lomi Lomi massage.
11| Enter a Winter Wonderland at Fairmont Scottsdale Princess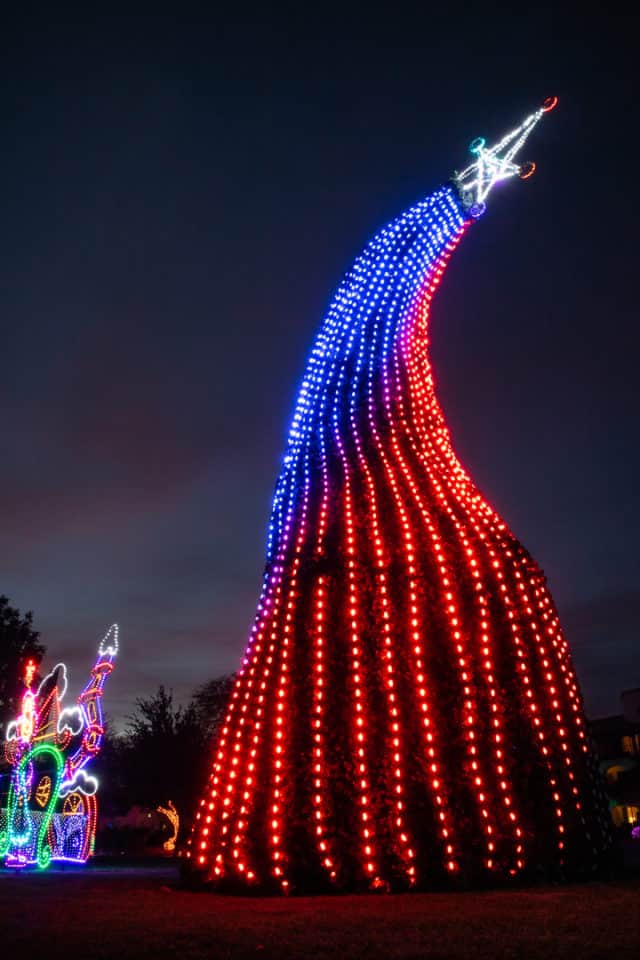 Visit Scottsdale in December? Spice up your evening with a trip to Fairmont Scottsdale for its holiday festival – Christmas at the Princess!
You will witness the resort transforms into an enchanting winter wonderland with twinkling lights, outdoor ice skating rink, ice slide and so much more! A fun way to get into the Christmas spirit!
What we loved the most is the Lagoon Lights. The resort's ground and lagoons were thoroughly decorated with 4.5 million LED lights. You will find magical displays such as singing snowman, skating penguins, swans floating on the water, mermaid, and even a candy cane forest!
[click_to_tweet tweet="Planning a winter escape to Arizona? Scottsdale is a fantastic destination! Here is a list of things to do in Scottsdale to do on your first visit!" quote="Scottsdale is a fantastic destination to escape the brutal Canadian winter! " theme="style3″]
12| Take a Closer Look at Arcosanti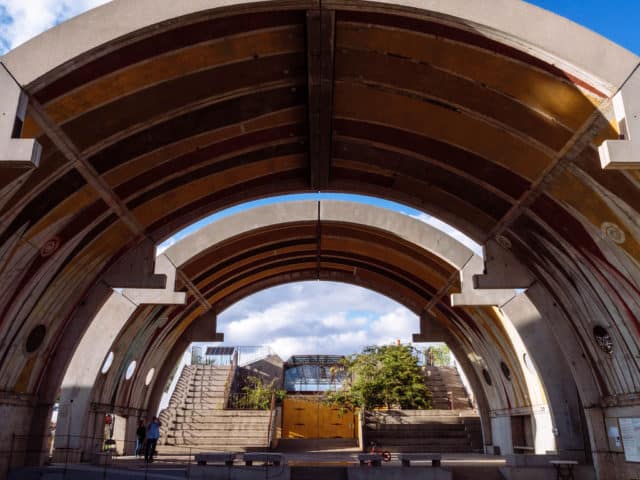 If you're into architecture and design, take some time to explore Cosanti.
Hidden in the Paradise Valley, Cosanti a part of the Arcosanti project (a utopian micro-city) designed by world-renowned architect Paolo Soleri. It was built on the concept of arcology, a blending of architecture and ecology, to examine sustainability through the lens of the day-to-day urban lifestyle.
Guided tours are available from Mondays to Friday.
Otherwise, you can visit Arcosanti, which is an hour north of Scottsdale, for a variety of workshops, performances, and events that encourage visitors to not only explore their creativity, but also think critically about their roles in bettering the world.
You can participate by joining a daily tour, or booking an overnight stay.
---
Scottsdale offers plenty of things to see and do for couples. We hope this extensive list has inspired you to book a romantic getaway to Scottsdale!
Disclaimer: This post is written in partnership with Experience Scottsdale. As always, all opinions on For Two, Please are our own and We only recommend brands that we 100% stand behind.