This site uses affiliate links and we may earn a small commission when you use our links and make a purchase without incurring additional fee yourself. Many thanks for supporting this website. Please see our disclosure page for more details.
Tuesday night at The Bro'kin Yolk, which typically serves breakfast and lunch items, had transformed into a private dining room for 50 people. Crowding the kitchen were 5 chefs doing a last minute check on the food and logistics for the evening. Over on the other side, a crowd of hungry diners chatted in excitement and patiently waiting for the Filipino dinner to begin.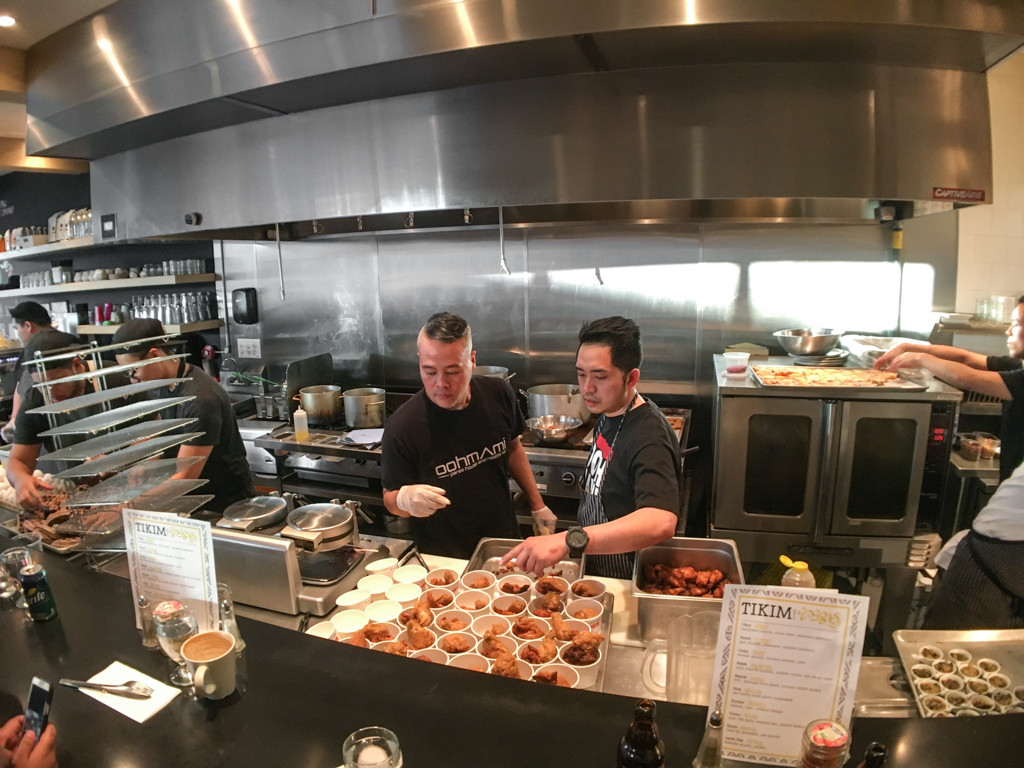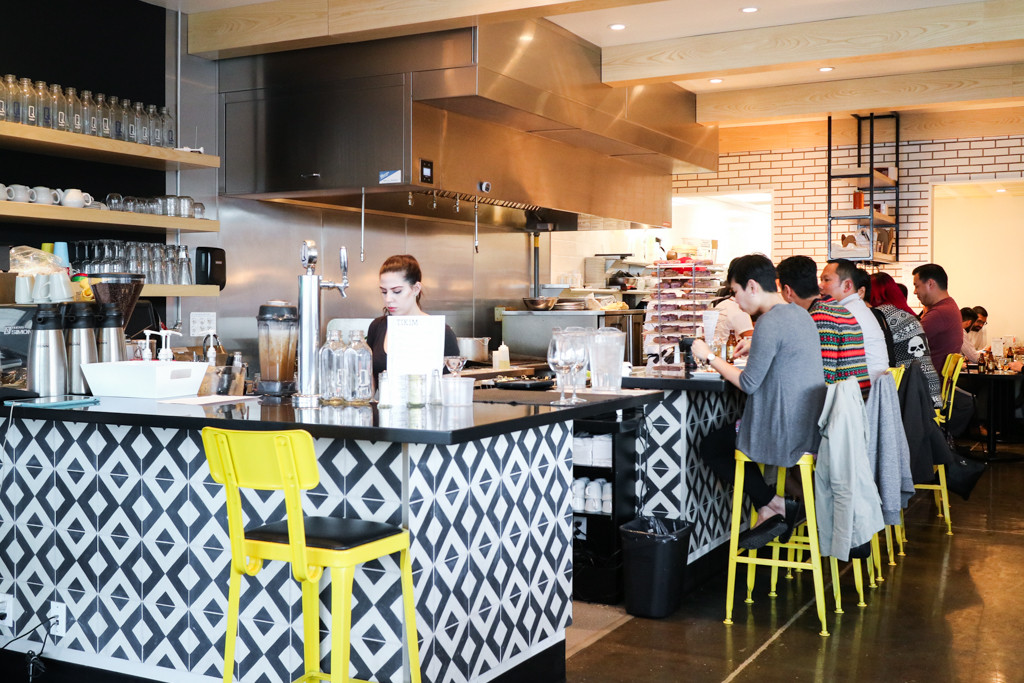 It was the second evening of a 2-day pop-up dinner organized by Sarap YYC, featuring talented local and out-of-town chefs to bring the best contemporary Filipino dishes to Calgarians. The Filipino dinner, which costed $75 for a 10-course meal, was sold-out incredibly quickly after its announcement on social media. I've been joyfully hooked on Filipino dishes ever since Kev and I visited the Philippines for our honeymoon not too long ago. I still vividly remember the pungent aromas and bold flavours of the chicken adobo, lechon kawali, and pancit, which make me drool just thinking about them. Thus, as soon as I heard the news, I quickly snatched up tickets in hopes of rekindling my love affair with Filipino food!
If you don't know beans about Filipino cooking, don't worry. Consider this post a little introduction to Filipino cuisine. I promise, by the time you finish reading, you'll be inspired to try it yourself!
First Things First, What is Filipino Food?
There's no better word than "fusion" to describe this particular Southeast Asian cuisine. A history of colonization and trading relations has shaped the Philippines into a multicultural nation. The cuisine reflects the blending of these varied cultures from both the East (e.g., Chinese and Malay) and the West (e.g., Spanish and American). Of course, the cooking styles and seasonings vary from region to region, but you can always expect a bold combination of sweet, sour and salty flavours to be found in Filipino dishes, with coconut and vinegar being the two most common ingredients.
The Tikim Dinner
Back to the event, chefs were busy sharpening knives and heating up pans, ready to get the dinner rolling! Without further ado, let me present to you the 10 dishes, created by Chef Jay Del Corro from Eats of Asia, Chefs Saturnino Ong Jr. & John Nidua from Oohmami, Chef Jeffrey Lazaro Carlos from The Bro'kin Yolk, and Chef Allan Pineda from Baon Manila Nights, who flew in all the way from Winnepeg. Let's tikim (meaning "to taste" in Tagalog)!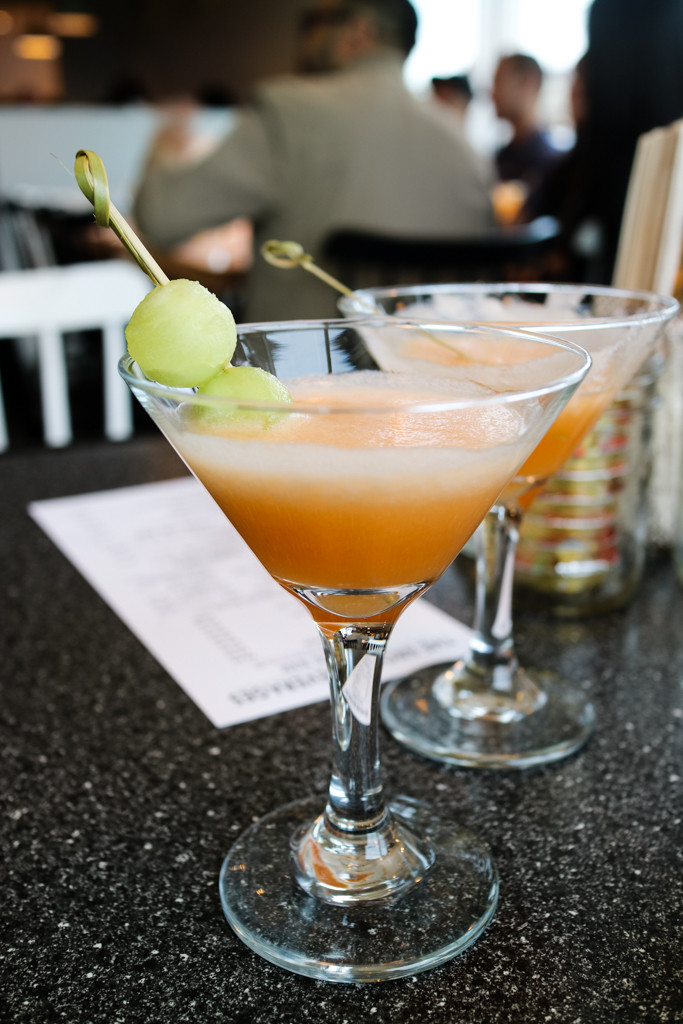 1st course: Ukoy
First up was the deconstructed Filipino-style shrimp fritters. The appetizer called for a grilled marinated prawn on top, layers of pickled veggies, citrus salsa and crispy white sweet potato fritters, and a drizzle of calamansi gastrique on the side. The end product delivered a smooth but distinct flavour that's undoubtedly "shrimpy" and found the wonderful line between sweet and sour.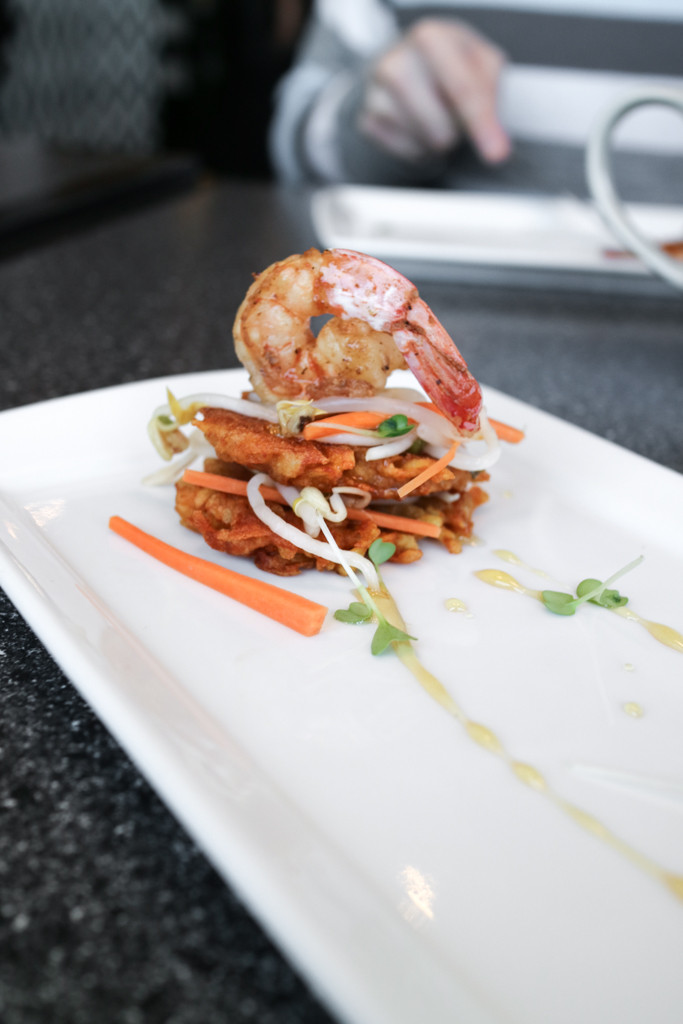 2nd course: Pancit
Packaged in a tiny Chinese takeout box, this noodle dish reserved a touch of Chinese cookery. Thin rice noodles stir-fried with jerk chicken, chicken chicharon (fried spiced chicken skins), lotus root, edamame, and sliced assorted veggies, this dish reminded me of my mom's cooking. The jerk chicken, though not prepared with the true Jamaican spice, still had a powerful, spicy kick to it.
[easy-image-collage id=4872]
3rd course: Gulay
The right amount of burning can be delicious, we've seen that with the charred Bussels sprouts at Black Pig Bistro and charred cabbage at Pigeonhole. But have you ever tasted deep-fried Brussels sprouts? Trust me, it is a flavor bomb that will completely blow you away. I loved them for their nutty aroma, mildly sweet flavor, and crisp interior. Coupled with the rich, sweet coconut caramel sauce, pungent patis (Filipino fish sauce), and double smoked bacon, it was literally the best Brussels sprouts hands down!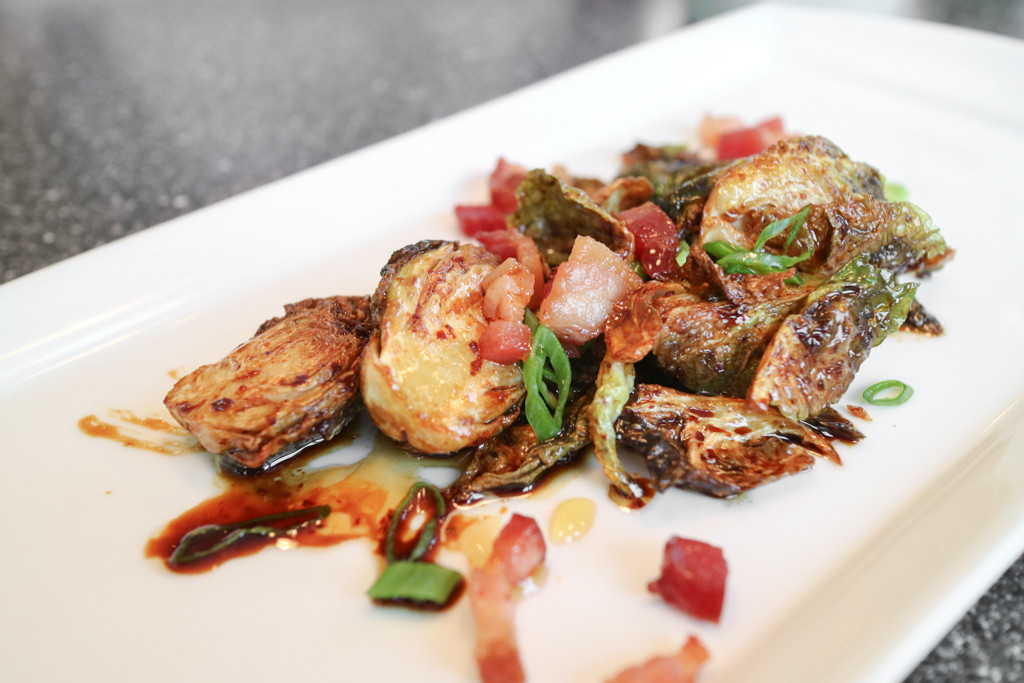 4th course: Bistek
The traditional way of making Bistek Tagalog involves marinating beef shaved steak in a mixture of soy sauce, calamansi juice, onion and garlic, then cooking it with red onions. Inspired by the classic Bistek Tagalog recipe, the chef reinvented the dish and presented it in the form of steak tartare. It found a great balance between tender striploin, pickled red onions, scallions and pan de sal toast, where sweet, sour, and salty meld together perfectly.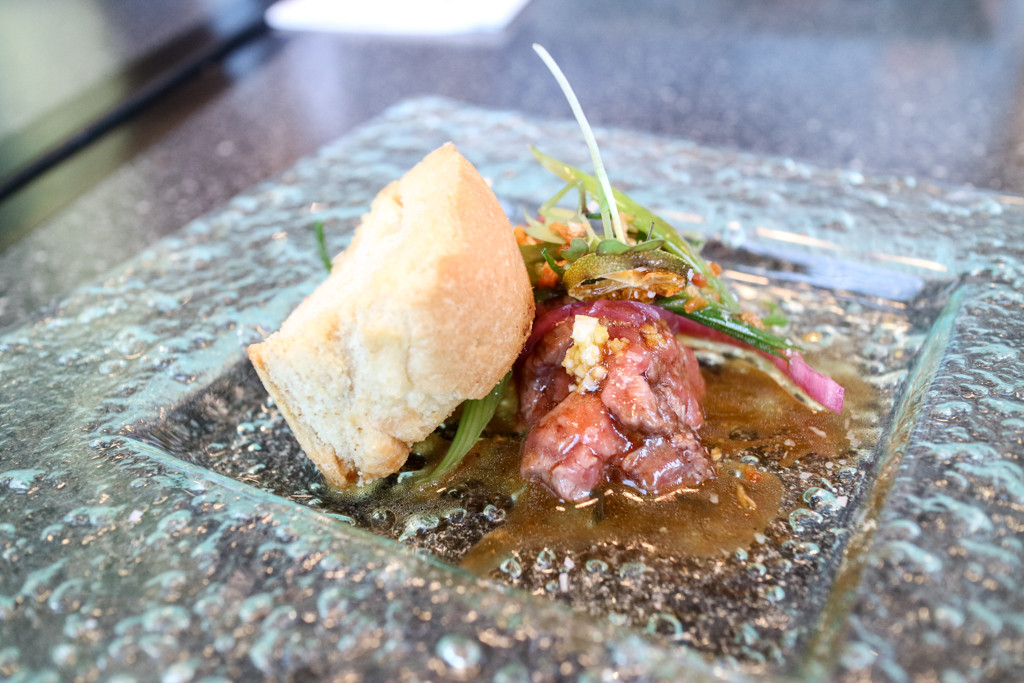 5th course: Manok
Just as we thought nothing could taste any better than KFC (Korean Fried Chicken), PFC (Philippines Fried Chicken) has introduced us to a whole new world. Stacked inside the cute custom-made bucket were 3 hearty pieces of crispy coating, mouthwatering moist fried chicken. The honey drizzle on the crust and herby, aromatic interior were the game changer and made us regret not knowing PFC earlier! Adventurous diners would take one step further and dip the chicken into the coconut collard greens mixture, which showcased the bitterness of collards beautifully. Finally, we ended the course with bibingka corn bread that was loved dearly for its dense texture and delectably sweet, milky flavour.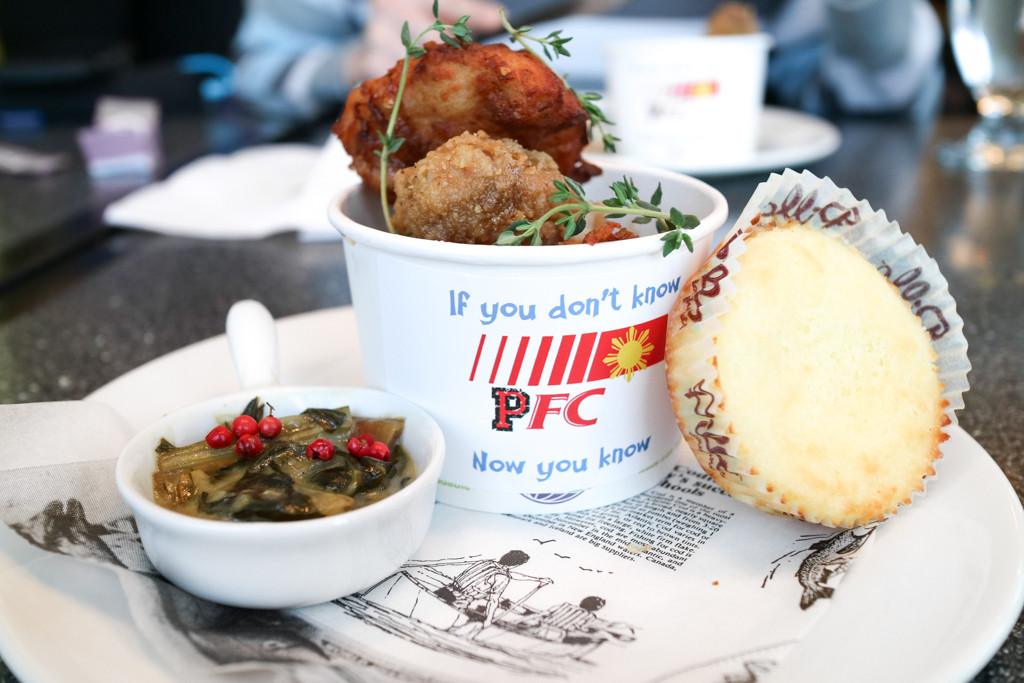 6th course: Itlog
The classic American brunch dish, eggs benedict, had undergone a little transformation that evening. The ube (purple yam) waffle quarter, topped with fall-off-the-bone duck confit, a poached egg, a heavenly drizzle of black garlic hollandaise, and a crispy ube chip, had successfully recreated the signature Filipino sweet-salty-sour flavour combo in one dish. While I gleefully enjoyed the sweet and chewy waffle, I secretly wished the egg was a little more runny.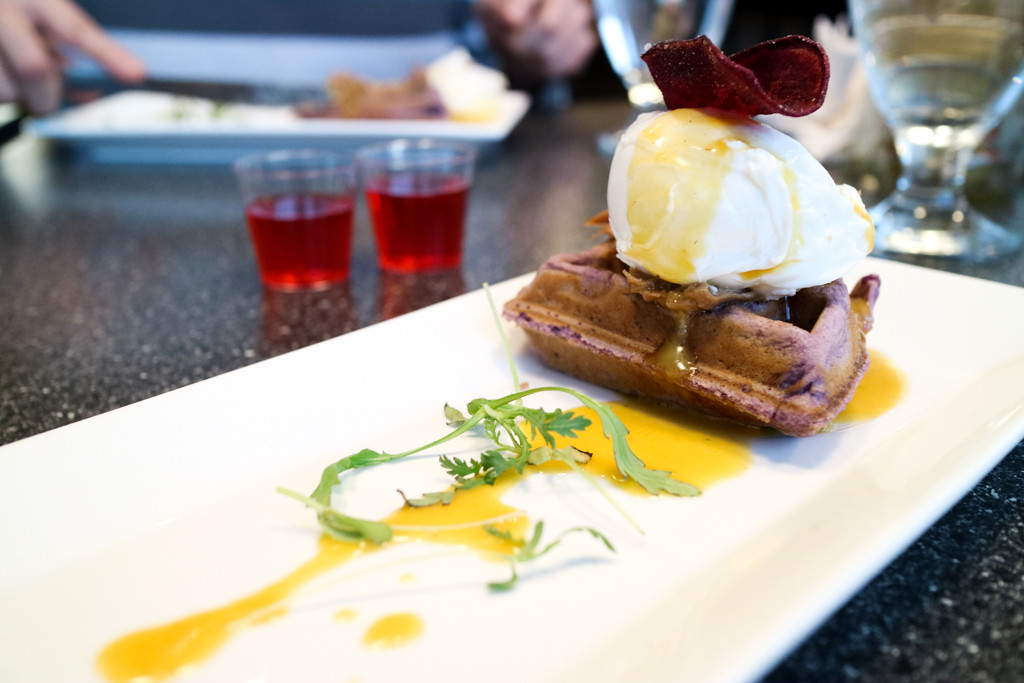 7th course: Kinilaw
We were just talking about coconut and vinegar earlier and there they were- spotted in this Filipino version of ceviche. Mixing together salmon, tuna, coconut milk, vinegar, shrimp roe, radish and calamansi, you ended up with a uniquely delectable raw fish salad. It was so beautifully acidic that you either loved it or hated it. To up the heat a notch or two, you could challenge yourself with a bite of that chili pepper on the side!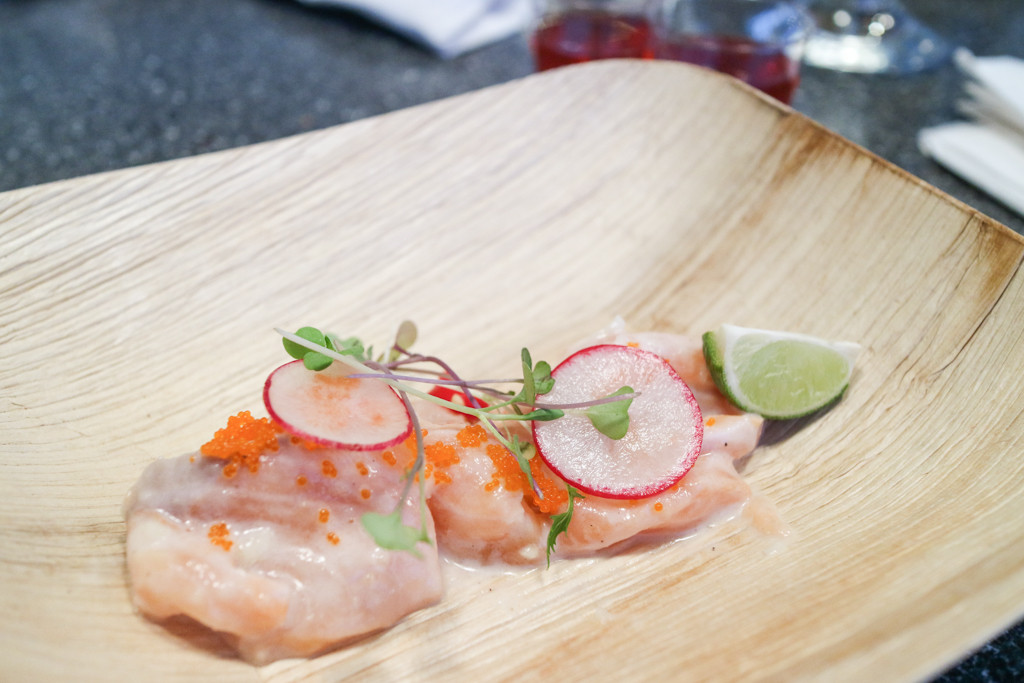 8th course: Tocino
When Filipino technique met Taiwanese cuisine, a gastronomic chemistry emerged and took food fusion to mouthwatering new heights. Chef Jay's interpretation of Taiwanese gua bao brought back nostalgic memories of my home country. To me, the fluffy steamed bun, stuffed with fatty sous vide pork belly, pickled daikon and fresh cilantro, was a taste of home.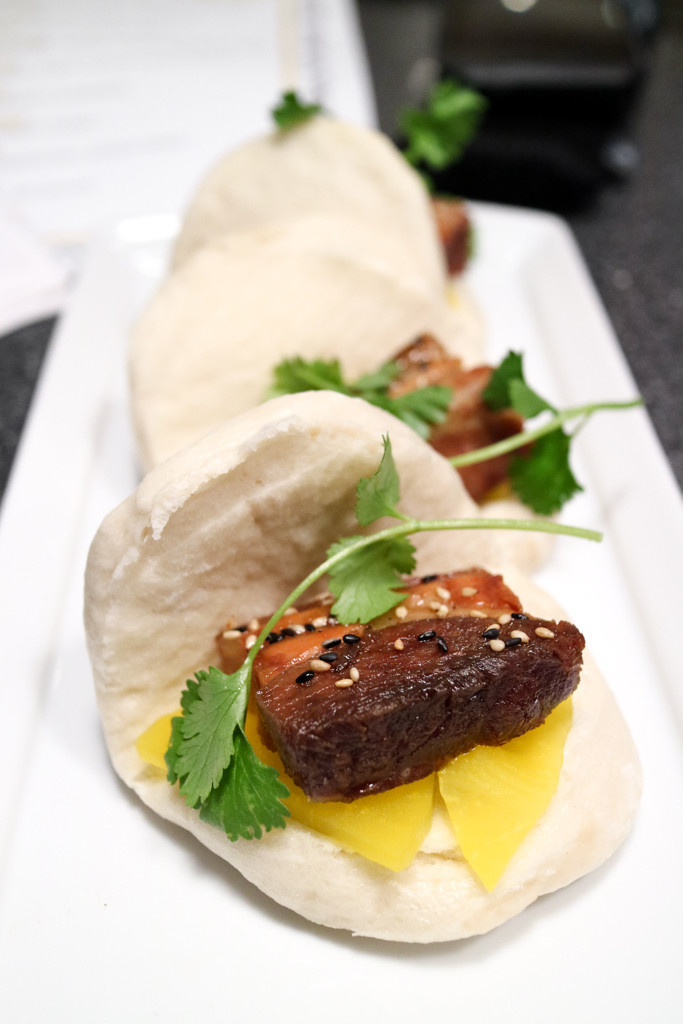 9th course: Kanin
By the time we reached the 9th course, I could feel my stomach was so stuffed that it was about to explode! The sight of a rice dish certainly did not help put that worry away, yet I tried my very best to clean the plate. Cooked and fully coated in crab fat, the rice was nothing but rich, buttery, and creamy. Shaved parmesan and pea sprouts both helped lighten up the dish, but if the rice was substituted with risotto (or any grain with a chewy bite), it would have been perfect.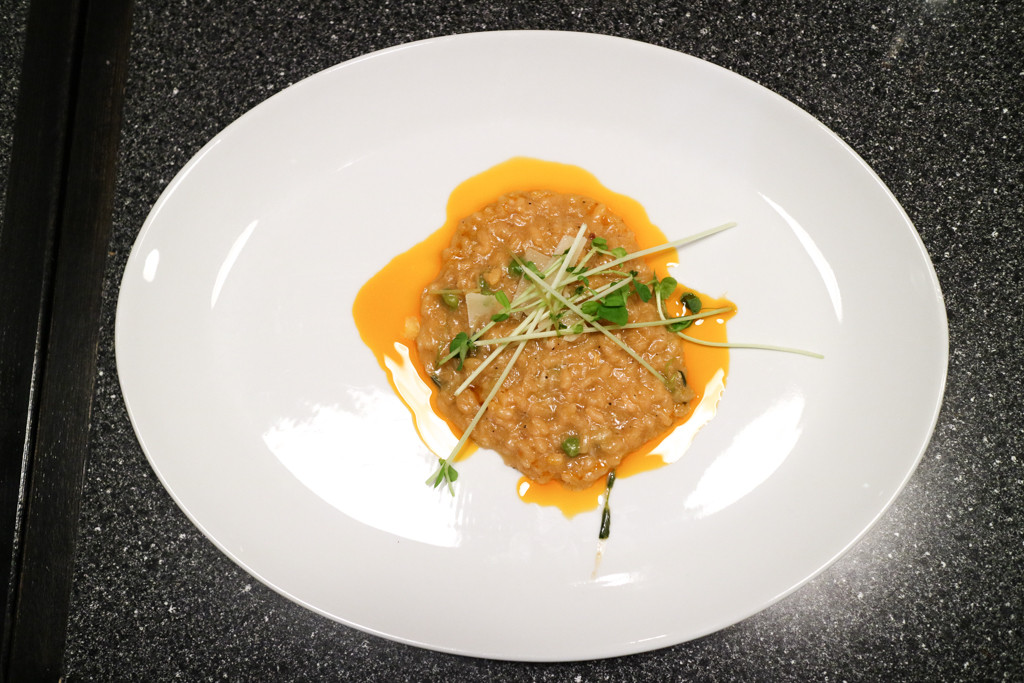 10th course: Leche Flan
The enchanted evening ended delightfully with the beautifully plated pandan leche flan. Served in kabocha (winter squash), the refreshing and aromatic egg-based dessert instantly transported me to the tropics. Scattered across the plate was crunchy ube crumble that left me yearn for more.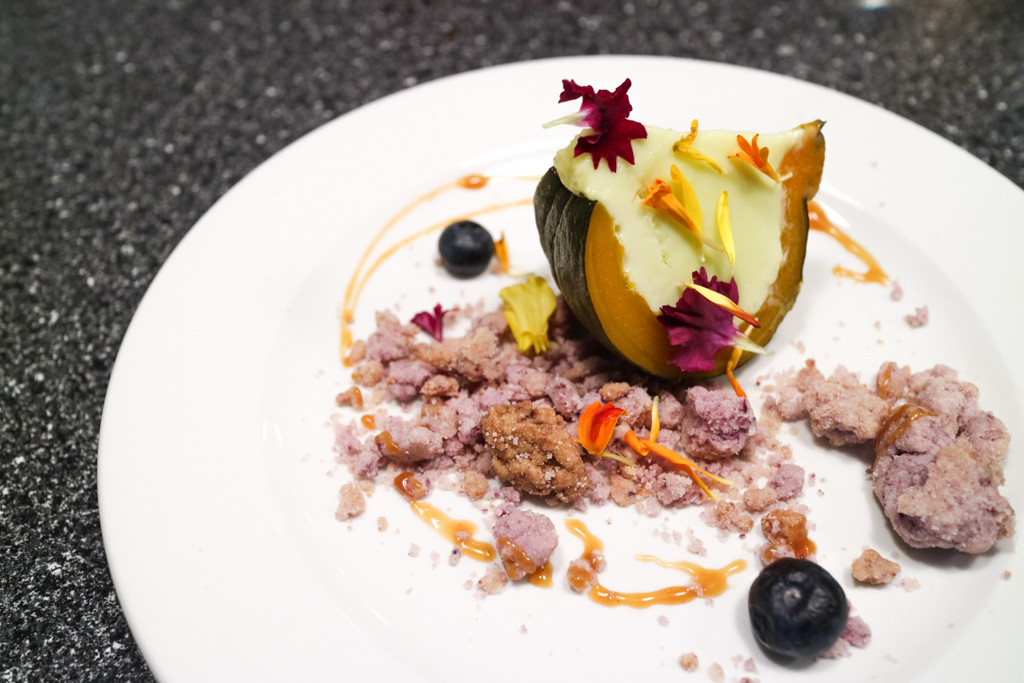 Conclusion
This was by far one of the best dinners I've ever had in Calgary. Not only was it a delectable feast for the belly, it was also a feast for the eyes. Wanna take yourself on a Filipino culinary adventure? Check out Sarap YYC on social media and look out for one of these Filipino pop-up dinners. Or drop by Eats of Asia, Oohmami and The Bro'kin Yolk (Baon Manila Nights if you're in Winnepeg). You'll be hooked before you know it!