This site uses affiliate links and we may earn a small commission when you use our links and make a purchase without incurring additional fee yourself. Many thanks for supporting this website. Please see our disclosure page for more details.
Argentina – a beautiful country with a vibrant culture and the birthplace of the sexy and sultry tango. It is a destination where Kev and I want to visit so badly. Thanks to Pampa, Vine and Dine and Mondia Alliance, we got a little taste of this South American country last week at the Grupo Peñaflor Winemaker Dinner! Nothing could possibly be more enjoyable than tasting a six-course Brazilian meal and matching it with superb Argentine wines from one of the top 10 wine producers in the world. It was a true South American night that left us with lots of fun memories. Care to join me for a drink and revisit this amazing evening of wine, food and fun?
Argentine Wines 101
As one of the fastest growing wine exporters in the New World, Argentina has developed a reputation for fine wines. Its natural conditions, including the high altitude, the wide range of temperatures, the dry climate, the nutrient-deprived soils and the exceptionally pure water channeled from the Andean peaks, lend Argentine wines their unique identity and quality. There's no doubt that Argentina produces the finest Malbec wine, but Argentina's viticulture is a whole lot more than that. Take Bonarda for example – the second most widely planted red grape, after Malbec, has started to gain attention around the world for its intensely fruity flavour. And Torrontés, an aromatic white wine produced almost exclusively in Argentina, is distinctive in its own way by showcasing tropical fruit notes. Blessed with excellent agro-ecological conditions, the country is able to produce a myriad of red, white and rosé wines that reflects its deeply-rooted popular wine culture. No wonder many people are so captivated by Argentine wines!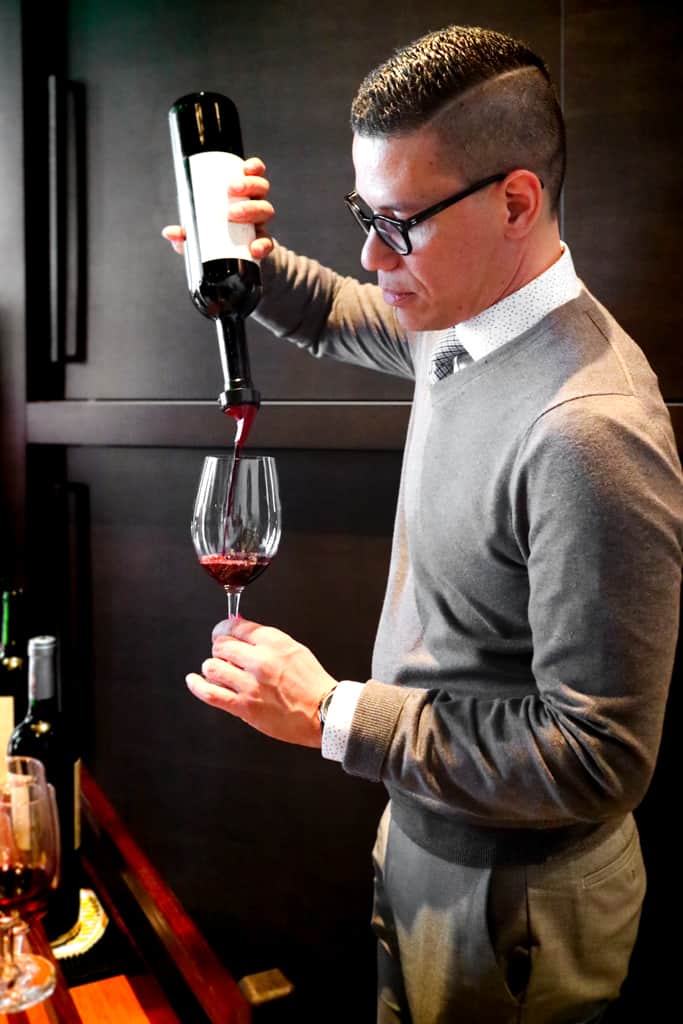 The Grupo Peñaflor Winemaker Dinner
The special night wouldn't have been possible without Grupo Peñaflor, one of the world's largest wine producers, with wineries all across the wine regions of Argentina. Owned by the Bemberg family, the company produces a wide range of wines with excellent quality-price ratio. Joining us at the dinner was Juan Ignacio Torre, the business manager from Grupo Peñaflor who hand-picked a few reds and whites at various price points from Finca Las Moras, Bodega El Esteco, and Mascota wineries to complement the six-course meal put together by Chef Joao Dachery. Shall we let the feast begin?

First Course
The night began with a tray of delicious small bites, featuring beef carpaccio, prawns and mango chutney on toasts, and ground beef empanadas. These appetizing, sweet and sour snacks matched extremely well with the crisp, fruit-driven Mascota OPI Chardonnay 2014. Expressive aromas of tropical fruit and subtle oak nuances, this classic Chardonnay was a perfect introduction to OPI's line of fine wines.
[easy-image-collage id=4910]
Second Course
I had never been so in love with lamb until I tasted Chef Joao's mini marinated lamb skewer, which was kept moist and succulent by incorporating a mint sauce. Equally outstanding was the creamiest mashed potatoes made with coconut milk, instead of milk. For the wine pairing, Juan selected Don David Malbec Reserve 2013, which displayed an intense aroma of ripe red fruits and a lingering smoky nuance. Grown in the Calchaqui Valley at 1800 meters above sea level. combined with high sun exposure and low humidity, this Malbec exhibited an unique purity and concentration.
[easy-image-collage id=4913]
Third Course
The charcoal roasted bacon-wrapped chicken thighs at Pampa never fails to disappoint. The dish included red wine vinegar to create a sweet and sour effect and a bed of arugula to cut the grease. Together with the smooth, sweet and soothing potato polenta, it simply made me want to lick the plate! This chicken dish made a perfect pairing with PAZ Cabernet Sauvignon/Cabernet Franc 2012. In classic deep red color, this full-bodied red wine was loaded with blackberry and dark chocolate flavours supported by well-integrated oak.
[easy-image-collage id=4917]
Fourth Course
Combining the signature pork sausage with tender calamari, chickpeas, and croutons, this lip-smacking seafood dish made me wish it was a permanent menu item. To match the tomato and garlic based sauce, nothing would have been a better choice than Ciclos Icono 2012! This particular wine captured the extreme dual climate (22°C difference between days and nights) in Cafayate with notes of ripe plum and a sweet marmalade aftertaste.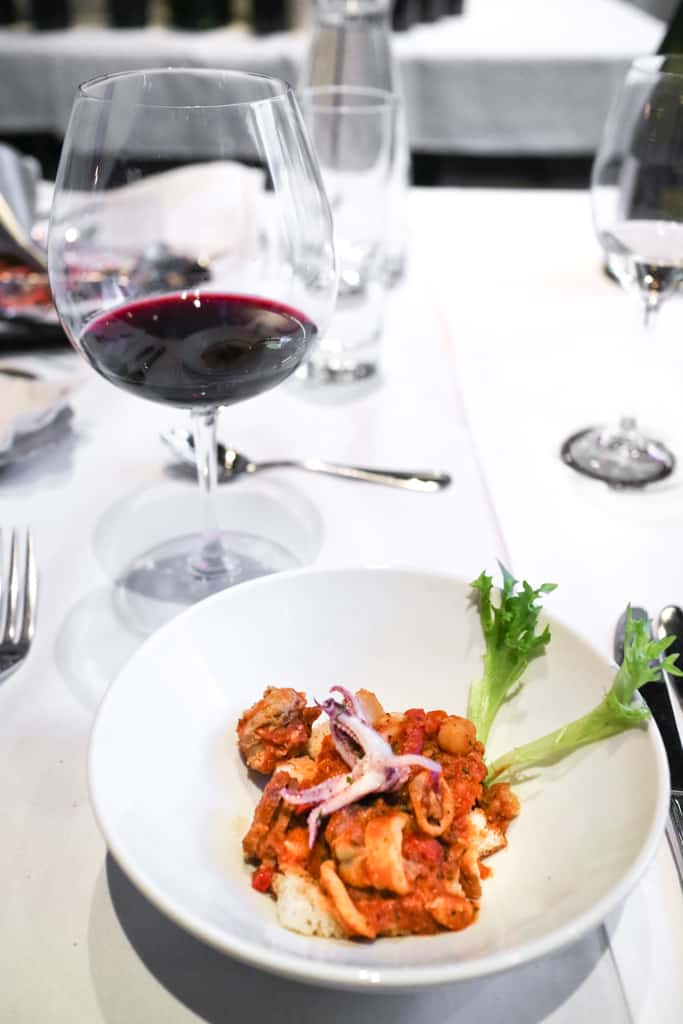 Fifth Course
Dinner at Pampa would not be complete without its signature rump steak. The combination of farofa (toasted cassava flour mixture) and tangy chumichurri brought out the steak's inherent meaty taste and gave it a little nuttiness. As cliche as it may sound, the best wine was reserved till last. Unánime 2011, an award-winning red wine from La Mascota, stood out for its intense fruit flavours and elegant aromas of tobacco and chocolate. As a white wine drinker, I really enjoyed the harmonious balance of tannin and acidity displayed in this red wine!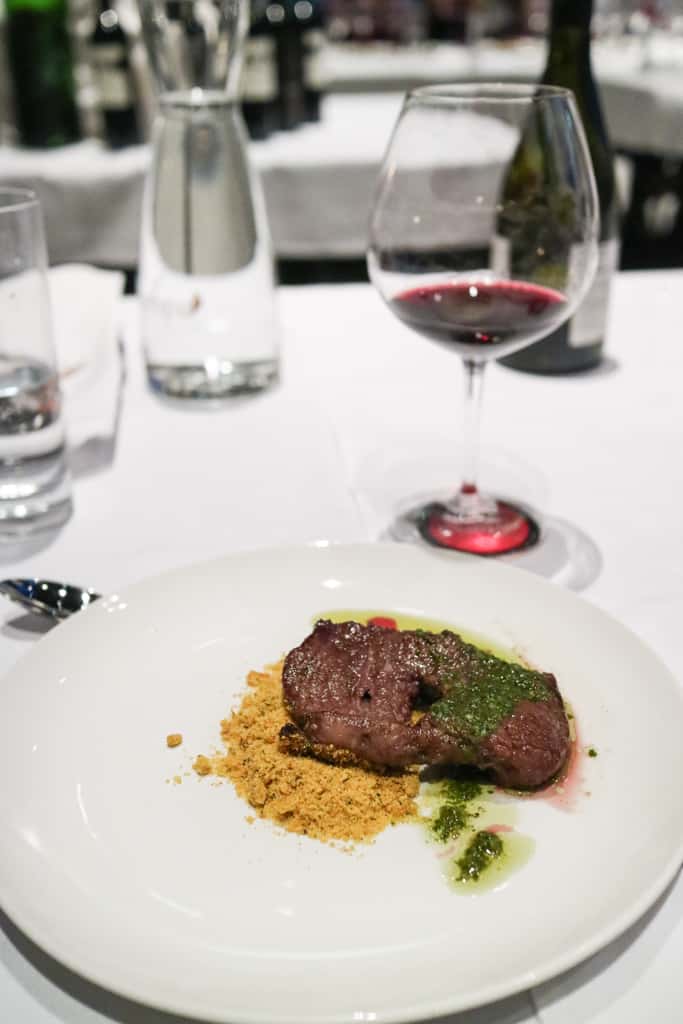 Sixth Course
The evening was brought to an end with the seductively fragrant passion fruit mousse. The pleasantly sweet blueberry malbec reduction no doubt took this exquisite dessert to an even tastier level!
Aside from food and wine, we were engaged in a little wine puzzle throughout dinner. Using only the tools provided on the table, we were asked to take the cork out without breaking the bottle. With Kev's tenacity, we eventually solved the problem and won each of us a shot of licor 43! Frozen in a bucket and poured at 6-foot tall, the Spanish vanilla citrus liqueur had a viscous, toffee-like sweetness that caused a subtle burning sensation as it went down the throat.
[easy-image-collage id=4926]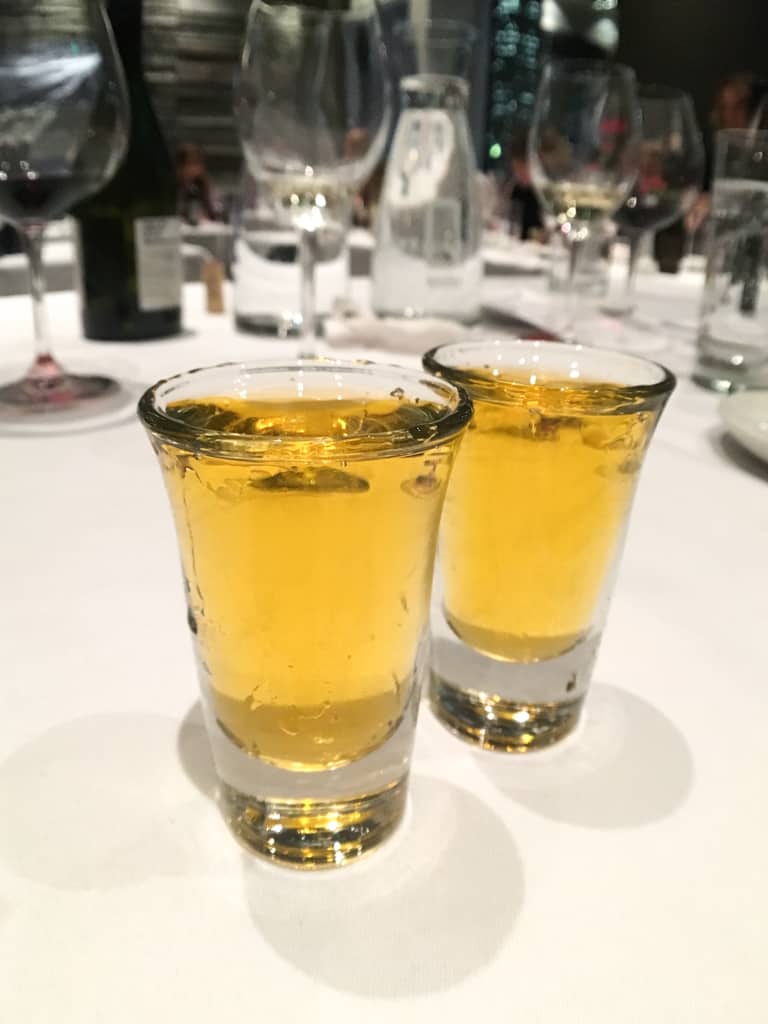 Conclusion
This was the first time I had ever tried Argentine wines and I was impressed by the varieties and their unique characteristics. Each sip came with deep aromas, flavours and great concentration. Highly recommended for wine enthusiasts!
Interested in wine and dine events? Check out Pampa or Vine and Dine's website for more wine-themed events!
Disclaimer: I was formally invited by Pampa for this dinner event. All opinions are my own and I tried my best to highlight the goods and bads. All photos are my own.