This site uses affiliate links and we may earn a small commission when you use our links and make a purchase without incurring additional fee yourself. Many thanks for supporting this website. Please see our disclosure page for more details.
Transportation to and from airports is always a pain in the butt. As you step off the plane after a long flight, transportation is the last thing you want to worry about. With the new UP Express, it couldn't get much easier to travel between Toronto's Pearson International Airport and Union Station. In just 25 minutes, the airport rail link will transport you right to Toronto's downtown core!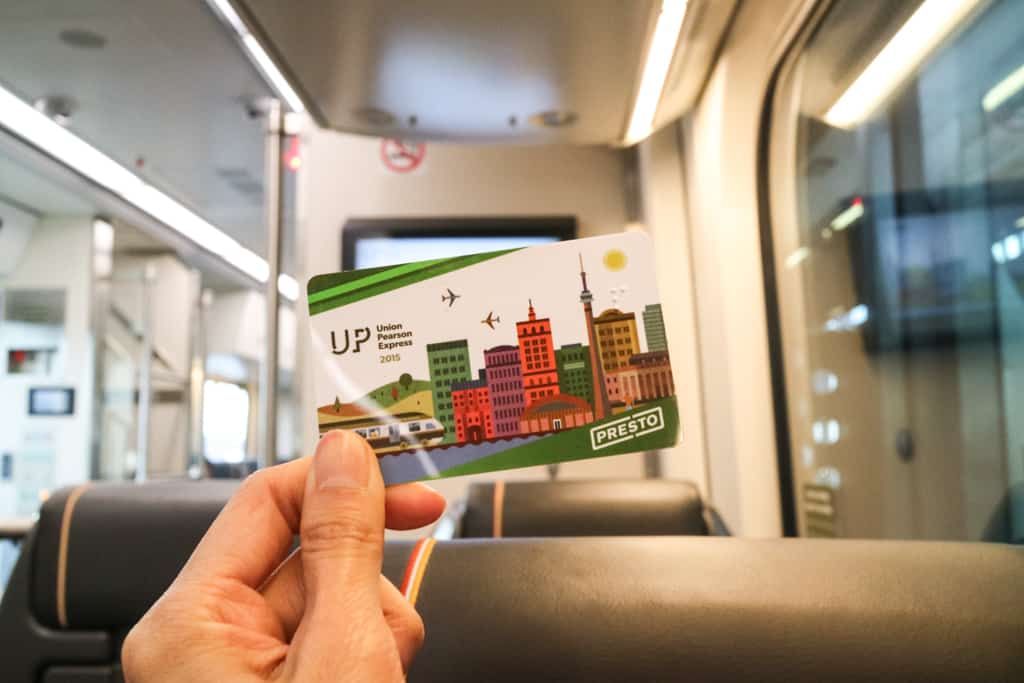 This is something to be excited about. Let's admit that not every airport has a fast and frequent service that ferry passengers to a central transit hub. When was the last time you had to wave down a taxi and spend big bucks to get to the airport? Or be thrifty and sit on a bus for more than an hour to get to downtown? Every time Kev and I travel in and out of Calgary, we have to choose between these unattractive transportation options. It is expensive and time-consuming. We were glad that there was a faster and much more affordable 3rd option available to us when we visited Toronto few weeks ago. I must say that UP Express is truly a godsend to the people traveling to Toronto!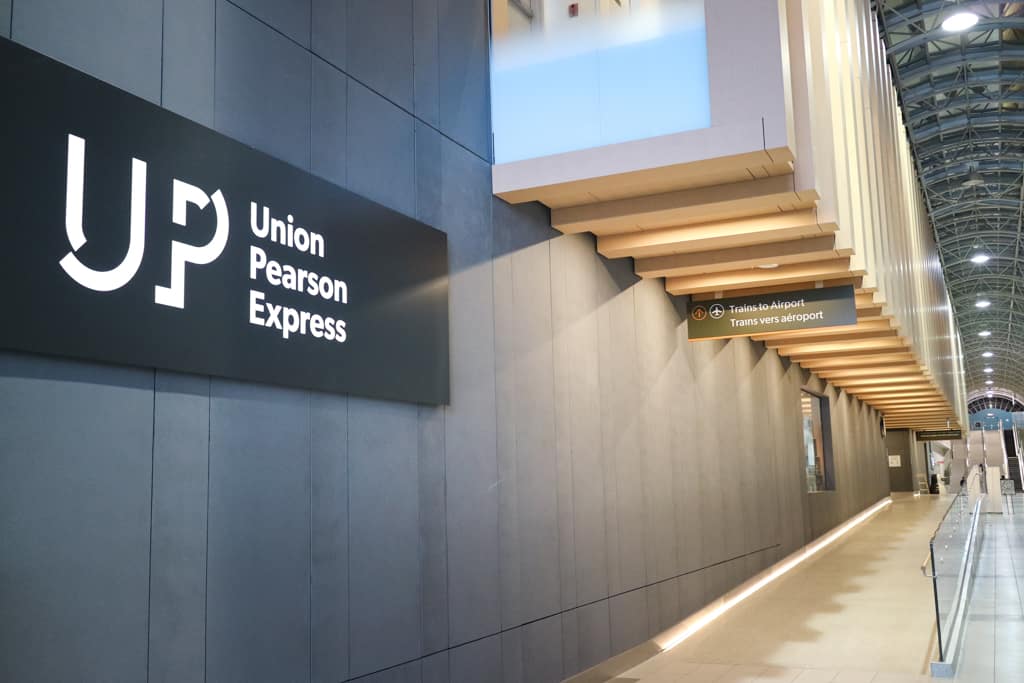 What is UP Express?
Union Pearson (UP) Express is the fastest and most reliable transportation that connects Pearson Airport to Union station. It services daily from 5:30 a.m. to 1:00 a.m., with trains leaving every 15 minutes. Each trip takes approximately 25 minutes. Compared to a taxi ride that takes 28 minutes with no traffic and a 75-minute bus ride, UP Express is the fastest way to travel between Pearson and downtown hands down.
Route Map
UP Express makes 2 stops along the way: Weston and Bloor stations, both connect to the GO Kitchener line. (GO Transit is Ontario's inter-regional transit system, linking Toronto to the greater Toronto area)
How Much is the Ticket?
Fares are calculated by distance – that means, you only pay for the distance you travel. Fares are cheaper if you get on or off at in-between stops.
A standard one-way 3-stop journey (Union ⇔ Pearson) costs $12, while 2-stop (Union ⇔ Weston; Bloor ⇔ Pearson) and 1-stop (Union ⇔ Bloor; Bloor ⇔ Weston; Weston ⇔ Pearson) fare cost $5.65 and $5.30 respectively.
Helpful tip: If you will be taking public transportation (e.g., TTC subway, streetcar, GO transit) a lot during your stay in Toronto, I strongly recommend purchasing a PRESTO card. It is a prepaid electronic fare card that allows you to pay transit fare electronically and, most importantly, it gives you discount when taking UP Express. With a Presto card, a 3-stop fare will now cost only $9!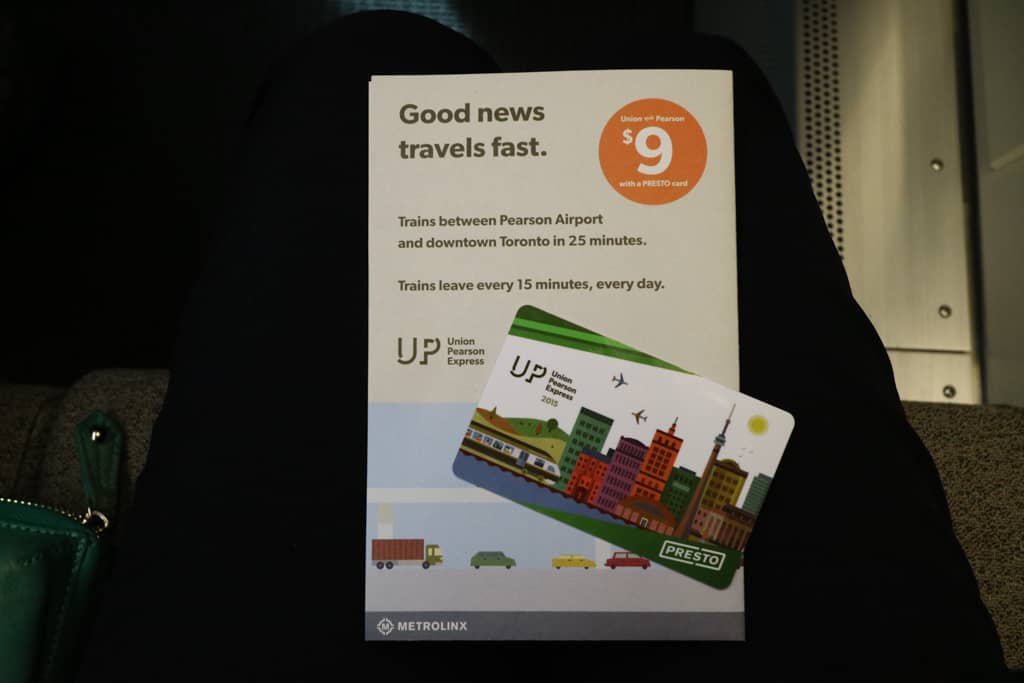 Pro tip: Just in Toronto for a few hours? Then, you can take advantage of the Long Layover, which allows you to maximize long layover, leave the airport and spend up to 7 hours in downtown Toronto to get a glimpse of the city. The return ticket costs $12 and can be purchased online or from a Guest Services Representative at Pearson Station. The trip must start from Pearson Station.
How to Take the Express Train?
Pearson station is located on the lower level of Terminal 1, right beside the Link Train to Terminal 3. Simply follow the sign that says "Train to City," you will eventually come to the entrance to the platform.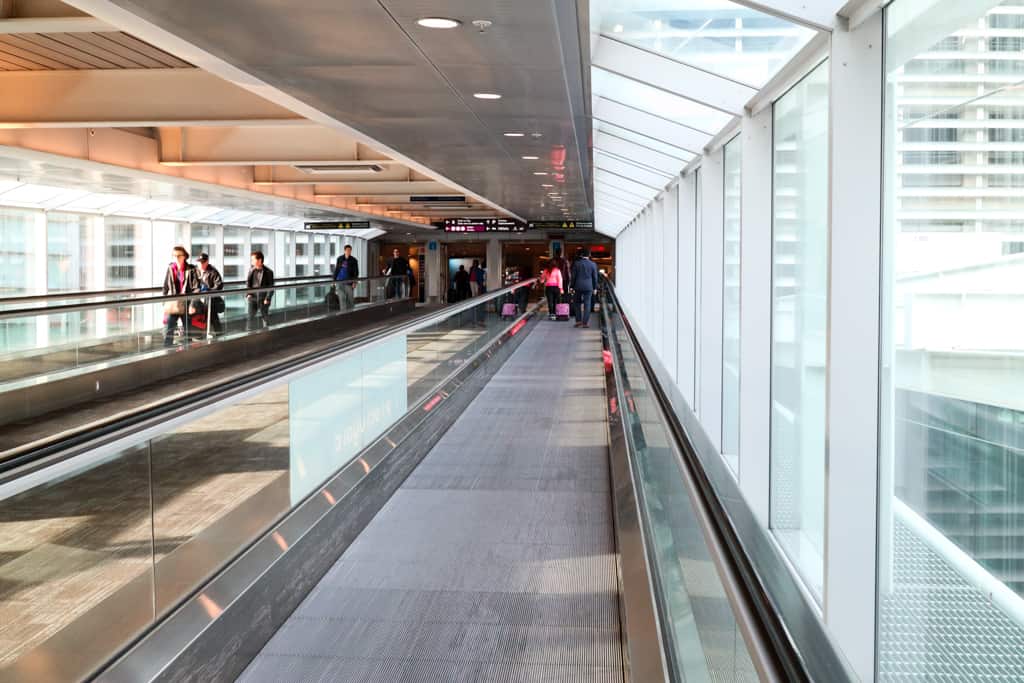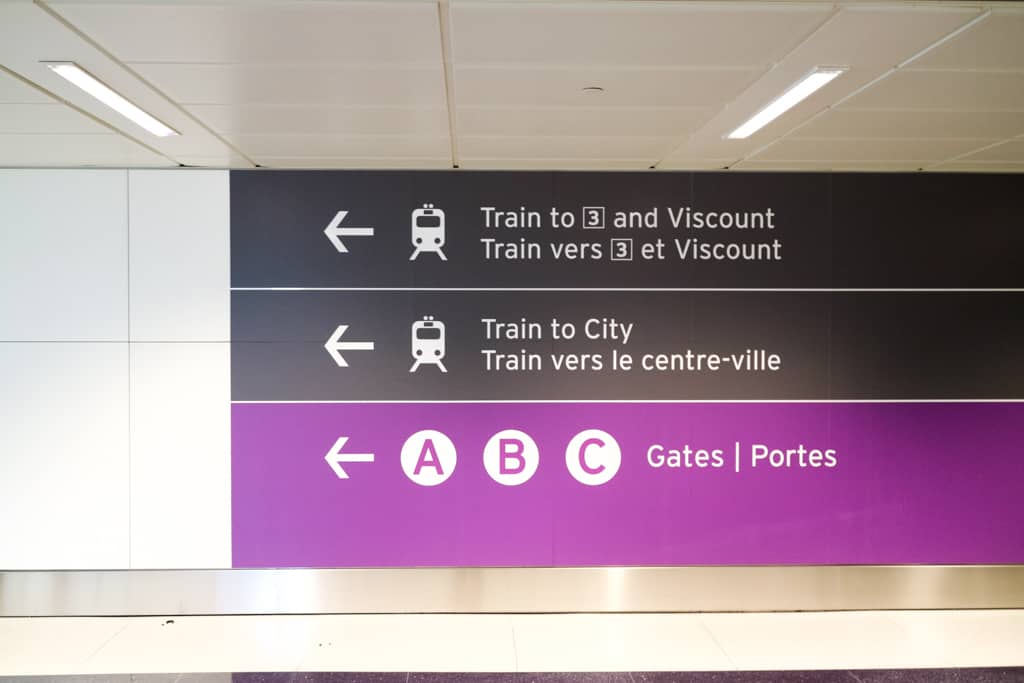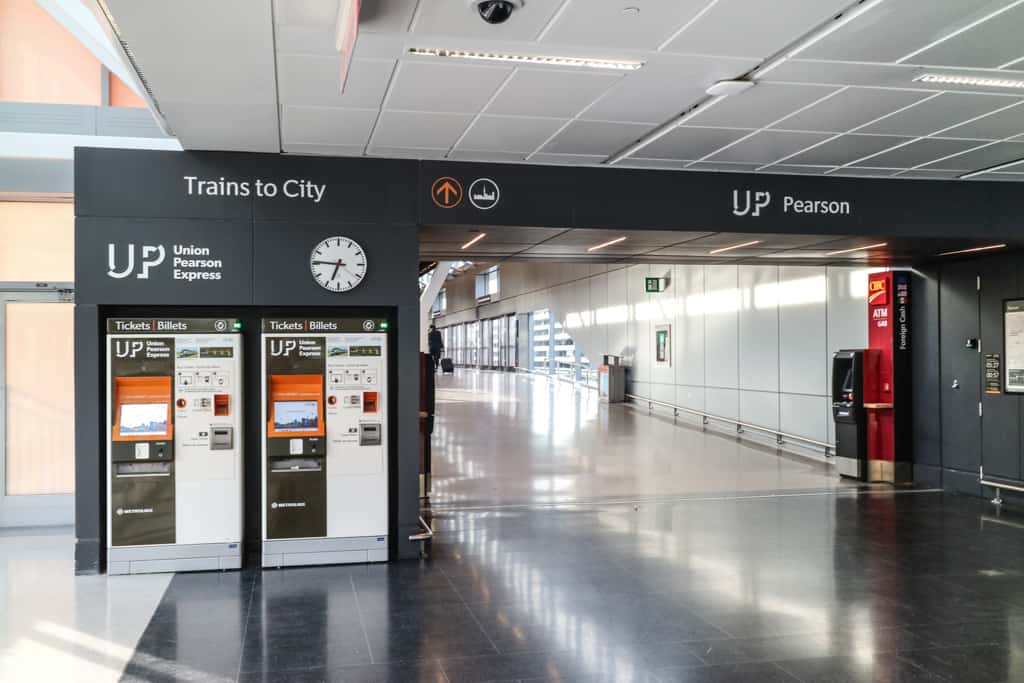 To purchase tickets, you can use the Ticket Vending Machine and pay with cash, debit or credit card. If you wish to buy a PRESTO card, you must proceed to the Guest Services Counter and have the representative make the transaction for you. Please note that payment can only be made with credit card. A new card costs $6 (that's a one-time non-refundable deposit) and you must load a minimum of $10. So let's do the math – adding together the deposit ($6) and your one-way trip to Union ($9), you must have at least $15 to begin your trip.
If you purchase the PRESTO card, make sure you tap an electronic reader before you board the train. After that, you can comfortably enjoy your ride and admire the view! Just one more thing to remember – don't forget to tap out when you alight from the train. The inspector will check your proof of payment on the train so please have your paper ticket or PRESTO card ready. (Do not ever throw your paper ticket away!!)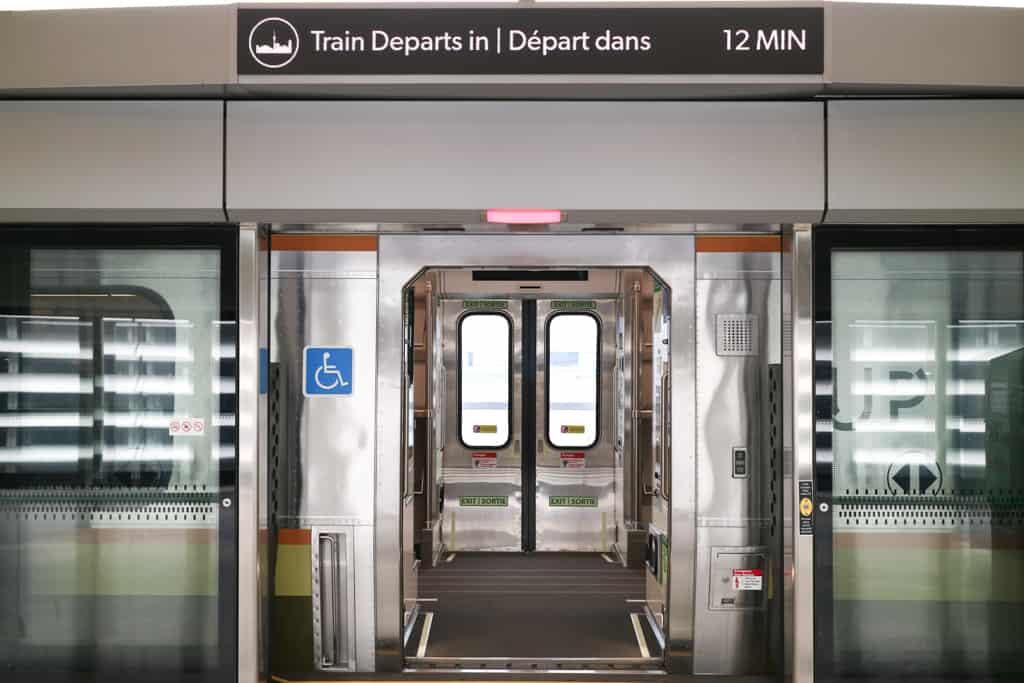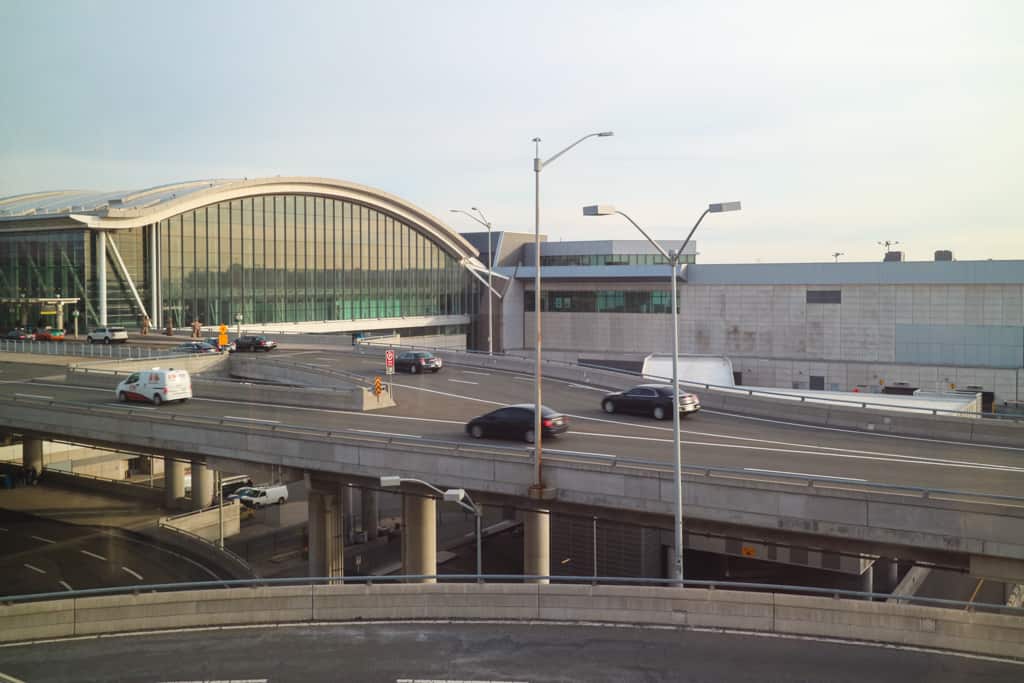 Features of the Train
UP Express is in service since June 2015. The interior is new and clean, equipped with air-conditioning and comfortable seats. The wide cushioned seats come with table trays and plenty of leg room, reminding me of the AREX train we took in Seoul. Even better, there are free Wi-Fi on trains and in stations, power outlets for charging devices, and up-to-the minute flight information to make sure you're well-connected at all time. Each section of the train also offers luggage racks and overhead compartment for storage. There are also washrooms onboard!! All they lack is a snack/coffee bar ?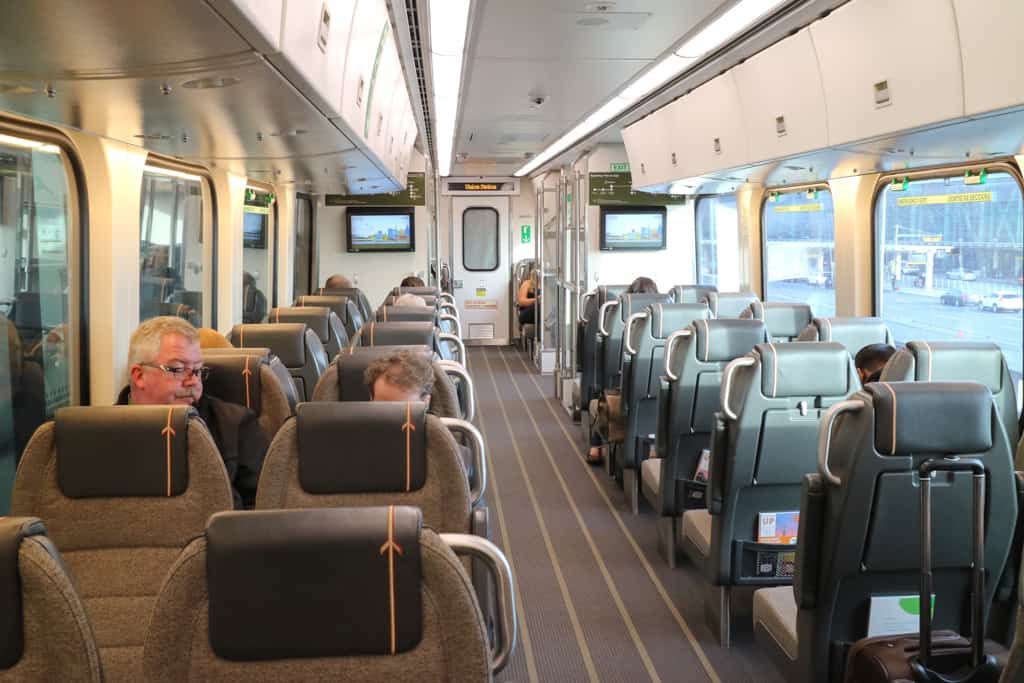 Conclusion
With this affordable, convenient and reliable means of transportation, you no longer need to worry about traffic. With UP Express, you can just sit back and enjoy the journey!
About UP Express
Website: www.upexpress.com
About PRESTO
Website: www.prestocard.ca
Like it? Pin it!