This site uses affiliate links and we may earn a small commission when you use our links and make a purchase without incurring additional fee yourself. Many thanks for supporting this website. Please see our disclosure page for more details.
Last month's Filipino pop-up dinner left me utterly amazed and I made myself a promise to visit the participating restaurants as soon as I got a chance. 2 weeks later…here I was at Oohmami, slurping noodles and reliving my happy memories of the Philippines!
Nothing feels better than finding a place that feels like home – I believe many Filipinos (and foreigners who moved to Canada) would agree with me on that. Not many places in Calgary focusing on ethnic food make me feel nostalgic, but Oohmami is exactly the kind of place where Filipinos feel at home and foreigners feel like locals. Owner and Chef Sonny opened this restaurant few months ago in hopes of introducing Filipino food to foreigners. With that goal in mind, he fuses Filipino dishes with elements from Asian and western cuisines to break down barriers and invite people to try new things. I could really feel his motivational attitude and strong passion in culinary when chatting with him!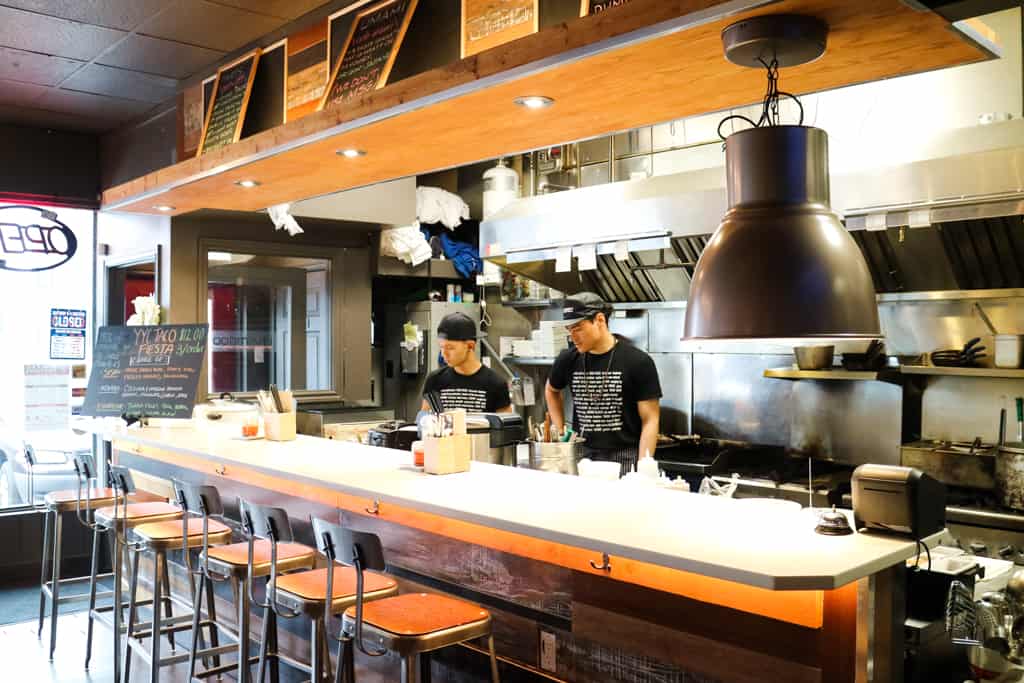 Tucked away on the west end of 17 Ave, Oohmami took over the location that previously housed Gachi. On the inside, the restaurant embraces the open kitchen concept to foster a welcoming atmosphere. Guests can choose to seat themselves on the sofa, at the bar, or at the picnic table for a laid back dining experience.
The restaurant specializes in 2 things: pares and noodles. Pares is a popular Filipino street food, composed of braised beef served with garlic fried rice or in beef broth soup. Inspired by his memories of the Chinese noodle house back in the Philippines, Chef Sonny incorporates various noodle bowls on the menu, all featuring springy noodles that are freshly made in house, buttermilk fried onions, soft boiled egg, and green onion! Also, they are limited in amount everyday!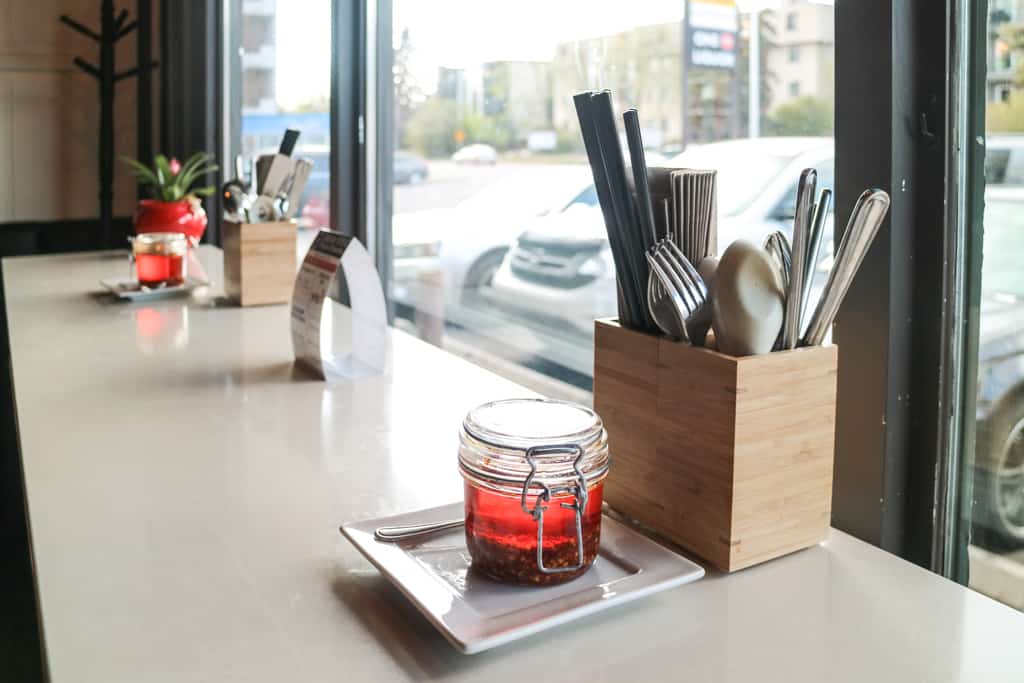 Noodles
Fork tender wagyu brisket swimming in deep, rich lotong broth along with napa cabbage and roasted garlic, High River wangyu brisket ($16) was like nothing else we had ever had before. 6-8 hours of slow cooking process produced extremely tender pieces of beef that were packed with amazing flavor. You must be out of your mind if you go to Oohmami without ordering this slurp-worthy bowl of wangyu brisket noodles!
Oohpapi ($14.5) combines pork dumplings, braised beef and poached chicken in a single bowl. The mouthwatering braised beef and authentic-tasting pork wontons played off nicely with the chewy noodles, but not so much with the poached chicken. By using chunky slices of chicken breast, the meat ended up a little dry. Nonetheless, I loved the umami flavour of the broth which was further enhanced by ingredients such as green onion, fried onions and garlic oil. Want some extreme heat without sacrificing flavor? Mix in some chili oil or hot pepper sauce from the Philippines!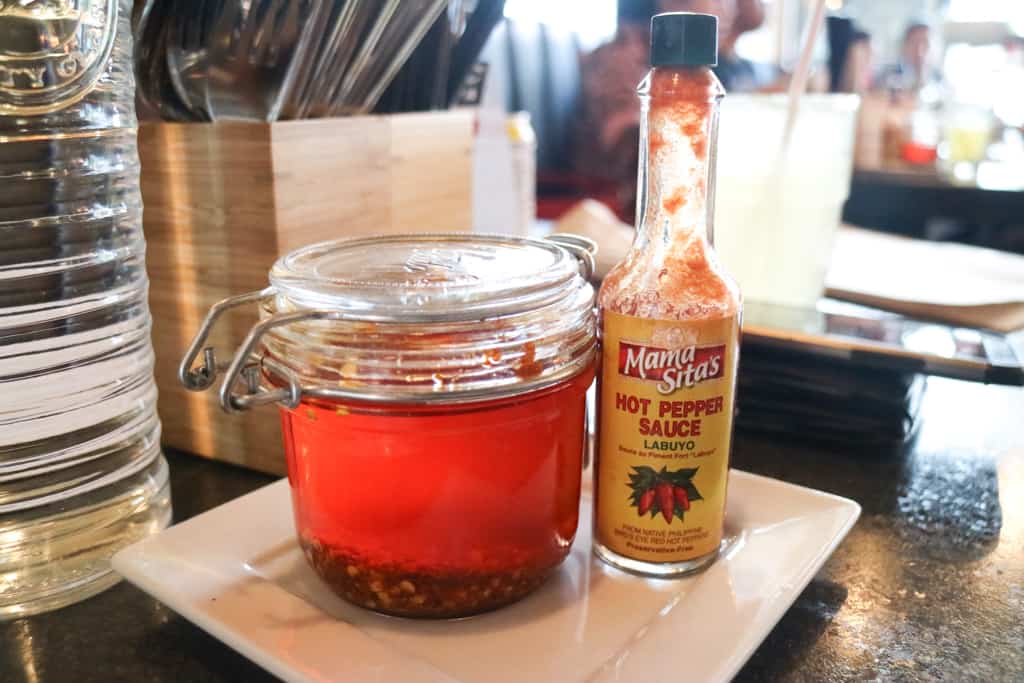 Appetizers
We were lucky to visit Oohmami during YYC Taco Fiesta. In celebration of the 6-day long taco festival, the restaurant presented 3 different tacos: sisig, adobo and escabeche ($12 for 3). Out of the three, our favorite gotta be sisig, which left us mesmerized by a delectable blend of triple cooked pork, chicharron, pinoy aioli and pickled veggies. With the right amount of sour element, it was a gastronomic treat that would make believers out of anyone. I'm glad it is their permanent menu item! Escabeche, made with tilapia fillet, bell peppers, ginger and napa slaw, reminded me very much of the Philippines with its sweet and tangy taste. Interestingly, the adobo which called for coca cola & vinegar braised chicken, mangoes, garlic and egg had a much lighter taste.
Seeing everyone else order the tofu & pork belly ($9), we were tempted to order one for ourselves. Stacked with deep-fried tofu, pork belly and pickled onions, each piece could be a little difficult to eat. I particularly loved how the pork simply melted in my mouth and the refreshing piquant-sweet flavor imparted by the pickled onions. However, the crispy tofu didn't quite pick up the flavors from the soy vinaigrette.
Desserts
Bibingka corn bread topped with cheddar cheese ice cream and salted duck powder, the cheese-centric dessert ($8) was surprisingly a successful marriage between sweet and salty. If that isn't your thing, I would suggest trying the warm young coconut pandan pudding ($14). Thick, smooth pandan custard injected into a young coconut, this dessert was out-of-this-world delicious! Not only was it fun to scoop fresh coconut meat out of a young coconut, it was even more enjoyable to share among friends.
Conclusion
Oohmami is the ultimate destination for food lovers to savour Filipino flavours in a modern context. No matter you're Filipino or not, you will feel the hospitality as soon as you step into the restaurant. From time to time, Chef Sonny will even step out of the kitchen and extend his heart-warming friendliness to guests, making sure everyone is enjoying the meal. It was that geniality (and delicious food, of course) that made our dining experience so pleasurable and memorable. Next time when you're scouting around for places to dine, make sure to check out Oohmami!
P.S. Chef Sonny will be away for vacation from mid-May to early June so Oohmami will be closed during that time. Make sure you check their Facebook page for updates! If you ever visit Manila and are interested in trying his western cooking, visit his eateries at Buffalo's Wings N' Things & Chubby's Rib Shack!