This site uses affiliate links and we may earn a small commission when you use our links and make a purchase without incurring additional fee yourself. Many thanks for supporting this website. Please see our disclosure page for more details.
It is every Canadian's favourite time of the year: tax season. Going through tax forms can be taxing, even worse is finding out you owe taxes. Good news is that you feel a huge weight being lifted off your shoulders after filing your return. If that's the case, give yourself a pat on the back and let's celebrate! Today, I would like to share with you our experience at Whitehall, a relatively new restaurant in Bridgeland that focuses on contemporary British fare.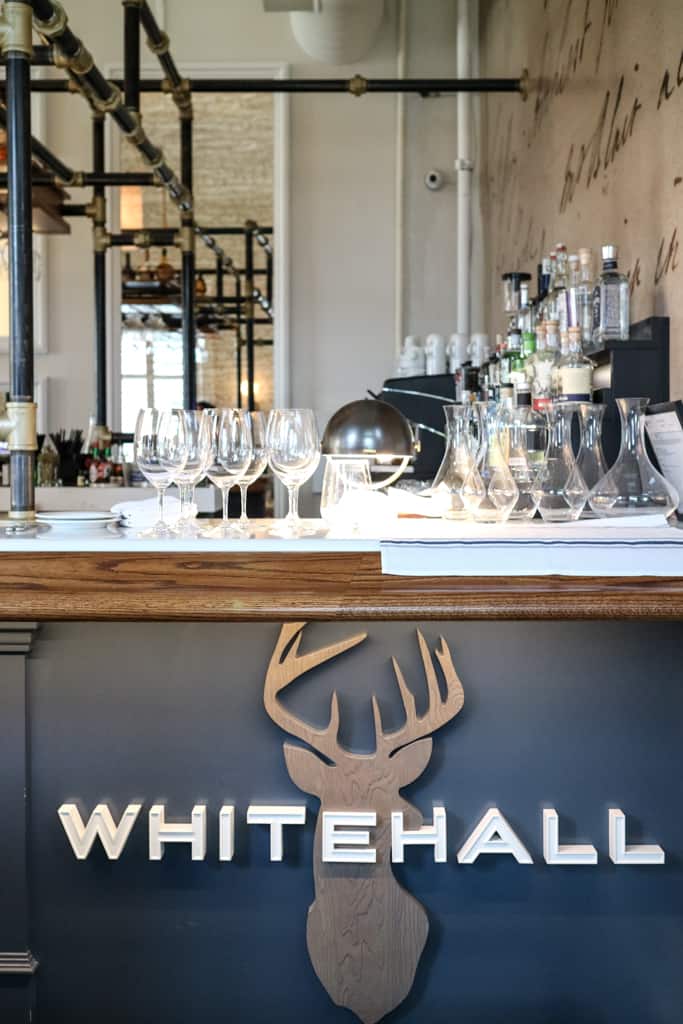 Michelin Star Chef
Housed in the historic de Waal Block, Whitehall took over the location of the former Italian restaurant, Il Sogno. The restaurant is owned by Chef Neil McCue, who previously ran Curlew in East Sussex and won a Michelin star for the restaurant in 2011 during his tenure as head chef. Right after receiving the accolade, McCue left Curlew and eventually jumped on the opportunity to start his own restaurant in Calgary. Why Calgary? In fact, McCue is no stranger to Calgary. Back in 2001, he was invited by Michael Noble to Calgary to join him at Catch as head chef. Now back in Calgary, McCue has moved beyond earning Michelin stars and is ready to start his own story.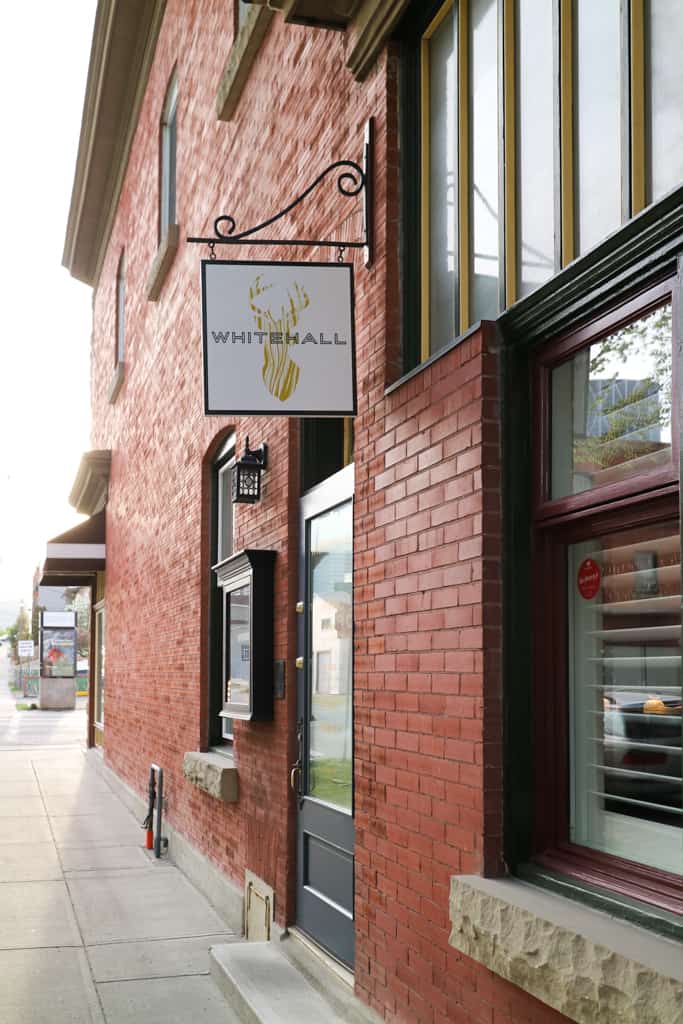 The decor of the 2-storey restaurant is a tribute to Winston Churchill, a hero of McCue's. Little touches of ChurchillI can be found here and there, for example, photos of him on the bookshelf, a handwritten letter by him behind the horseshoe bar, and The Other Room on the upper level named after his wartime bunker. They certainly infuse a little historical atmosphere to the elegant and spacious space designed with an astounding brick wall and refreshing white décor.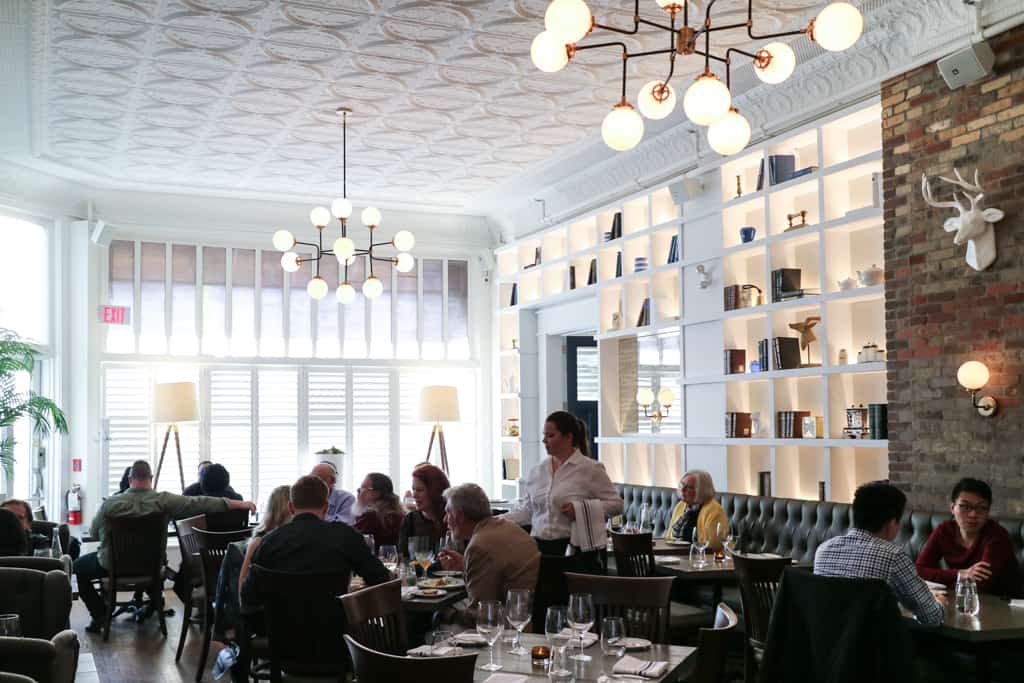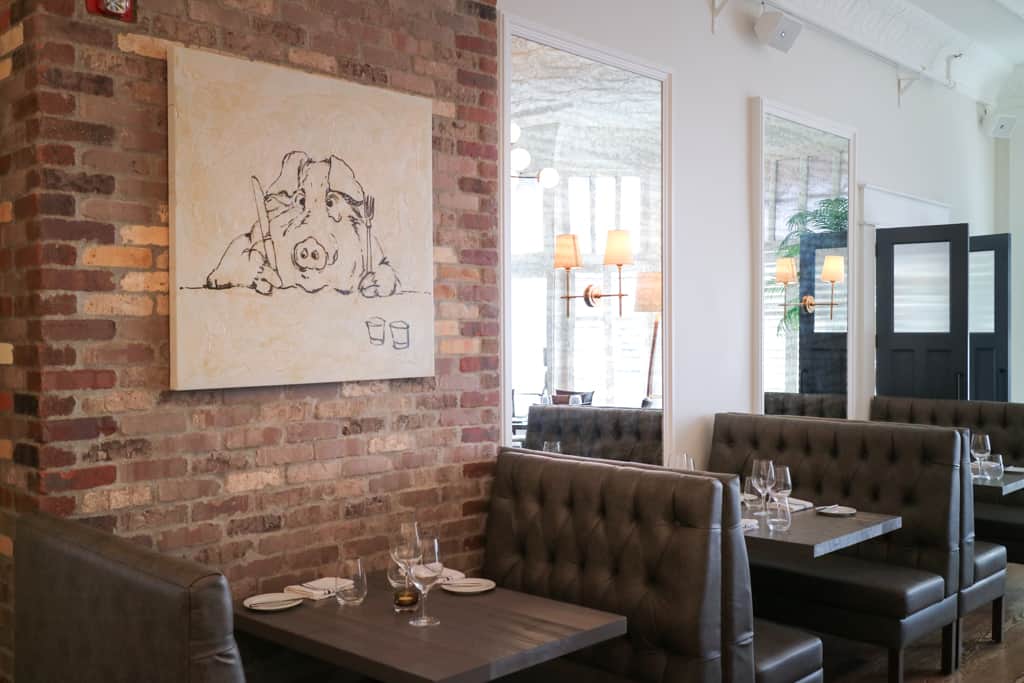 Stylish Comfort Food
The British-inspired menu changes frequently utilizing seasonal Canadian produce. When it comes to "British," we often think fish and chips, shepherd's pie, mushy peas or crumpets. Forget all that because at Whitehall, it is a whole lot more than that. The food, presented in a stylish manner, will make you feel good and comforting – a delicious win-win!
Our evening at Whitehall started off with freshly baked bread, which was accompanied by house-churned butter and whipped bacon drippings. If you thought their house-churned butter was out of the world, you would be even more amazed by the whipped bacon drippings for its smooth, creamy, luxurious consistency. The prelude didn't stop here. A tin box appeared next with sesame blue cheese biscuits nestled inside. With a soft, crumbly texture that just melted in our mouth, these cookies instantly revived our taste buds with a pungent blue cheese aroma.
Appetizers
Chef McCue's foie gras was by no means traditional. Combining chicken liver parfait with shave foie gras and pear jam, the Pate ($20) was knock-your-socks off spectacular. The mixture was creamy and rich, with a sweet taste. Spreading it on top of the lightly toasted bread, it was unexpectedly delicious!
The beauty of bison ($21) would sure turn heads with its stunning look. Featuring flank tartare, charcoal apple, caviar and watermelon pickles, this dish no doubt had some of the best ingredients combined in a creative way. There was an interesting combination in colors and textures that delighted the senses. However, if you're used to traditional beef tartare like Kev, this might not be your cup of tea.
Mains
You know you have the top quality wagyu beef when smooth velvety texture, juicy flavour and rich taste linger on the palate. Alberta beef for two ($75) did not fail to create that experience. The wagyu striploin turned out to be perfectly tender on the inside with a charred crust surrounding it. The steak was flavourful on its own. For extra richness, adding on with bone marrow would do the trick. The hearty dish was served with fried potatoes and spicy cabbage slaw.
The serving size of individual dishes should not be underestimated. For instance, the halibut ($30), which came with fiddleheads, peas, crispy chorizo, lardo and pea shoots, was very filling. I loved how sophisticated and nicely done the poached fillet turned out. Nonetheless, I couldn't help but notice that the sauce was quite salty.
Dessert
We finished the meal with stilton ($12).  Pairing cheesecake ice cream with granny apple, walnut cake and honey drizzle, each bite was crisp and provided a burst of sunshine flavours. It was undoubtedly the perfect finale to the meal!
Conclusion
Thanks to Chef McCue, the evening was a delightful experience that opened our eyes and minds to modern British cuisine. Dining at Whitehall is upscale and can be pricey, but if you're looking for bold, creative food, this is the place for you!