This site uses affiliate links and we may earn a small commission when you use our links and make a purchase without incurring additional fee yourself. Many thanks for supporting this website. Please see our disclosure page for more details.
For quite some time now, Kev and I would walk past 5S17 on 17th Ave and wonder what this hole-in-the-wall restaurant is all about. I have heard my foodie friends who checked this place out long before I did spoke highly of the food; however, when I was about to stop by, the restaurant was closed abruptly without advance notice. Fortunately, the closure was only temporary. Now that it is back to Calgary's food scene, the time has come for me to visit 5S17 and evaluate the restaurant myself!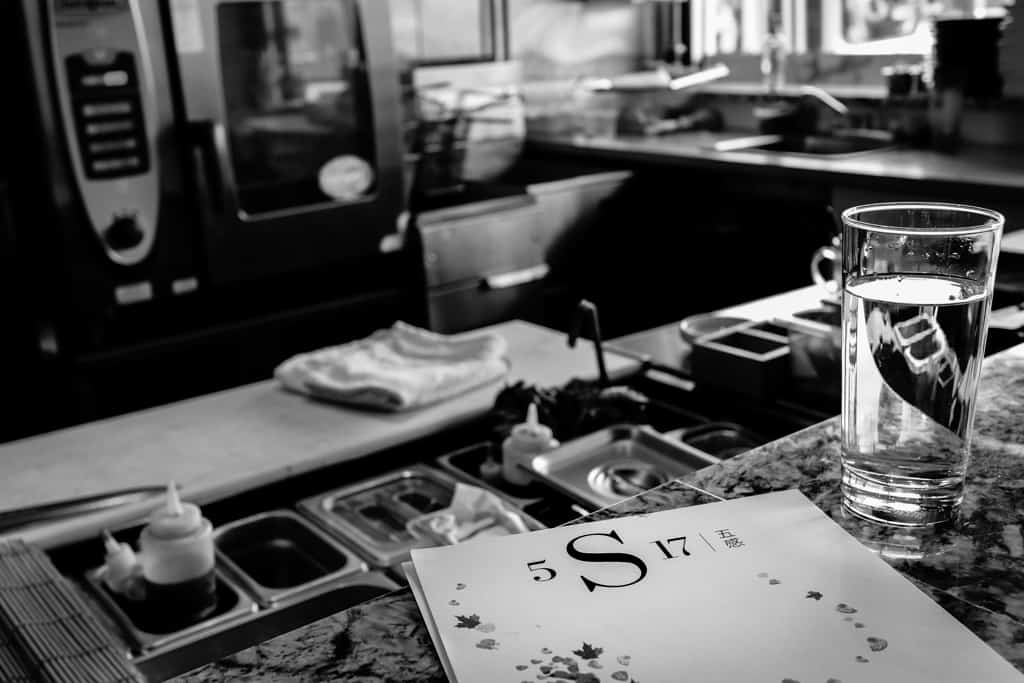 Run by Chef Satoru Kogo, 5S17 focuses on bringing French and Japanese fusion cuisine to the table. After obtaining a culinary degree from SAIT and years of working in Calgary restaurants, Chef Kogo finally started his own little place where he could let his creativity run wild. His cultural background and culinary education inspired him to fuse together Japanese and French flavours and technique. Taking the principle of Japanese cooking to heart, Chef Kogo is determined to create food that appeals to all five senses – that's how 5S17 was born.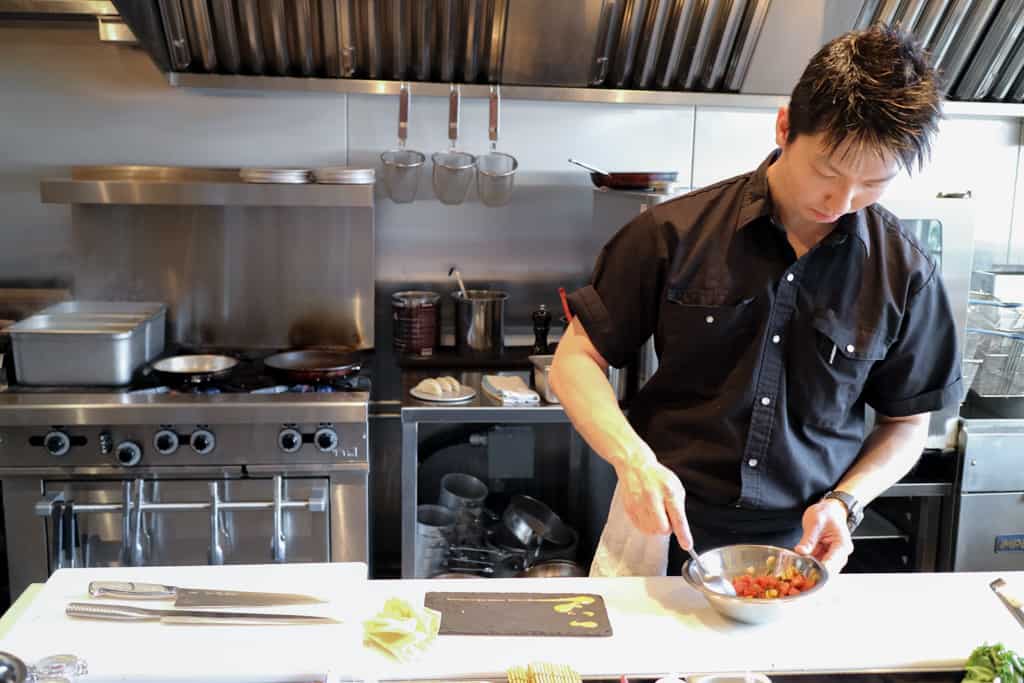 Menu at 5S17 is full of unique and creative culinary creations. Let's take a look at what we ordered ?
Appetizers
Poke, a traditional Hawaiian raw fish salad, is typically prepared with diced tuna, soy sauce green onions and sesame oil. At 5S17, the chef put his own twist on this Hawaiian classic by combining chucks of raw tuna with green onion, green apple and soy ginger vinaigrette. Served with crispy wonton chips, this tuna poke ($8) was seriously scrumptious. It was packed with so much flavour that made it a refreshing and appetizing starter. I loved how the sour-salty dressing was strong enough to stand up to the fishy flavour whilst not being overpowering.
At an oriental dinner, potstickers (or gyoza in Japanese) are a must have. Inside these plump and succulent pork dumplings ($6 for 4 pcs) was ground pork filling seasoned with lemon and chili soy. While I enjoyed their golden-brown, crisply fried bottoms and the juiciness within, it was deemed ordinary without any fusion element.
Teppanyaki
Speaking of fusion, sushi burrito ($12) is quite an interesting creation born from the love of Japanese and Mexican cuisines. It combines futomaki (Japanese sushi roll) with a touch of Mexico. Essentially, it is just a sushi roll in the shape of a burrito – nothing too crazy. Filled with tuna, salmon, lettuce, spicy mayo, avocado and asian slaw, the fat sushi roll was overflown with too much rice, making the roll taste rather bland. I had to keep dipping into the soy sauce to bring back some taste.
[easy-image-collage id=4954]
A hint of curiosity urged me to inspect how the uniquely Vancouver street food, Japa dog ($14), crafted by Chef Kogo was going to turn out. Sandwiched between a sweet hot dog bun were beef dog, braised onion, pickled veggies and secret house sauce. Maybe because I had never tried all-beef hot dog before, I found the taste was not as desirable as I expected; moreover, it didn't balance harmoniously with sauce.
Don
My disappointment was made better by a bowl of chili goma ramen ($14). The bowl of slurpy goodness was prepared with thin cuts of braised pork belly, soft-boiled egg, scallion and bouncy noodles. What really made it unique was the light and flavorful broth, which had some spicy heat to it, but it's by no means overbearing.
Dessert
I've been told that their baked cheese cake ($6) is to die for. The combination of creamy yuzu custard, puff pastry crust, matcha coulis and berry compote no doubt provided a relief from our earlier heavier, guilt-laden treats. Yuzu not only had an amazing aroma, but also added a nice and bright lift to the dessert!
Conclusion
To my disappointment, my experience at 5S17 was not as marvelous as my friends'. The food was unique and beautifully plated, but I didn't find elements of French cuisine in many of the Japanese dishes that it has promised. The chef might want to re-evaluate his vision for the restaurant and align it with his menu. I will keep it on my watchlist until then.