This site uses affiliate links and we may earn a small commission when you use our links and make a purchase without incurring additional fee yourself. Many thanks for supporting this website. Please see our disclosure page for more details.
Selected by enRoute Magazine as one of Canada's best new Restaurants in 2015, Pigeonhole has really set the bar high as it opened its door last summer. Taking up the space right next to its sister restaurant, Model Milk, Pigeonhole is a new venture from Chef Justin Leboe who continues to impress Calgarians with his magic in food.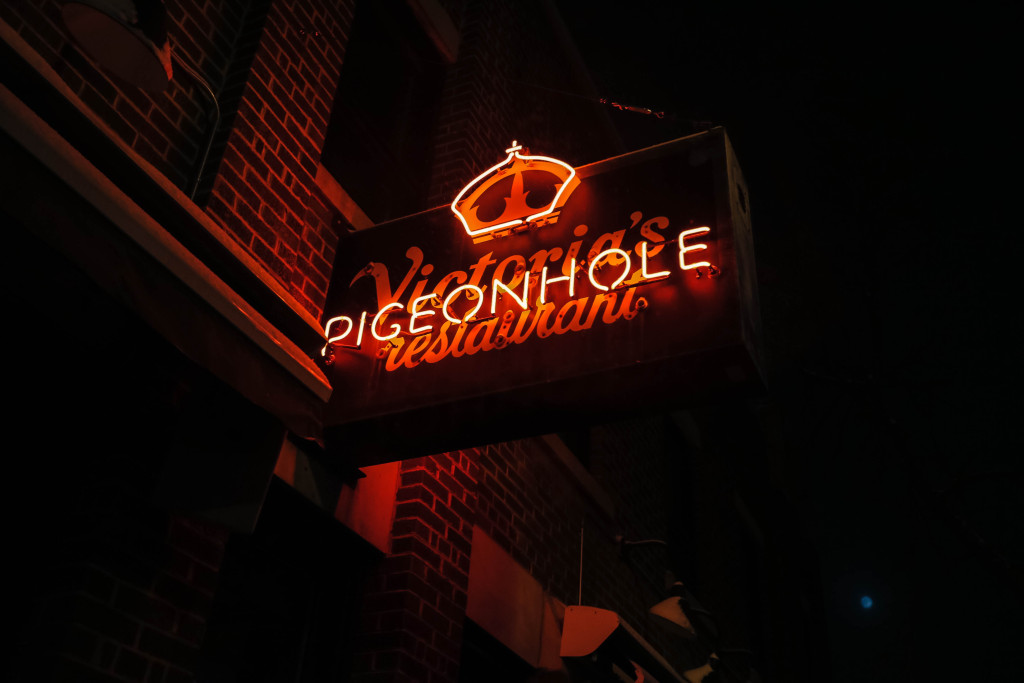 On Christmas Eve, Kev and I strolled down on 17th Ave and were ready to be dazzled by the gastronomic adventure we were about to have at Pigeonhole. Keeping the grey/green marble tabletops and spindly chandelier from the former British teahouse, the restaurant retains the old English charm. By painting the ceilings and walls white, it introduces a modern element into the space.
[easy-image-collage id=3763]
I swear, you would fall in love with those floral-designed, dainty Victorian plates by the end of the night.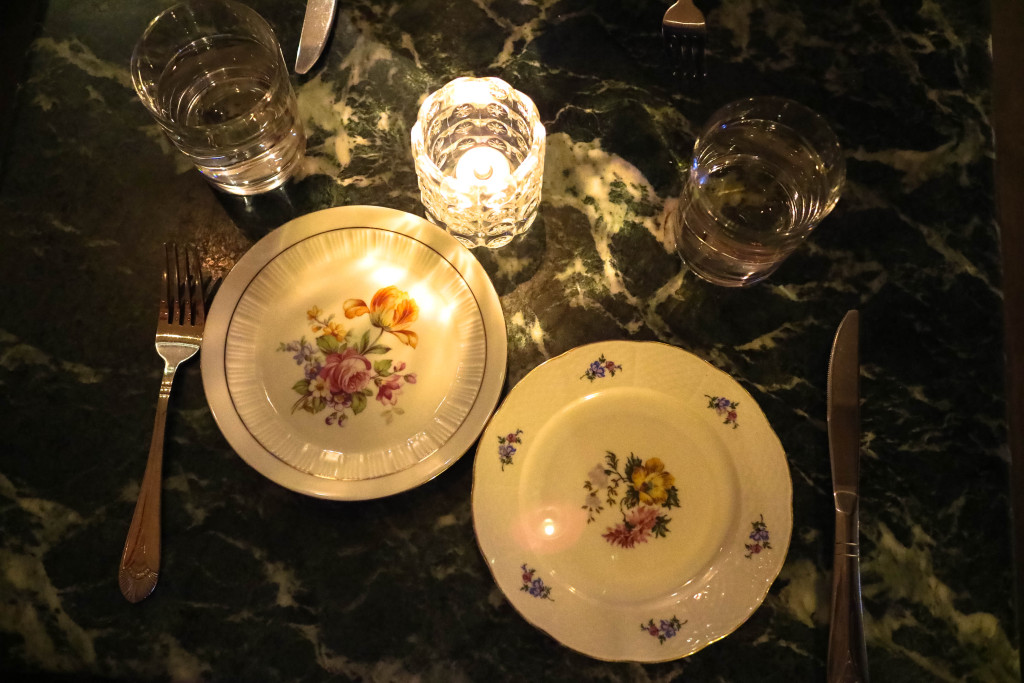 A girl can't turn down a drink on a snowy winter night. Especially when it is Christmas Eve! Our server introduced me to a secret cocktail off the menu – earl grey martini ($12), mixing together gin, egg white, lime, and earl grey syrup. While I sipped away the dangerously delicious, refreshing drink, Kev went for a glass of cranberry-lime mocktail ($5).
If you asked me what kind of food Pigeonhole serves, I really couldn't categorize them into a specific genre of cuisine. Just as I thought I tasted British, something else screamed Japanese the next moment. There are no boundaries. The important point is – everything tasted finger-lickin' good!!
With almost everything designed to be shared (unless you went for the 'blue plate specials'), Kev and I settled with a few options on the menu.
First up were the deviled eggs ($6). Pureed the yolks into a fine mousse-like texture and mixed with crunchy potato, these little bites of eggy happiness just knocked my socks off! Each bite ended with a nice, spicy kick along with a hint of freshness from the celery.
The bold flavors of the marinated calamari tostada ($12) made it a perfect dish to stimulate our appetite. We crushed the thin sheet of tostada lied on top of the dish and tossed it with the rest of the ingredients. Paired with shredded cabbage, the strips of squid left us with a mouthful of chewy, crunchy texture. The citrus and peppercorns tied the flavours together and gave the dish a little brightness. Hmm… the macadamia nuts wrapped it up with a rich nutty flavor and a nice crunchiness. T.A.S.T.Y.
We all know that roasting peppers renders them a sweet, delicious treat, but have you tried charred cabbage ($13)? The blackened, halved cabbages were slightly charred on the edges to give it a smokey flavor. It didn't require much to boost the flavours – japaleño salad cream and a layer of shaved mimolette on top were just enough to take you to heaven.
Know Your Cheese: Mimolette

Produced in Lille, France, the semi-hard cheese is derived from cow's milk and takes on an orange color. It can be consumed at various aging time, varying from 2 months to 24 months. With an appearance similar to an cantaloupe, the cheese has a fruity aroma and a buttery, salty, nutty taste.

Source: Cheese.com
If you have a weakness for gnocchi, try its close cousin – ricotta dumplings ($16). These little pillowy dumplings melted with every bite. As you chewed, the earthy aroma from the spinach danced on your palate. The confit onion really let the flavour of the ricotta shine through.
I must admit it is difficult to prepare lamb dishes well. If you're hypersensitive to lamb odors like me, please don't try this lightly. Coupled nicely with the grilled sourdough, the lamb tartare ($15) yielded a silky smooth consistency with a subtly peppery flavor, without tasting too meaty. However, I just couldn't stand the gamey taste.
My recommendation for meat dishes went to the veal breast ($15). Over the top, the mushroom was deliciously coated in fragrant sesame oil and sprinkled with black sesame seeds. The cut of meat was delectably fatty and oh so tender. The salted plum purée on the side complemented well with the meat, giving it a subtly sour taste.
Before you grab the bill, don't forget to treat yourselves with their housemade madeleines ($8). These soft, buttery French shell-shaped cookies were a perfect end to our special meal. They were gone before we knew it!
Taken all together, Pigeonhole definitely lives up to the hype. It sure gains my respect for making the list of Canada's best new restaurants with no objection. Kudos to their servers who made our experience unforgettable ?
---
This post is part of the Fiesta Friday link-up! Click here for more cooking inspirations. Chee