This site uses affiliate links and we may earn a small commission when you use our links and make a purchase without incurring additional fee yourself. Many thanks for supporting this website. Please see our disclosure page for more details.
I have a continuing love-hate relationship with hot pot. The bubbling one-pot meal is extremely unhealthy (high fat, high sodium, high calories), but it makes me nostalgic for Taiwan, especially in winter. Last week, when I was browsing on Facebook, I saw a post about Centre Street Japanese Hotpot and went there the very next day. Man, the place is truly a godsend for those who have a unbearable craving for hot pot!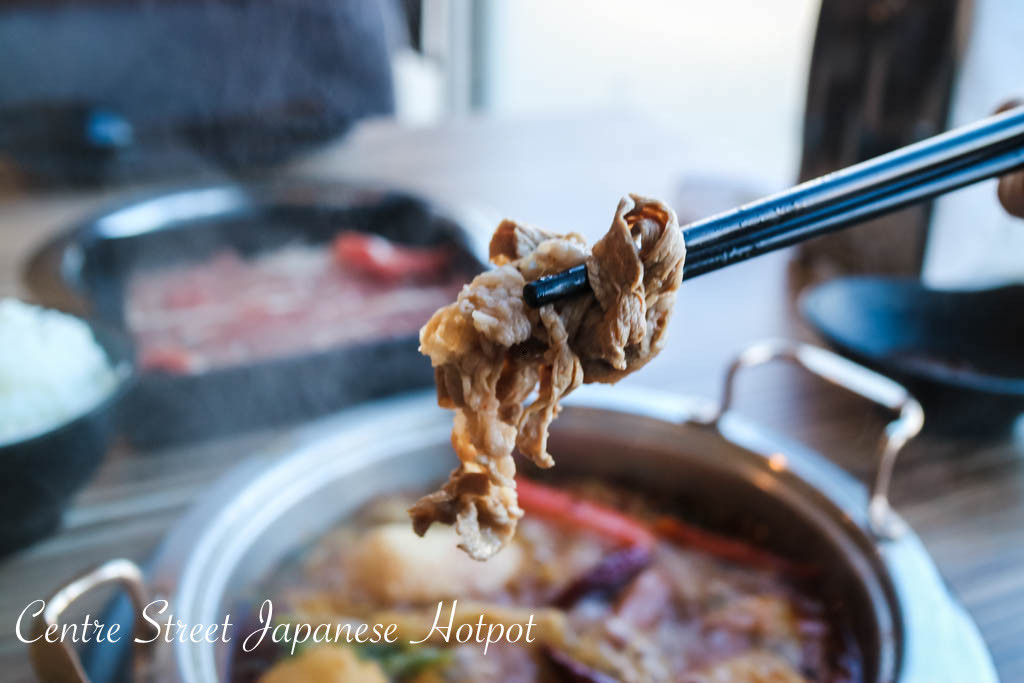 What is a Hot Pot?
Taiwanese love hot pot, so much that it is beyond your imagination. It not only tastes good, but it is also extremely simple to serve for a large party. I remember when I was working in Taiwan, my colleagues and I often went for hot pot after work hours. Like fondue, hot pot is one of the most social of dining experience. You gather at one table with a steaming communal pot in the middle filled with a flavored broth. Everyone cooks his or her own food by briefly dipping raw ingredients into the simmering broth. Ingredients typically include thinly sliced meat, seafood, vegetables, tofu, fish cakes, and the like.
What is the Difference Between Taiwanese Hot Pot v.s. Japanese Hot Pot?
There are different styles of hot pot around Asia. In Taiwan, we often do it the communal style – everyone cooks in a big shared pot. Over the years, hot pot has evolved to the point where sauces are no longer necessary due to the complexity of the soup base, ranging from super spicy hot pot to just simple vegetable broth. On the contrary, for Japanese hot pot ('shabu-shabu'), everyone gets their own individual pot, typically with a basic soup base using dashi (dried kelp). Whichever style you dine in, there's a universal rule: you don't hot pot with those you don't like.
Centre Street Japanese Hotpot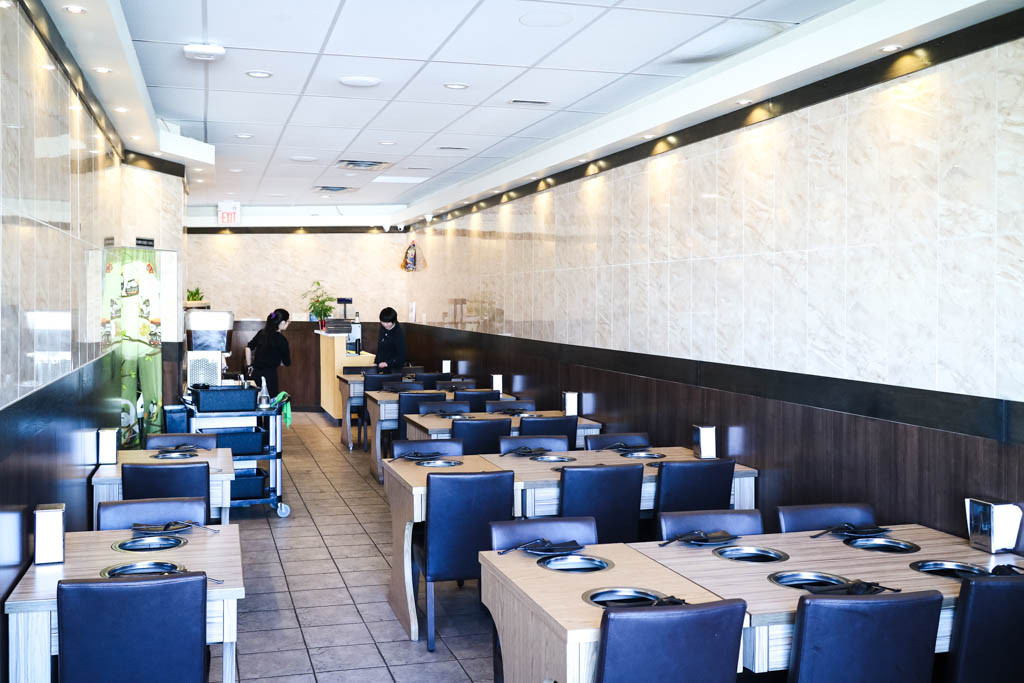 The name of the restaurant is misleading – I wouldn't necessary say it's Japanese hotpot that they serve. Yes, it is individual hot pot. But the choices of broth flavours are so abundant and creative that some of them are hardly Japanese. It's more like Japanese-Taiwanese fusion.
Alright, are you ready for a hot pot experience? The very first step to start your own hot pot is select a soup base. With more than 10 broths to choose from, it can be overwhelming. Miso, chicken soup, pork soup, sukiyaki, tomato, and milk are the lighter options. For fiery or heavy flavours, Szechuan spicy, kimchi, tom yum kung, curry, or Taiwanese satay might be more appealing. Chinese pickled cabbage, sesame oil, and Chinese herbs are designed to suit the Chinese palate. If you really can't decide, go for the half-spicy, half-chicken split pot (or change to different soup bases by adding $2).
All broth flavors are offered at a fixed price ($15.99), with a plate of veggies, a choice of meat (beef/lamb/pork/chicken) and a side (rice/udon/ramen/glass noodles/instant noodles). Just in case you have a bigger appetite, the large portion size ($18.99) comes with more veggies and slices of meat.
Made your choice? Good. While you're waiting for the kitchen to assemble your pot, go and put together your dipping sauce at the sauce station. There's no perfect recipe since everyone's taste is so different. The general rule of thumb is that if you order a heavy soup base, go for a simple, light dipping sauce. With a basic soup base, a flavourful sauce is more desirable.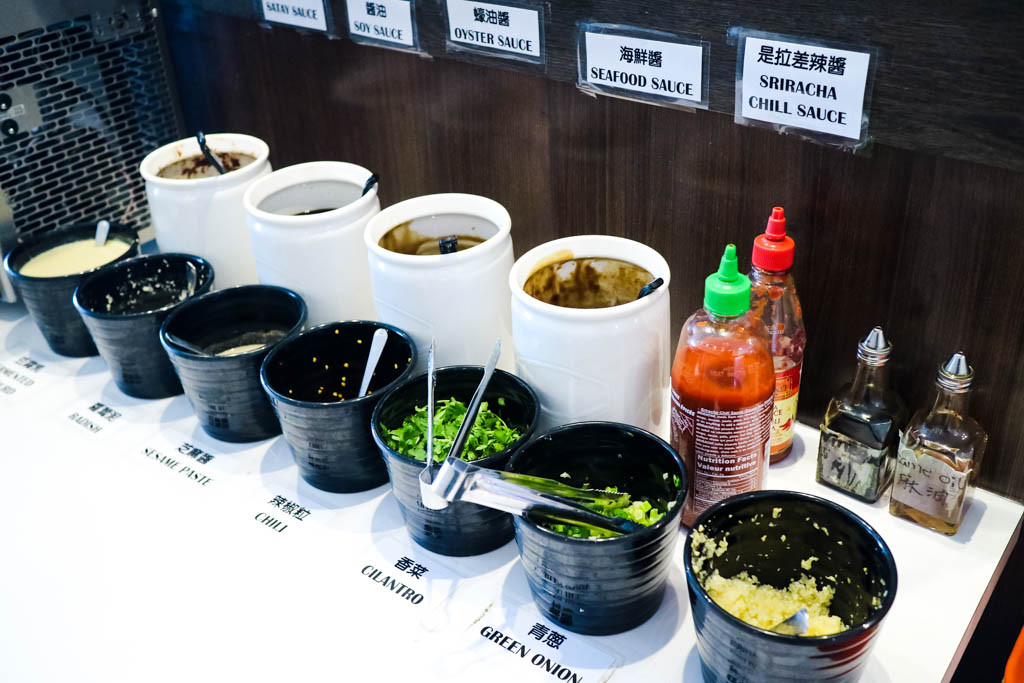 My favourite combination is mixing in soy sauce, garlic, green onion, chilli, and radish (as displayed below in the upper photo). If you are adventurous, try the Taiwanese satay sauce (see the bottom photo). We called it 'shacha' sauce – it is Taiwanese's all time favorite when it comes to bbq and hot pot!
[easy-image-collage id=4257]
Szechuan Spicy Hot Pot
Call me crazy, but the tingling, buzzing, numbing sensation of the spicy broth was deeply satisfying! Its surface, scattered with Szechuan chilli and peppercorns, bubbled furiously through a thick layer of dark red chili oil. Oh. So. Fulfilling.
Sukiyaki Hot Pot
The sukiyaki hot pot is a little different. Instead of having the veggies pre-cooked in the pot, the dish is cooked and served at the table. First, heat the cast iron pot, melt in the butter, and saute the onions until soft and aromatic.
Then, pour in sweet and salty soy sauce based broth and dump in the veggies. Once the broth reaches a boil, dip the sliced meat one at a time until it changes color, and enjoy!
For sukiyaki, raw, beaten eggs are used as a dipping sauce. The sweetness from raw egg coats well with salty vegetables and meat and balances out the flavors very well.
Taiwanese Snacks & Drinks
Centre Street Japanese Hotpot is a Taiwanese owned restaurant. That's why besides hot pot, you can also find classic Taiwanese snacks and drinks on their menu (yes, bubble tea!). For snacks, I highly recommend the typical street food, Taiwanese fried chicken ($7.99). Often served along with flash fried basil, the super flavourful popcorn chicken is marinated in garlic, ginger, 5-spice and white pepper before being deep fried. Although the restaurant serves without the crispy basil leaves, the crunchy bite-sized chicken pieces were so juicy and bursting with umami.
For drinks, tea with himalayan salt and cream on top ($5.25) is the latest drink fad in Taiwan. Regardless of which tea you pair it with, you will be mesmerized by the lusciously creamy taste with a sprinkle of saltiness on the tip of your tongue.
Conclusion
Finally, an authentic Taiwanese restaurant is opened in Calgary to help me get through the cold winter days. No matter how snowy outside, I know that the super delicious hot pot at Centre Street Japanese Hotpot is there to warm my hearts (and body!). Thanks to their translated menu, I am able to bring my non-Chinese friends here to experience traditional Taiwanese food. If you're new to this whole "hot pot" concept, come and try the "lunch special" (12:00~14:00 for $12.99) or "night special" (21:00~22:30 for $13.99), where each hot pot order comes with veggies, meat, rice AND a drink! It's cheap and you'll love it ?