This site uses affiliate links and we may earn a small commission when you use our links and make a purchase without incurring additional fee yourself. Many thanks for supporting this website. Please see our disclosure page for more details.
CN Tower, Canada's top tourist attraction, is Toronto's most iconic landmark. Like the Empire State Building in NYC and Eiffel Tower in Paris, the 553-meter tall skyscraper provides stunning unmatched views of the city skyline. Going up to the observation deck to catch a spectacular view of Toronto from above is a must-do for many visitors, but to experience the most breathtaking views, you gotta try the EdgeWalk tour!
Many people thought I was out of my mind when I told them I wanted to take part in the EdgeWalk. "It is too dangerous," "you're risking your life," and "that's just outrageously scary" were some of the comments from people when I showed them the EdgeWalk photos on internet. I admit that I am a thrill-seeker and that hanging off the top of the CN Tower isn't exactly the safest thing to do, but I wanted an exciting experience that Kev and I would cherish forever. What could be more memorable and daring than walking along the circumference of CN tower and enjoying the city view from the very top?
CN Tower EdgeWalk Experience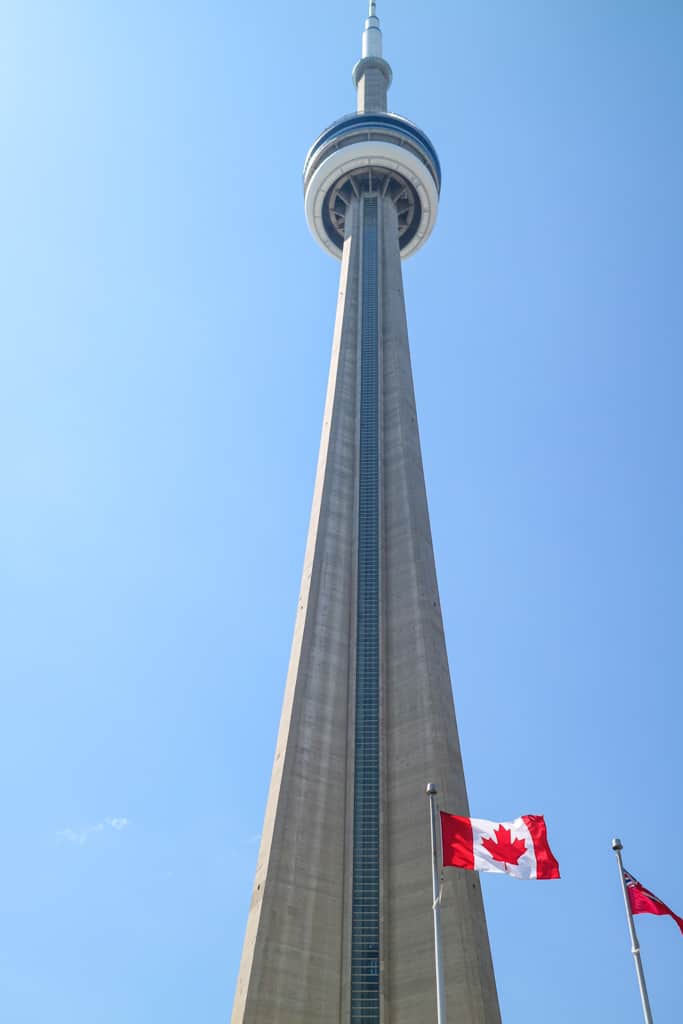 EdgeWalk, the world's highest full-circle, hands-free walk, is the ultimate urban adventure. Adventure-seeking participants are tethered to a harness and attached to an overhead safety rail while walking the edge of one of the world's greatest man-made wonders. Being the braver one in the relationship, I had to convince Kev to overcome his fear and join me on this crazy adventure. When he finally gave me a nod, I was extremely proud of him and glad that he was willing to push his limits for me!
30 minutes prior to our walk time, we arrived at EdgeWalk Base Camp on the ground floor of CN Tower. Upon arrival, we were asked to sign a waiver acknowledging that risks involved in the activity. Shortly after, we were put into a room where breathalyzers were administered. Once ensured we were all in good physical condition to walk independently, we were stripped off personal articles (other than clothing and eyeglasses) to prevent fall hazards. Everything we brought, such as cell phones, cameras and wallets, were put away in lockers. One by one, we followed the guides' instructions to put on red onesies and harnesses. After multiple rounds of safety checks (to ensure shoelaces were tight, eyeglasses were secured with a lanyard and harnesses fitted perfectly), we were finally ready to head up towards the real excitement!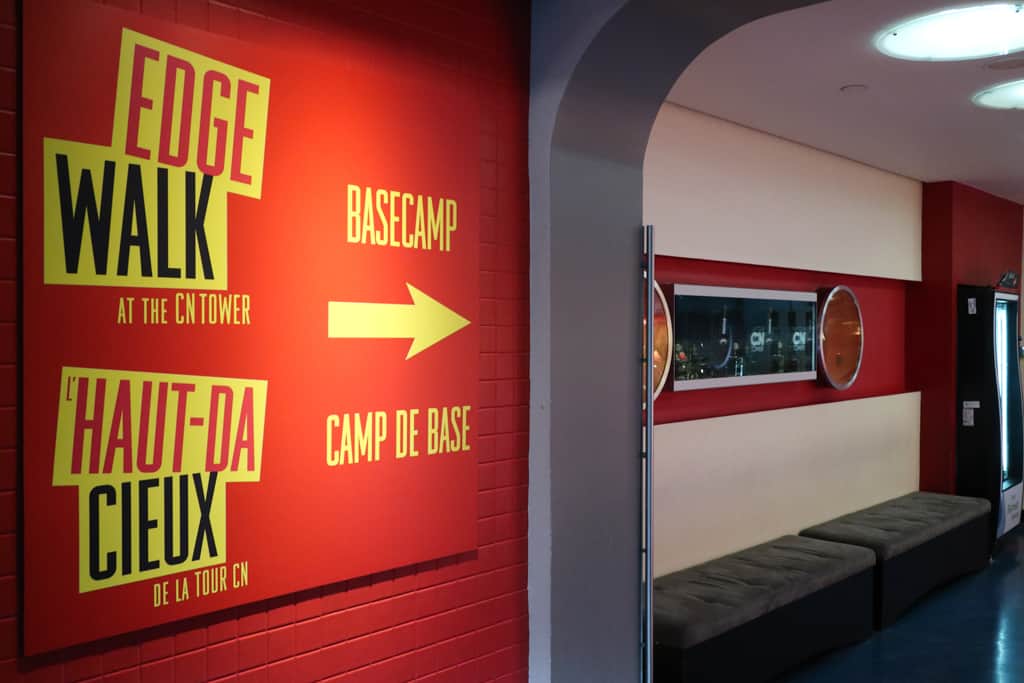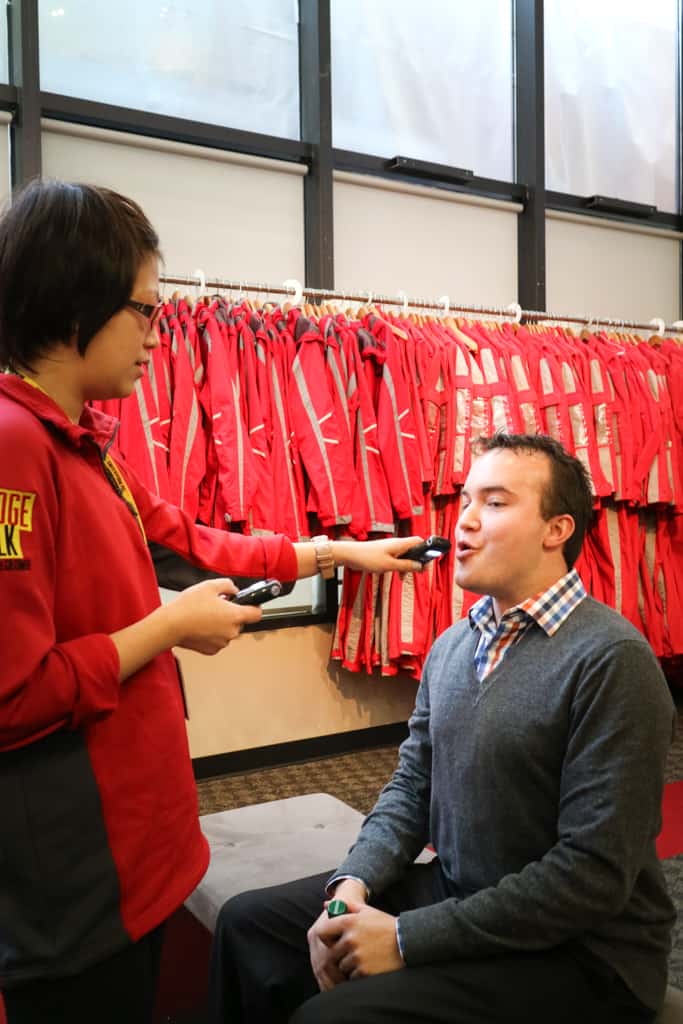 Our "walk master" introduced herself and led us to the elevator. The glass elevator took us directly to the main pod where the EdgeWalk began. Before we stepped outside, we did one last safety check and attached ourselves to the overhead safety rail encircling the main pod. Now we were safer than ever!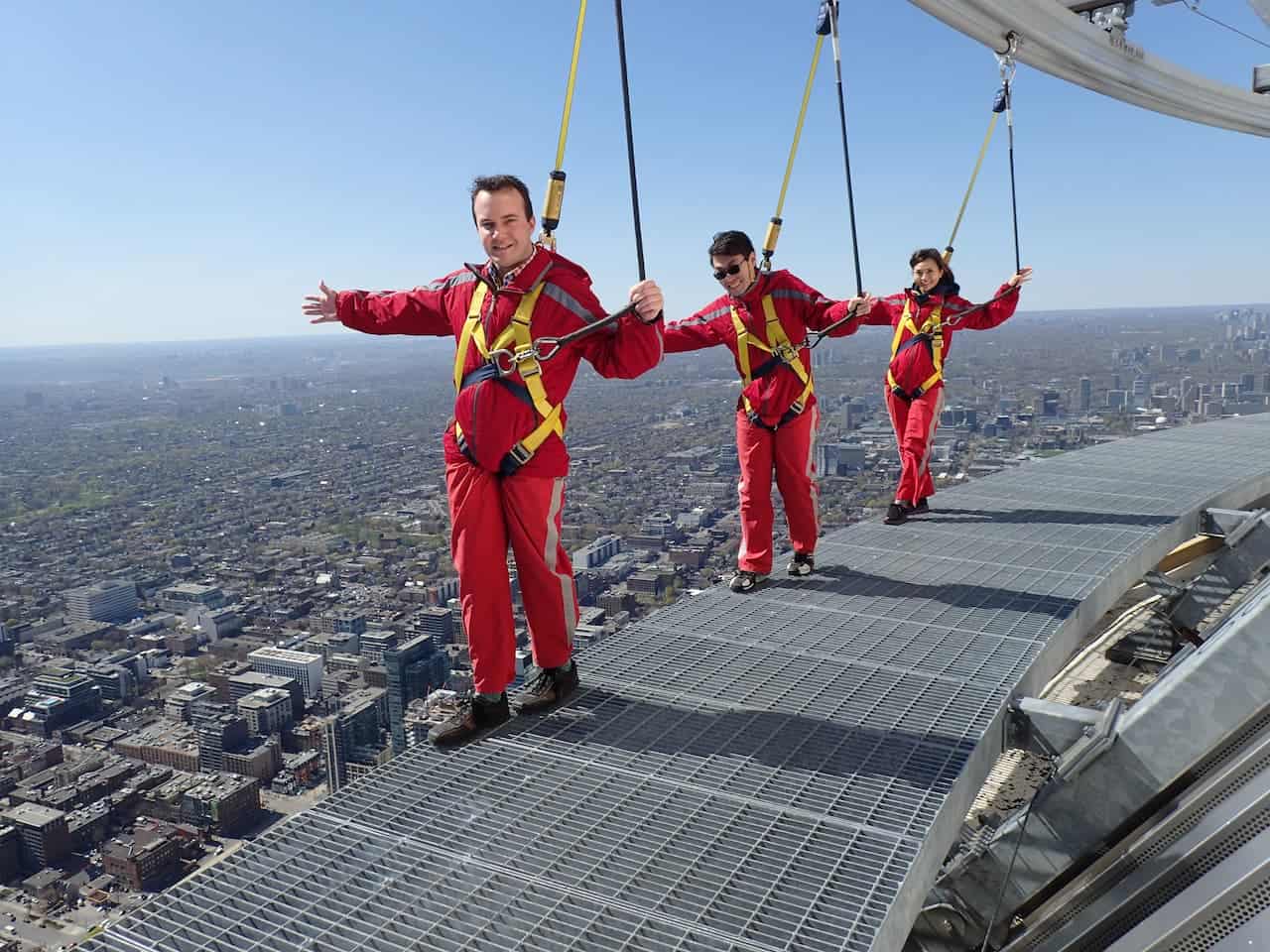 Slowing making our way out to the 1.5m-wide ledge, it wasn't particularly nerve-wrecking. It took me a few steps to adjust to the height, but the spectacular view made me quickly forget I was standing 356 meters above ground.
Facing south, we saw the serene, clear blue Lake Ontario, shimmering under the sun. On such a clear day, we even saw Niagara Fall in the distance. Not too far away lied the Toronto Islands, a small island chain in Toronto harbour which offers Torontonians a wonderful escape from the city life. The walk master pointed out to us the ferry rides to and from Billy Bishop Airport offshore from downtown core. Apparently, the 90-second trip at just 121 meters is the shortest ferry ride in the world!
Sightseeing aside, we started our first daredevil stunt here. The first activity was called Toe's Over Toronto, which our walk master considered as a warm up exercise. We were asked, one by one, to walk right up to the edge of the platform until our toes were sticking over, extend both arms wide out to the side, and shout out loudly to greet Toronto! Standing still hands free required me to gather up all my courage, but the adrenaline rush made me feel alive again!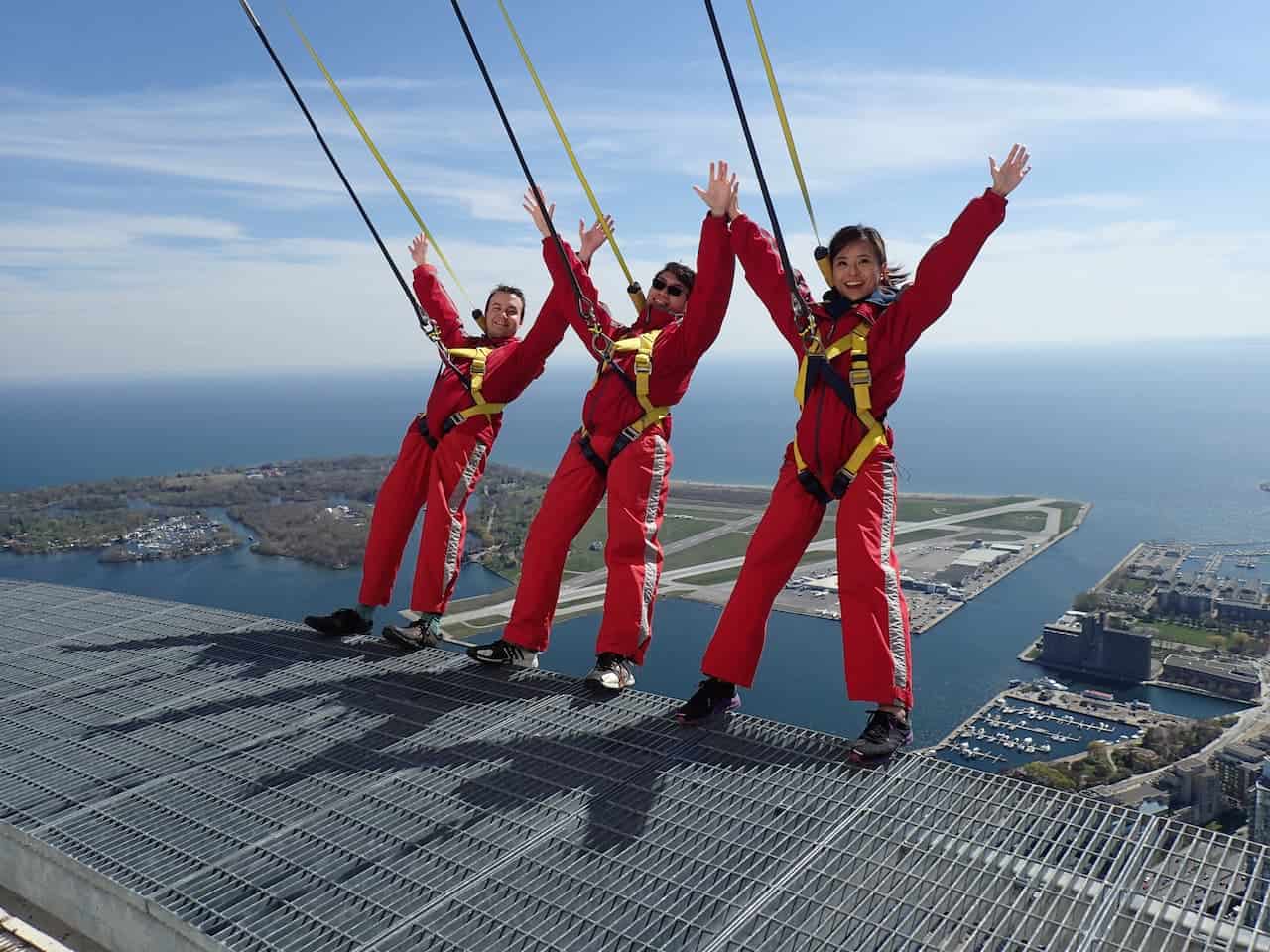 [bctt tweet="Get your feet out on #edgewalk for an insanely fun and thrilling experience in #Toronto! @TourCNTower #adrenaline #extreme" username="fortwoplz"]
Immediately after, we were asked to do a Lean Backward, which required us to squat and walk backward until our feet were against the ledge. Straightening out our legs, leaning back as far as possible with arms spread-eagled in the air – there, we completed our second activity. It was surprisingly easier than I imagined!
Continuing on our tour, we followed the ledge until the eastern side of the city came into view. Down below, we saw the train tracks at Union Station splitting to north and south. In addition, we noticed a few famous landmarks, including the Ripley's Aquarium with the shark painted on the roof, Fairmont Royal York which used to be the tallest building in Toronto in 1929, and the global headquarters of the TD bank.
In the north, the expressive architectural space of Ontario College of Art and Design (OCAD), the bustling Yonge-Dundas Square, and the beautiful domed roof of the Convocation Hall at University of Toronto grabbed our attention. Fun fact here: did you know that Yonge Street is the longest street in the world, stretching 1896 km from Queen's Quay on Toronto's Harbourfront to Ontario-Minnesota border at Rainy River? On top of CN Tower, we could see it run continuously beyond the horizon.
The scariest moment occurred when we tackled our third activity, Lean Forward. Imagining ourselves as Superman, we put our whole weight on the front rope and leaned over the edge as if we were about to fall. The thought that I could actually fall off the building weakened my legs, but I fought my anxiety and conquered my fear, knowing that a palpable sense of achievement was awaiting me just steps away.
Now that the scariest task was over, all that was left was performing the actual Edge Walk and touring the western side of the city. Strolling along the edge with our right arm sticking out in the air was a piece of cake after all! Before we headed back in, we took one last look at the splendid city, the beautiful shoreline of the lake, and Rogers Centre, the home to the Toronto Blue Jays.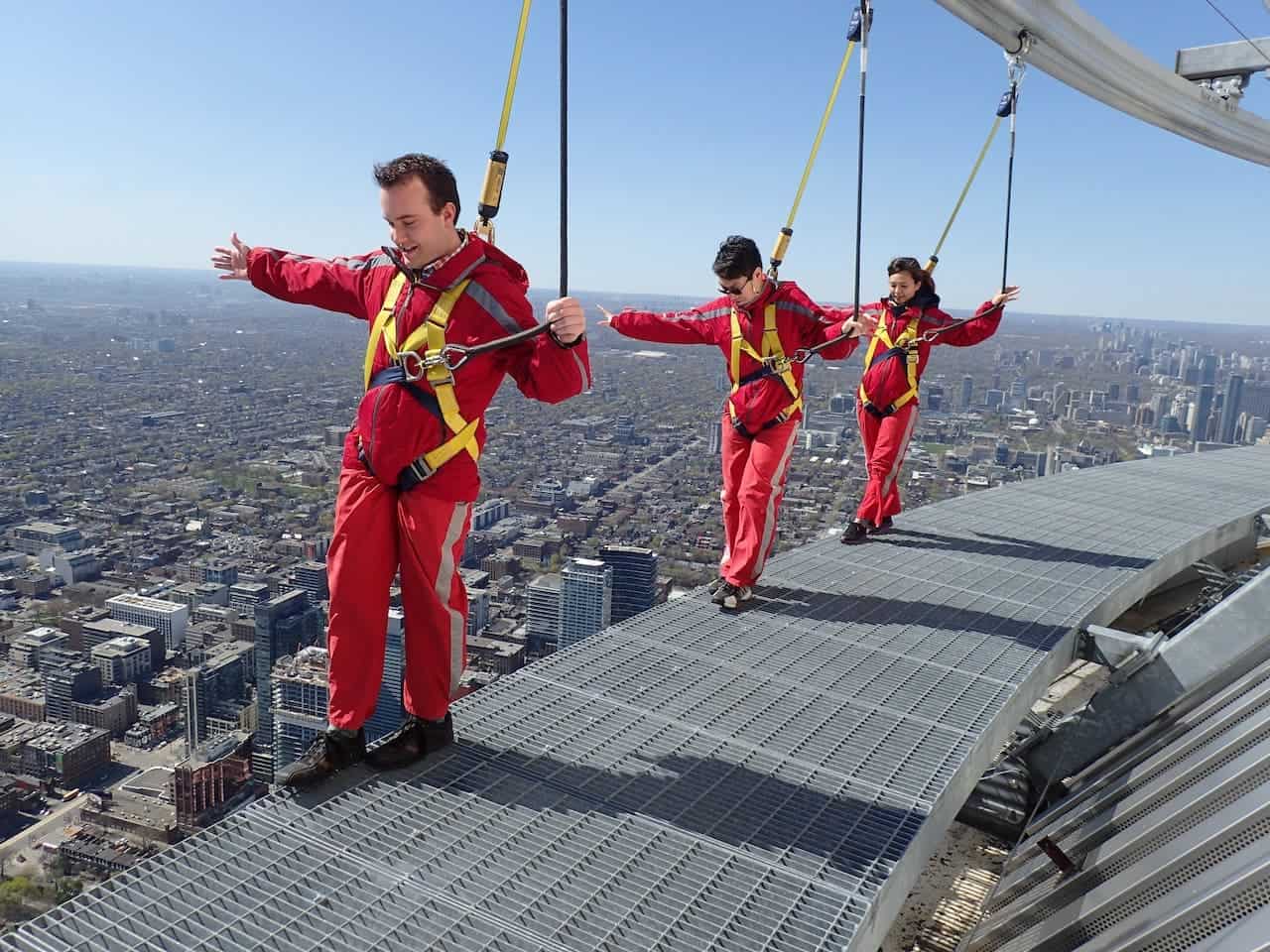 Conclusion
It was no doubt the thrill of a lifetime, for accomplishing the Guinness World Record experience on the highest external walk on a building. Offering a bird-eye-view of the city, it was definitely a walk to remember! Now, are you ready to show your inner daredevil, test your limits and experience the thrill of a lifetime? Join me now and become a true EdgeWalker!
About EdgeWalk
Pricing
The tour costs $195 plus tax per person. The total experience lasts 1.5 hours, with an actual outdoor walk of 20-30 minutes. At the end of the tour, you will receive a keepsake video, 2 printed photos, and certificate of achievement. Also, you will receive a Tower Experience Ticket that gives you re-entry to CN Tower as well as access to LookOut, Glass Floor and SkyPod. To book an appointment, visit the EdgeWalk website.
What to Wear?
Dress appropriately for the weather. Jumpsuits will be given prior to the walk. Fully enclosed footwear with laces and good grip must be worn. Lanyards will be provided to fasten eyeglasses.
When is it available?
Slots are available daily from April to October.
Is there an age/weight limit?
Participants must be at least 13 years old. Teenagers at the ages of 13-17 must be accompanied by a parent or legal guardian to provide written consent. Weight-wise, the participant must be at least 34 kg and no more than 140 kg.
For more information, please visit the EdgeWalk website, Facebook, or Twitter!