This site uses affiliate links and we may earn a small commission when you use our links and make a purchase without incurring additional fee yourself. Many thanks for supporting this website. Please see our disclosure page for more details.
One of the most vibrant cities in Canada, Toronto is no doubt a culinary destination. Planning a trip to Toronto can be overwhelming with ample dining options. Despite all that, there is one restaurant I had always wanted to try, and that is Ruby Watchco!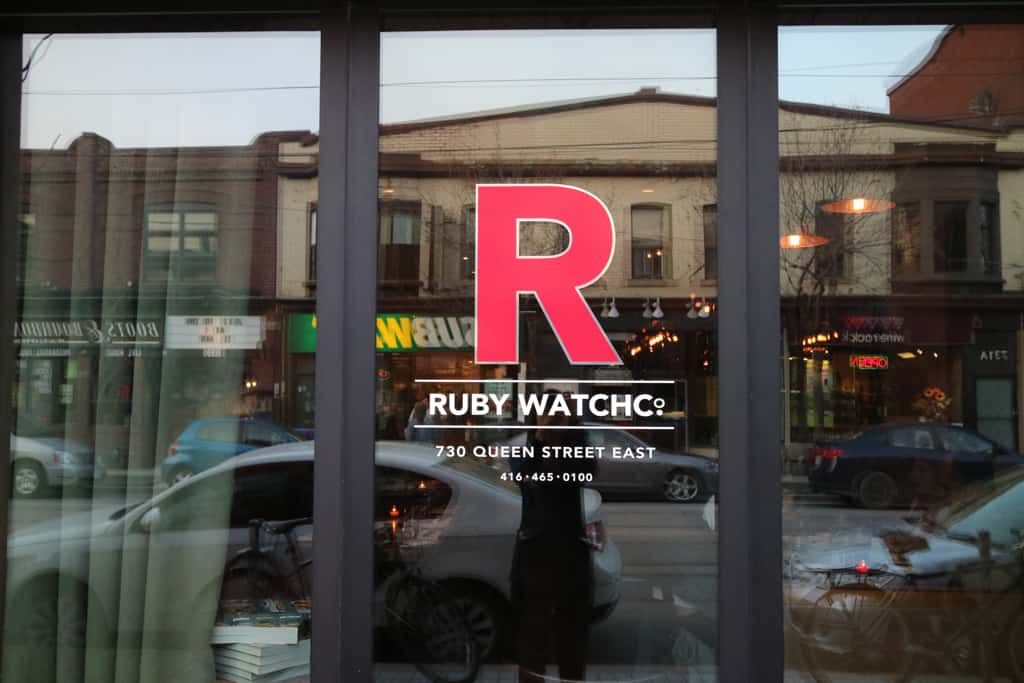 Located in the Riverdale and Leslieville area, Ruby Watchco has been wowing hungry diners with its fabulous 4-course prix-fixe dinner since 2010. The exciting fixed price dinner menu ($54 pp) changes daily to feature homey Canadian dishes based on local, seasonal ingredients, all served in family style. Run by Canadian celebrity chefs Lynn Crawford and Lora Kirk, Ruby Watchco is said to create a farm-to-table experience that no one will ever forget!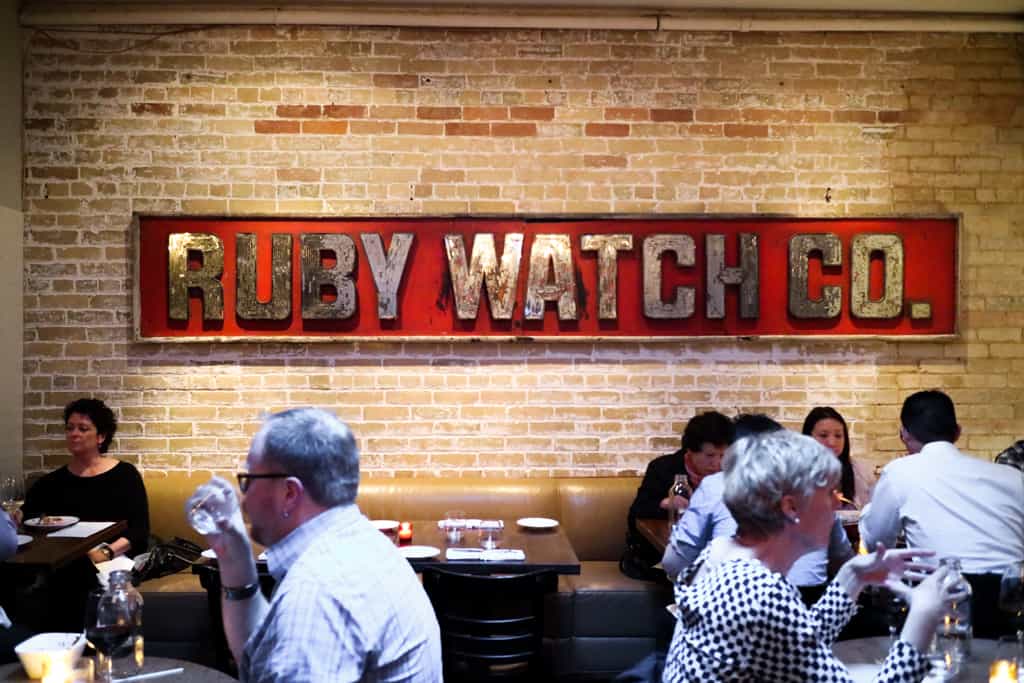 Reflecting the sophisticated comfort fare it is offering, Ruby Watchco exudes homeliness with its rustic bistro feel and entices the guests with its beautiful vintage decor. The sense of comfort is nothing you will expect at a fine, upscale restaurant. At 8:30 pm, we stepped into the restaurant expecting the evening to quiet down; instead, we found ourselves in a lively, vibrant atmosphere. It was then we realized we were in Toronto, and the night was still young!
Ruby Watchco's 4-Course Dinner
Dining at Ruby Watchco makes eating out so much more laid-back and less overwhelming. The prix-fixe meal lifted our burden of decision-making and put us in the hands of the chefs. Since we booked our reservation 2 weeks in advance, the menu was a surprise to us. Otherwise, you can always check the website where they announce the daily menu on the same day and decide if you would like to dine in that day!
1st Course
Ruby Watchco amazed us with spectacular food from the very first course. The refreshing, filling salad, loaded with romaine lettuce, arugula, cucumbers, oven-dried tomatoes, charred green onion, radishes, beet pickled eggs, bacon aioli and croutons in old-fashioned French Brown Derby dressing, was nothing like I had ever tasted! The dressing had a wonderful meld of flavours that added depth without overpowering the dish. Bite after bite, bright, tangy flavours of the greens burst in our mouth. Crumbled bacons and croutons gave the salad a satisfying crunchy texture. The dish was incredibly soul-soothing that eating a salad would not be boring anymore.
Along with the salad came warm buttermilk chive biscuits, served with homemade butter. Dense and moist, the savory biscuits, with fragrant chives and melting pockets of cheese in between, were finger-licking delicious!
Daily Special
Every evening, Ruby Watchco features a daily special that guests can choose to add on to the meal. Since it would be a while for us to come back to the restaurant again, we opted in without any second thought. That evening, the kitchen prepared seared lamb carpaccio ($18) to impress its pickiest dinner guests. Succulent slices of lamb – each dense, smokey and not overly salty – were freshened up with cucumber mint yoghurt. The sauce made a cooling accompaniment to the meat dish, giving it a delicately sweet taste and a pleasantly refreshing finish.
Second Course
It's time for the main course! Served in Le Creuset casserole, the grilled hanger steak was to die for. The meat was perfectly grilled to obtain a dark crisp crust, and tender, juicy, medium-rare centre. The beautifully charred steak was made even more appealing and tasty when garnished with the wild leek relish. Sweet and sour, the relish reminded me of the pickled cabbage we put in Chinese noodle soup. It certainly helped balance the intense beefy flavour and lighten up the whole dish.
If you think this was it for the main course, you're wrong! The steak also came with 3 small side dishes that instantly filled up the whole table. Tossing together garden fresh tomatoes and cucumbers, the salad packed a tangy punch with a satisfying crunch. A sprinkling of salt kept the salad moist and brought out all the delicious natural sweetness! Roasted in garlic butter, the charred cauliflower delivered a smokey depth and attained a aromatic nuttiness that made it tremendously tasty. The fingerling potatoes were outrageously creamy and buttery which paired perfectly with dill pickle aioli to lighten the richness.
Third Course
The rich, dense, tangy taste of Le 1608 made it a delicious choice for the third course. This semi-firm, washed rind cheese used milk from cattle in the Charlevoix region in Quebec that was brought from France between 1608 and 1670. The julienned carrots, smoked raisins and celery aioli on the side balanced its sharp, nutty, slightly tangy taste with some sweetness.
Fourth Course
Ruby's maple glazed gala apple tart was made from buttery puff pastry. Containing several paper-thin flaky layers, the apple tart was amazingly light and fluffy that made us swoon. On top, the decadent dessert was smothered with sweet cream and caramel that had just the right amount of sweetness. I was head over heels in love with the foamy sweet cream, which had an ethereal texture like eating a puffy white cloud!
Conclusion
Anyone visiting Toronto must stop by Ruby Watchco! Treat yourself to a delectable dinner beyond imagination and let your tastebuds be amused!