This site uses affiliate links and we may earn a small commission when you use our links and make a purchase without incurring additional fee yourself. Many thanks for supporting this website. Please see our disclosure page for more details.
Spring is not here yet, but tons of events are already lining up to keep us busy in Calgary. To kick off the month, restaurants are gearing up for the return of Big Taste. The 10-day long festival features 3- and 5-course prix-fixe meals at 80+ restaurants, bringing us on a culinary adventure. If you haven't planned where to hit up yet, not to worry – I will be posting throughout the Big Taste event, keeping you updated on our experience at participating restaurant. Can't wait? For instant updates, follow me on Facebook, Twitter or Instagram! Shoot me a message on social media at anytime and I will be there to answer your burning questions!
Alrighty, back to our Big Taste experience with Lisa at Cucina. As a part of the Teatro Group, this bustling little restaurant is both an Italian bistro and a grab & go café. The 50-seat restaurant is located in downtown and open for breakfast, lunch and dinner, serving locally roasted Phil & Sebastian coffee and utilizing local and organic ingredients. It has a casual yet lively charm that attracts office workers to come unwind with Italian-inspired food and drinks.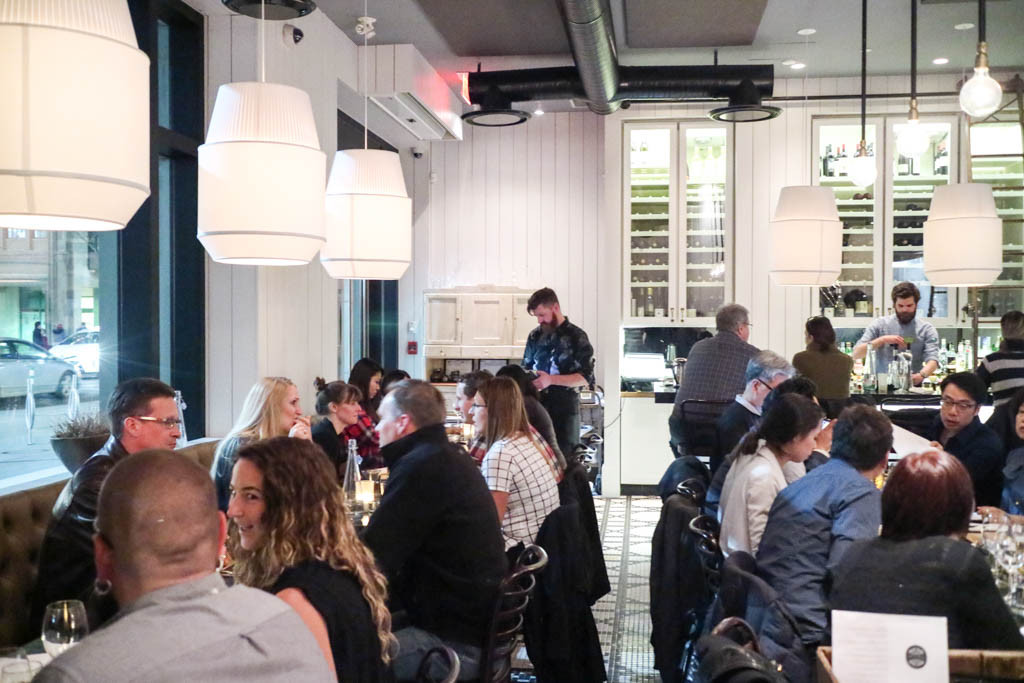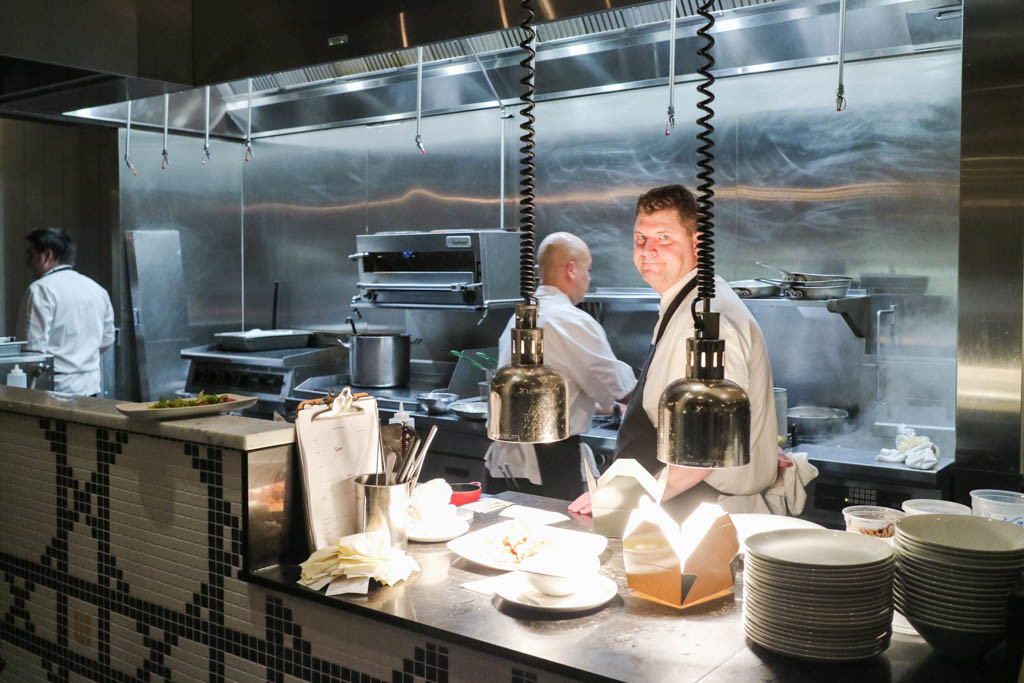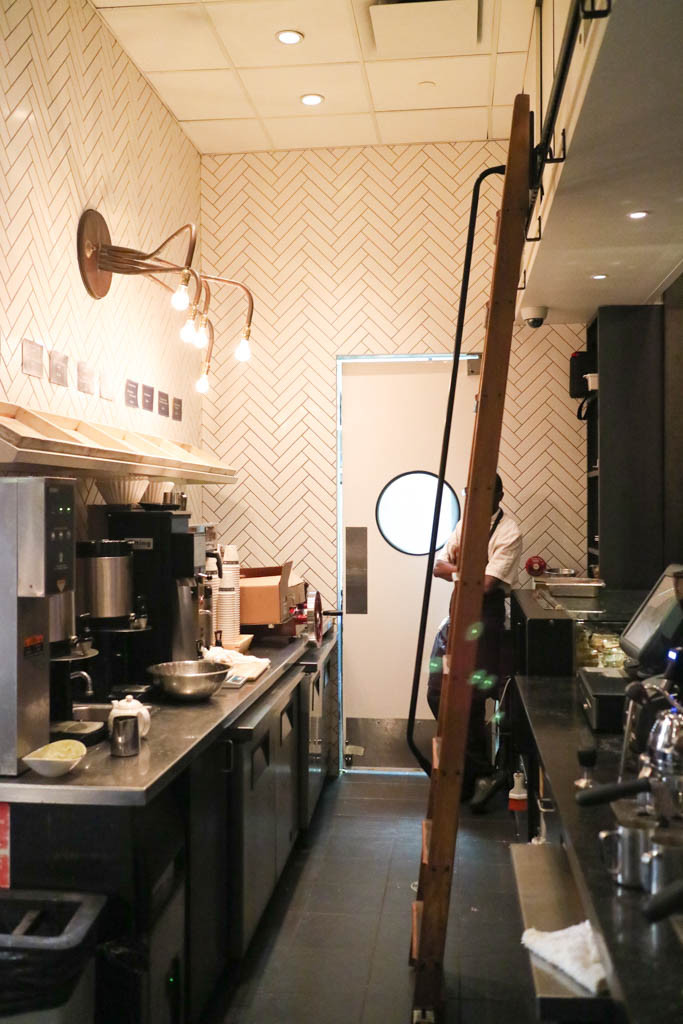 $35 Prix Fixe Dinner
Cucina offers prix-fixe menu for dinner only as part of the Big Taste event. The $35 3-course meal includes soup/salad for first course, lamb shank/gnocchi for second, and tiramisu/budino for dessert. The best part of attending this kind of events in a group is that we can try one of each! No need to guess what other dishes might have been like ?
First Course
Leek & zucchini bisque. You can't deny the comfort of a delicious bowl of soup for dinner. Zucchini and leeks truly combine to make a wonderfully light and refreshing starter. It's healthy, tasty and nothing too overwhelming. It had got me hooked and left me wondering why I hadn't discovered this sooner!
Heirloom cherry tomato insalata. In contrast to the bisque, the salad was sorta plain. Putting together cherry tomatoes, celery hearts, goat cheese capricco, and aged balsamic, the dish had a fresh farm-to-table taste. The smooth goat cheese sauce and aromatic balsamic brought out the the natural flavor of the tomatoes. It was interesting how the strong-smelling goat cheese gradually turned delightfully sweet when paired with the tomatoes and greens. There wasn't much exciting flavours going on there. If I can choose again, I will definitely go with the bisque.
Second Course
Braised lamb shank. It is hard to slow cook lamb shanks to perfection. Not to mention getting rid of the lamb's gameyness. But WOW, the lamb shank at Cucina was slow cooked to wonderful tenderness with a great depth of flavour. Fregula sarda (small, round, toasted pasta) soaking up all the essence of the rich, savory sauce, serving together with mushroom and root vegetables… it's the perfect dish for people who want a little richer of flavour and hearty of taste.
Sweet potato gnocchi. Full of variety of flavours, the gnocchi is suitable for those who want a little more complexity in a dish. A bowl of chewy of gnocchi topped with oyster mushroom, kale, dark chutney, and goat cheese, it was Kev's favorite (in comparison to lamb shank). However, it didn't impress me that much – the main reason being that the gnocchi was tougher and chewier than I expected (I preferred my gnocchi soft and pillowy). When I found a piece that was uncooked in the center, I immediately switched to the lamb shank. I can (*barely*) tolerate tasteless food, but uncooked? No thanks.
Dessert
Tiramisu. My friend Lisa had been telling me about their tiramisu for the longest time. I was glad I finally got the chance to try it out. Living up to her claim, this tiramisu is to die for. Espresso soaked ladyfingers layered with a light and airy filling – ooooh, so silky and foamy, it's like eating a cloud! Beware though, there might be some inconsistent in the quality. Much to our disappointment, one of our tiramisu was still runny and we had to send it back ?
Chocolate coconut budino. Thicker than standard American pudding, the budino is rich to the point where you really only need a couple spoonfuls to satisfy your sweet tooth. Too dense? Lighten up the taste with a delicate sheet of coconut chip. It will make everything temporarily better.
Conclusion
Overall, we found our dining experience at Cucina enjoyable. Clearly, some dishes outshone others. If you know what to order, you're all set to go. My pick from the big taste menu: leek & zucchini soup, braised lamb shank, and tiramisu.
Now it's your turn! What do you plan to check out for Big Taste? What's your favorite place so far?