This site uses affiliate links and we may earn a small commission when you use our links and make a purchase without incurring additional fee yourself. Many thanks for supporting this website. Please see our disclosure page for more details.
I love Big Taste for one particular reason – being able to try out new restaurants at great value. Wurst is not "new" per se, but I always hear its name popping up every now and then in relation to its oysters. Somehow I had never made my way there despite its close proximity to where I live. Do you know that every Tuesday they offer $1 oysters all day long? #OystersForLife! But today we're not there for the oysters (let's save that for another time). Today, we're tasting the Big Taste lunch menu!
This German-inspired, Bavaria-themed restaurant is not your typical bar. The upper floor exuded a somewhat upscale rustic feel with wooden furnishing, cushioned bar stools, and a huge tree in the center adorned with warm string lights. The Raw Bar over on the right is an action station where a selection of fresh east and west coast oysters are prepared. At the back, the semi-private lounge area can accommodate large parties up to 34 guests. Downstairs is the beer hall where comfort food and a wide selection of European beer are served.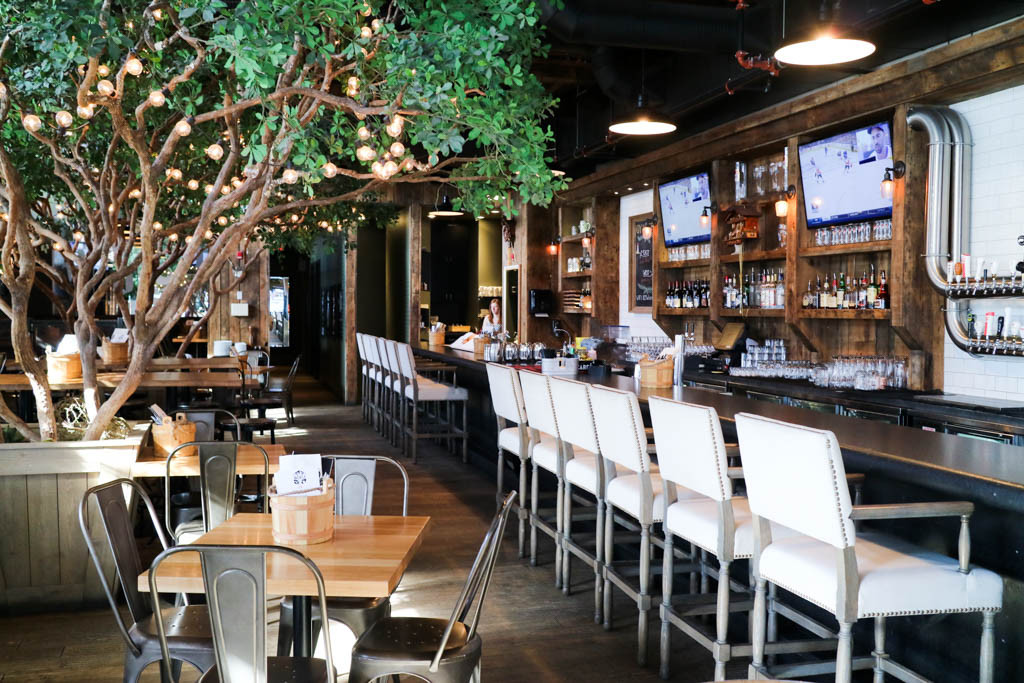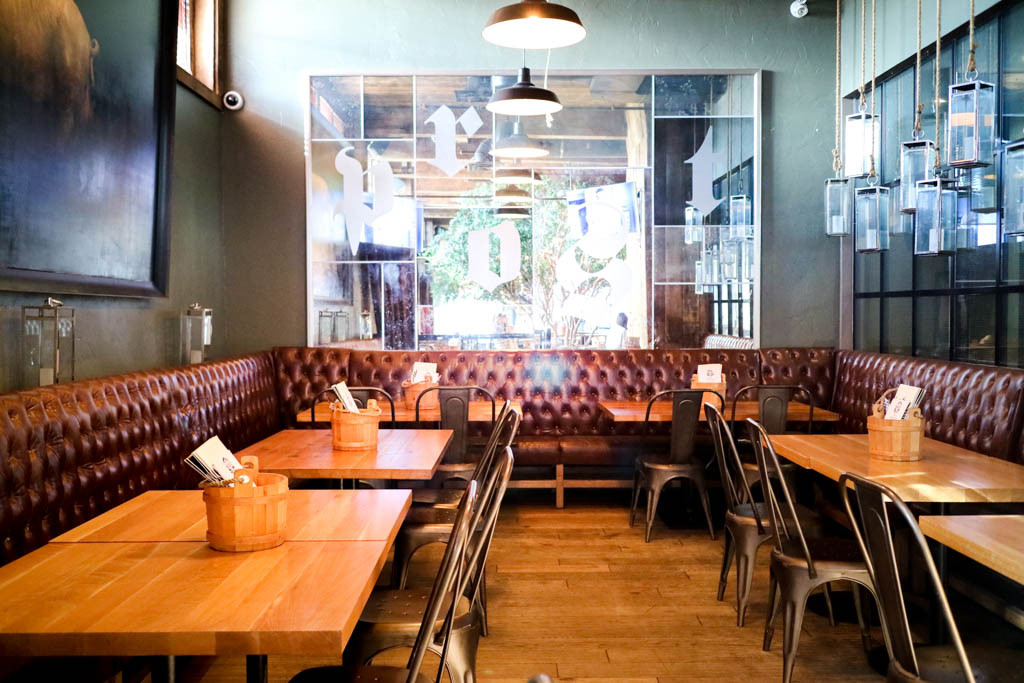 $25 Prix Fixe Lunch
The set lunch came in 3 courses, each without any other options. That made our decision making process extremely easy ?
The bowl of roasted red pepper & tomato soup was a comforting starter to our meal. So thick and creamy – it's just heavenly. The soup itself was smokey from the roasted peppers, a bit creamy from the gin cream, sharp and acidic from the tomatoes. It was literally perfect. If there were croutons, it would have been even more wonderful!
I swear Wurst's smoked maple glazed pork belly was by far the most delicious I've ever had. There were 3 strips of them on the plate – THREE juicy layers of thick fat. You might wonder how anyone could ever finish that in one setting. Trust me, after a bite of that unbelievably smokey, sweet, tender ever-sinful pork belly, you would want to hog all to yourself. Served alongside were the pork hock croquettes, of which the crispy, crunchy exteriors gave way to soft, melty potato-meat insides. Dipping into the light sauerkraut sauce would make the croquettes a little more moist and accentuate the flavors. Charred broccolini provided a refreshing balance to the rich bites.
Soooo much meat that I was full and satisfied by the time I finished the main course. For closing, I appreciated Wurst dished out the perfect dessert that would surely cleanse my palate – the pear belle helene. Vanilla bean ice cream at the bottom, sliced poached pear on top, a drizzle of chocolate ganache, and a sprinkle of almond – voilà! This refreshing dessert captured the fruity goodness of pear and richness of chocolate. It was elegant, decadent and out-of-this-world delicious!
Conclusion
Need I say more? The food at Wurst way exceeded my expectation. Every course was a pleasant surprise for the taste buds. What are still you waiting for? Go and get your mind blown at Wurst before it's too late!