This site uses affiliate links and we may earn a small commission when you use our links and make a purchase without incurring additional fee yourself. Many thanks for supporting this website. Please see our disclosure page for more details.
'Tis March, that means it is the season for…. Big Taste! The kitchen is cooking, again. I can *almost* hear the chefs sharpening their knives, getting ready to wow the guests. But, before we dive into the magnificent meals this year's participating restaurants are bringing onto the table, we might want to step back a lil and ask the question "which restaurant can we skip?"
I have an answer for you – Kabuku.
We visited Kabuku a few weeks ago for dinner with a group of friends. Though it was not for Big Taste, our visit will hopefully give you an idea what the food was like there. You can then judge for yourselves if it is worth a trip.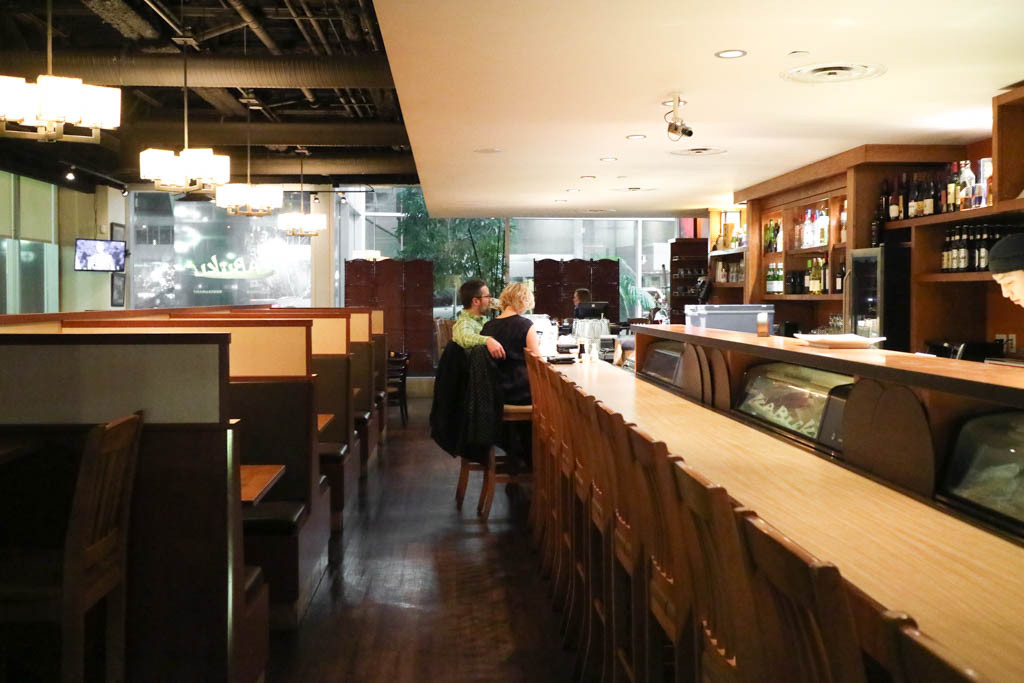 This upscale Japanese restaurant, located in the heart of downtown Calgary, is committed to providing its guests with top quality seafood and exceptional service. Like any typical sushi restaurant, the venue is moderately spacious, offering seatings at the sushi bar, private booths as well as individual tables. The warmly lit space, wooden furniture and orange interior lend the place a welcoming feel, making the scene restful.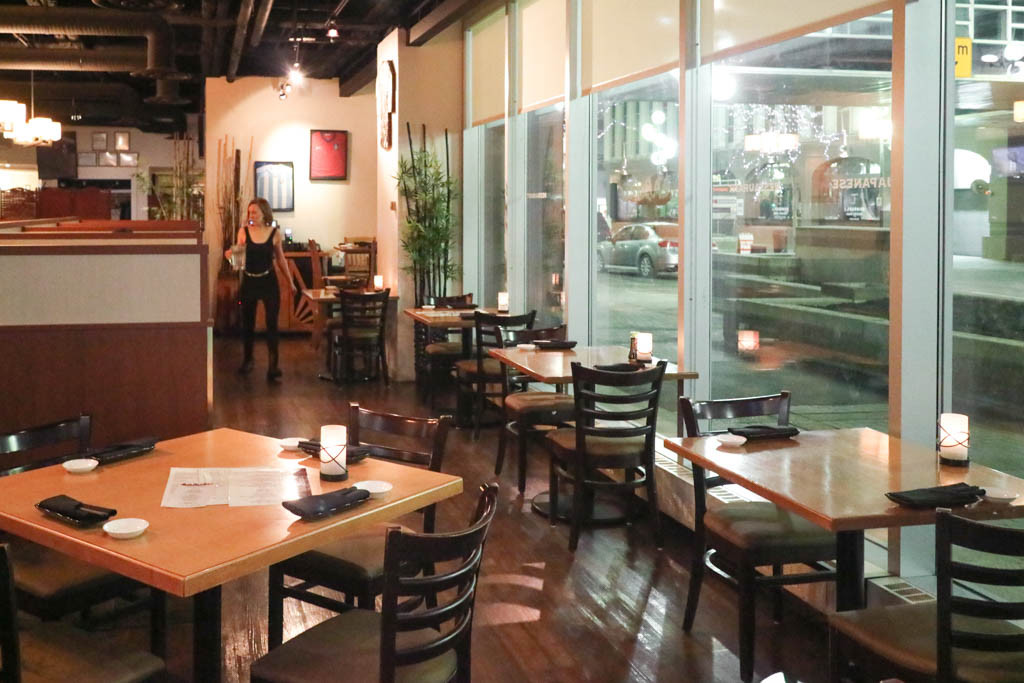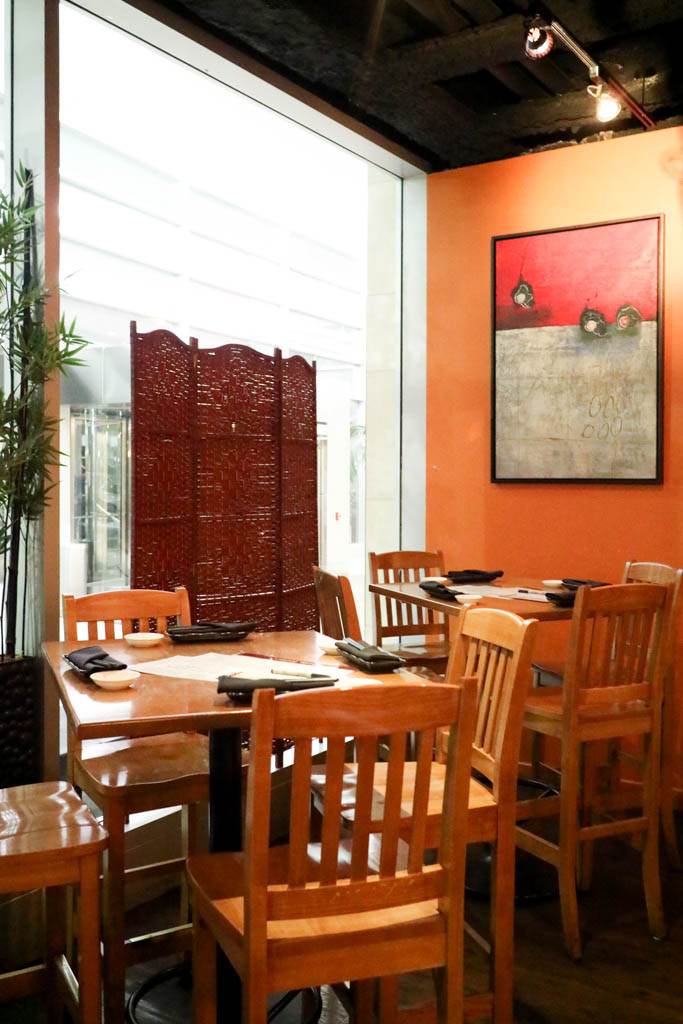 You don't have to wear a suit and tie to fit in here. It is "upscale" in the sense that it vows to present a unique sensory experience by offering omakase (Japanese equivalent to chef's tasting menu). The 5-course dinner ($65pp) requires 24 hours notice for preparation and will be designed based on your personal preference. If that's not "fancy," then what is?
Since it was our first visit, we wanted to test out the very common items in all sushi restaurants – sashimi and sushi rolls.
Sashimi & Sushi Rolls
The assorted sashimi platter came in 16 pieces ($28) with a combination of red tuna, atlantic salmon, sockeye salmon, and hamachi. Each piece was served fresh but indifferent. A little pricey for these small cuts.
Kabuku's rolls were a bit more interesting. Wrapped inside the super eruption (9.75) roll were avocado, cucumber, carrot and asparagus, then topped with salmon tempura and drizzle of eruption sauce. Surprisingly, the unconventional ingredients made a harmonious combination. What caught me off guard was the deep-fried salmon – instead of crunchiness, the tempura became a bit mushy when placed on top of the roll.
Rainbow roll ($13.75) is Kev's to-go dish at western-sushi restaurants. Here at Kabuku, you will see the usual suspects – salmon, avocado and tobiko insides with salmon, tuna, prawn on top. The end product offered nothing remarkable.
Cooked dishes
Apparently, sushi and sashimi aren't their strong points. Maybe they specialize in skewers and other cooked dishes? I must admit their skewers were amazingly tender, juicy, succulent, for both the chicken and shrimp. The teriyaki sauce was exceptional with a perfect balance of sweetness ad saltiness. BUT, it came with a price (literally) – one skewer of grilled teriyaki chicken for $5.50 and shrimp for ($7). Seriously, I would rather make these at home.
If you're interested in the tempura, you would have to order your choice of ingredients separately (as there is no assorted platter available). The price and amount of pieces vary depending on the ingredients. Shrimp ($4.95 for 2 pcs) and sweet potato ($3.75 for 4 pcs) are the most common ones, but again, nothing unique about them here at Kabuku.
Dessert
Despite our underwhelming experience with the savory dishes, we attempted to seek comfort through dessert, secretly wishing the vanilla tempura ice cream ($6) would end the evening on a positive note. Creamy vanilla-flavored ice cream held together by a warm, crispy shell, then served along with whipped cream, chocolate sauce and matcha powder… it was a treat like none other. This hot-and-cold dessert got us the best of both worlds.
Conclusion
I believe we had tried enough on our visit to conclude that we weren't at all impressed by the food. With its pricing, I expected more than just mediocre food that I could easily find at any other Japanese restaurants. Nonetheless, it left us feeling it was more of the prime location we were paying into. Would I go back again? Obviously, the answer is a solid 'no'.