This site uses affiliate links and we may earn a small commission when you use our links and make a purchase without incurring additional fee yourself. Many thanks for supporting this website. Please see our disclosure page for more details.
We are blessed to live in Alberta, the province that has a reputation for producing great tasting beef. Do you know that Alberta is the largest cattle-producing province in Canada, with more than 5 million head of cattle and calves (making up approximately 40% of Canada's total herd)? 3 years ago, before I moved to Canada, I had never heard of Canadian Beef, let alone the glory of Alberta's beef industry. Now that we've lived here for quite some time, one of the happiest things is having a steakhouse on every corner of the city with a readily available supply of premium Alberta beef. Curious to know which steakhouses worth a try? Let me introduce you a steakhouse that has recently caught our attention, Modern Steak.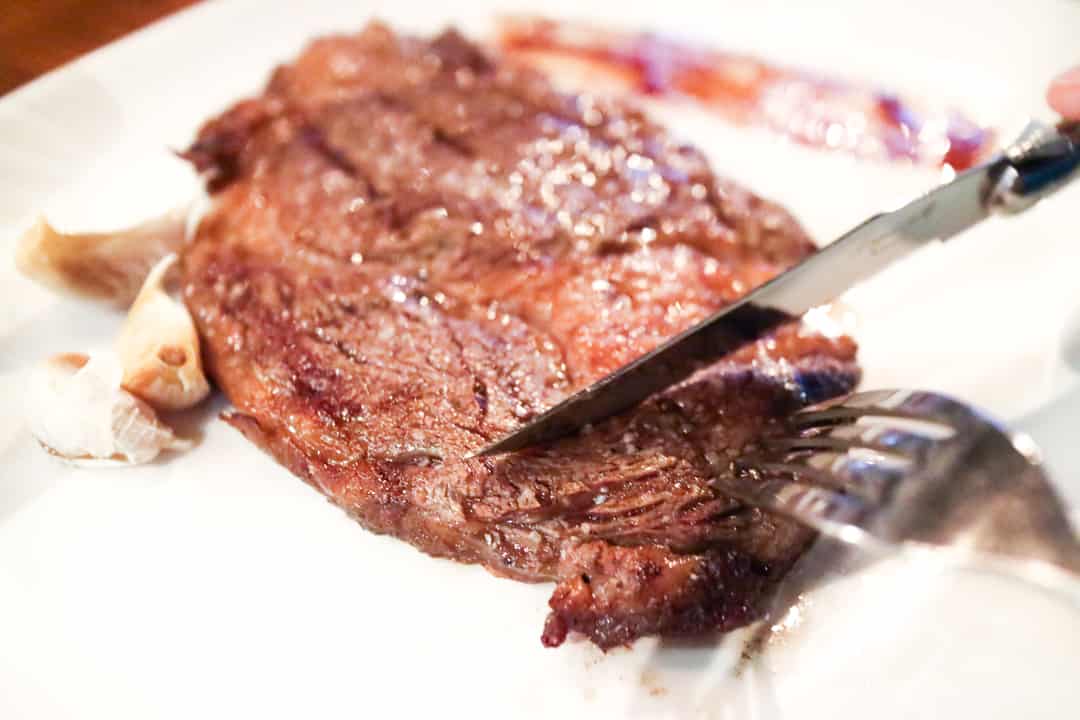 Modern Steak is not your traditional steakhouse. Divided into 2 levels with a modern steakhouse on the upper and a cocktail lounge at the bottom, the restaurant infuses an energetic vibe throughout the entire space with a subtle hint of sophisticated glamour. The stark contrasting combination of black leather booths and white, faux-brick wall introduces a timeless chic quality that is never out of style.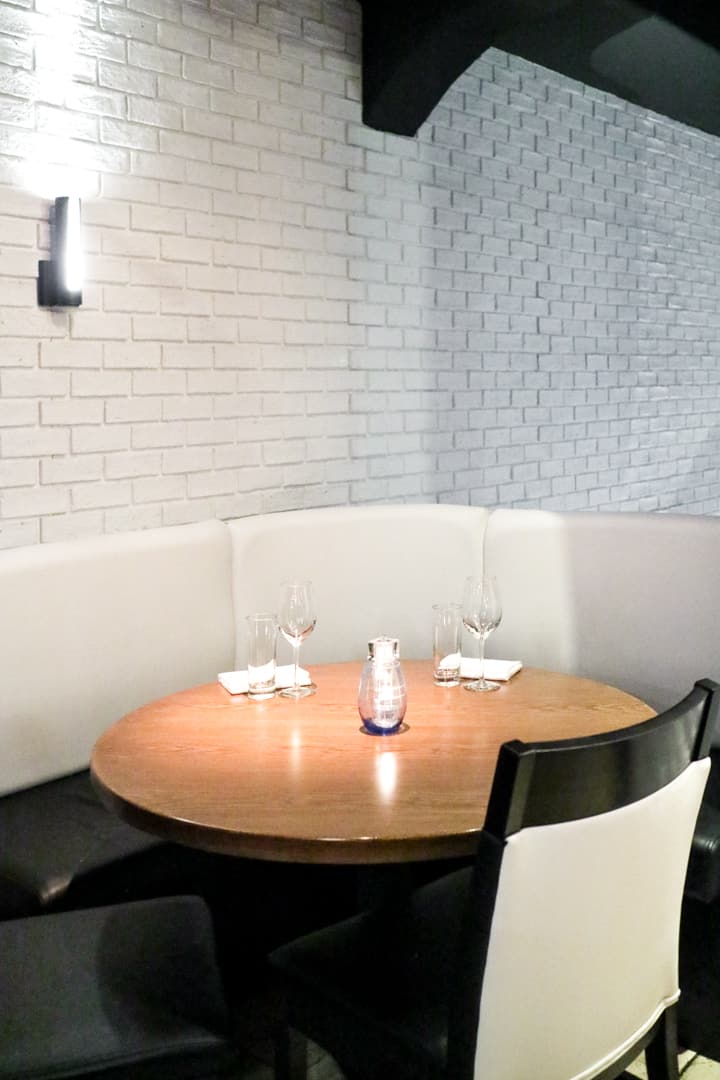 In terms of food, Modern Steak only serves ranch specific Albert Beef that is hormone and antibiotic free. Moreover, it prides itself on serving 100% fresh beef that has never been frozen and a mix of dry-aged and wet-aged cuts. That's not all. What really differentiates Modern Steak from other steakhouses in the city is that it uses an 1800° infrared broiler to cook the steaks. This allows the juices to be sealed within the steak while creating a flavourful crust on the outside.
[bctt tweet="@ModernSteakCA is the ultimate destination for meat lovers! Promise the 1800 degree steaks will leave you wanting more! #yyceats" username="fortwoplz"]
Tartare Bar
It would be dull if we started and ended with steaks. How about some tartare to begin with? The steakhouse offers a great selection of tartare to match your palate preference. A few of us were satisfied with the tartare belgain ($28, large), which delighted the senses with the burst of warm, salty flavours. The dish was particularly aromatic by blending together garlic aioli, dijon, smoked paprika, Worcestershire, caper and gherkin. I appreciated the accompaniment of the wonderfully buttery garlic bread, which the tartare couldn't possibly taste better without.
Some of us found the bright-flavoured modern tartare ($28, large) more enjoyable. The finely chopped, moist tenderloin combined well with dijon, caper, gherkin, truffle oil and yolk, and left a distinctly spicy flavour lingering on the palate. Served with the crispy thin waffle fries, this was the best combination ever!
1800° Steaks
Ready for the main course? Modern Steak features a variety of cuts to cater to diner's tastes. Not all of us are steak experts and know how flat iron differs from ribeye in taste. Fortunately, there is a detailed explanation at the back of the menu, highlighting the difference in tenderness and flavour of the various cuts!
After we placed our order, the server brought forth a wooden case for us to select our own steak knife.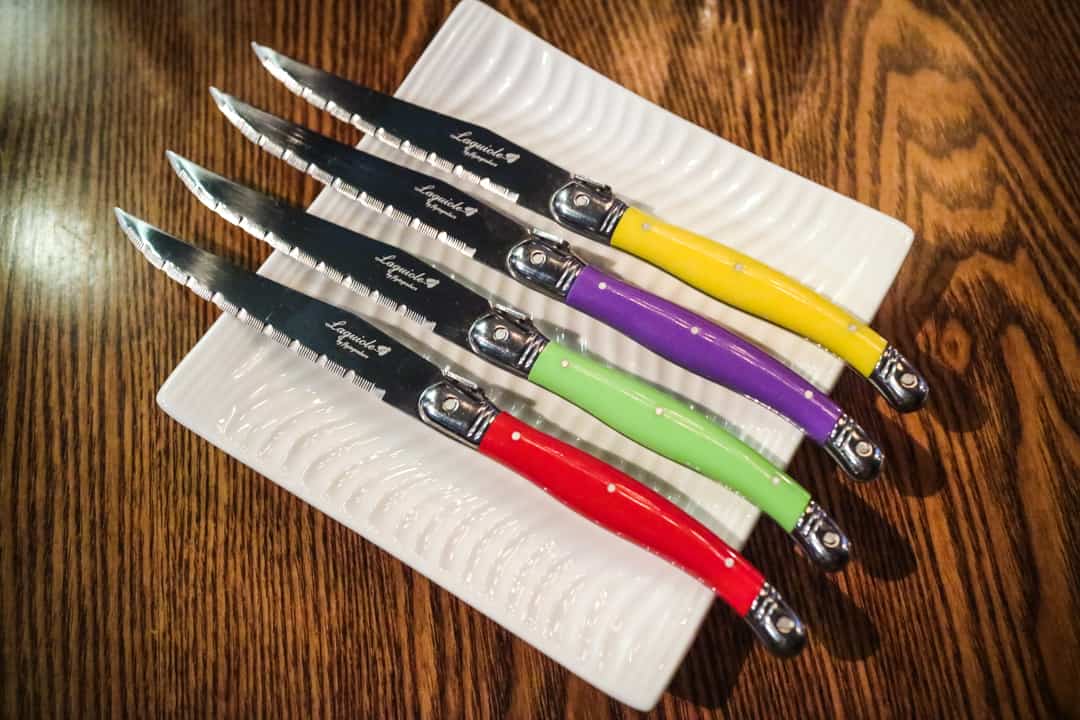 To experience the melt-in-the-mouth moisture and tenderness, we specifically picked Brant Lake Wagyu from Brant, Alberta to try that evening. Highly marbled, the flatiron ($39, 6 oz) had enough deep flavour within it that it could be eaten on its own. I chose to coat the meat with balsamic reduction to balance the richness and pepperiness of this steak. Spreading the roasted garlic on grilled steak is another great way to boost the flavour to a great new level!
Wagyu ribeye ($56, 12 oz) was a crowd favourite. It was amazingly tender, thanks to that incredible wagyu genetics and high marbling. The juicy flavour profile was rich, beefy and truly unforgettable. Every bite practically melted in the mouth. I highly recommended ordering the truffle butter ($4) which enriched the steaks with its heady aroma.
Modern Sides
Each order of steak includes a modern side. Crisp and buttery, the parmesan truffle fries was a deliciously addition to the meal. On the contrary, the brussels sprouts, lardon and maple syrup were a bit too soggy – it was definitely not charred enough like how it was prepared at Workshop.
Conclusion
All in all, we were pleased with the meal and service at Modern Steak. The quality and flavours of the steaks were absolutely mesmerizing! I am confident to say that it is the ultimate destination for meat lovers!