This site uses affiliate links and we may earn a small commission when you use our links and make a purchase without incurring additional fee yourself. Many thanks for supporting this website. Please see our disclosure page for more details.
One thing I love whenever I visit family and friends in Taiwan has to be seeking out authentic Japanese food. You might wonder why. Taiwanese fondness towards Japanese culture can be traced back to the fifty years of Japanese occupation from 1895 to 1945. The trading and economic relations between the two countries continue even after Japanese colonization had ended, reinforcing Japan's cultural impact in Taiwan. As a result, it is common to see Japanese products sit on the shelves in Taiwanese stores and restaurants expand its presence in Taiwan.
Last October when Kev and I went back to Taiwan for our wedding, we brought our Canadian friends to Ramen Nagi, a ramen shop originated from Shinjuku, Tokyo.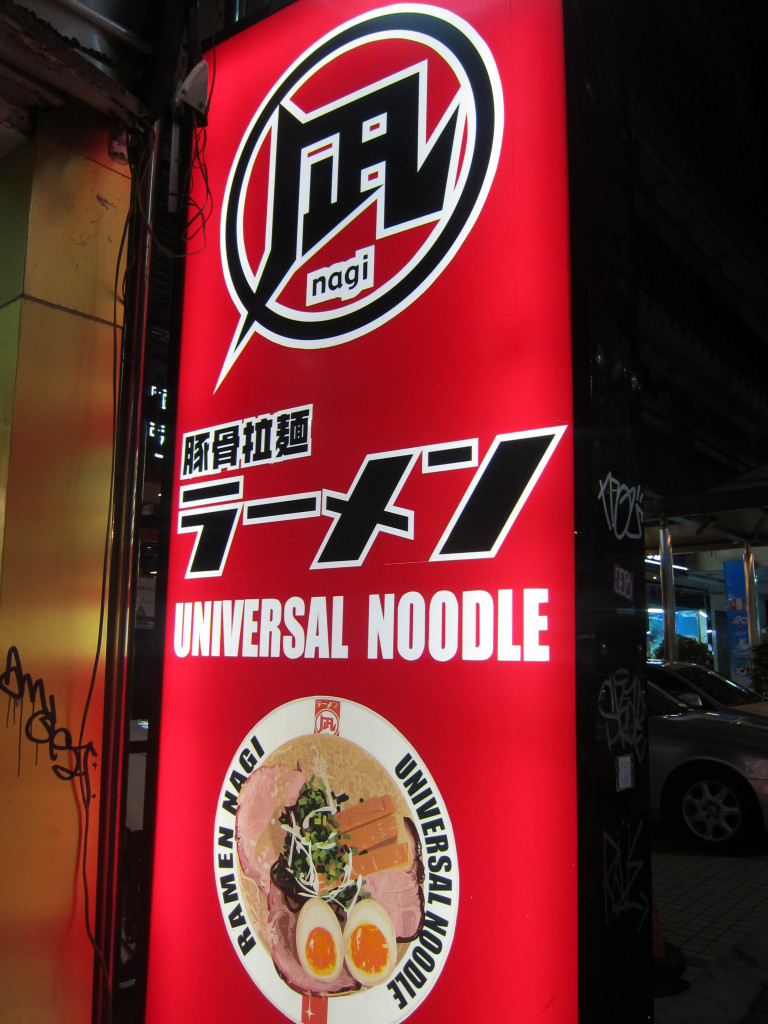 Famed for its revolutionary creativity, I was excited to check out the non-traditional ramen flavors offered at Ramen Nagi!
Conveniently located 2 minutes away from the Zhongxiao Fuxing MRT Station, this perpetually crowded ramen bar offers the best ramen experience at best prices.
[easy-image-collage id=3586]
Displaying the traditional ramen bar style, the interior has an open kitchen with counter seating and rows of tables with backless benches. Currently in Taiwan, the ramen shop provides 4 permanent flavors (original butao, red spicy akao, black calamari ink kuroo, and green basil midorio) and 1 special limited-edition ramen flavor.
Boasted of its creation of over a thousand ramen flavors, this chart below enumerates some of its popular flavors. Anything caught your attention? I would be interested in trying the genkio ramen one day!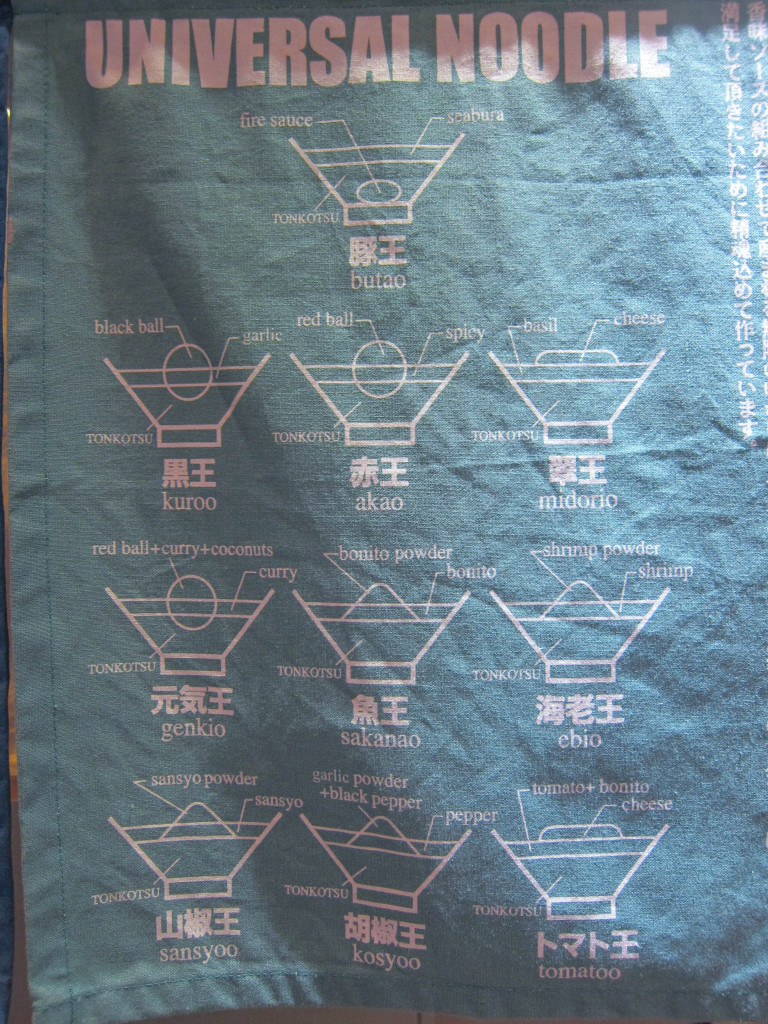 The ordering process was easy – each of us received an order sheet and selected how we'd like our ramen done. First, we chose the flavor, then we had the option of customizing the richness of our broth, special sauce, toppings, spiciness, types of noodles and its firmness. If you don't want to make all those trivial decisions, simply check the box "chef recommendation" and let the chef decide for you!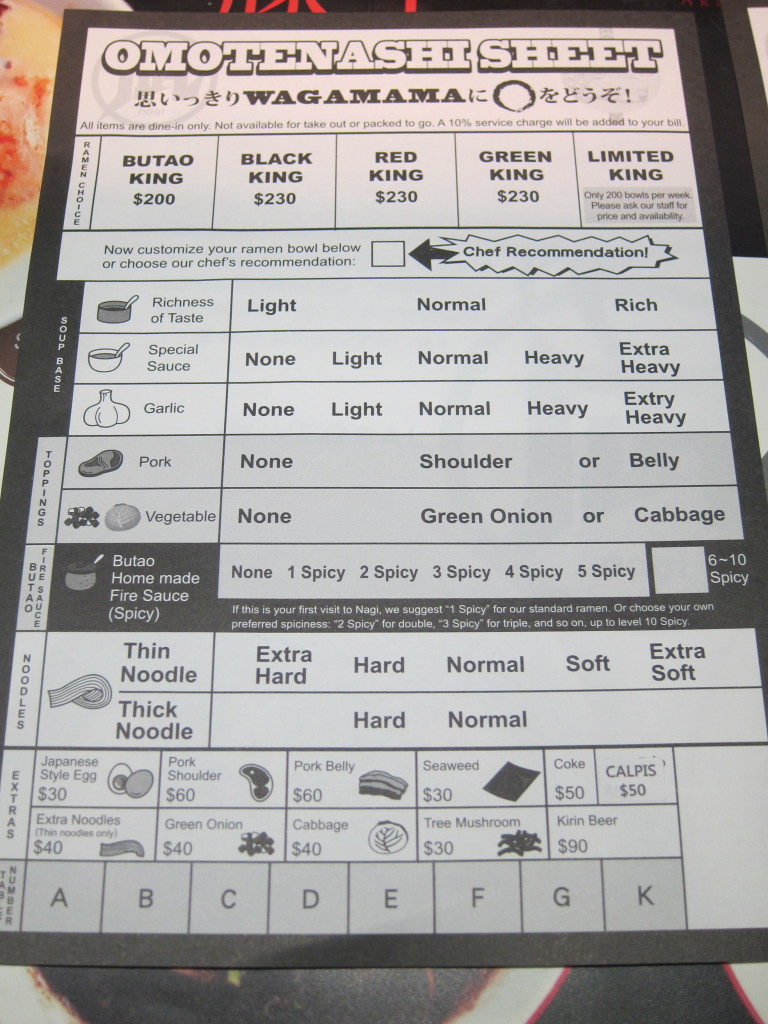 I was a little surprised that they have English menu and order sheet, but was delighted that I finally didn't have to be the translator for Kev and could truly enjoy my dining experience (don't ever start me on the troubles that come with marrying someone who don't speak your native language).
O.M.G. the original king (butao, NT $200) was hands-down the best bowl of ramen I've ever had. The creamy, milky white tonkotsu pork broth was mouthwatering rich and aromatic. By adding the 'special sauce', it countered the greasiness of the broth. Accented with perfectly chewy noodles, meltingly tender pork belly, green onions and seaweed, I loved this ramen so much and finished it to the last drop.
The black king (kuroo, NT$230) might be an appealing option for adventurous eaters ? The jet-black squid ink broth could be daunting, but was particularly fragrant and profound. Laden with succulent pork belly, blackened garlic, a ball of minced pork, black sesame, this bowl of noodles satisfied our hunger pangs and cravings.
You can't miss out on the soft boiled eggs (NT$30) with custard-like egg yolk as a great addition to the noodles! For a leaner option, ask for thinly-sliced pork shoulder instead of pork belly. It might not be fatty, but it is equally delicious and moist.
[easy-image-collage id=3597]
On each table, a tray of common condiments are readily available to you if you ever need to add depth to the flavor of your broth. To be honest, the broth at Ramen Nagi was already so flavorful that I found it unnecessary.
Wonderfully creamy broth. Bouncy noodles. Succulent meat. Do I need to say more? Definitely check this place out!
About Ramen Nagi 凪 – Zhongxiao Branch
Address: 1F, No. 5, Ln. 75, Da An Rd., Sec. 1, Da An District, Taipei
Hours: Sun-Thu 11:30~22:30 / Fri~Sat 11:30~23:00
Tel: (02) 2778-1899 (No reservations)
Facebook: https://www.facebook.com/NagiTaiwan/