This site uses affiliate links and we may earn a small commission when you use our links and make a purchase without incurring additional fee yourself. Many thanks for supporting this website. Please see our disclosure page for more details.
Why is it so hard to find a good breakfast place in Calgary? I still remember the trouble I went through to find us a breakfast spot before heading to Johnston Canyon for a hike last fall. All my effort resulted in the decision to never go back to that particular restaurant again for breakfast because none of us was unimpressed with the lackluster food. (Curious where we went? Click here to find out.) Saying Calgary has no decent breakfast spot whatsoever is an exaggeration. Surely, I have my top 3 in the city (i.e. Pfanntastic Pannenkoek Haus, Monki and Grumans in case you're wondering) but the daunting long lines terrify me and almost always make me give up waiting. When I heard the news about The Daily's opening, I was thrilled to have a new place to go to for power breakfasts without the pressure to wake up early to beat the crowd!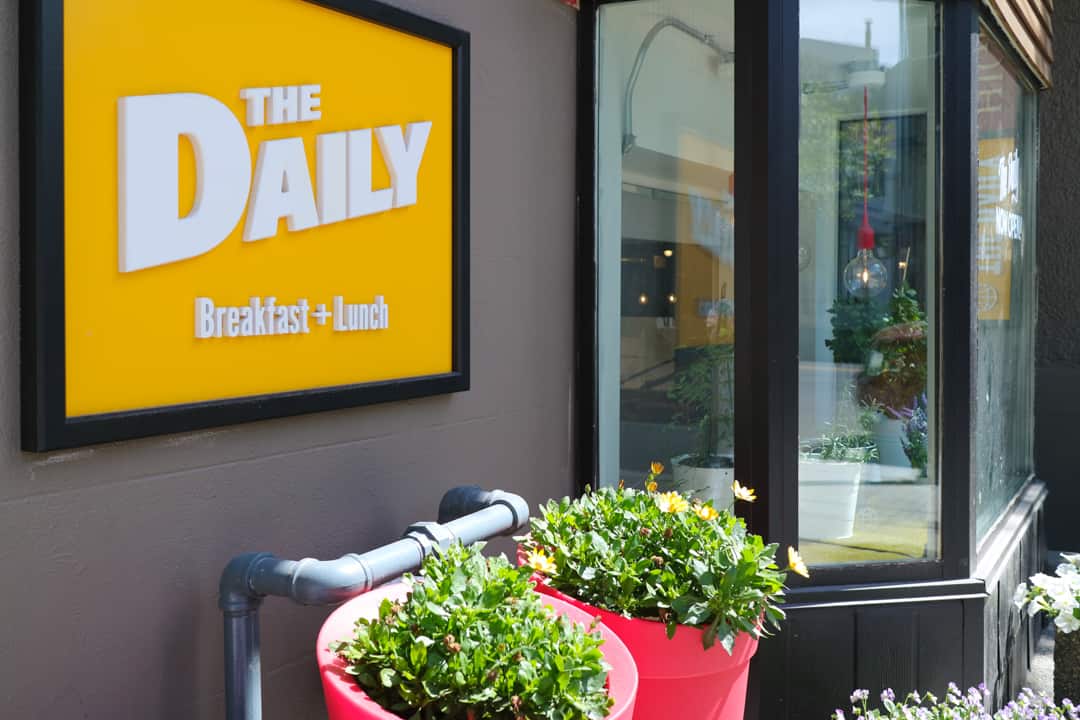 The Daily, the newest restaurant addition to the Kensington community, is located right below Higher Ground Café. True to its name, this breakfast eatery opens daily from 7am to 6pm to offer classic breakfast fare as well as appetizing lunch time items, such as burgers, sandwiches, flatbreads. Featuring naturally raised and locally sourced ingredients, The Daily promises to put forth fresh and tasty dishes that will keep you coming back for more.
[bctt tweet="@DailyYYC promises to put forth fresh & tasty dishes that will keep you coming back for more! #yyceats #yycfood" username="fortwoplz"]
The eatery is interestingly divided into multiple dining spaces, each with its own unique charm and character while developing a bright, inviting space to welcome guests. The use of bright yellow colour in the interior space lends a sense of happiness and cheerfulness, making it a joyful experience to dine there!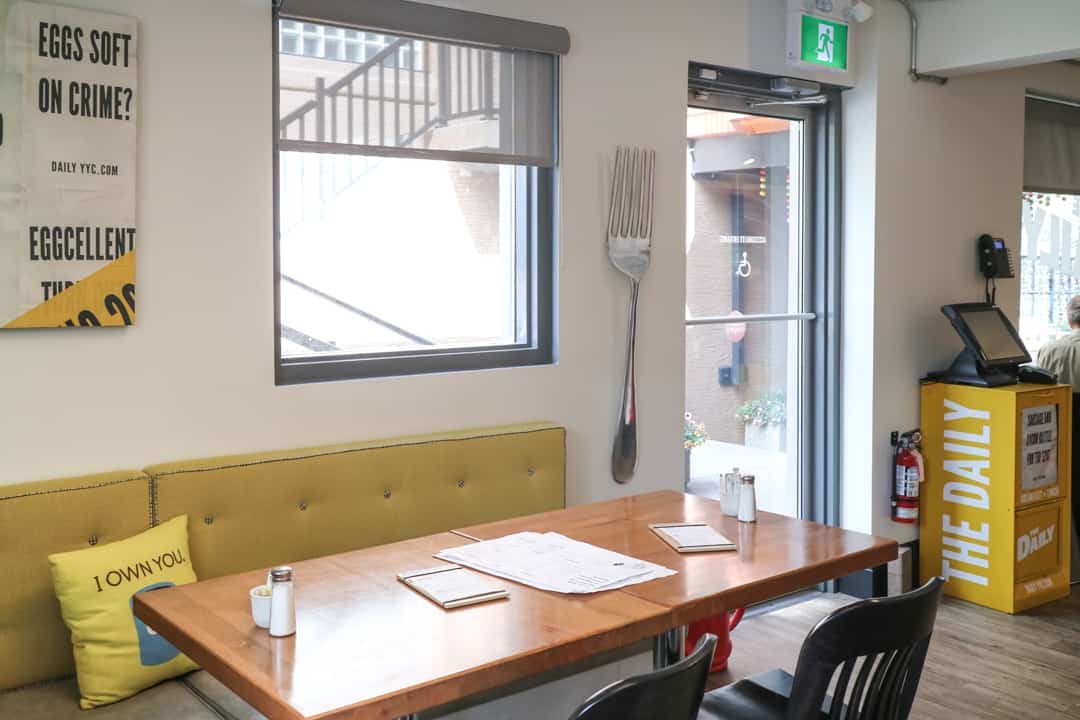 Breakfast at The Daily
Kev and I were a little taken aback when we saw the sign "Please seat yourself." Not only were we surprised by the freedom given to us, we were worried what if nobody knew we came in. A few questions popped into my mind as we waited: "Are the staff paying attention to new customers walking in?", "How do we order?", "The staff seems busy. How long do we have to wait?"…etc. When a server warmly greeted us and came to take our order a few minutes after, all our worries faded away.
Kev decided to go with corned beef hash with cheese curds ($13.90) after hearing the server's recommendation. Brined in-house for 4-5 days, the corned beef brisket was packed with soul-soothing deliciousness. Each bite yielded a nice, smokey flavour and the perfect level of tenderness. It tasted even better when eaten together with the soft basted eggs! The sweet and tangy flavour of the grilled red onion and roasted tomato balanced really well with the rich creaminess of the cheese and baby potatoes. Equally delicious was the tangy housemade tomato purée that I couldn't stop myself from eating!
My peppered pear flatbread ($15.95) was an interesting creation that called for ricotta, arugula, roasted leek, caramelized pear, candied walnut and honey drizzle. It was the go-to dish for anyone who has a sweet craving in the morning. The flatbread was pleasantly (but not overwhelmingly) sweet. By including arugula and toasted leek into the equation, this dish achieved a beautiful balance of savory and sweet!
Conclusion
Our visit to the Daily was a satisfying and enjoyable one. We were impressed by the offerings for their aromatic flavours, appetizing taste and freshness. With a wide range of exciting, fun and appealing dishes, The Daily will certainly become the next breakfast hotspot in Calgary!