This site uses affiliate links and we may earn a small commission when you use our links and make a purchase without incurring additional fee yourself. Many thanks for supporting this website. Please see our disclosure page for more details.
Outside the 9-to-5 workweek, Calgary's downtown core turns into a ghost town – something that is hardly a secret to Calgarians. The normally busy streets are almost always empty on weekends. You can typically just walk in to a restaurant and enjoy a meal without stressing about reservations. Nonetheless, last weekend, Kev and I spotted an unusual scene as we visited Workshop. Tucked inside Theatre Junction Grand in downtown Calgary, the restaurant, like an oasis in the desert, was surprisingly lively on a Saturday evening with theatre-goers seeking some food prior to a show.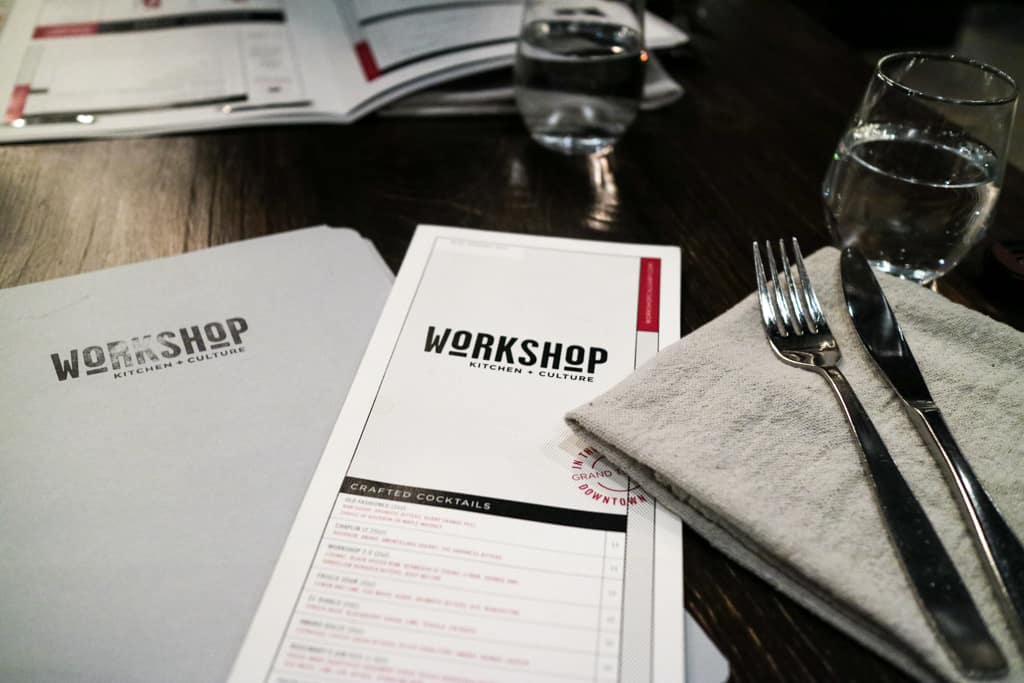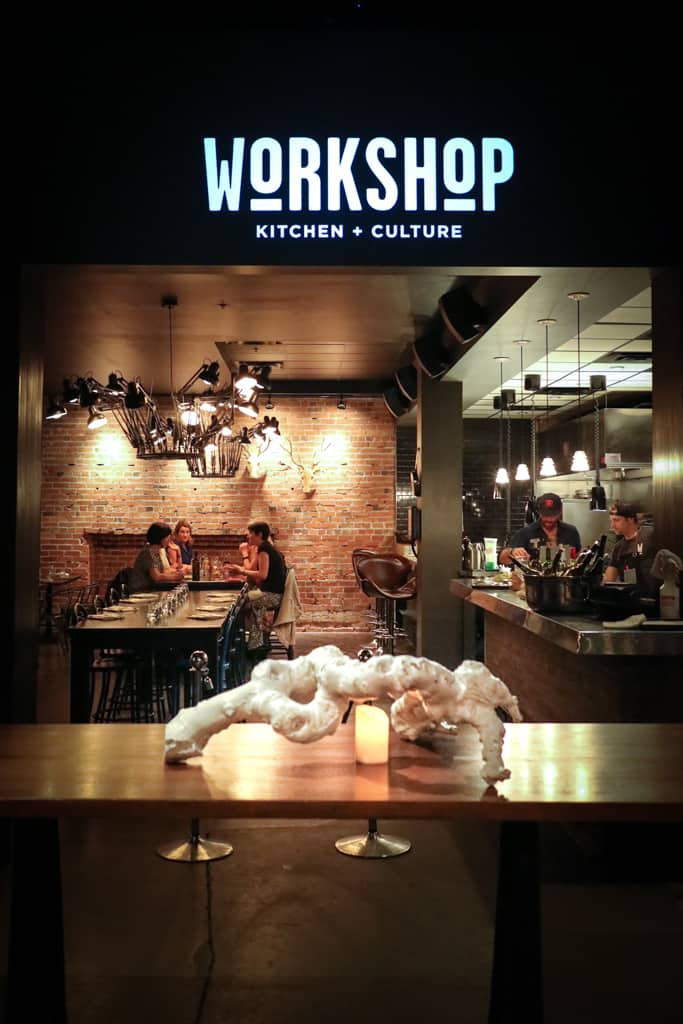 Residing at Western Canada's oldest theatre, Workshop is not just a restaurant. It is a spirited meeting place that connects people and celebrates culture, counterculture in particular. Under the leadership of chef Kenny Kaechele, Workshop offers food and drink that are distinctly original and outstandingly memorable – a manifestation of the creative freedom in the performing arts.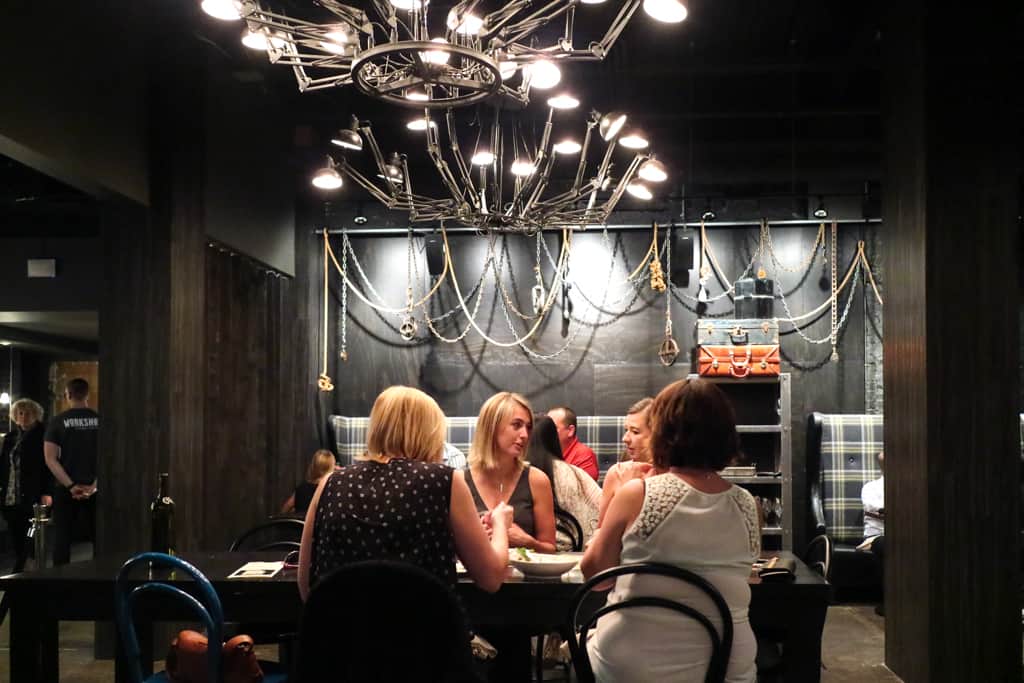 Dark and brooding, the dining space renders an intimately charming yet mysterious feel, matching the atmosphere of the historic site. The rustic industrial decor, featuring large metal chains, wood accent walls and spider-like chandeliers, has truly transformed the space into a workshop – a venue where chefs unleash their creative energy.
[bctt tweet="Feeling adventurous & wanna spice up your dining experience? @workshopyyc is the place to be! #yyceats #foodies" username="fortwoplz"]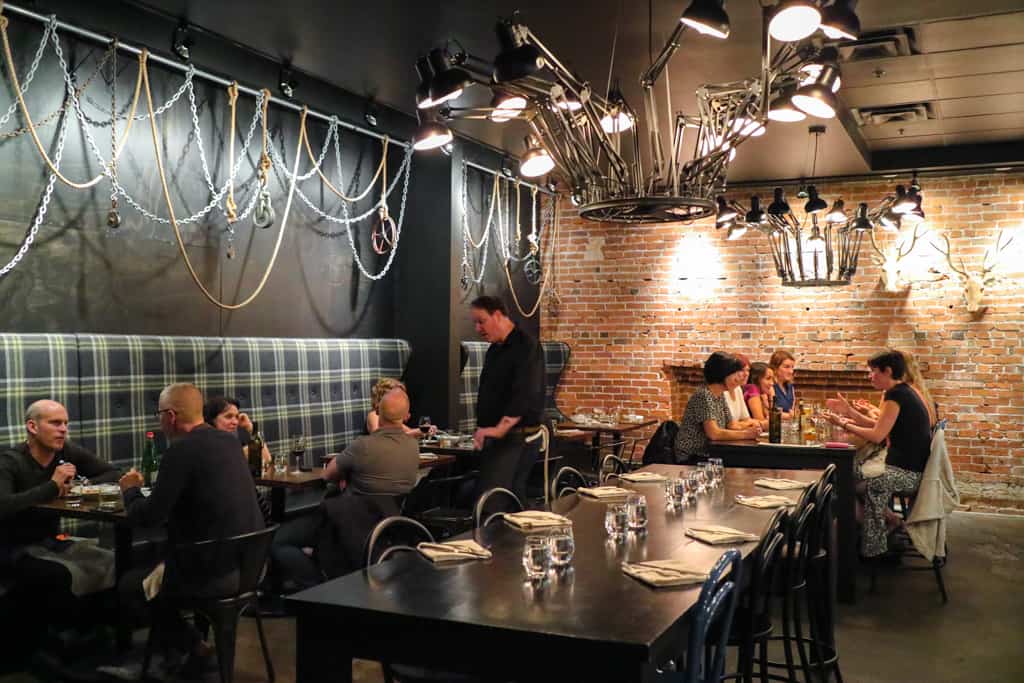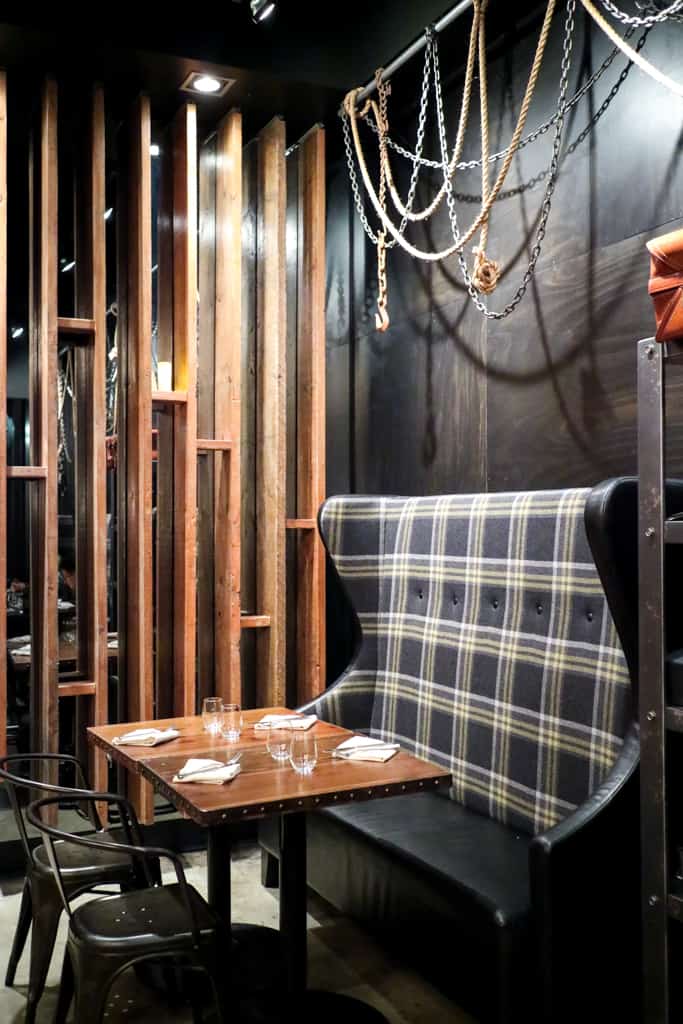 Starters
The night with our friends began with the enticing and beautifully plated albacore tuna poke ($14.5) and bulgogi beef tartare ($15). Scooping up the mixture of pineapple, cucumber, avocado and sesame chicharron with the prawn crackers, each bite of the tuna poke came with an assertively nutty flavour and a fruity aroma, balanced by a slight residual sweetness on the palate. The classic Hawaiian appetizer salad got an interesting southeast asian twist with the addition of the crunchy prawn crackers.
The bulgogi beef tartare, made with charred scallion, pickled carrot, smoked cured egg yolk and sesame ginger powder, was more than a marriage between French and Korean cuisines. Although Koreans have their own version of beef tartare – a dish called yukhoe served with an egg yolk put on top of seasoned raw beef, Workshop's bulgogi beef tartare was nothing like I'd seen before. Instead of an egg yolk, smoked cured yolk was used for a bright briny taste and smoky flavour. The beef was seasoned with Korean spices and mixed with chopped carrots for a crunchy texture and mildly sweet, crisp taste. Fine sesame ginger powder was spread across the plate to deliver a spicy taste that would eliminate the strong meaty odor. Crispy wonton chips were served along the tartare to add an extra Asian element to the dish. The result was delectable and tongue-tingling!
Meat
I've been told that grilled ribeye ($46, small) is a must-order at Workshop. Be prepared to be seduced by the perfect mahogany crust, juicy pink interior, and irresistibly tender texture. It tasted even better when topped with bacon jam and salty bacon bits, which gave it a deep smokey flavour. The magic didn't stop here. Dipping the steak into the béarnaise sauce, you would find the butter-rich, tarragon-flavored sauce amped up the the meat's flavor without overpowering it. The dish was decorated with buttery potato mille feuille (French for "thousand layers") and brightly coloured roots vegetables. Undeniably, it was a truly flavour-packed dish; nonetheless, we found that most of the flavours came from the sauces, instead of the meat.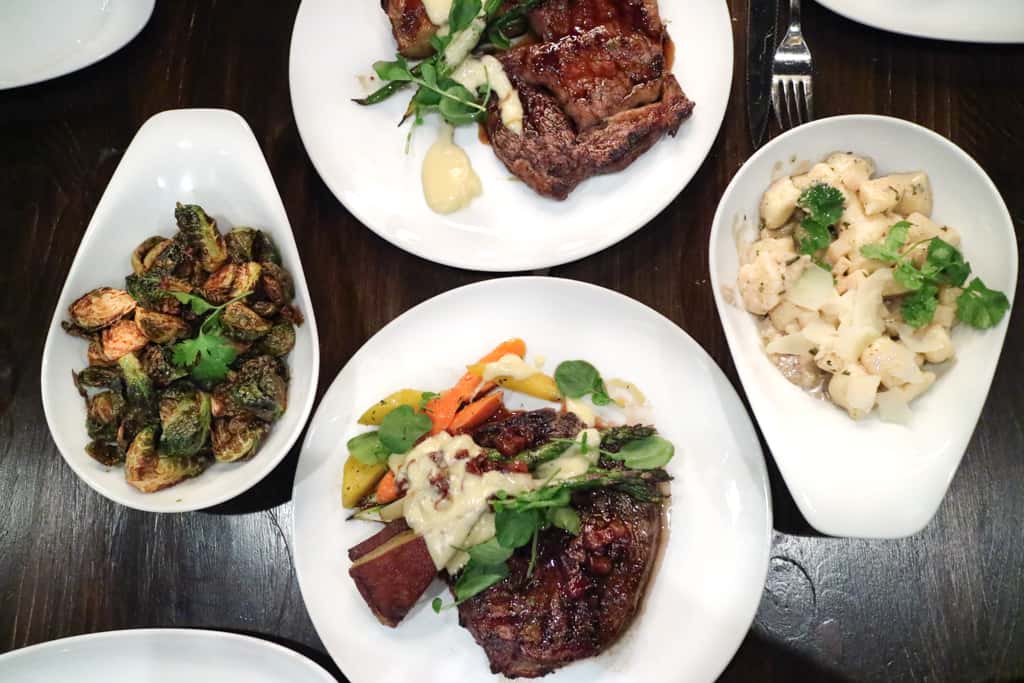 Besides the ribeye, we added on 2 other side dishes: potato gnocchi ($12) and crispy brussels sprouts ($11), both came in a main-dish-sized serving.
The combination of pillowy soft potato gnocchi, black garlic, pickled turnip, parsley and parmesan cream was adsolutely drool-worthy. The sour taste of the pickled turnip did wonders for freshening the palate!
Workshop's brussels sprouts would surely please everyone's taste buds! Coated in spicy maple, this unbelievably simple dish countered the slight bitterness of brussels sprouts with a fantastic sweet and spicy flavor
Conclusion
Every dish is a work of art at Workshop. I truly admired the chef Kaechele's efforts in infusing classic dishes with new excitement and adhering to the belief of non-conformity. Workshop is a place for the adventurous who are looking to be amazed by unconventional dishes!