This site uses affiliate links and we may earn a small commission when you use our links and make a purchase without incurring additional fee yourself. Many thanks for supporting this website. Please see our disclosure page for more details.
As Maine's largest city, Portland sets the bar for excitement, boasting the coolest museums, a variety of outdoor activities, and most importantly, amazingly good food!
Declared "Restaurant City of the Year" by Bon Appetit in 2018, Portland is a paradise for seafood lovers and beer drinkers. Delve into its vibrant food scene, and you'll find an endless array of eateries preparing the fresh seafood in so many mouthwatering ways – whether it is Japanese, Middle Eastern, or Italian style.
It is impossible to get the full experience of Portland in just 36 hours, but should you find yourself passing through on one of your romantic getaways in Maine, you can make it worthwhile with this itinerary. You might also enjoy ending your road trip from Bar Harbor in Portland. Follow us and discover where to eat in Portland, Maine!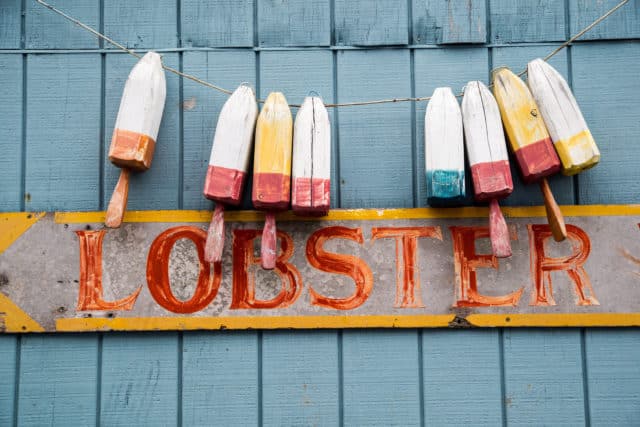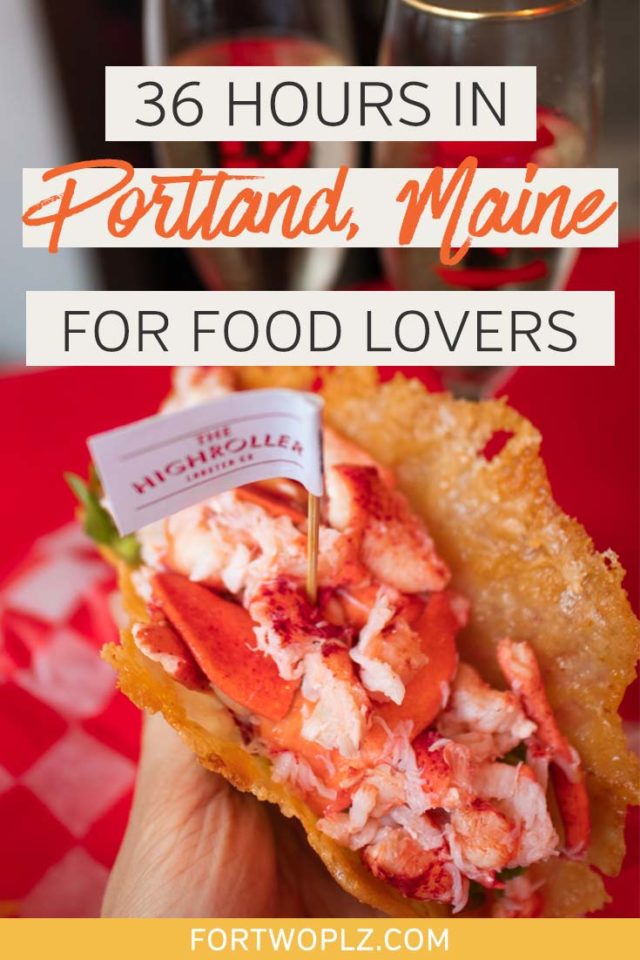 First time visiting Maine? These Maine travel resources will make your trip planning a breeze:
→ eSIM: Knowroaming and Airalo both have affordable USA data plans.
→ VPN: Boost your privacy and internet security with NordVPN.
→ Car rental: Discover Cars is great at finding and comparing the best car rental deals.
→ Flights: Find the most competitive price through Expedia!
→ Hotels: Expedia usually has the best rates (plus, members earn additional rewards!). We also recommend comparing prices on Tripadvisor.
→ Tours: Here are some of our favourites…
❋ Set sail on a windjammer & enjoy Maine's coastal scenery on this sailing tour
❋ Travel to Maine's best whale feeding grounds to see whales, dolphins & puffins!
❋ Hop on a Boothbay Harbor cruise to see playful seals & picturesque lighthouses!
❋ Stroll through Bar Harbor and taste your way through town!
❋ Self-guided audio tour through Acadia National Park (no internet connection required!)
Day 1 in Portland, Maine >>
Morning
There's nothing wrong with having doughnuts for breakfast, especially in Portland, Maine. The locally-owned Holy Donut uses potatoes, instead of flour, in the dough to give the treat a more moist, irresistibly chewy texture – it's no wonder the shop has gained such a following!
Behind the counter, you can find all sorts of flavours, from maple bacon to toasted coconut, to fuel up for a busy day ahead!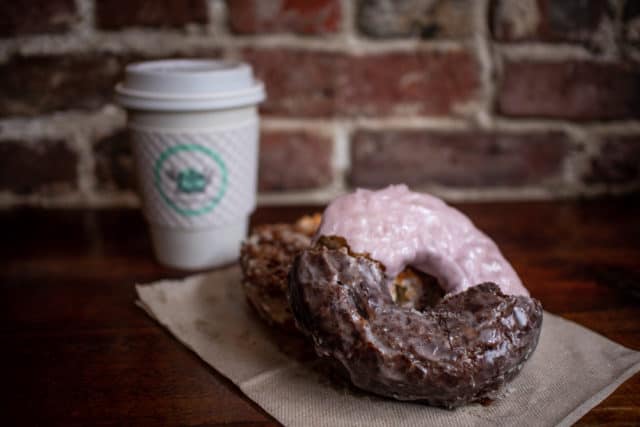 Looking for romantic things to do in Portland, Maine? Head over to the Eastern Promenade on the east end of Portland peninsula. From the slope of Munjoy Hill, you can enjoy a sweeping view of the Casco Bay and Portland Harbor. Watch the seabirds dive for fish as you stroll along the trail.
For a more intimate experience, climb to the top of Portland Observatory. The historic maritime signal tower is the last standing in the country, offering a rich history dating back to 1807 and a wonderful harbor view.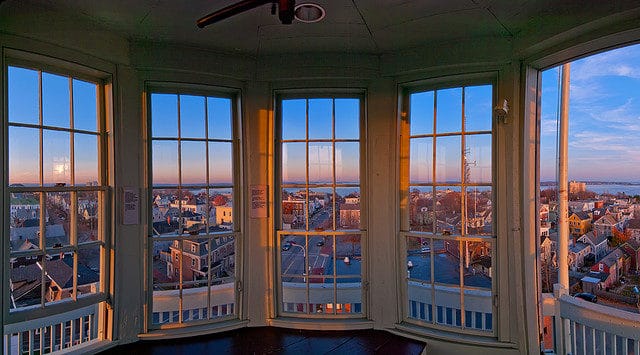 The craft beer movement has taken Portland by storm. The city has earned the top spot by having the most breweries per capita in the U.S. According to the latest statistics, there are 18 active breweries in Portland, Maine, a city with only 66,800 residents!
It's true that you can find many microbreweries right in downtown, but the best place for craft beer in Portland, Maine, in our humble opinion, is Allagash Brewing Company. The brewery is well known for their Belgian-style beers and has an impressive lineup of bold, yet delicate crafted brews.
Join a brewery tour and go behind the scenes to learn about their brewing process. Three different styles of tours are offered throughout the week. Barrel tastings and beer sampling are included. The tours typically last from 60~90 mins. Reservations required.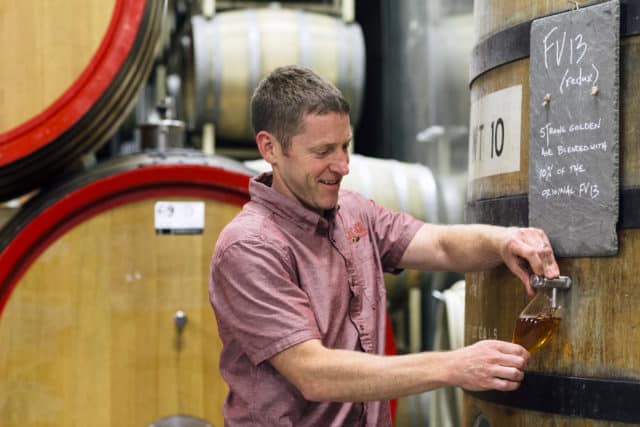 Lunch
Portland, Maine has a wealth of lobster restaurants. Which one should you choose?
For those who'd like to explore the largest variety of lobster dishes, we highly recommend Highroller Lobster Co. Lobster cheese crisp taco, fried lobby pop, lobster grilled cheese are just a few creative ways they serve the iconic lobsters, all of which can be customized with a variety of sauces and add-ons.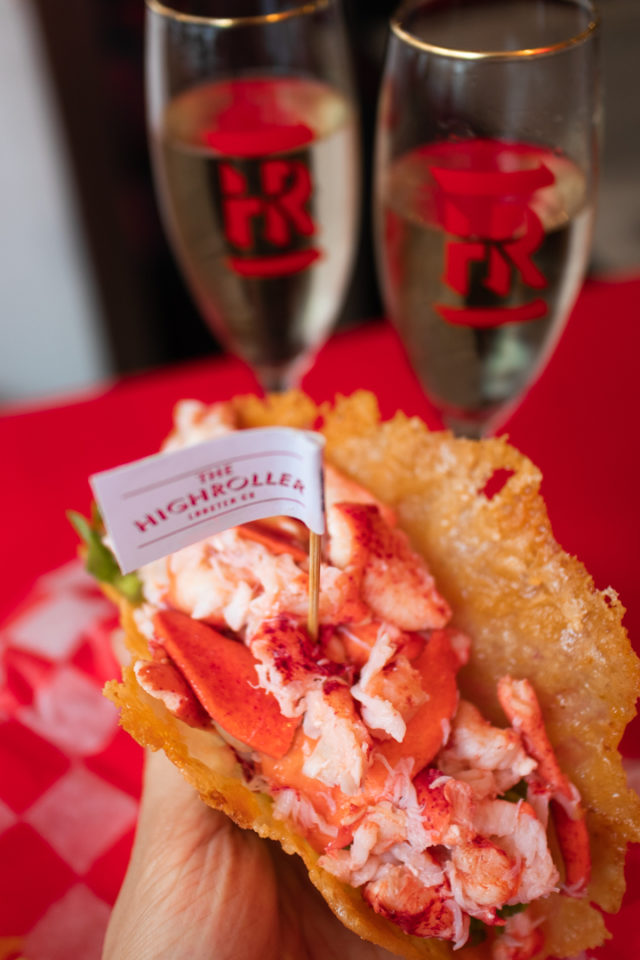 Looking for the best lobster roll in Portland, Maine? No other place does it better than Eventide Oyster Co. Served in a steamed bun, their lobster meat is coated in brown butter vinaigrette, lending a nutty aroma. Trust us, it is so good that you'll want to put in a second order!
Afternoon
July and August are the best time to visit Maine because it is the peak Maine lobster season, and one of the most unforgettable things to do in Maine in summer is lobster catching!
As a novice, you can jump aboard a lobster boat tour and experience the adventure of catching lobster firsthand. In the Old Port district, Lucky Catch Cruises has a good reputation and is experienced in shore excursions. As you cruise along Maine's scenic coastline, you will get a peek into the daily routine of a lobsterman and learn about lobster fishing from an expert! Each tour lasts for 90 mins and allows only a certain number of passengers to ensure an intimate experience. It is truly an educational and entertaining activity!
After the boat tour, take a stroll around the historic Old Port district. See the seagulls hovering near fishermen's boats, feel the sea breeze blow through your hair, and watch the waterfront comes alive!
The cobblestone streets are lined with 19th-century brick buildings and warehouses, many of which have now been converted to boutiques, restaurants, and bars. It is full of rustic charm!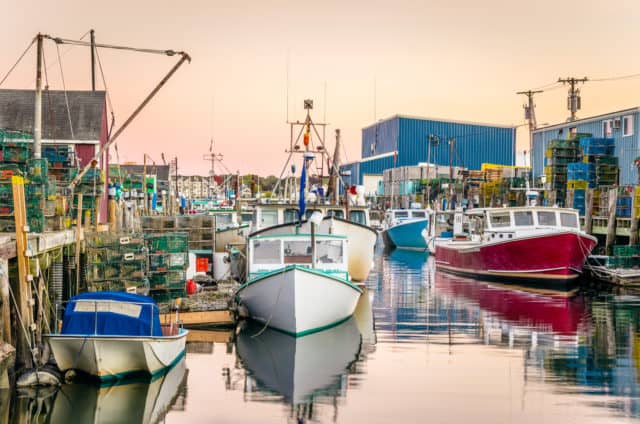 Dinner
For dinner, we recommend Scales, one of the best seafood restaurants in Portland, Maine. The upscale waterfront eatery dishes out New England classics with contemporary flair. Salt cod croquettes, pan-roasted halibut, and buttered lobster roll are a few staples on the menu.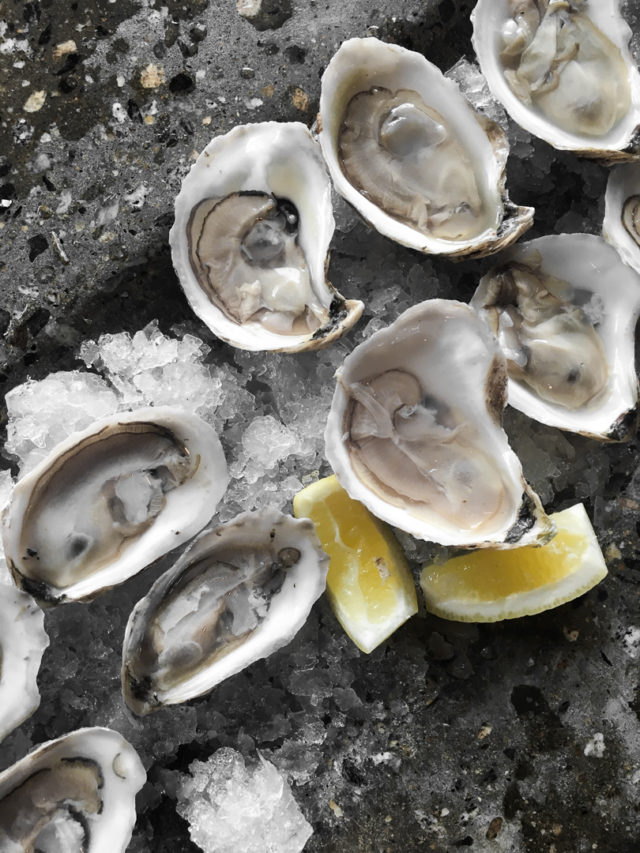 At Scales, you can't leave without trying their oysters – delivered straight from the ocean! East coast oysters are known to have a robust briny flavour (which might not be appealing to some people), but for some reasons, the oysters at this waterfront restaurant in Portland, Maine are clean-tasting with a pleasant, fresh aftertaste. They were so good that we went back two days in a row!
Pro tip: The restaurant is extremely busy. Either make a reservation beforehand or go during happy hours (4-6pm from Sundays to Thursdays).
Late Night Drinks
Cap off the evening at one of the best bars in Portland, Maine.
Sagamore Hill Lounge is a fun place to grab a drink with friends. The upscale lounge pays tribute to the 26th U.S. president, Theodore Roosevelt, and his legacy as one of the country's most accomplished presidents. Everything, from the decor to cocktail menu, is evident and designed to revolve around his presidential history. Scrolling down the menu, you'll not only learn a few things about American history, but will also get a good laugh!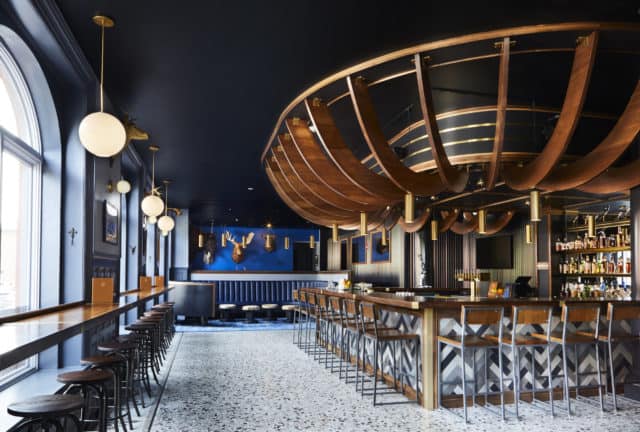 Day 2 in Portland, Maine >>
Morning
Wake up bright and early so you can grab a bite at Becky's Diner. The much-lauded family-run diner opens before the crack of dawn at 4 am, 7 days a week, serving up classic comfort food. The menu features a delectable array of breakfast specials like lobster omelette and blueberry pancake that will make your mouth water.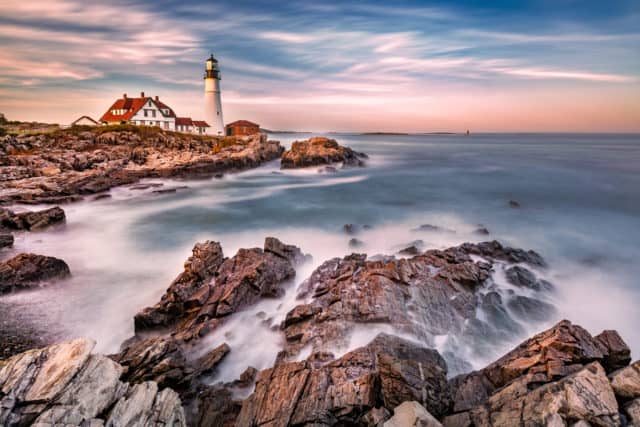 Next up – lighthouse hopping, one of the fun things to do in Maine! Among the 65 historic lighthouses, six of them are within 20 mins of Portland, including:
Portland Breakwater Lighthouse: aka Bug Light
Spring Point Ledge Lighthouse
Portland Head Light: one of the most famous Maine lighthouses
Ram Island Ledge Light: can be seen from Portland Head Light
Two Lights State Park: aka the twin Cape Elizabeth Lights
This Maine lighthouses map shows the position of each lighthouse we mentioned above:
Pro tip: It takes about 2 hours to see all the six lighthouses by car, but a more scenic way to tour the lighthouses is by joining a bike tour (5 hours). One of the Portland, Maine tours we enjoyed the most is Summer Feet Cycling's 5 Lighthouse Bike tour. We pedaled along the coast, learned about Portland's rich history, and snapped tons pictures of the iconic lighthouses.
Lunch
For those craving fresh Maine seafood, hit up Gilbert's Chowder House for a delicious feast. Their rich and creamy award-winning chowder is chock full of fresh catch, potatoes and onions. If you have a large appetite, make it extra fancy with a crusty bread bowl!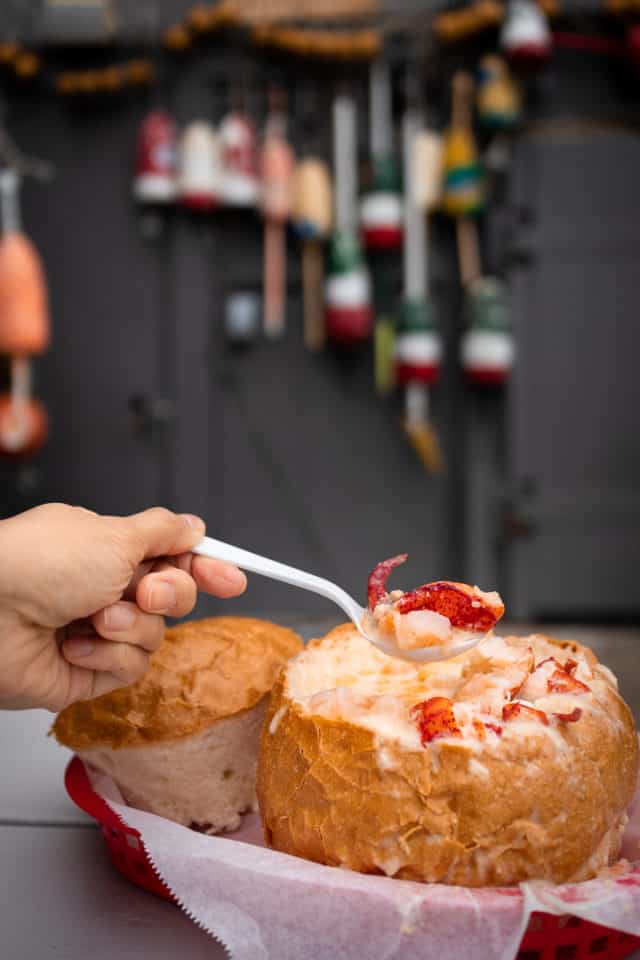 Afternoon
Take a break from all the eating by visiting the Arts District. Just a few blocks from the waterfront, the neighborhood is home to numerous arts and cultural museums, such as Portland Museum of Art, International Cryptozoology Museum, and Maine Historical Society.
Not into museums? That's okay, head over to Victoria Mansion instead. The Italian-style architecture is among the most important historic homes of the 19th century in the country. Its lavish interior will leave you in awe!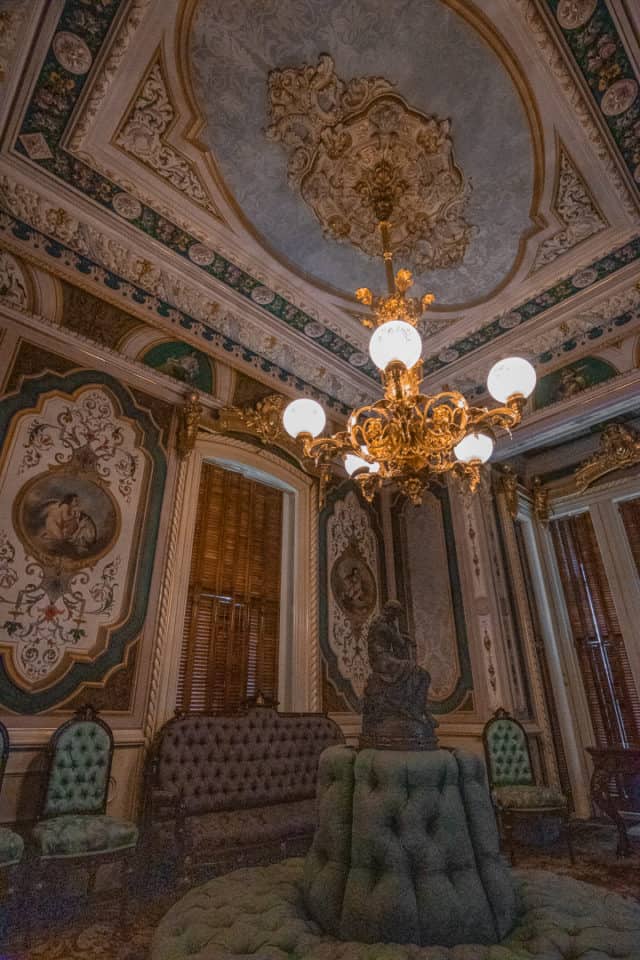 Dinner
Before saying goodbye to the city, stop by Central Provisions for a meal. The eclectic selection of small plates will draw you in and their craft cocktails will make you stick around for more. The restaurant even offers caviar flights and various foie gras dishes (like root beer float with foie gras ice cream?!).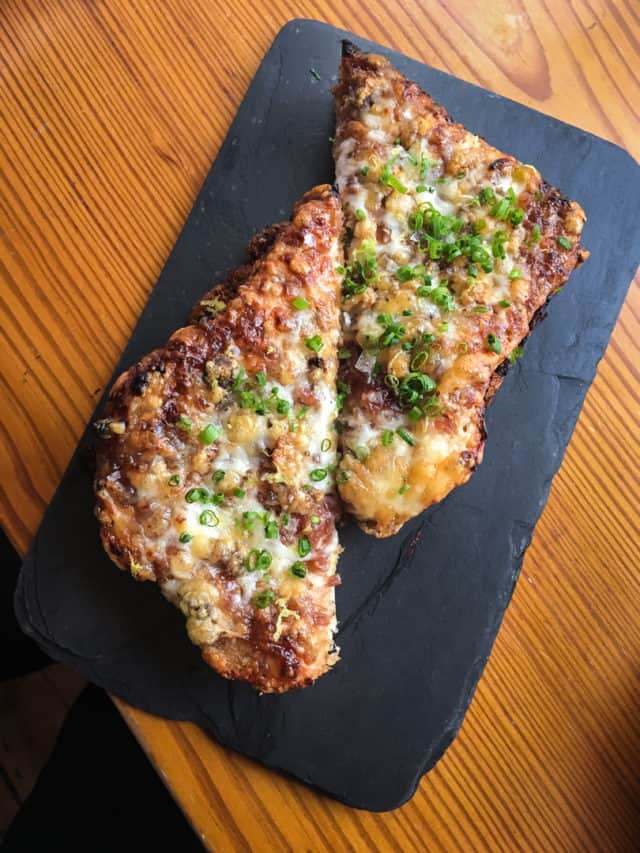 Best Places to Stay in Portland, Maine
We zero in on the top-rated luxury boutique hotels in Portland, Maine that guaranteed a comfortable stay.
The Press Hotel in downtown Portland takes inspiration from the former Press Herald building and tastefully executes the newspaper-themed decor throughout the entire hotel. Each guestroom is exquisitely designed to make you feel at home and includes top-of-the-line amenities like coffee maker, mini-stereo, and spa-ready marble-tiled bathroom.
Blind Tiger in Portland's West End offers a more intimate lodging experience with only 15 guest rooms spanning across two properties (Danforth and Carleton). Built in the 1800s, the mansion-turned-trendy-guest-house preserves a sense of history while providing modern comforts for the guests to enjoy.
Have extra days and wonder what to do in Maine?
Besides lighthouses and lobsters, there are so many fun different ways to enjoy Maine.
We recommend taking a scenic drive from Portland, Maine to Bar Harbor and visiting beautiful coastal towns along the way. Whale watching and kayaking in the bioluminescent bay are among the most popular things to do in Maine.