This site uses affiliate links and we may earn a small commission when you use our links and make a purchase without incurring additional fee yourself. Many thanks for supporting this website. Please see our disclosure page for more details.
Planning Maine road trip this summer? While Acadia National Park, Portland and Bar Harbor, Maine garner most of the attention, there are plenty of hidden gems along the coastline waiting to be explored.
Untouched dramatic scenery, amazingly fresh seafood, and unbelievably friendly people are just a few good reasons to stop on your coastal drive from Portland Maine to Bar Harbor. From south to north, we highlighted some of the best coastal towns along U.S. Route 1 that will blow your mind in the Midcoast Maine and DownEast Acadia regions.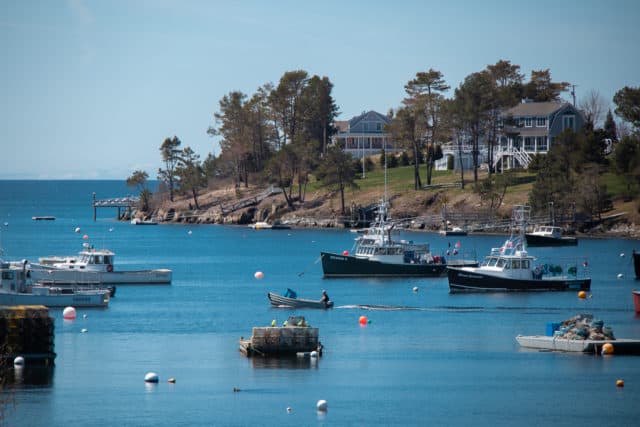 Looking for inspiration for similar road trips in other parts of the US? Check out our guide for the ultimate Miami to Key West Road Trip!
U.S. Route 1 is one of the most scenic drives in Maine, dotted with tiny picturesque towns along the way. Below, we have included a map of Maine's coastline for you to follow along.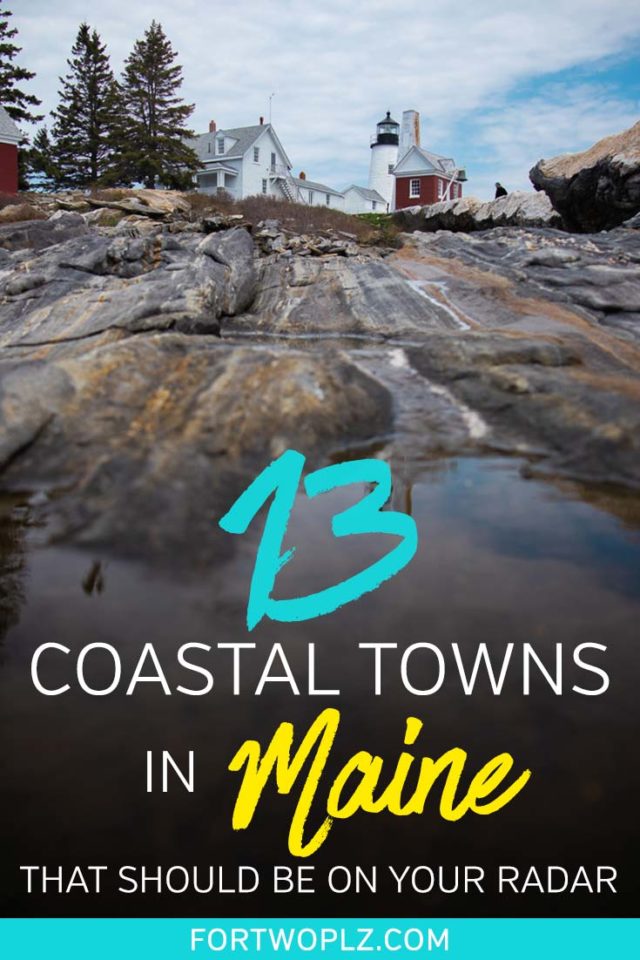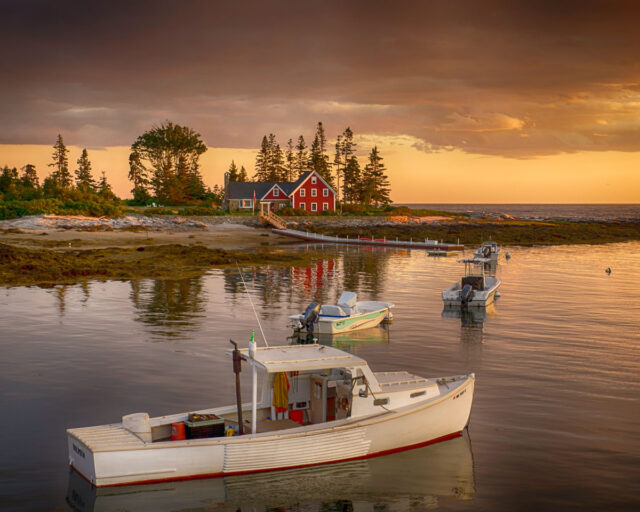 First time visiting Maine? These Maine travel resources will make your trip planning a breeze:
→ eSIM: Knowroaming and Airalo both have affordable USA data plans.
→ VPN: Boost your privacy and internet security with NordVPN.
→ Car rental: Discover Cars is great at finding and comparing the best car rental deals.
→ Flights: Find the most competitive price through Expedia!
→ Hotels: Expedia usually has the best rates (plus, members earn additional rewards!). We also recommend comparing prices on Tripadvisor. Scroll down to the hotel section for our top picks around the area.
→ Tours: Here are some of our favourites…
❋ Set sail on a windjammer & enjoy Maine's coastal scenery on this sailing tour
❋ Travel to Maine's best whale feeding grounds to see whales, dolphins & puffins!
❋ Hop on a Boothbay Harbor cruise to see playful seals & picturesque lighthouses!
❋ Stroll through Bar Harbor and taste your way through town!
❋ Self-guided audio tour through Acadia National Park (no internet connection required!)
How to get from Portland Maine to Bar Harbor?
The best way to get from Portland Maine to Bar Harbor is by car. For the best experience, take the scenic route from Portland Maine to Bar Harbor via Route 1, which runs along the coastline dotted with multiple pleasant attractions and charming towns.
Do you need help finding rental cars in Portland Maine? Click here to find the best rates for car rentals.
Is there a ferry from Portland Maine to Bar Harbor?
Unfortunately no, there is no longer any ferry service operating between Portland Maine and Bar Harbor.
Does Bar Harbor Maine have an airport?
There are two airports servicing the area of Bar Harbor and Acadia National Park:
Bangor International Airport (BGR): 50 miles (80.5 km) from Bar Harbor, this is the closest international airport to Mount Desert Island. You can then get to Bar Harbor quickly by renting a car, take a taxi or opt for a shuttle transfer.
Hancock County-Bar Harbor Airport (BHB): this smaller airport is the closest to the town of Bar Harbor (12.6 mi or 20 km); however, it only makes connections to/from Boston.
Flying is a great option if you don't want to drive round trip between Portland Maine and Bar Harbor. You can save time and money by driving one way and flying in/out from Bar Harbor.
Which Amtrak station is closest to Bar Harbor Maine?
Amtrak's Downeaster trains go as far as Brunswick ME, 120 miles (193 km) to the southwest. From Brunswick, you can reach Bar Harbor and Acadia National Park by car.
How long is the drive from Portland Maine to Bar Harbor?
The direct drive from Portland to Bar Harbor is 282 km (175 mi) and should have a drive time of around 3 hours in normal traffic. This route follows I-295 N and I-95 N and is the fastest route by car.
Be mindful when planning though: this route does not take you along the coastline so you'll miss out on the spectacular coastal views on your Maine road trip.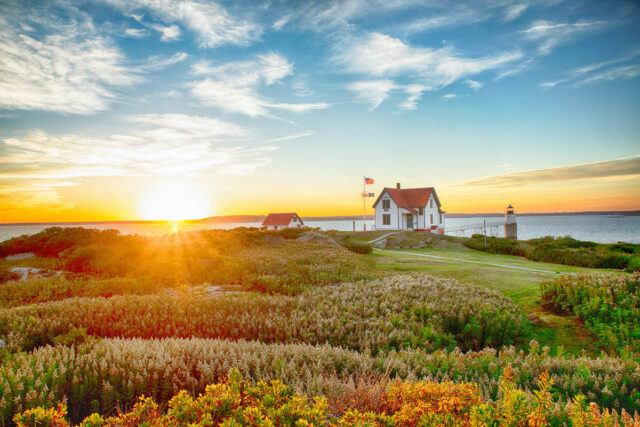 For a more scenic route, we encourage you to follow the stops we have outlined below. The towns are mentioned in the order of their locations from south to north as though you are driving from Portland, Maine to Bar Harbor. You can easily turn it into your Maine road trip itinerary.
This scenic drive is 394 km (245 mi) and takes approximately 6 hours without stopping. But there is so much to explore and discover in each of these towns, it would be almost silly to drive the route without stopping to check out the many beautiful stops along the way. We recommend breaking the drive into 3 or 4 days to truly enjoy what each location has to offer.
When is the best time to visit Bar Harbor Maine?
To get the most out of your Maine road trip, summertime is the best time to visit Bar Harbor Maine. The months of June to August have a warm and sunny climate, complemented by cool coastal breezes.
Several key events attract travellers to visit the area in the Summer, including the Acadia Birding Festival (June), the Bar Harbor Music Festival (June-July), the Fourth of July Celebration (July), and Seaside Cinema (August).
Summer is also the best time to go whale watching in Maine!
Consider September and October if you want to avoid the crowds and don't mind the chillier temperatures. There will be fewer people and you get to enjoy some beautiful Fall foliage!
Another reason to visit Bar Harbor in the Fall is to attend events like the Acadia Night Sky Festival (September) and Acadia's Oktoberfest (October).
Best stops between Portland and Bar Harbor: 13 Maine coastal towns that will blow your mind away
Use the below Maine road trip itinerary map to follow along:
1| Harpswell
Tucked away like a well-kept secret, Harpswell is a seaside town just 60 km north of Portland, Maine. This historic town is home to the longest stretch of coastline in the state (348 km in length!), covering Harpswell Neck, 3 main islands (Bailey, Orrs, and Great Islands) connected by bridges, and a scattering of over 200 smaller islands accessible only by boat.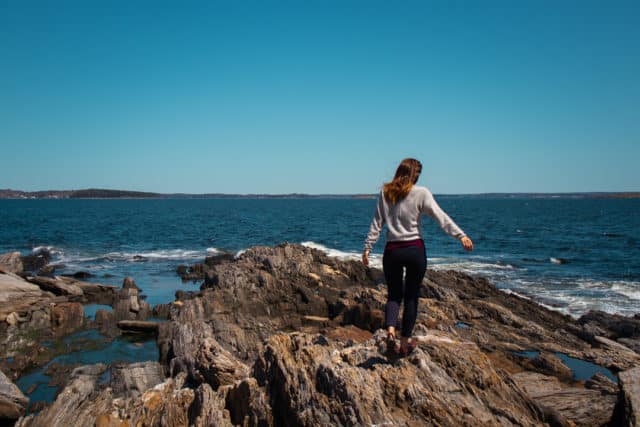 A great place to explore the rugged coastline and sweeping ocean views is the Giant's Stairs on the eastern coast of Bailey Island. The 500m-long trail wends through jaw-dropping rock formations, making you wonder how they came to be.
Spend some time enjoying the expansive views of Casco Bay, and if you're lucky enough, you might spot some ducks or even harbor seals!!
Insider's tip: On the way to your next stop, Wiscasset, you'll arrive at the town of Bath. Just off the highway is the Maine Maritime Museum where you can get a glimpse into Maine's maritime heritage and culture.

Here, you can stroll through the country's only surviving shipyard, hop on one of the cruises to see some of Maine's most iconic lighthouses from the water, or participate in a workshop to learn traditional woodworking techniques!
2| Wiscasset
Dubbed 'the prettiest village in Maine,' Wiscasset draws visitors for various reasons. For one, the many historic sites and architectural landmarks allow you to dive deep into the state's rich maritime history. Nickels-Sortwell House and Castle Ticker are just a few examples.
Foodies will want to get in line to try Red's Eats – the best lobster roll in Maine. This seafood shack is so popular that during the summer season, you will see massive traffic jam extending several miles long! Don't let the wait discourage you. Once you sink your teeth into the decadent (and overflowing) lobster meat, you will not regret!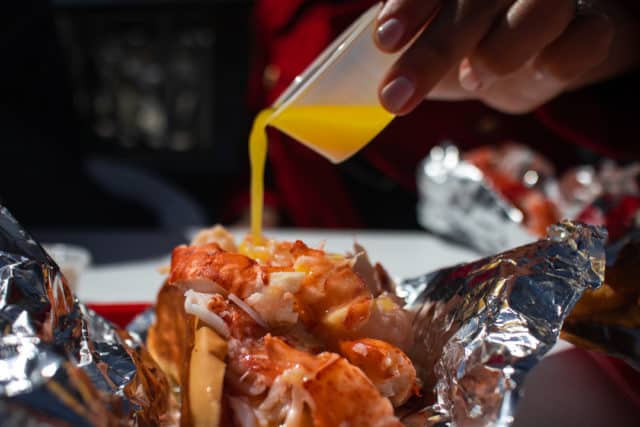 Because they use the freshest Maine seafood, the price fluctuates depending on supply and demand and whether the time of the year is Maine lobster season or not. Typically, it is ~USD$25 per serving.
Reminder: Red's Eats only opens from mid-April through Columbus Day.
3| Boothbay Harbor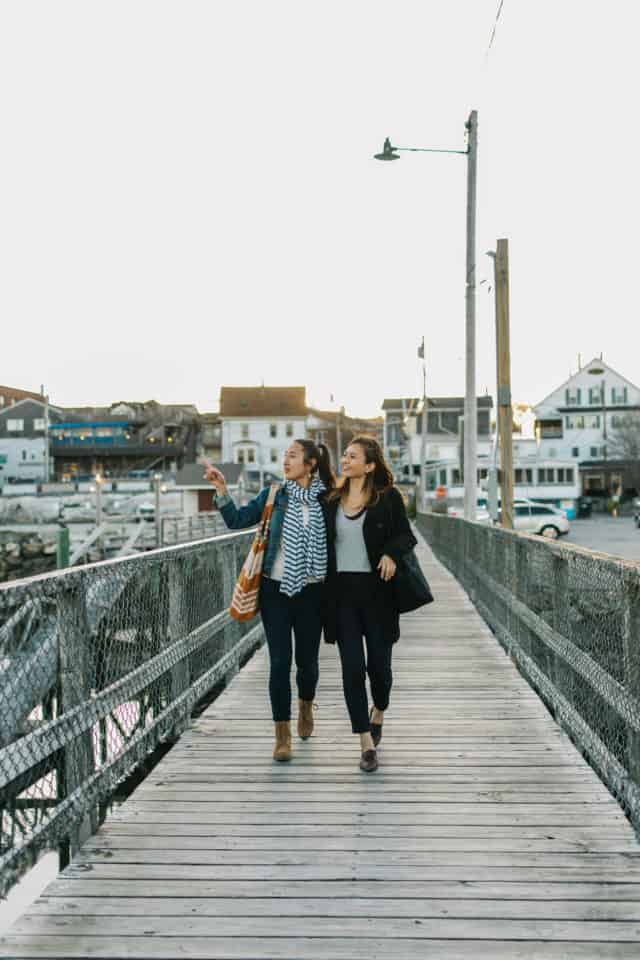 The charming seaside village of Boothbay Harbor is an oasis to experience a truly unplugged lifestyle. One of the best places to unwind and connect with nature is Coastal Maine Botanical Gardens. Covering nearly 300 acres of coastal waterfront, the nature attraction hosts 17 cultured gardens showcasing plants native to Maine's coastal conditions.
In addition, there are several themed gardens to refresh your mind, including: the Bibby and Harold Alfond Children's Garden, which was inspired by Maine children's books, and the Lerner Garden of the Five Senses, where you can get a sensational experience through touch, smell, sound, sight, and taste.
Coastal Maine Botanical Gardens offers a place of peace and tranquility. A visit here is absolutely one of the best things to do in Maine in summer.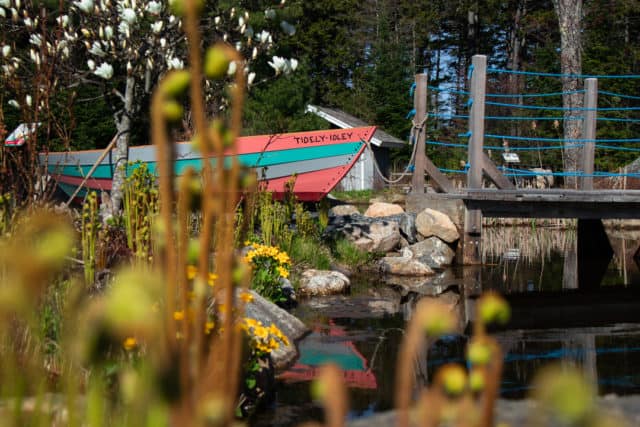 For those who are into spooky history, Red Cloak Haunted History Tours is for you. You will hear hair-raising stories and see the area's most haunted sites. Goosebumps guaranteed!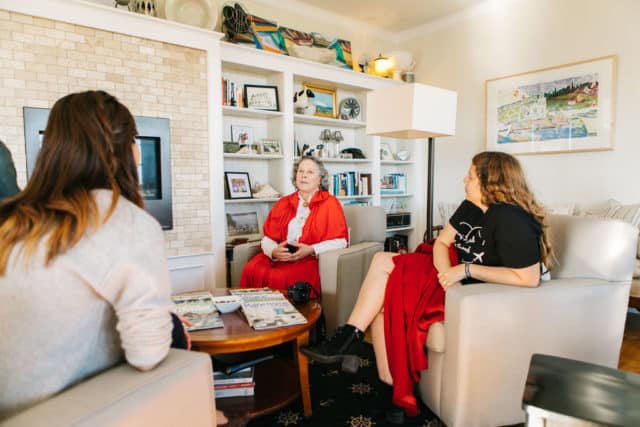 Wildlife watching is one of the top things to do in Maine. In Boothbay Harbor, there are several operators offering boat tours to catch a glimpse of puffins, seals, harbor porpoise, ospreys and whales!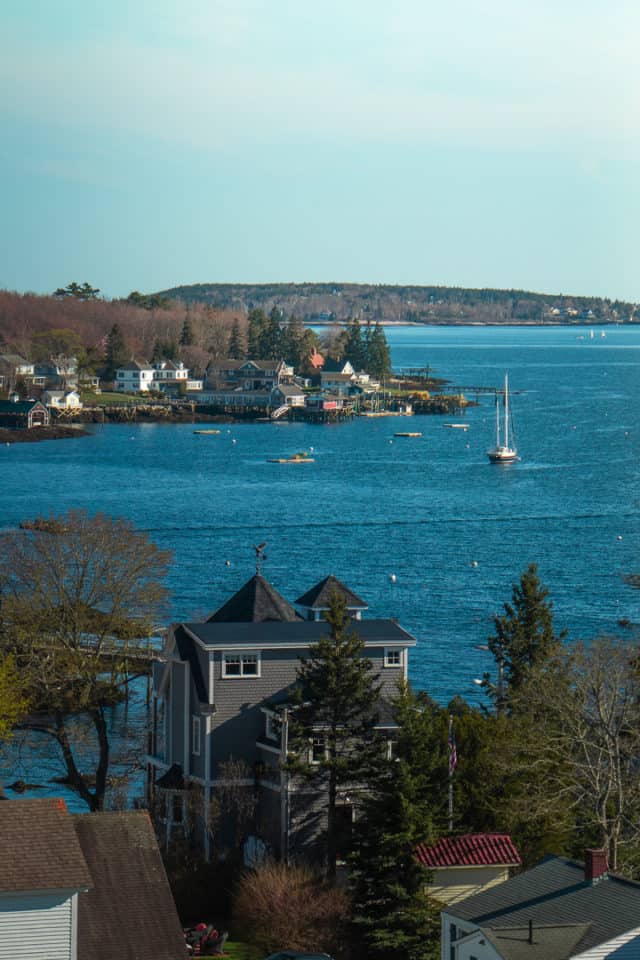 Looking to stay overnight? We recommend Topside Inn. This property is owned by a lovely gay couple, Buzz and Mark, who have transformed the inn into one of the most beautiful oceanfront hotels in Maine. Sitting atop Mckown Hill, the highest point in town, you can easily see the entire Boothbay Harbor! Unlike other traditional B&B, all the rooms come with modern amenities to give you all the comfort and convenience you need.
Reminder: Topside Inn operates seasonally from May through mid-October.
4| Bristol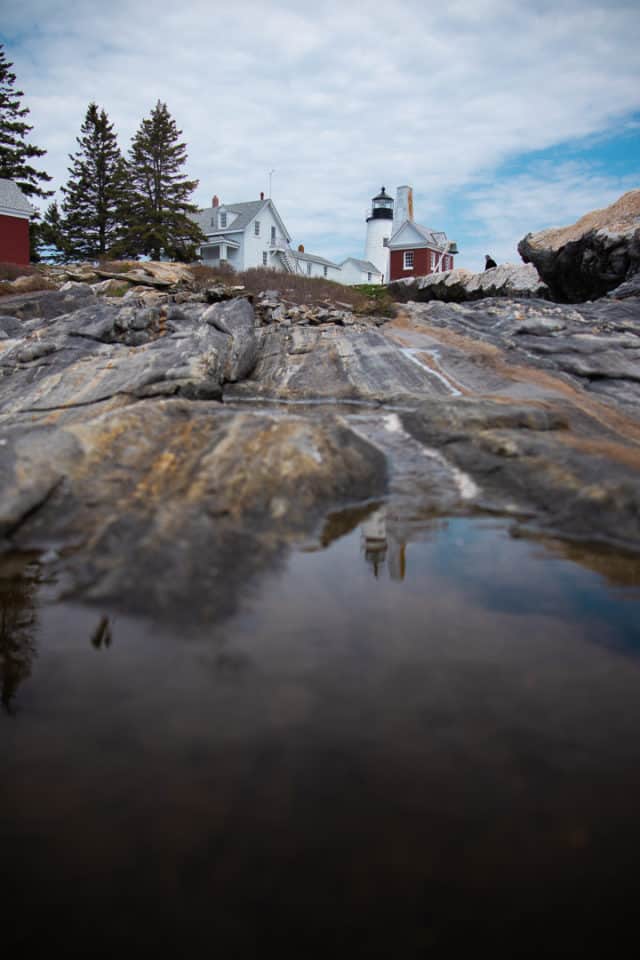 Crossing the Damariscotta River, you'll reach the town of Bristol on the Pemaquid Peninsula. At the southern end stands the iconic Pemaquid Point Lighthouse guarding the entrance to Muscongus Bay and Johns Bay.
Although the Pemaquid Point Lighthouse is not particularly grand in size, the scene below the light is extremely dramatic and rugged. The ledges were made up of metamorphic and igneous rocks exposing bands of different colours. The details are just visually outstanding!
Interested in seeing all the famous Maine lighthouses? There are SO MANY MORE than just the renowned Portland Head Light. Click here to view the Maine lighthouses map!
Back in town, spend some time at The Good Supply, a restored barn storefront selling quality goods made by Maine-based artists. It is the perfect place to buy a unique gift that will remind you of Maine!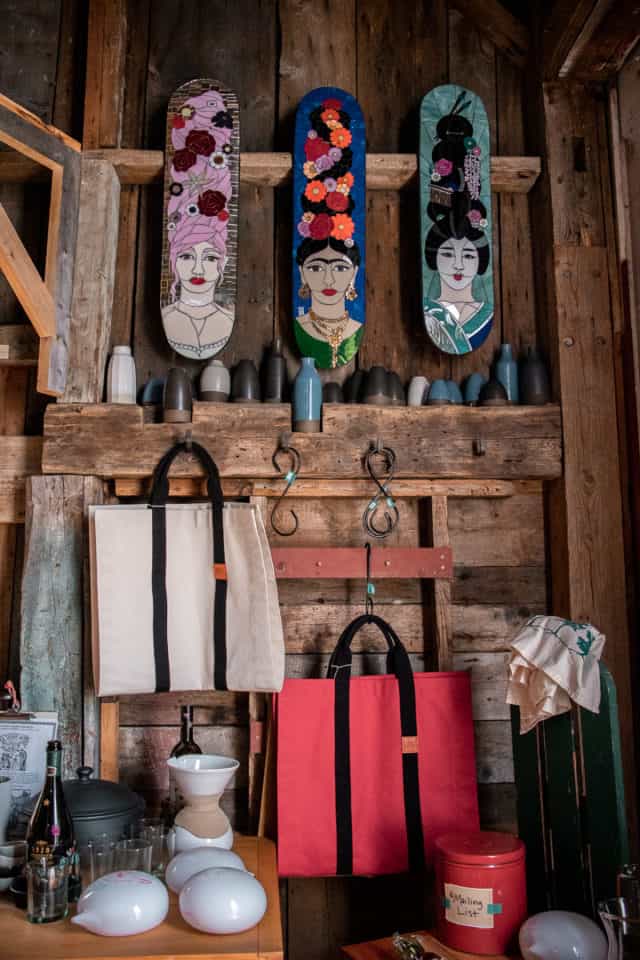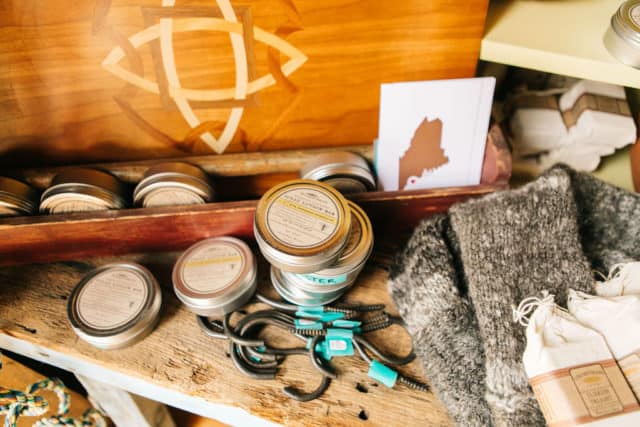 5| Camden
Camden is what you'd imagine a classic New England harbor town to be: full of sailboats, seaside inns, and vintage brick houses. This quaint seaport town has more than enough going on to keep you busy with a series of festivals running all year round, including the US National Toboggan Championships (February), the Summer Harbor Arts & Books Fair (July) and Windjammer Festival (Labor Day Weekend).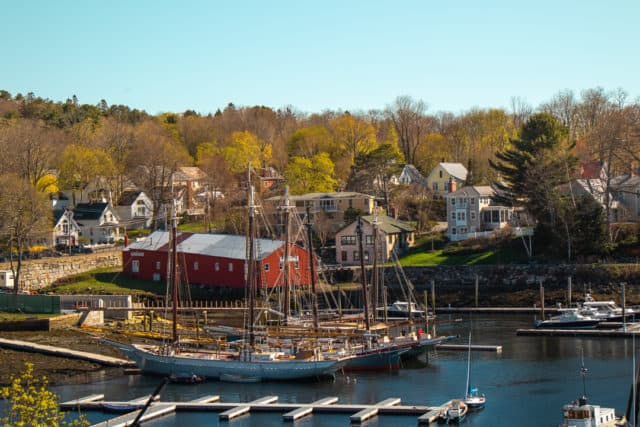 Even if your visit doesn't coincide with any of the festivals, there are still plenty of things to do in Camden.
Go canoeing on Penobscot Bay. Sail on a historic schooner. Hike to the top of Mt. Battie in Camden Hills State Park. Or eat your way through the town at places like Thai-inspired eatery Long Grain and modern New England fine-dining restaurant Natalie's. You'll never have a dull moment.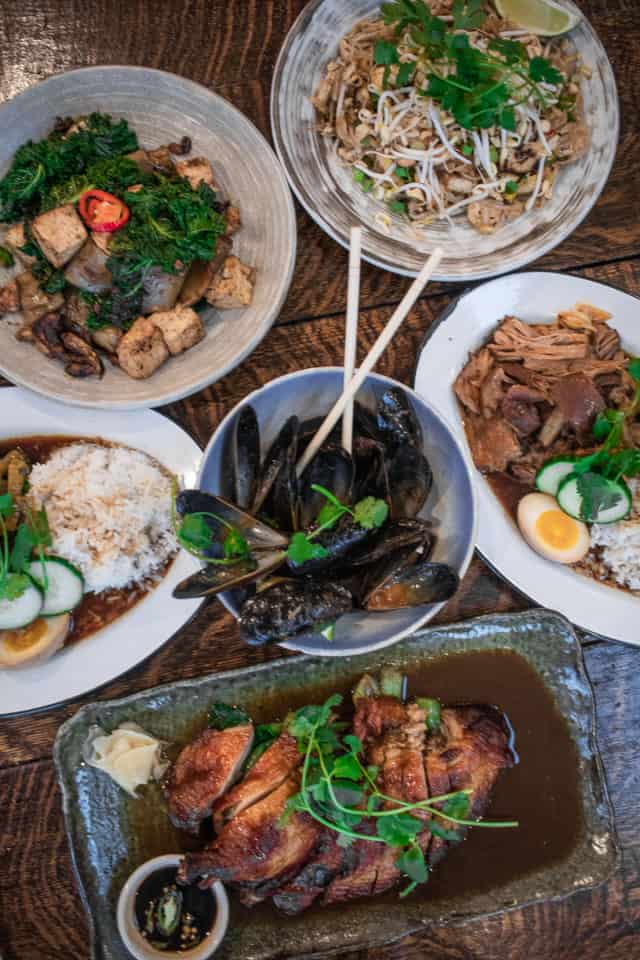 As for accommodation, we recommend 16 Bay View. Transformed from a century-old industrial brick building, the luxury boutique hotel combines exquisite comfort with quaint, historic charm to create a unique destination.
Each room comes with a full walk-in shower with body jets, a freestanding massage tub, heated floor, and a two-sink vanity!! You can see why we consider it one of the best places to stay in Maine for couples.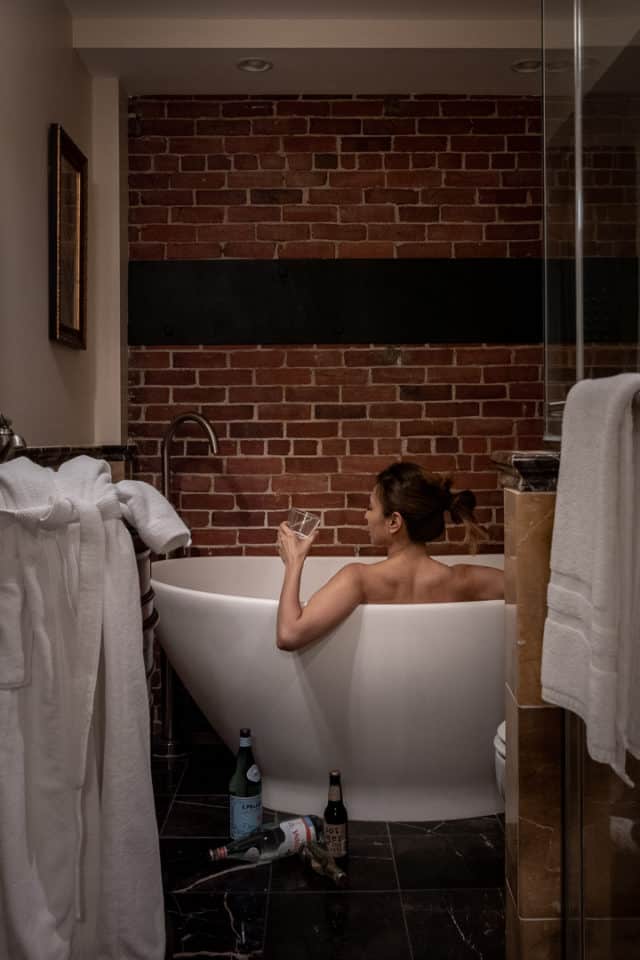 Reminder: In the summer, the town is swarmed with visitors because that's the best time to visit Maine (weather-wise). We encourage you to visit during the shoulder season (around late-May or late-September) to avoid high accommodation prices and crowds.
6| Lincolnville
Just a short distance from Camden Hills State Park is the vibrant community of Lincolnville. Not many people know that this town in Midcoast Maine is actually a food and wine paradise.
Prepare your taste buds for a treat and visit the Cellardoor Winery. They produce over 20 distinctly Maine-made wines, appealing to every palate. Enjoy a full winery experience with a wine tasting, an insider's tour, or a food pairing!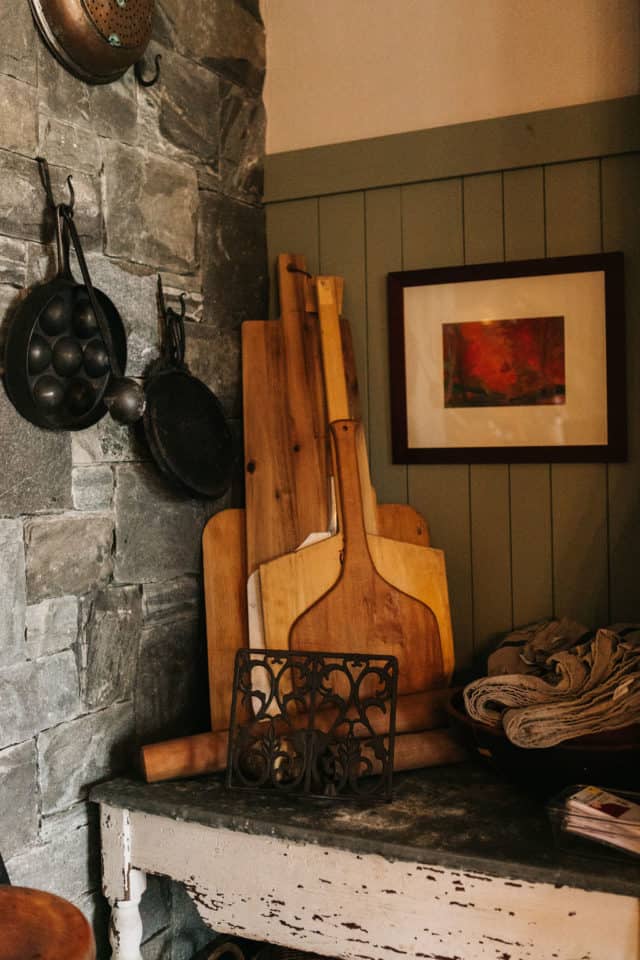 Want to brush up on your culinary skills and learn something new? Book a cooking class with Salt Water Farm. From May through December, the institution invites guests from near and far to learn the art of seasonal cooking, using fresh seafood and produce from the region. Topics range from bread baking to butchering and cover an array of global cuisines.
Insider's tip: if you're stopping in Belfast, check out the Belfast Harbor Walk. This scenic mile-long paveway runs along the shore and offers a chance to see Front Street Shipyard workers hauling out some of the world's largest luxury yachts from the harbour for repairs and maintenance!

If time permits, walk onto the Armistice Bridge footbridge. The spot is excellent for observing loons, gulls, ducks, ospreys, eagles, and other shorebirds feeding in the mud.
7| Prospect
Going further north on U.S. Route 1, you will reach Prospect. Fort Knox and the Penobscot Narrows Observatory are the main attractions here.
A tour around Fort Knox, Maine's largest historic fort, will take you back in time to relive the history of the troops who served to protect American interests during the 1800s.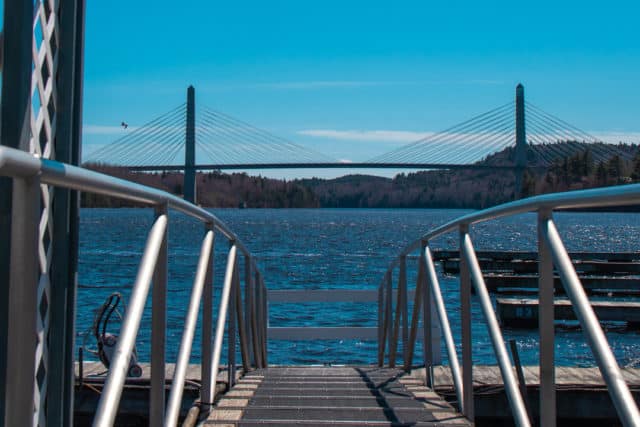 Complete your visit with a trip up the Penobscot Narrows Observatory – the tallest bridge observatory in the world. Standing proud at 128-m, the tower offers a spectacular panoramic view of the Penobscot Bay area.
8| Bucksport
Bucksport is a picturesque town located right across the river from Prospect. In the summer, you can stroll along the mile-long waterfront walkway, go boating in Penobscot Bay, or go fishing on Silver Lake. When winter comes, snowshoeing, cross country skiing and snowmobiling are popular activities.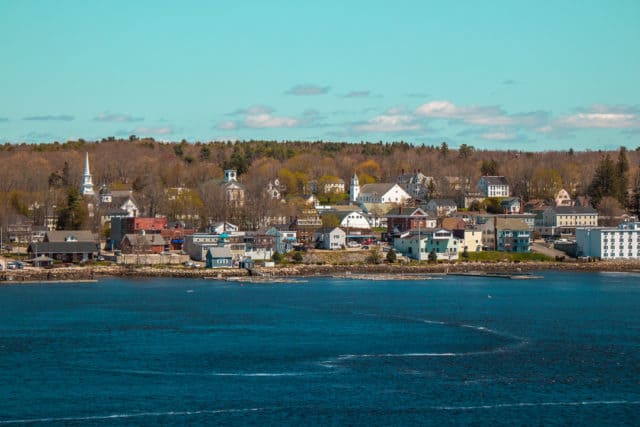 If you're just here for a quick stop, we encourage you to grab a bite at Friar's brewhouse Tap Room. This brewpub is not your ordinary brewpub – it is actually run by monastery brothers. They sell iconic Maine food (like lobster rolls, lobster mac & cheese) and small-batch craft brews with proceeds going to keeping their monastery open. One thing to keep in mind when dining there is that the use of cell phone is prohibited!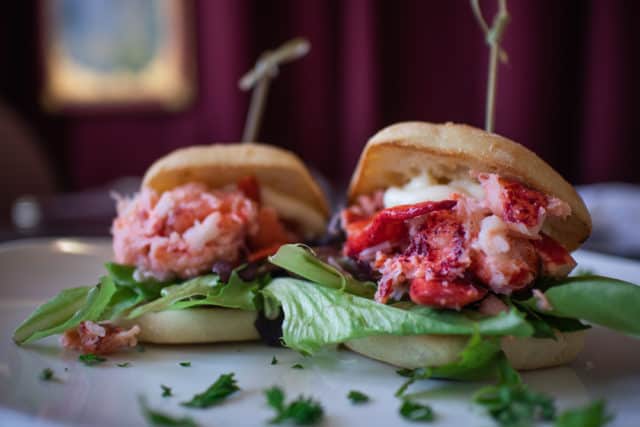 9| Castine
Castine is known for its scenic rocky coast and rich seafaring history. It is actually considered one of the oldest communities in North America.
The best way to explore Castine is by visiting the historical sites, museums and well-preserved military sites around the town. You can join the Castine Historical Society for a guided walking tour offered every Saturday in the summer. Alternatively, grab a copy of the walking map outlining 50+ landmarks and discover the village on your own!
Some of the attractions you do not want to miss include The Wilson Museum, Dyce Head Lighthouse, John Perkins House, and The Abbott School. Add some fun elements to your trip by taking a harbor cruise or try night kayaking in the bioluminescent bay!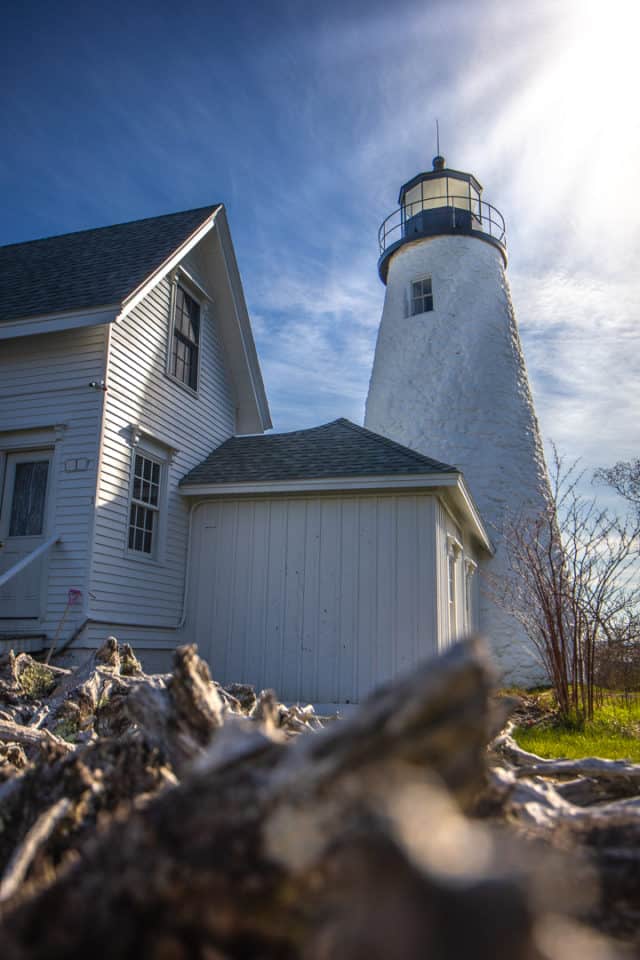 An overnight stay at Pentagoet Inn is a must! This bed and breakfast in coastal Maine is an elegant 3-story, Queen Anne-style mansion filled with antiques and collectibles.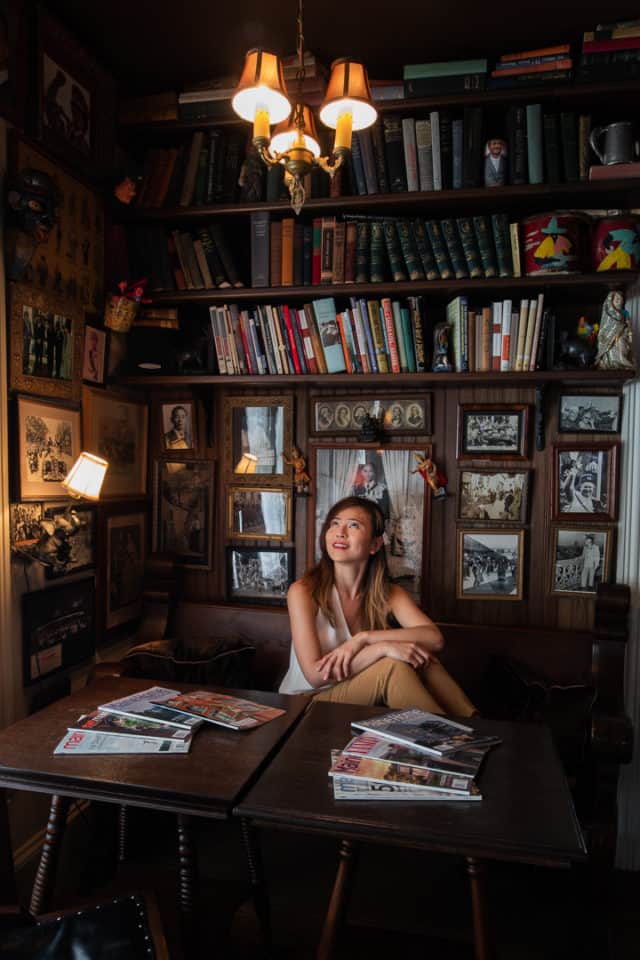 10| Brooksville
Tucked away in the south-west corner of Blue Hill Peninsula, Brooksville is characterized as laidback, unspoiled and remote, especially when you travel off the beaten track to Cape Rosier, where you will feel even more secluded.
You might not know that nestled in the woods is The Good Life Center – a hand-built stone home of Helen and Scott Nearing to advocate a pure, and simple way of living. Thousands of people come to Brooksville each year to learn practical homesteading skills and search for meaning in their own lives.
In the summer from June to October, visitors can tour the organic gardens, stone home, and wooden yurt to get a glimpse of their self-sufficient homesteading lifestyle.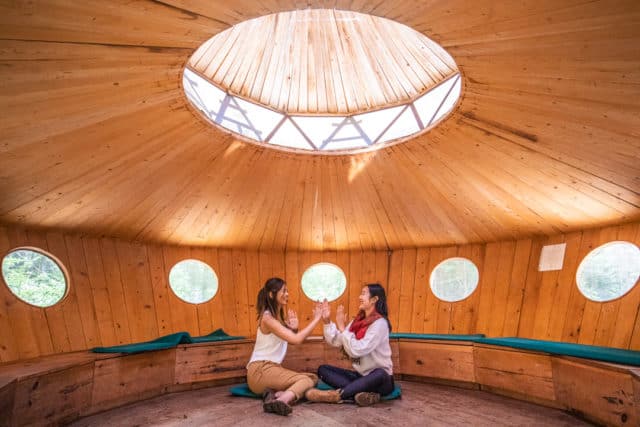 11| Deer Isle
A series of twists and turns will take you through the unspoiled Down East Maine landscapes to the idyllic Deer Isle. Artists have long been attracted to its striking coastal views and complete remoteness which they find so inspirational. That's why you will come across many wonderful art galleries in the area.
One particular place that draws our attention is the Nellieville in Nervous Nellie's Jams and Jellies. The quirky sculpture garden is created by sculptor Peter Beerits, featuring life-size sculptures made out of scrap metal and wood. Some are whimsical and some are a bit spooky. Installations such as wizard's tower, medieval castle, and Mississippi juke joint will keep you entertained for the whole day!
Before you leave, make sure to stop by the shop to stock up on delicious homemade jams, marmalade and chutneys (they have 15 flavors!).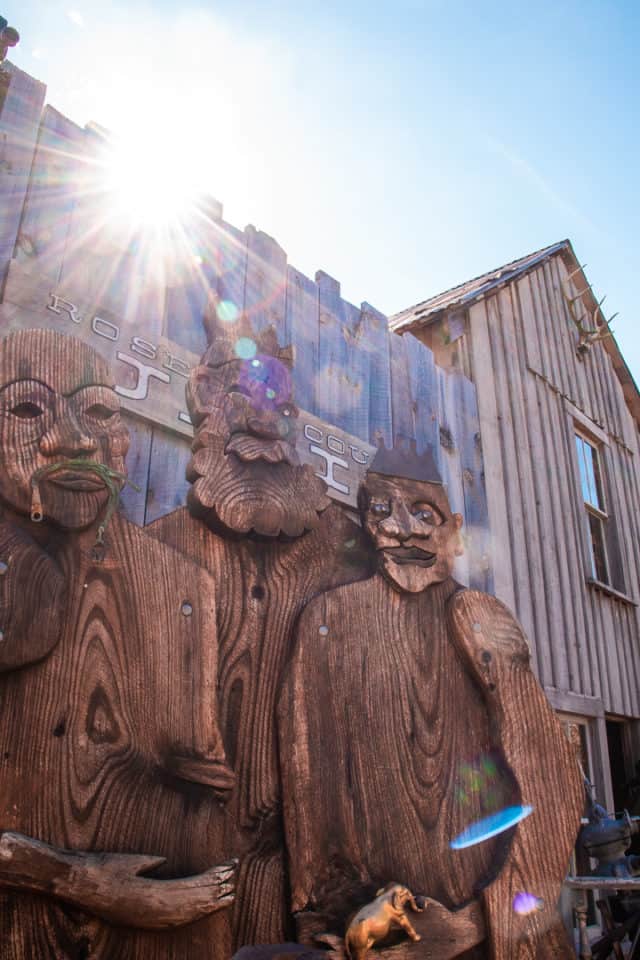 12| Stonington
At the southern tip of Deer Isle is a fishing village called Stonington. The town is big in the lobstering industry, pulling more lobster than any other Maine port in recent years!
Besides lobster catching, the town offers a wide variety of summer activities outdoor enthusiasts. You can go sailing, take a scenic sunset cruise, or join a boat tour to see lighthouses and puffins!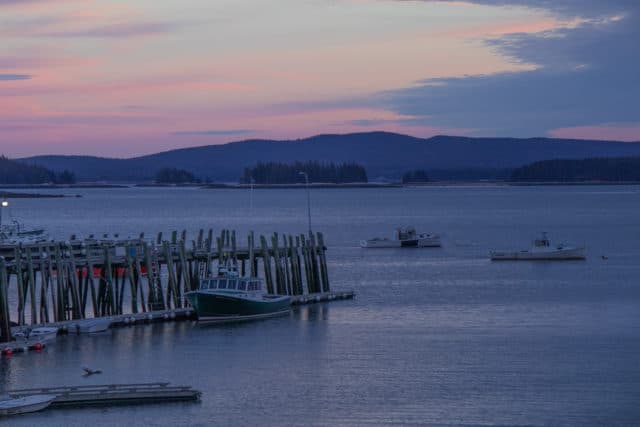 13| Blue Hill
The charming coastal town of Blue Hill in DownEast Maine offers endless surprises for travelers.
As a hub of art, music and food, Blue Hill boasts many shops, restaurants, galleries, beaches, and hiking trails to explore. For those looking to grab a bite, you'll appreciate the comfort food at Sandy's Cafe. This Blue Hill Maine restaurant serves up delicious blueberry stuffed french toast topped with maple butter cream cheese, lemon curd and maple syrup!
Before you leave, make sure to stop by Blossom Studio & Gallery. It is a wonderful place to shop for glass beaded jewerly and cat-themed artwork!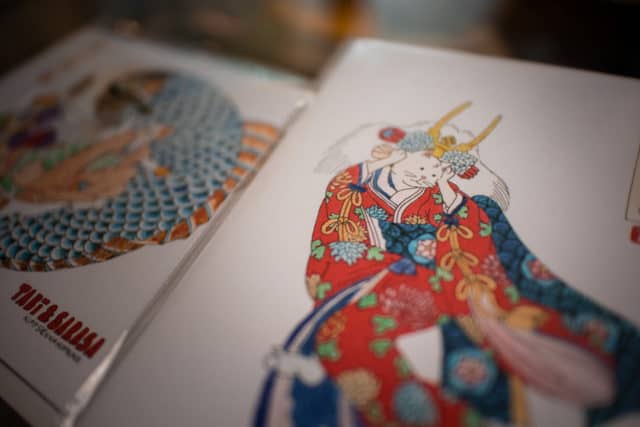 Where are the best places to stay between Portland and Bar Harbor?
We have already mentioned a few above. To recap, here are the best places to to stay between Portland and Bar Harbor on your coast of Maine road trip:
Casa Alchimia – a super stylish, Italian-influenced Freeport hotel remodelled from a 18th century historic house. If you're into interior design, you've gotta book a stay here! Don't believe us? Check the reviews here!

Topside Inn – a 5-star hotel in Boothbay Harbor that sits on a hilltop. We loved the maritime-themed rooms and the panoramic views they look out onto!

250 Main Hotel – a new, luxury Rockland hotel designed for the modern traveller, furnished with unique, reclaimed, and industrial decor accompanied by amazing water views. Click to see the latest prices and availability.

16 Bay View – a luxury hotel in downtown Camden, transformed from a century-old industrial brick building. The decor is modern style meets historic charm. Super cute! Click here to see photos of the hotel!

Inn at Sunrise Point – a luxurious oceanfront inn in Lincolnville. A secluded sanctuary with breathtaking views of Penobscot Bay! View room rates here.

Captain Nickels Inn – an elegant and exceptional retreat offering 180-degree views of Penobscot Bay in the charming town of Searsport. A romantic place for a memorable, intimate stay! See what other visitors said here.

Pentagoet Inn and Pub – This whimsical bed and breakfast in Castine is an elegant 3-story, Queen Anne-style mansion filled with antiques and collectibles. It's a majestic yet inviting place to unwind. Check rates and availability here.
Where to stay when you reach Bar Harbor?
Once you've arrived Bar Harbor, here are the few high-quality accommodations to consider:
Bayview Hotel – a 4-star boutique hotel that sits on the shoreline yet is mere minutes away from everything you need – from shopping to nightlife in downtown Bar Harbor. All the rooms feature a private, oceanfront balcony with captivating ocean views. Lock in the lowest price here.

West Street Hotel – Conveniently located in Bar Harbor's downtown waterfront, this luxury boutique hotel boasts Maine's only rooftop infinity edge pool with panoramic views of Frenchman's Bay. What we loved most is its chic nautical decor! Choose your room and dates here.
Looking for other options? Use the interactive map below to find what other accommodations are in the area.
What are some other road trips from Portland?
There are 3 day trip options – all within one hour's drive from Portland, Maine.
Kennebunkport is one of the best day trips from Portland, known for its amazing beaches, scenic lighthouses and, of course, lobster, clams, and other fresh, local seafood! A foodies' paradise! Check out this mouthwatering food tour when you're there!
Ogunquit is popular in the summer months – drawing visitors to its 3.5 mile of sandy beaches. Outdoor enthusiasts come here to enjoy deep-sea fishing, whale watching, sailing, and kayaking. In addition, it also has a thriving art and theatre scene and a welcoming LGBTQ+ community!
Peaks Island is just a short 17-min ferry ride from Portland, Maine. The quaint island is perfect for those who want to experience a laid-back lifestyle. You can spend the day biking, kayaking, or swimming at Sandy and Centennial beaches and exploring rocky Cairn Beach.
This rounds up some of the most beautiful Maine coastal towns in between Portland and Bar Harbor. Next time you take a road trip to Maine, consider going off the beaten path and discover these under-the-radar seaside towns. You will see a much different aspect of the Maine coast!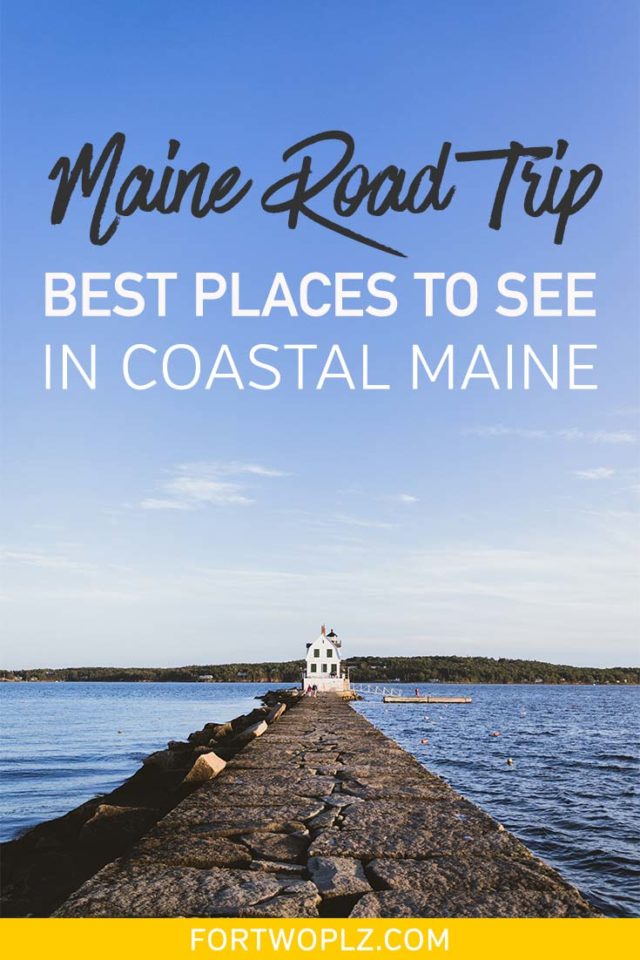 Disclaimer: This post is written in partnership with Midcoast Maine and DownEast Acadia. As always, all opinions on For Two, Please are our own and we only recommend brands that we 100% stand behind.